2023 Color Trends For Your Home Interiors
2 December 2022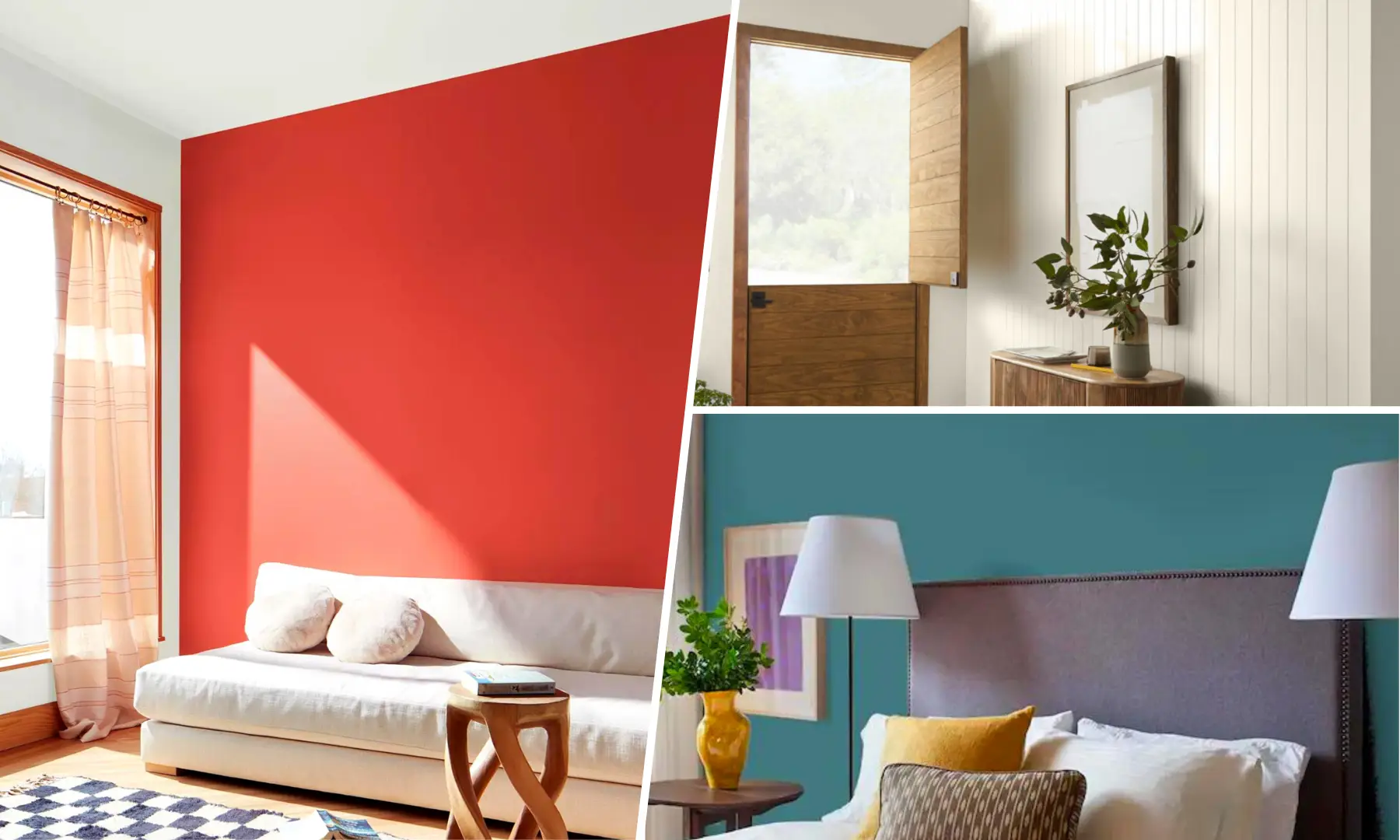 To a large extent, the colors we choose for our house and lot in the Philippines are expressions of who we are and how we want to live. Some homeowners choose safe, traditional hues such as warm neutral, while others aren't afraid to mix them up with daring pops of color.
It's not only our walls that are painted in this season's hot hues. However, these influences can be seen in every creative field, from fashion to graphic design to even technology. We are still taking our cues from nature, but this year's color palettes have deeper tones than those of the past.
As is customary, the Color of the Year is revealed at the conclusion of each year. Trends in many fields, but notably interior design, may be traced back to these in-depth profiles by major corporations, which also tend to set the tone for our daily life.
The 2023 cycle is already underway, with many corporations having declared their intentions and experts having offered their opinions. Here's a deeper dive into the upcoming year's most talked-about themes and colors.
What are the 2023 Color of the Year Predictions
The Color of the Year is selected and a Color Forecast is released annually by color experts from the world's biggest paint manufacturers. Selecting one fashionable shade like warm yellow and pairing it with a range of other neutral tones or earthy tones meant to play off of it is a common practice.
In 2023, the main paint manufacturers will choose the year's most popular paint colors, so come along as we take a look at a comprehensive review of all of them.
Backdrop: Color of the Year
This color scheme is a wink and a nod to the practice of predicting the next year's fashion trends.
Backdrop decided to introduce a new hue and give it the catchy moniker "Color of the Year" rather than choose an existing paint from their catalog to be the "it" shade for the next year. The bright yellow-orange color is noteworthy since it was created in tandem with the New York City-based design shop Coming Soon.
Recommendation: It's a great choice for anyone who wish to branch out aesthetically, as the bold hues and upbeat mood will help them stand out.
Behr: Blank Canvas
While it's safe to say that white paint won't go out of style, seasonal shifts and design fads will inevitably cause it to seem dated at some point. Behr's 2023 Color of the Year will be a comfortable off-white or warm white shade called Blank Canvas.
The warm undertone of the Blank Canvas Behr makes it an ideal complement to other soft earth tones and nature-inspired hues, as the name suggests, while also serving as a neutral background for any kind of artistic expression. The picked hue is also a reaction to the results of a recent online survey by Behr, in which 75% of respondents felt that the color white encourages relaxation.
Recommendation: This may be utilized in a variety of settings and is the epitome of minimalism in the house as it can make any room look bigger. It's a warm shade lovely color that would work well either as an accent wall or as an all-over wall paint.
Benjamin Moore: Raspberry Blush
Benjamin Moore's color of the year in 2022 is a soothing sage green that fits right in with the massive "new neutrals" movement that began the previous year.
However, in 2023 Benjamin Moore decided to take a daring step away from the standard paint color palette with their choice, Raspberry Blush. If you're planning to add a touch of warmth and welcome luxury to your Lumina Homes investment in cooler places such as Lumina Homes in Batangas as well as in Lumina Polomolok and Lumina Malaybalay, without going overboard on the feminine side, this is the color for you.
Recommendation: Powder rooms would benefit greatly from this cheerful shade. Moreover, Raspberry Blush-Benjamin Moore is a lively red-orange tone that may inject vitality into the walls of a living room or dining room, or wherever else you'd want to spark a conversation.
BHG: Canyon Ridge
BHG's 2023 Color of the Year is a perfect example of the growing trend of integrating outside inspiration into the home. Canyon Ridge is a terra cotta hue reminiscent of fiery desert sunsets and the red cliffs of Zion National Park. Dressing up the hue with its complementary shade in the color wheel, cobalt blue or bright blue, creates a striking and eye-catching effect. If you prefer a more minimalist aesthetic, this natural color pairs well with earthy neutrals.
Recommendation: The hue may be used as an accent wall or to paint an entire room if you want to add some sun-kissed warmth and vitality.
Glidden: Vining Ivy
Glidden's Color of the Year is a "blueish-greenish-something-in-betweenish" hue. The effect of the nature-inspired, dialed-up-vibrancy color Vining Ivy, which is intended to be both stimulating and grounding, relies entirely on how the room is accessorized with it. When paired with more muted tones and natural textures, the hue may serve as a soothing backdrop, like to the effect of a peaceful body of water. Or, highlight the color's luxurious qualities by using gold and jewel tones.
Recommendation: This calming shade works well in private spaces like bedrooms. It will help you relax after a hard day at the office and go to sleep faster.
HGTV Home by Sherwin Williams: Darkroom
The 2023 Color of the Year for the popular brand is Darkroom, a dark black-purple. Since it's part of the Vintage Homestead Collection, it seems fitting that the hue was named after something associated with film photography and nostalgia. If you're searching for something striking, this is the color for you. Having just the right amount of purple makes it unique while also complementing any color scheme.
Recommendation: Add interest to doors and trim with this hue, or paint a whole room this shade for a sultry, relaxing reading nook.
Sherwin-Williams: Redend Point
The ongoing trend toward warmer neutrals, from stark white to off-white, etc., was the impetus for this rosy beige tone. Sherwin-Williams' Redend Point is the 2023 Color of the Year because of the variety it affords thanks to its nuanced nature. It's a fantastic choice for individuals who prefer a less-pronounced hue over a bold one, but yet want to inject some character into their decor.
Recommendation: You can't go wrong with Redend Point if you aim for a neutral color that will complement a wide variety of other tones and hues in your home decor.
Valspar: Everglade Deck
The dark blue-green Everglade, which leans toward turquoise, will give your house a cutting-edge appearance. Use this shade of blue when you want to stand out from the crowd but yet maintain a blue aesthetic. The color's affinity with the depths of the ocean makes it a hit among marine enthusiasts and fishermen.
Recommendation: Entering a bathroom painted this shade would be like taking that first dip into the ocean on a hot summer day—exhilarating at first, then soothing.
Get the freedom of home color selection!
Whether you want a neutral backdrop, bright colors, or even bold colors for your home next year, you can have the option of painting your house any color you like by having your own affordable house and lot unit from Lumina Homes.
Lumina Homes gives the freedom to its homeowners and future residents to design and renovate their house and lot whichever they want to - providing them the privilege to pick out whatever color they want for their house.
Unleash your creative expression and check out our affordable house and lot for sale in our over 50 communities nationwide. Make your lifelong dream happen and reserve your preferred unit now!

Try our Home Loan Calculator
Loan Calculator
Try Lumina Homes' loan calculator and get an estimate computation for your preferred Lumina property and home model.