Easy DIY Halloween Decoration Ideas for your Home
12 October 2021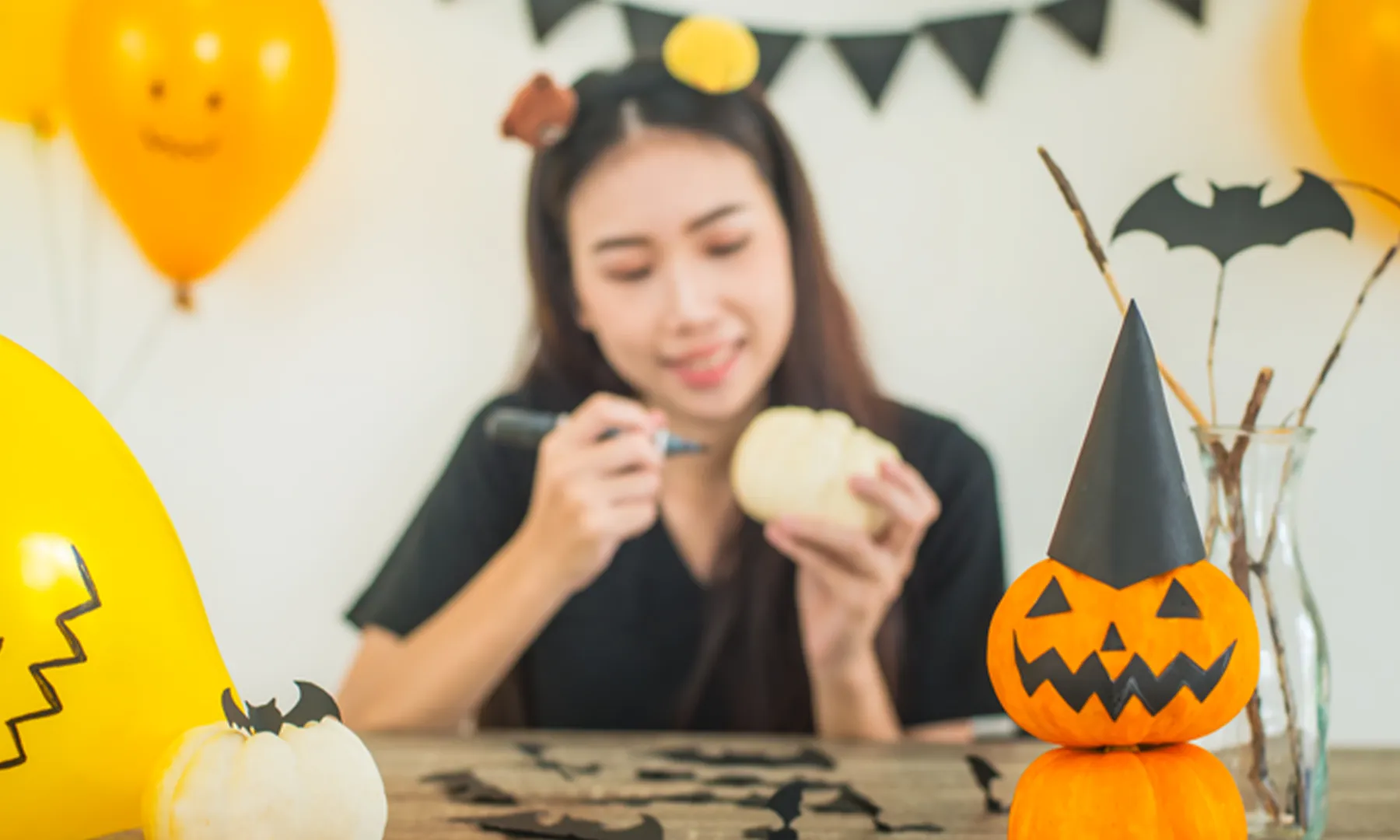 Every year, people across the world celebrate Halloween. This 2021 Halloween will fall on a Sunday, which is the best chance to grab in scheming a get-together with the whole family for a peek-a-boo or trick or treat candy corn activities. Halloween is being celebrated around the globe every October 31 as folklore holds that the deceased's ghosts may manifest in the physical world and damage living beings and crops. Many of today's Halloween customs stem from people trying to appease the frightened ghosts on Halloween. People used to dress up as monsters, ghosts, and demons to frighten away bad spirits, as an example.
Up to this time, people are still dressing up in spooky costumes to celebrate Halloween. As time has progressed, though, they've begun dressing up as a variety of other things and become more creative as well, such as their favorite cartoon or characters, princesses, or even dressing up as their favorite celebrities. Kids go trick-or-treating after dressing up in costume. They walk door-to-door in their neighborhood, calling out "Trick or treat!" while asking for candy corn and other goodies. If no trick or treat is given to them, as the custom says, kids may play a trick to the homeowners.
Another way to celebrate Halloween is by designing your home with scary characters or crafts. Jack-o-lanterns, which people carve with frightening faces, combine the best of Halloween's spooky and entertaining aspects. To frighten away bad spirits and welcome trick-or-treaters, people put up Jack-o'-lanterns in front of their homes. Watching horror films and going to haunted homes are two more contemporary fun activities that pay homage to Halloween's traditional history.
If you're looking for some DIY Halloween decoration ideas, you can take a look at some of this Halloween fun that we prepared for you.
Different Halloween Decor Ideas for your Home
It's never too late to start decorating for the upcoming Halloween, particularly if you're on a budget and want to make your own simple and DIY Halloween decorations. The possibilities for decorating your house for Halloween are almost endless, with anything from simple handmade decorations to apparently limitless ways to carve pumpkins.
With so many simple handmade Halloween decoration ideas to pick from, you'll have no problem celebrating October 31 in style, regardless of how scary your decorations are. Get the tutorial of our fun craft.
Easy DIY Halloween Decorations
If you are one of the busy bees that finds it difficult to spend much time thinking about some great Halloween decoration ideas for the family's Halloween party on a Sunday. Here are some of the easy spooky decorations that you can make without getting the tutorial!
1. Dripping Candles
This one requires nothing more than lighting a few drip candles, letting them do their thing, then scattering them around your home.
Consider displaying them in spray paint black old wine bottles for a really scary effect, or you can also use different colored candles like an orange taper candle that you can buy cheaply in the public market.
2. Eyeball Chocolates
Remember your mom putting a fruit basket at the center of your table? This Halloween, change that piece into a bowl wrapped with black craft paper with googly eye chocolates.
Serve chocolate "eyeballs," or chocolates wrapped in bloodshot-eye pattern foil, in a tiny black bowl to resemble a miniature cauldron by attaching some candy wrappers with googly eyes using hot glue.
3. Black and White Pumpkins on your porch
Break that conventional pumpkin color design and add some black and white pumpkins on your porch with these DIY Halloween decorations.
Put pumpkins along the stairs leading up to your front door and paint them white with some matte black spray paint to add some spookiness to your Halloween decor. Top them up with some plastic spiders.
4. DIY Creepy Chalkboard
Get that chalkboard that your kids are using for their online classes and buy some orange-colored chalks. Summon your inner creative knack and draw some skittish and sinister designs and shapes that will surely send chills on your visitor's spine. Put it on your living room as a temporary replacement for your family picture hanging on the wall and glue dots some faux spiders on it.
5. Zombie throw pillow
Another genius yet no sweat idea for your Halloween decor is a zombie throw pillow. All you gotta do is to bring out some white linen or yellowish throw pillow cover from your cabinet and glue or sew two eyes on it. Viola! You added another creative Halloween design to your living room.
Cute Halloween Decorations
Meanwhile, if you prefer some cutesy and yet spooky Halloween decorations for your home, you can try out some of these great concepts.
1. Ghoulish bottles
Make these simple glass ghosts in four simple steps by raiding your recycle bin. To begin, take bottles apart and remove labels and caps. Spray them with white paint, then use a black marker to add faces to them. Add colored straws for fun centerpieces to complete your Halloween décor.
2. Skittish candy jars
There is an abundance of Halloween candy, but there is a scarcity of time to consume it all. And that's where this spooky Halloween décor comes in. Halloween sweets may be stored in Mason jars with the help of simple but effective hot glue projects.
Add some spooky flair to your dining room table or living room side table with these scary crawly Mason jars.
3. Cutesy paper pumpkins
Contrariwise, this one is the project for you if you like adorable Halloween decorations over scary ones. To do this, you have to wrap a foam ball in orange tissue paper to create this beautiful tissue paper pumpkin. Make a stem by twisting and adding green yarn on top of it. After that, add some paper embellishments and adore how cute your DIY pumpkin is!
4. Lucifer plate
Are you a fan of Lucifer? The one in the Netflix series? Then you can make this fascinating yet spooky devil plate. Move over, Lucifer—this Halloween, there's a new demon in town. A paper plate painted red and decorated from there will make a simple yet adorable Halloween decoration.
5. Mini monsters
Who says monsters can't be this cute? This easy-to-make Halloween decoration accomplishes two goals at once-- it transforms bread tags into a spooky-cute craft while also recycling those tiny plastic clips that are intended to keep bread fresh. Create your own tiny monsters by painting the clips with puff paint and adding patterns.
For your Halloween decor, you have an abundance of options, ranging from your indoor to outdoor designs. When making these decorations, it's economically wise and environment friendly if we can find ways on how to creatively recreate our used plastics and bottles and recycle our old stuff at home. Happy Halloween!
Related Articles:
***
For more information about the affordable house and lot for sale of Lumina Homes, please contact (0917) 629 6523.
Visit our official website at www.lumina.com.ph and like/follow our official online channels: Facebook, Twitter, Instagram, YouTube, Google MyBusiness & Google Maps, Pinterest, Spotify, Viber, Telegram, Lazada, and Shopee.

Try our Home Loan Calculator
Loan Calculator
Try Lumina Homes' loan calculator and get an estimate computation for your preferred Lumina property and home model.