Lumina Residences Bulacan Activity Area and Subdivision Marker Already Launched
17 January 2023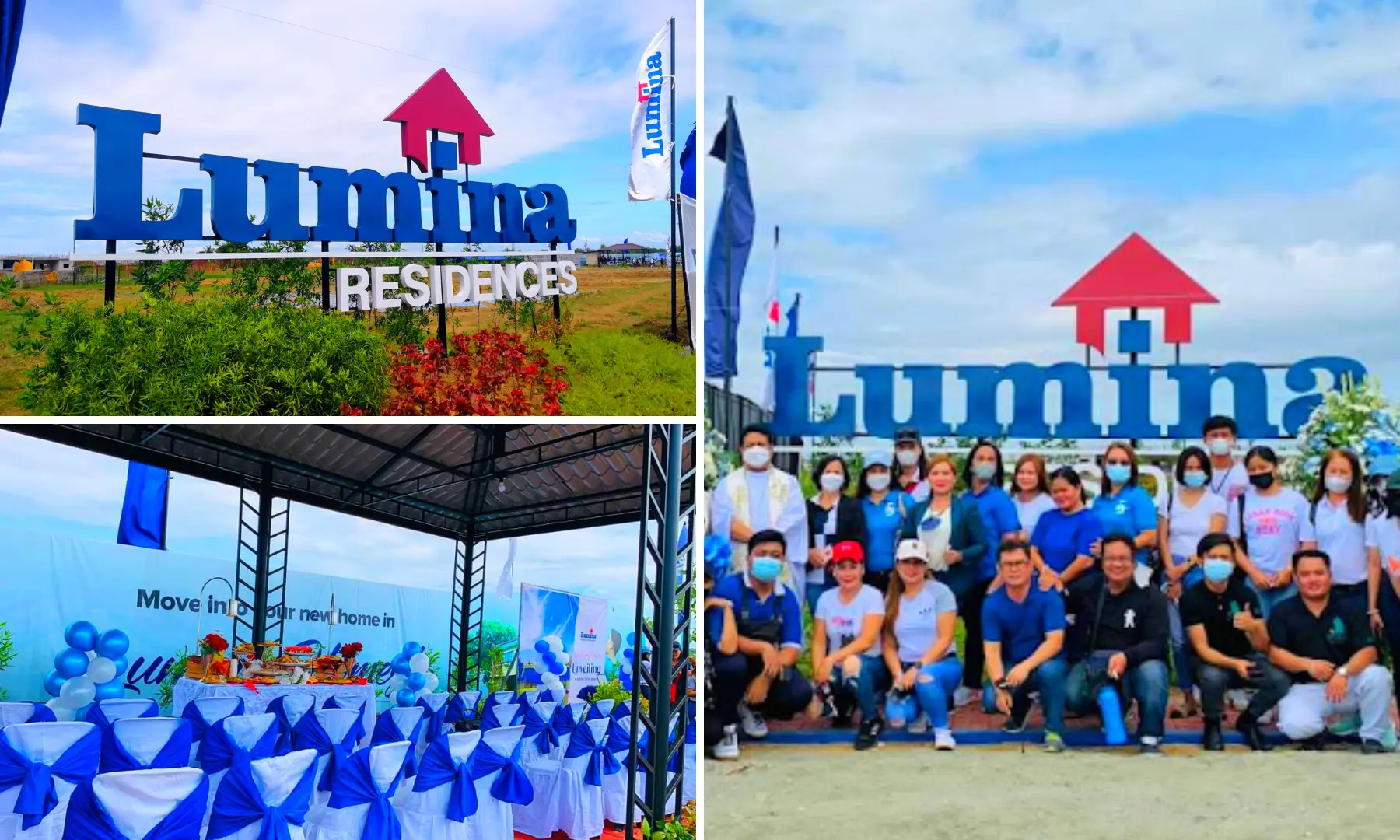 Lumina Residences Bulacan is a brand new area in which Lumina offers the chance to purchase a home. Now is the time for all Bulaqueños to make an investment in Lumina's new house and lot in the Philippines.
Recently, the newest addition to the Lumina Homes series of community development ended 2022 with a surprise for the residents of Lumina Residences Bulacan-- through the unveiling of a subdivision marker and an activity center inside the subdivision.
As a way to celebrate the event, Lumina Bulacan Management, along with its its top-performing brokers and agents, planted trees to represent the new life and color that this initiative would bring to the forward-thinking province.
Lumina Bulacan Residences, the Newest Development Near Metro Manila
The most recent addition to the Lumina Bulacan family of ventures, Lumina Residences is a 14-hectare house and lot development with three (3) Phases delivering over 2,000 affordable house and lot at competitive prices.
The community is strategically located in Brgy. Rueda Plaridel and Brgy. Buguion Calumpit, Bulacan. With this, the proximity of the development to Tabang Exit, just 15 kilometers away, makes it an attractive option for those who commute to and from Metro Manila for work. It takes only 45 minutes to an hour drive to travel to and fro the metro from Lumina Bulacan Residences.
Additionally, the Malolos section of McArthur Highway, which runs through the heart of Bulacan's capital city, is just a short distance away, making it easier to put at your map marker.
Having convenient access to a wide variety of services—from schools and colleges to shopping centers and transportation hubs—makes this development an ideal investment for families looking to settle down in a contemporary setting.
Refashioning Lifestyle to the New Normal with Adriana Townhouse
The Adriana Townhouse by Lumina Residences Bulacan is a 44 sq m, 2-storey property with space for up to 2 bedrooms and 1 garage. Because one of the rooms can be easily transformed into a home office, fitness center, or entertainment room, this design is ideal as either an investment property or a first house for young professionals. You can also easily turn this type of unit into a new normal interior design home.
On top of that, the property's convenient location between Plaridel and Calumpit, as well as its proximity to Malolos, make it a popular leasing option.
The Adriana is the ideal new standard house in the "new normal" since it is well-designed to have good air circulation inside and has enough rooms for modern living necessities like a gym, a garden, and a study. Its bathroom and toilet are also set up in such a way that the unit's owner may add an extra door leading outdoors so that they can clean up and disinfect before going into the common areas with their families.
Key Features of Lumina Residences as the Perfect Home in Bulacan
Considering Lumina Residences Bulacan properties as your new home? Here are other key features that you can look forward to in this thriving community:
Equipped with Lumina Homes' signature amenities.
As part of the affordable house and lot for sale segment of Vista Land, Lumina Homes Residences in Bulacan is also equipped with the signature Lumina amenities that our residents and new homeowners enjoyed throughout the years.
These include a Multi-Purpose Hall where you can freely enjoy your favorite sports with friends and family, regardless of the weather. Purchasing property units from Lumina Residences Bulacan will also give you the perks of spending time in our Mini Gardens during your leisure time and provide a safe outdoor play area for your kids through our playgrounds. For your security, this community in Bulacan also includes a 24/7 Guarded Entrance that guarantees your privacy and makes the subdivision safe from outsiders.
Enjoy shopping and leisure activities a few blocks from home.
Another feature that you can conveniently enjoy in this community is its proximity to shopping malls and grocery stores.
Vista Mall Malolos, the "country's most beautiful" mall brand, is less than ten minutes away from Lumina Residences and has a wide variety of restaurants, shops, and Vista Cinemas with some of the best film production values in the world.
Apart from this, the subdivision is also just a few minutes away from Robinsons Place Malolos, South Supermarket, All Home Supermarket, and Puregold Malolos.
New infrastructure developments near the area.
New infrastructure developments are also underway in the area. In fact, work is progressing on the North-South Commuter Railway (NSCR) Malolos-Manila project, which will connect Tutuban (Manila) and Malolos City, Bulacan, and open to the public in 2024. Less than an hour will be saved on a trip from south to north thanks to this section of the NSCR urban rail transit system running from New Clark City to Calamba.
Another infrastructure development near the subdivision is the New Manila International Airport, which is just 30-40 minutes away from Vista Mall Malolos.
Conveniently connect with the whole community with more space.
eSpacio, the community hub shared by all Lumina developments, will be located within Lumina Residences. It will feature a covered basketball court, mini gardens and play area, "Tambayan ni Juan" for outdoor dining and live performances, and a community center with units for a barangay center, senior citizen's center, health center, and day care.
24/7 public transportation is available.
Lumina Residences also provides conveniences such as a shuttle service to the nearby VistaMall Malolos, which can be reached via vehicle in around five to seven minutes. Not only that, the convenience of public transit is further enhanced by the proximity of available public utility vehicles right at the subdivision's front gate, which operates around the clock.
Lumina Homes truly puts the needs of their homeowners and future residents in mind as it continues to create new innovations in the area of the Philippine real estate market.
Other projects in the Province of Bulacan that you can also check out are the following:
Lumina Pandi- Brgy. Pinagkuartelan, Pandi, Bulacan

Lumina Plaridel- Brgy. Culianin, Plaridel, Bulacan

Lumina Baliwag- Brgy. Pagala, Baliwag, Bulacan

Lumina San Miguel- Brgy. Buliran, San Miguel, Bulacan
All of these communities are in high demand in the cities or municipalities where they are located.
Before the remaining 10% are sold out, now is the time to purchase a unit in the Lumina Bulacan Residences, whether you are considering making that move or are just searching for a sound investment to ensure your financial future.
People who want a site-tripping are also welcome to our Lumina Homes in Bulacan projects so make sure to book your schedule in advance!

Try our Home Loan Calculator
Loan Calculator
Try Lumina Homes' loan calculator and get an estimate computation for your preferred Lumina property and home model.