What is Hybrid Work Arrangement?
6 April 2022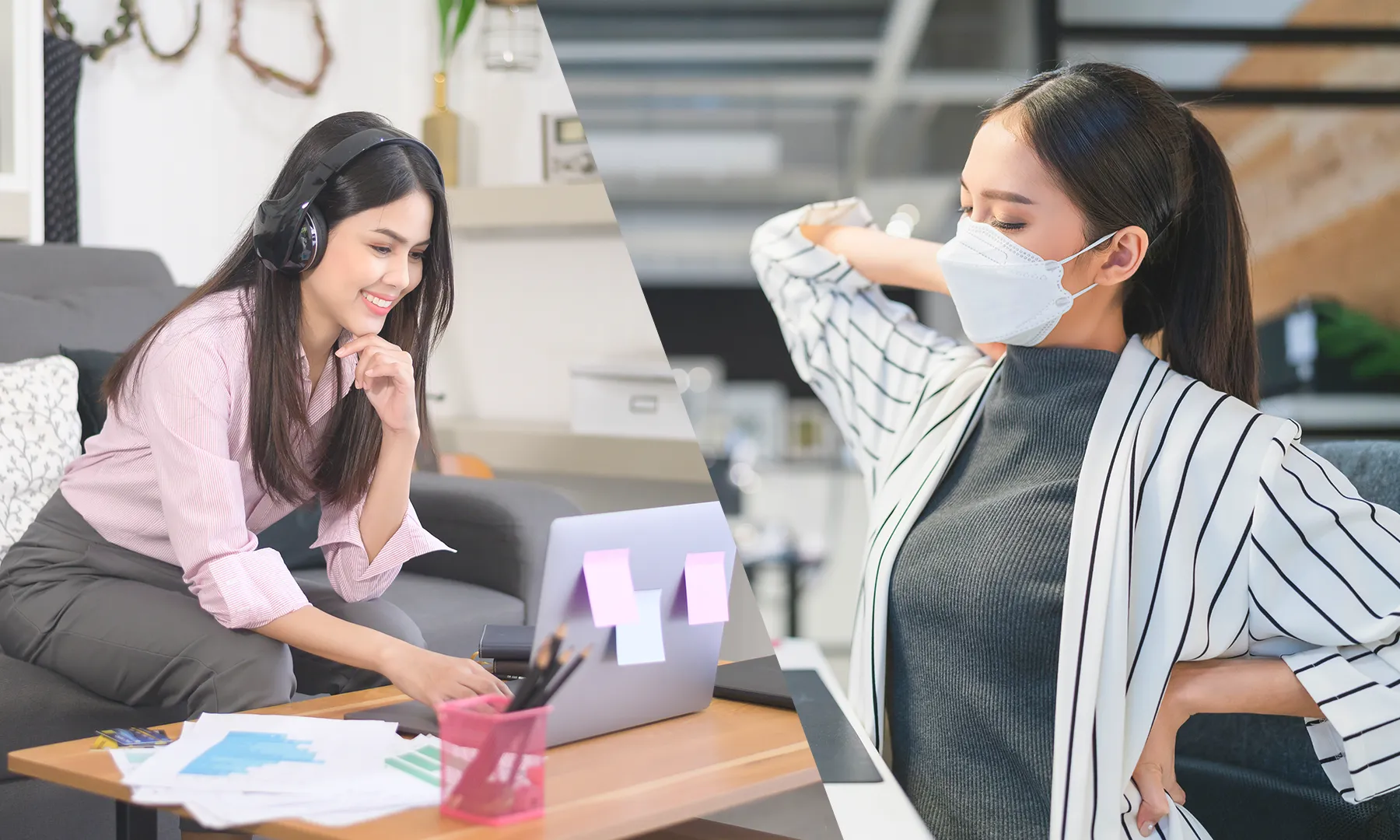 With a number of the population already got inoculated against COVID-19 and the number of daily cases in the country going down, the people's routines, lifestyles, businesses, and the economy as a whole are slowly getting back to normal.
For many workers, returning to work signifies a return to some form of normality — or at the very least, a work environment more like the one we remember from before the pandemic hit. Although for some, the thought of giving up their pajamas and their favorite coffee from the kitchen is a big no-no.
In point of fact, organizations are discovering that a great number of their employees are reluctant to give up remote work when offices begin to reopen. Overwhelmingly, those who have begun working remotely as a result of COVID-19 favor it and want to keep doing so.
Companies can no longer claim that they can't function remotely, which was a typical justification to avoid remote work prior to 2020, but with a continuing worldwide pandemic, they also can't require workers to return to the office on a full-time basis to the workplace.
In order to meet halfway, the hybrid model seems to be the most popular option right now since it is something with which every firm seems to be struggling.
The Hybrid Working Model
A hybrid work model allows workers to work both on- and off-site, depending on their preferences. This agreement may be worked up between the employer and workers based on the nature of the task they are doing.
We can't deny that the pandemic has had an impact on our work practices. There were others who doubted if working from home could be productive. When it comes to working from home, most people today have a functional office setup. This new way of working is being ushered in by a change in perspective and the widespread use of modern technologies.
Many companies are increasingly embracing a hybrid work model in response to this trend. Since the outbreak of the pandemic, at least 80% of organizations have established a policy allowing employees to work from home while more than 47 percent of these companies aim to offer full-time work from home for their staff.
Hybrid Work Model Avatars
There are different structures for working hybrid. In fact, you can pick a hybrid working model that is most suitable for your company:
Remote-First
There are a growing number of CEOs who have decided to go remote-first, which means that their operations will resemble those of an entirely remote firm, with a few exceptions, in the majority of cases. In order to be successful, a firm must operate as if it were a totally remote operation, with staff located in various time zones and communicating only through electronic means.
As a result, workers who don't want to work in the office can work from home, but the corporation will retain their office space for those who do need it. It's important to remember that, just as in a completely remote work environment, remote-first does not imply that team members never interact with one another in person. Annual retreats are common in remote firms, and many workers who reside in the same city might opt to co-work together from time to time.
Office-Occasional
Some businesses are ready to go back to work after the government eased the community quarantine restrictions. Maybe they don't want to waste money on vacant office space, or maybe they're still not convinced that remote work is better. These companies may have a hybrid approach that is termed as office-occasional.
Employees are expected to visit the workplace at least a few times each week under this model. This policy may be as lax or as strict as the company desires. Unlike the first example, this firm isn't going remote-first in its entirety. Instead, they maintain a physical office and insist that all workers spend time there. Some workers may even wish to stay longer than the allotted period. In any case, since workers are required to visit the office on occasion, the majority of the personnel will be based in the area rather than scattered.
Office-First, Remote Allowed
Another alternative is to maintain both the office and remote work but to identify the office as the principal location to work. In the pre-COVID-19 world, corporations would employ a small fraction of their staff in distant locations, while the majority of their employees worked in a single office location. If the full leadership team is in the office, this technique is more typical. It is probable that the remainder of the organization will become office-centric by default since the leadership team will typically conduct in-person interaction and cooperation, excluding remote employees from the discussion.
It's possible that under this model, the firm may have a policy of allowing workers to work from home, but those who do will be distinguished from those who don't by the connections and possibilities that working in the office gives them.
Now that you have an overview of what a hybrid working model is all about, it's time for us to know the things to consider before switching to this kind of work model.
Also Read: Types of Employment in the Philippines
Factors to consider before making the leap to hybrid work models
Before completely switching into a hybrid working model, there must be a well-thought-out strategy in place first to maximize the advantages of hybrid working and to minimize the problems.
Although studies say that more than 80 percent of remote employees say they love working from home, and 69 percent say they are equally as productive or more so than those who work in an office environment, we can't overlook the fact that most of us aren't used to working remotely all the time, and this isn't the preferable choice for many of us either. So, what are the most important considerations to keep in mind as you prepare for this new working style?
Let's take a look at these factors below:
Getting the right balance is essential
According to studies, 68 percent of executives feel that workers must be in the office at least three days a week in order to maintain business culture. However, over 55% of workers want to work remotely at least three days every week. Unquestionably, it is necessary to strike a healthy equilibrium between the opposing points of view.
It is important for businesses to choose which workers should be allowed to work from home, and for how long. As a result, managers must take into account the potency of employee contact while workers are working from home.
Inclusion of remote workers
With a remote team, inclusion is a major concern. The absence of a team member in person does not imply that the individual is not an equal member of the team. But if you're not cautious, that's precisely what may happen. Because of the wide range of experiences that people had throughout the pandemic, new ideas about diversity and inclusion have emerged. It might be anything from their living situation to their job duties that are causing this diversity and inclusion.
Employees who spend the majority of their time away from the office are more likely to be subjected to bias because of this. It's possible that they'll be purposely kept out of discussions or granted a promotion.
If you're considering a hybrid model, make sure your lines of communication are wide open. Even if an employee is located in another country, make sure they participate in corporate and team events. Work-at-home workers may raise their problems and provide feedback more easily if you maintain an open source of communication with them.
Remote working company culture
In every organization where the values of the workplace are important, a strong foundation is laid by the company's culture. It's harder to foster a sense of community when there's less of a human element involved. However, remote workers must also adopt in-office behavior and expectations.
Building a hybrid work culture requires mentoring, coaching, and support for individuals who work in different parts of the world. It encourages self-improvement and the priority of quality work above quantity. In order to promote a welcoming workplace, doing catch-ups and check-ins on a weekly basis can be a terrific idea.
Hybrid workplace data security
Every company has sensitive information. If your remote employees working or have access to private data, you must collaborate with IT to ensure the proper security measures are in place.
Prior to the implementation of a hybrid work style, it's important to examine factors like cybersecurity training, software, and company-issued systems. Before allowing your staff to work remotely in a highly regulated field, make sure to review all rules, contracts, and laws.
Why shift to a hybrid work model
Remote work is becoming more common as a result of more digitalization of job responsibilities, faster internet, and the availability of more affordable computers. In addition, remote employment allows a firm to search for the greatest personnel outside of its immediate area or even outside the country. Aside from this, small companies may also save a lot of money on office space by working from home.
Both major and small enterprises shifted to remote labor when the pandemic struck. Processes and IT infrastructure for working from home have to be established to make this possible. They swiftly learned and adapted to create a system that assures staff productivity, information security, and employee engagement.
Here are the top reasons why a hybrid work style is a good fit right now and in the future:
Allows firms to tap into a larger pool of potential employees
It has always been a perk for workers to be able to work from home. As a result of the pandemic, many workers have become used to this advantage. As it happens, a lot of people search for employment choices that allow them to work from home when companies open these kinds of opportunities to the public.
To attract the kind of individuals that prefer working for organizations with flexible work arrangements, employers should promote flexible work models as an organizational culture.
Better work life balance
Work-life balance improves when workers have the option to work from home or remotely. As a result, they will have more time for other pursuits outside of work.
Remote working has been shown to increase productivity even before the pandemic. Although some individuals may find it difficult to remain productive when away from the office, this is not always the case. In these situations, a hybrid approach may be the greatest option for achieving the best of both worlds.
Avoids virtual fatigue and improves mental health
Virtual meeting weariness and burnout are real, and many employees have experienced this first-hand during the time that remote working started. A lot of video conference sessions might be exhausting. They may also lead to poor communication and a lack of excitement on the team. In a hybrid model, virtual meetings are supplemented with face-to-face ones helping to prevent virtual exhaustion and mental health problems.
Fosters a better working environment
Staying in the same place all day has its benefits. It improves teamwork and fosters a positive work environment for everyone involved. Personal and direct encounters may enhance communication and develop trust and a sense of community even when virtual meetings and video conversations have been the standard practice for many companies. Using a mixed work style allows workers to connect and communicate on a more intimate level.
This pandemic totally changed our lives and lifestyle as well as our working environment. It's good that through the development of technology, we were able to adapt to this new working model and still continue to be productive even the whole world was temporarily shut down.
Pursuing a hybrid workplace is great especially if you live in an area that has a reliable and fast internet connection like Lumina Homes. With its partnership with Streamtech, an internet service provider that offers affordable fiber internet packages, homeowners and Lumina Homes future residents would be ready to shift into a hybrid work style anytime they want.
Get a brand new house and lot package with a fast and reliable internet connection and be future-ready in your career with Lumina Homes and Streamtech!

Try our Home Loan Calculator
Loan Calculator
Try Lumina Homes' loan calculator and get an estimate computation for your preferred Lumina property and home model.