April is National Stress Awareness Month
1 April 2022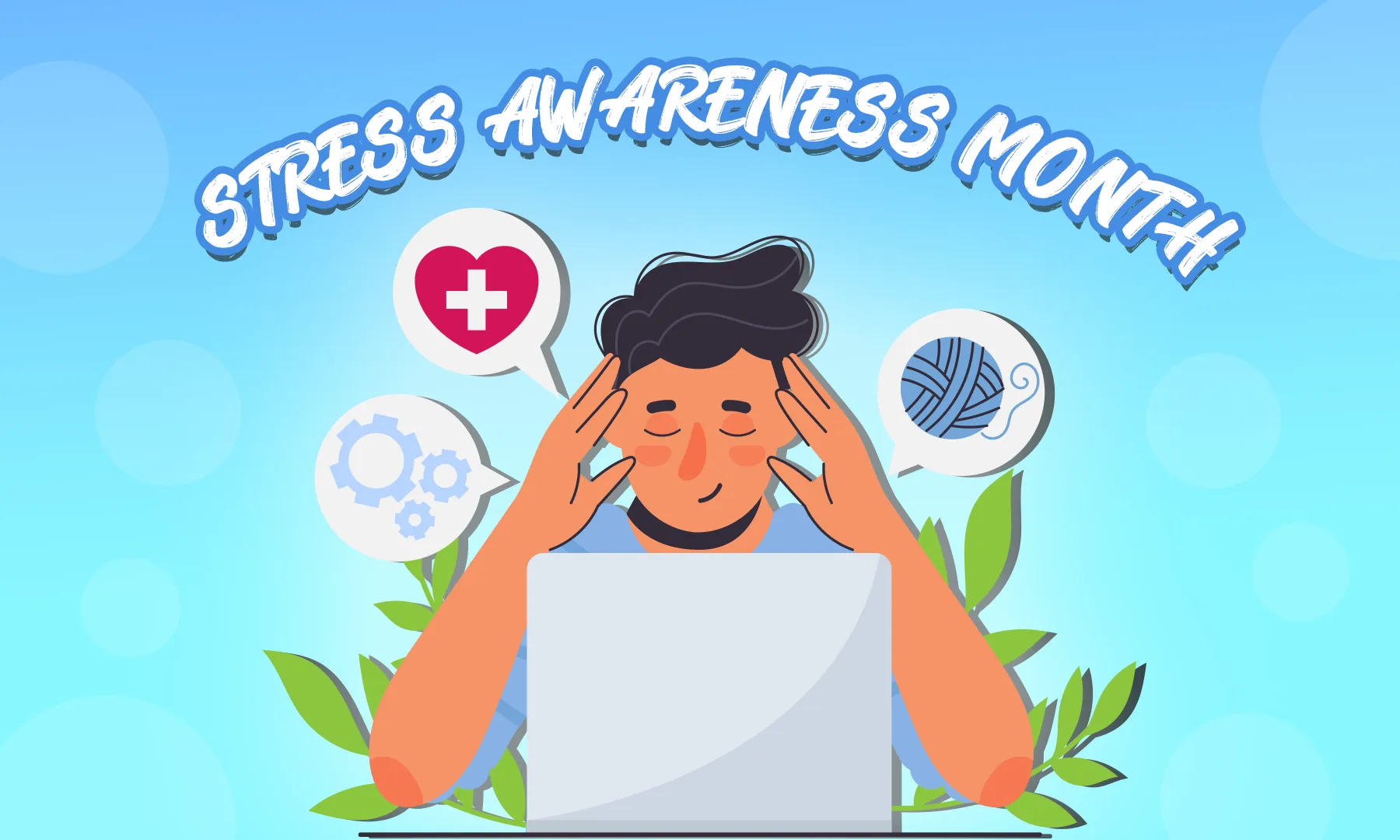 Since its inception in 1992, the month of April has been designated as Stress Awareness Month in an effort to bring attention to the growing problem of modern-day stress. As a matter of fact, as early as 1974, the International Stress Management Association was established in order to bring together professionals and researchers working on stress management in the workplace and in the individual's life.
Stress Awareness Month Theme 2022
The focus for this year is on building a sense of belonging in our community. For this reason, it was decided by the stress management society to give importance to the topic of loneliness and isolation, which may have a negative influence on mental health and even lead to mental illness.
According to them, for both mental health issues and suicide, social isolation is a significant risk factor for those who are isolated. Community support is essential as we emerge from the pandemic, which many individuals experienced during this difficult period. Despite the fact that most restrictions have been lifted, individuals still need assistance as they learn to live in a new normal.
People's mental health and feeling of belongingness have suffered greatly due to the pandemic that affects the whole world. As a result of social disruptions, cancellations of huge events, travel limitations, and the need to work from home, many of us have been confined to one location for extended periods.
One good to emerge from this unprecedented scenario, according to experts, is the communal spirit and support offered by so many people to so many people.
Ways on how to relieve stress
A community is essential in fighting specific stress hormones rush, but so is our personal stress management. Some may find it hard to manage stress, especially with lots of emotional strain due to the heavy workload brought by the pandemic.
Below are some of the ways on how to relieve stress and achieve a healthy and positive life:
1. Improve mental health when you exercise regularly
Often, those who exercise frequently do so because it makes them feel good. But do you know that a good workout may help you improve your mood, your focus, your attentiveness, and even helps you to achieve a positive view in life?
In fact, studies show that those who frequently engage in physical activity report higher levels of psychological well-being and a lower prevalence of mental disease than those who do not.
Physical activity is critical for persons suffering from mental illness since it not only helps to elevate our moods, but it also strengthens our hearts and blood vessels (preventing heart disease), which in turn improves our general health.
In order to get the advantages of exercise, it does not have to be rigorous, time-consuming, or regimented. There is no substitute for regular exercise, but doctors suggest that individuals engage in 2.5-5 hours of moderate physical activity or 1.25-2.5 hours of intense physical activity each week, particularly in adults.
2. Overcome issues you can't afford to change
Some individuals refuse to accept the harsh reality of life, which is that you have little or no influence over many of the events that take place in your life.
Although some individuals are aware that they have no control over the outcome, they continue to fret about the worst-case scenario regardless-- which sometimes led to stomach disorders. They worry about everything from natural calamities to lethal illnesses. Worrying may keep people occupied, but it is a waste of time and energy since it accomplishes nothing and may result in various stress levels.
You can prevent overthinking about things you can't control if you can determine and accept the things that you can only control. When you find yourself worried, take a moment to look at the things that you can control. It's impossible to prevent a storm from occurring, but you may take precautionary measures. Another thing that you must keep in mind is that the only thing you have control over is how you respond to what happens to someone else.
Acknowledge that all you can control is your efforts and the way you approach the situation. You'll be far more successful if you focus your efforts on the things within your power to influence.
3. Set realistic goals for your personal growth
In certain cases, we create unachievable objectives for ourselves. Initially, they don't seem to be difficult, but then we struggle to find out where to begin, or we feel disheartened when we encounter difficulties. Insufficient resources, a lack of organizational skills, and a lack of enthusiasm may all lead to objectives that are not realized. In the long run, this might make us feel horrible about ourselves, which makes it more difficult to go on or try again.
Try the acronym S.M.A.R.T. which stands for Specific, Measurable, Achievable, Relevant, and Time Bound goals. Make your objectives specific and time-bound so that they are easy to measure and achieve. It may help you with issues that are tough to address or goals that seem overwhelming or hard to plan out.
To optimize your time and resources, and to keep you motivated, it's important to set realistic objectives. Setting and completing attainable objectives may also improve your self-esteem which in return can help in your personal growth.
4. Do breathing exercises
You may practice breathing exercises anywhere and anytime, making them a great intervention or method of coping when you're feeling overwhelmed. Breathing exercises are supported by science. A number of studies have demonstrated that breathing exercises and mindfulness may improve mental health and reduce stress and despair. As a side benefit, doing deep breathing techniques may help you focus your thoughts and calm your anxiousness.
If you're anxious, altering the ratio of your inhalation to your exhalation is the quickest method to relax. Take four deep breaths in, then let them out slowly for an eight-count exhalation. Your heart rate increases as you take a breath in and decreases when you exhale. The slower your heart rate is, the more relaxed you will feel. In order to train your nervous system to respond less strongly to stressful events, you might do breathing exercises every day.
Apart from the coping mechanisms cited above, as we mentioned earlier, the community also plays a vital role in the physical health, emotional wellbeing, and good mental health of an individual.
This is the reason why it's crucial to consider the community which you would like to build your family or start your home investment with. Fortunately, Lumina Homes got the healthy community that you are looking for!
Lumina Homes recently launched its newest addition to its community called eSpacio. This offers wider and bigger space for the residents' leisure and recreational activities including a jogging path, multipurpose hall, mini gardens, play area, community center, and Tambayan ni Juan.
These amenities offer various engagement activities and events to the residents and help them to socialize and bond with the whole community.
Give yourself the gift of a great community and good mental health and make your home reservations now with Lumina Homes!

Try our Home Loan Calculator
Loan Calculator
Try Lumina Homes' loan calculator and get an estimate computation for your preferred Lumina property and home model.