Valentine's Day Gifts for Her to Level Up Your Relationship this 2022
20 January 2022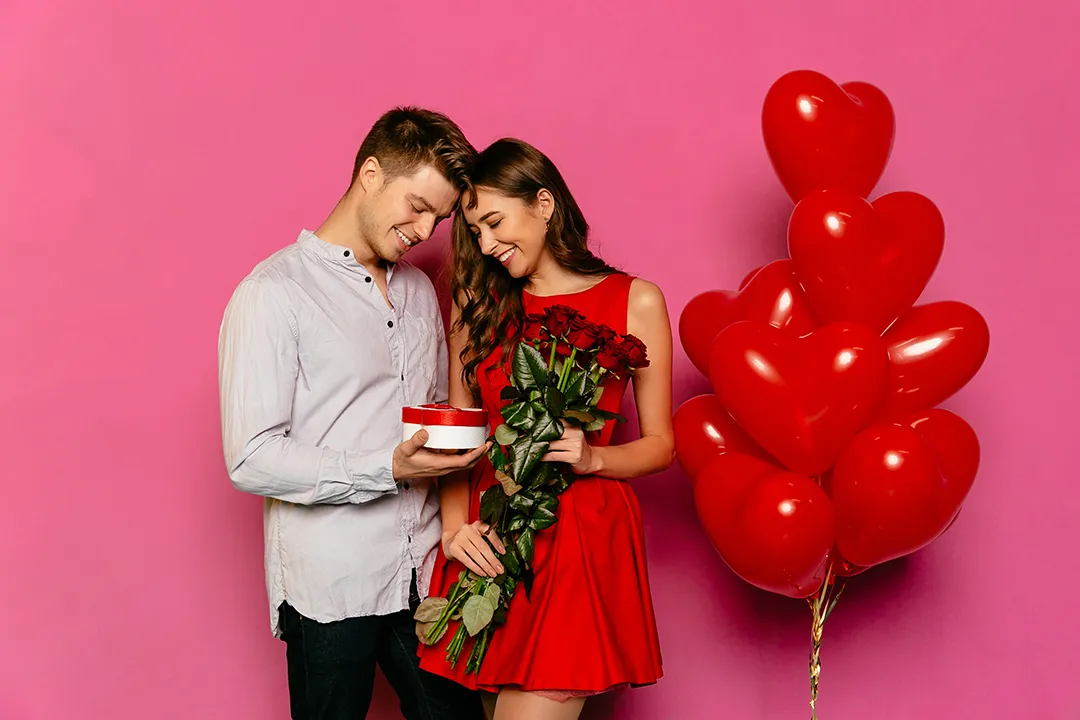 Valentine's Day is just a few weeks away. Your to-do list on this special day with your other half may include a romantic meal, a beautiful letter with a meaningful message, and, of course, the ideal Valentine's Day gifts for her.
There's no doubt that the lady in your life deserves nothing less than the finest. Everyone wants to go all out for Valentine's Day, and that's understandable. So instead of giving her a gift that she'll forget about in a year, give her something she'll cherish for years to come instead.
What to bring your girlfriend (or wife) on Valentine's Day doesn't have to be the traditional flowers and candies. That is why we collected some great ideas for you to guide you on choosing the perfect Valentine's day gift for your special lady.
Valentine's Day gift ideas
Here are some of the perfect gift that you can choose from:
1. Back shoulder and neck massager
This hands-free massager will do the job when you can't be there to give her a much-needed shoulder rub and self-care. This wonderful massager can relieve any strain in her neck and shoulders due to her long work hours and move it between several intensity levels and speeds that make it an instant keepsake.
2. A set of bath and shower oils
Bring home to her a gift she's always longing for, like this upgraded bath and shower experience through a relaxing aromatherapy bath and shower oil set. Make sure to pick something that has slick packaging aside from having a wonderful smell.
3. Scented candles
Since we just usually stay inside the house these days, you can buy her some scented candles to make her feel cozy and relaxed at home. Consider lighting a candle in conjunction with a personalized message from your heart. Home Buddies inspired candles like rose and peony flower fragrances mingle with zesty lemon, and sultry sandalwood accents are the perfect scents for a sensual fragrance.
4. Date night idea cards
These date night idea cards are the best gift for your special someone this love month. There's a great date suggestion on every scratch-off card, from warm at-home evenings to exciting outings you'll both love!
5. Personal bouquet gift set
Instead of the classic gift bouquet with fresh flowers, give your woman this gift that includes everything she'll need to pursue a beloved hobby, all neatly packaged in a bouquet and garnished with dried flowers she may use as decor. Kits for knitters, tea drinkers, and gardeners are available, each with a variety of tools and supplies to help her get started on her project. You can also include here work gloves, plant markers, seed packets, a nail brush, and even stuff she can use in her natural shop.
6. Rose quartz eye mask from Sephora
Make her feel like a queen with this simple yet sweet treat. Sephora customers believe that the weight from this eye mask is an enormous help when their allergies or sinuses are acting up aside from counteracting the puffiness, dark circles, and fine wrinkles in their eyes.
7. Hand carved heart serving spoon
This wooden spoon in the form of a heart would be an ideal gift for a woman who uses cooking and baking as a method to express her love for her partner. Say I love you to your lady in this unique and creative wooden craft.
8. Infinite Objects video print
To create a moving work of art for her, use Infinite Objects to loop movies of the two of you, your baby, or even your fur baby. She'll be able to stare at it all day long. Think of it as a more up-to-date version of the standard picture frame. This Valentine's Day present is guaranteed a position of honor on her nightstand, desk, or bookshelf.
9. Temperature control smart mug
This temperature-controlled mug would be a lovely present for her if her coffee or tea usually gets cold before she's through with it. Make sure to keep her drinks warm during the cool holiday or rainy weather and during a heavy workload day at work.
Thoughtful gift for her
Meanwhile, if you want to go the extra mile for your special someone this Valentine's Day, you can add some thoughtfulness to your gift by giving a personalized item to her.
1. Initial pendant necklace
This delicate and contemporary initial necklace will quickly become her go-to piece on her jewelry box that every time she puts it on, she'll remember you.
2. Personalized handwriting bracelet
It would be better if she could genuinely wear your heart—or at least her handwriting—on her sleeve, rather than just saying "I love you." You can now make this thing possible through a personalized handwritten message that can be transformed into gold, rose gold, or sterling silver bracelet. Romantic, indeed.
3. Engraved cutting board
For ladies who have a strong passion for cooking and food, you can give them a cutting board that they can use either for cooking or when making the popular charcuterie board. Add some memorable touch to their cooking session by engraving their name on it and your anniversary.
4. Customized phone case
Give them a new go-to case by getting a personalized phone case with their name on it. Not just they'll love its design that has lots of patterns, colors, and cool fonts, but they can also receive compliments from their gals with this cutesy.
5. Personalized wine box
This uncommon goods gift is the best place to store your used wine or just to stash some bottles for special occasions aside from bringing it outdoor during your picnic dates. A perfect way to celebrate your love for each other and for wine if you are both wine connoisseurs.
6. Customized passport holder
For adventure lovers, this is an ideal gift this Valentine's Day as you take your journey together into some new foreign country travels. There is nothing more beautiful than the passport holder and baggage tag combination made in vegan leather along with some rose gold patterns—definitely an excellent gift for your significant other.
Phew! Those are some ideas for this love month. And once the presents have been given and all the thank-you kisses have been shared, it's time to cuddle up with a movie and some popcorn or to do something else exciting to commemorate Valentine's Day. Whatever you decide to do, all that truly counts is that you and your loved ones are together.
And activities such as this can become much better if you have a space in your community where you can strengthen your social connections while enjoying the different amenities and recreational activities available in your subdivision. Reside at Lumina Homes and unbox new social connections through its amenity center, eSpacio!
With Lumina Homes, all these can be made possible and achievable inside a safe and secure community! So if you're considering buying property or looking for a house and lot for sale, Lumina Homes is one of the leading housing providers in the country like Camella Homes, Vista Residences, Crown Asia, Brittany, Lessandra, and Camella Manors.
Buying a home as a Valentine gift will indeed level up your relationship. Contact Lumina Homes today through our chatbox on this website or visit our Official stores in Lazada, Shopee, Viber, or GLife.

Try our Home Loan Calculator
Loan Calculator
Try Lumina Homes' loan calculator and get an estimate computation for your preferred Lumina property and home model.