The Ultimate Guide to Buying Your Own House And Lot in the Philippines
8 October 2021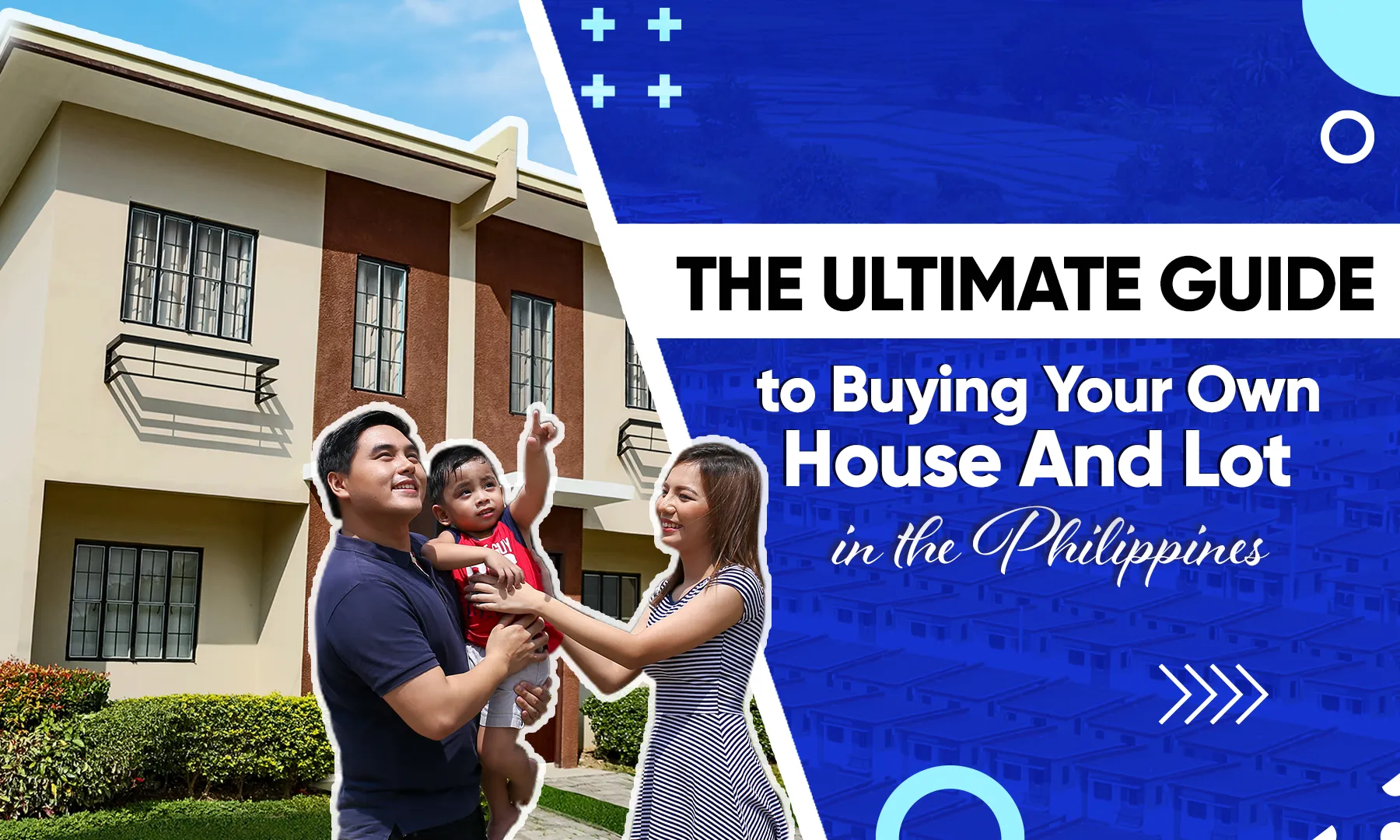 Real talk, who doesn't want to wake up from the comforts of his own house and lot?
One of the biggest dreams of Filipinos is to purchase their own property in the Philippines, particularly their very own house and lot. With shelter as one of the basic needs, who wouldn't want to build their dream house for their family in our country, right?
Even some foreign tourists and businessmen want to buy houses because of the beautiful surroundings and opportunities that await them in the Philippines. However, there are many reasons why some are still not able to purchase their house and lot property in the Philippines.
After all, investing in something like real estate is not to be taken lightly as it will cost a lot, and requires wise decision making. Some have a hard time deciding where they want their houses to be in with the many properties that are being built here in the Philippines. And even if they have enough money in their bank accounts, others are still hesitant to start the process of buying their house and lot. Why? Simply because they feel like they are not well versed in real estate.
Of course, no one wants to waste their hard-earned money on their bank accounts on a major investment that was not well thought out. After all, we spent years and years of hard work just to save enough for the cost of our #BahayGoals.
If you are interested in buying a house and lot in the Philippines and not sure how to start, here's a comprehensive guide that will help in buying your own property:
Step 1. Research, research, research!
… and make sure you are decided on the house and lot property that you want.
There are a lot of things to consider before you decide on purchasing real estate in the Philippines. That's why you need extensive research before doing so. First and foremost, you have to know the most ideal location that would suit your needs and wants. It's crucial because not only will it be your permanent home address for a very long time, but the location also determines the cost of the house and lot that you will buy. Don't be tempted to buy immediately just because the house and lot property have a value that seems to be affordable. As the saying goes: if something is too good to be true, it might not be true at all.
You can consider major cities like Manila, Quezon City, Cebu, or Davao if you want to be somewhere that has nearly everything you and your family will need. While these locations may be the most convenient, take note that these major cities could drain your bank account. Houses in these areas are often the most expensive ones. The good thing is, there are housing units near the metropolitan areas that are budget-friendly.
Remember that every area has its pros and cons, so you should ask yourself a few questions like what kind of neighborhood do you want your family to live in? Are there amenities that you need to be within the area? Do you need it to be near your workplace, school, or public services? How safe is the location from the risk of natural disasters, diseases, or crime? Aside from residence, is there another purpose that you want for your house and lot? Will it be just a vacation house? Or is it just something you want for investment for the future of your family? The list of questions will surely go on and on so it's really important to do your homework before making that big decision.
If you will not be moving in the house and lot alone, you need to discuss the decision with your family members or whoever it is that will live with you. Ask for their concerns and take it into consideration before going through with the process.
Your purpose of buying a property requires different processes.
If you consider getting a house and lot property for a rental business, you must also read up about the Philippines' Rent Control Act or Republic Act 9653. It has instructions on what property owners should and should not do when they rent out their property. You should also decide if your house and lot property would be better for a long-term rent or as a transient home for tourists.
If you are an Overseas Filipino Worker (OFW), it's hard and quite impossible to personally research and monitor the process of buying your house and lot here in the Philippines. What you should do is to appoint a legal representative or an attorney-in-fact instead.
This needs to be someone you really trust. Most OFWs appoint their spouse, sibling, children, or other close family members. You need to sign a Special Power of Attorney document and have it consularized. This will grant your representative the authority to sign legal documents on your behalf while you are away from the Philippines. You will have to pay a consularization cost that may vary depending on what country you're working from. And while you are not in the Philippines, you could also ask your chosen representative to look after your house and lot property. If ever your appointed attorney-in-fact is no longer available for some reason, ask help from another trusted relative or friend to assist you in this matter. It would be better if it is someone who has convenient access to the area and someone who can contact you immediately for any concerns about your house and lot property. They can also help you take care of paying for the monthly expenses in the bank so you will not be stressed while you are away from your house and lot property in the Philippines.
Step 2. Plan your finances and know your options on how to pay for the house and lot property
After you have found the perfect house and lot property that you want to purchase, it's important to make sure that you can afford the fees needed to cover its value. You wouldn't want your dream house to be the main source of your problems, later on, right? Check the available options that suit your situation best, whether it's better to go with installment plans or take a loan, bank financing through Home Development Mutual Fund, or PAG-IBIG.
There are also instances when a real estate developer offers in-house financing. In this option, you can take a loan from the developer who built the housing units. Take note of the interest rate for the loan option that you will choose, and make sure that it is also within your budget. You can open a checking account in your bank under your savings account so that you can pay for your house and lot through post-dated checks.
There might still be unforeseen circumstances like losing a job, needing money for healthcare, or a shift in your priorities, so here's an important reminder if you choose a housing loan: always think of a Plan B, C, D, and so on. So that when you can't pay on time, you are ready with a backup plan. Then, find out how long the grace period is if ever your payment is delayed. The Philippines also has laws like the Realty Installment Buyer Protection Act, also known as Maceda Law, that protects buyers who choose to pay via installment if ever they cannot push through with the rest of the payment. Take note, however, that this is only applicable for those who have been paying monthly amortization for two years. You could also consult lawyers to know more about your rights as a buyer.
Step 3. Find a credible and licensed real estate developer.
Even after your research, you might still have some questions about the process of buying your house and lot. Don't worry, it's normal! So your next step is to find a trustworthy developer who has a great track record with the houses they built, just like Lumina Homes, who has nine years of expertise in the industry.
Once you find a good developer, you can ask for their roster of real estate agents or brokers that can help you evaluate further and determine if the house and lot you want are really worth its value. Look over the history of the developer and if they deliver their promises from their past housing units. Study if they have strategically placed houses near key establishments like hospitals, schools, banks, and shopping malls that their client might need. Once your questions have been answered, ask if the developer offers a site tour around your chosen property so you can research further. There are even exceptional developers that can turn a relatively unknown area into an ideal one for a property or a house and lot by adding great amenities, and attracting investors who can add a commercial space that will be beneficial for residents.
You should also get information from various sources apart from the developers and broker of your targeted house and lot property. Read online reviews of their clients, property owners or buyers who had transactions with your chosen developer. Find out if other properties the developer sold in other areas in the Philippines turned out well.
Another important thing to make sure is how hands-on they are and if they are reachable any time while going through the process of home buying. Through this, it will show if they are genuinely concerned about their clients and willing to help them throughout the whole process.
The real estate broker or agent assigned by your trusted developer can also explain the fees or transaction costs that you need to pay and guide you further in the process on how to buy your house and lot. They can provide a sample computation for the fees that you will need to pay, like the total contract price, interest rate, down payment, reservation fee, loanable amount, and the monthly amortization. You could also ask your broker if ever some discounts are offered for the house and lot property that you are planning to buy.
Step 4. Settle the fees needed for the house and lot.
If you are satisfied with the computation by your real estate broker and you agree with the developer on the sale, the next thing you will do is to pay for the fees needed for the house and lot. If you are going to take a loan, you have to prepare some important documents. Aside from your loan application form, your bank might ask for some documents such as the photocopy of your IDs like Passport, voter's ID, Driver's License, or any other ID issued by the Philippine government. They might also look for your community tax certificate, recent income tax return, certificate of employment, and recent payslips. A PAG-IBIG housing loan would also need these documents, and some more details are available on their website so that you can check if you are eligible for availing one.
Number one rule when going into an agreement: always read the documents given to you before signing anything. Make sure you understand and that you are in full agreement with everything mentioned in the contract. After preparing the needed documents and securing the fund that can pay for the property value, a Deed of Absolute Sale must be created and notarized through a lawyer.
Aside from the transaction costs, there are also some taxes imposed by the Philippine government that need to be paid by the buyer like the real estate tax.
Real estate tax differs depending on the location of the property. It is 2 percent of the property value for Metro Manila properties and 1 percent for those in the provinces. After settling this fee, the Assessor's office will assess the market value of the property. Another tax that needs to be settled is the Local Transfer Tax, or the tax that is imposed for the transfer of property ownership from the seller to the buyer. The local transfer tax also differs depending on the location of the property. For a house and lot in the province, 0.50 percent of the property value must be paid.
For properties in municipalities and cities in Metro Manila, you would have to pay 0.75 percent. There's also the Capital Gains Tax that is usually 6 percent of the selling price, zonal value, and fair market value, depending on which is higher.
Once you've settled these fees, the Registry of Deeds will issue a new title under your name. As the new property owner, you must obtain the photocopy of the new title and request a tax declaration from the Assessor's office.
A documentary stamp tax is also needed for all the legal documents and papers that serve as evidence for the transaction. It is usually 1.5 percent of the fair market value or selling price. Like the others, it is also depending on which is higher.
You will also pay a notary fee to get important documents notarized. The notary fee is usually 1 to 2 percent of the property value, but it is negotiable between the buyer and seller. Some real estate brokers also ask for a real estate broker's fee, especially if they will be the one who takes care of the registration process. Others earn through commissions on properties they sold, so they don't charge this fee because it is already part of the payment.
You can discuss with your real estate agent or broker for further clarifications about these fees about what you will have to shoulder as a buyer and as the house and lot property owner.
The process of registering property might take about more than a month to be finished.
If ever you decide not to move in immediately, or if you need to be away from your house and lot property for some reason, you might still pay maintenance fees to your developer to keep your property in good condition. These fees can vary based on the conditions and amenities around your property. As mentioned earlier, you can also assign a relative, caretakers or someone you trust near the area to look after your house and lot property.
Step 5. Secure the proof of ownership of your house and lot
Once everything has been taken care of and you are finally the owner of the house and lot, secure the important documents that will serve as proof of ownership. These include the Contract to Sell, Deed of Absolute Sale and Certificate of Title.
Make sure that these documents, especially the Certificate of Title, are authentic. The original copy of the title will be handed to you as the owner of the house and lot and a copy will be submitted to the Registry of Deeds. Make sure to keep these documents safe but it must also be somewhere you can find easily if you ever need it someday. If you need to entrust it to someone else, make sure that it is someone who is very trustworthy and will not tamper or use your documents for fraud.
Buying your own house and lot property in the Philippines might look like a long and difficult process but with good research, help from people you trust, and a reliable real estate developer and broker, it will surely be easier.
While it isn't guaranteed to be 100 percent stress-free, it will all be worth it when you are finally living in or enjoying the profit that your house and lot property generate. Even after buying, maintaining your property may seem very costly, but the security of having your own house and lot is undoubtedly worth it. It is an investment that could be useful for your family across many generations. Go ahead and take the first step towards your dream home for your future and your family's security.
Want to see your dream house come to life? Let Lumina Homes help you achieve your #BahayGoals with our quality yet affordable housing units.
Related Articles:
***
For more information about the affordable house and lot for sale of Lumina Homes, please contact (0917) 629 6523.
Visit our official website at www.lumina.com.ph and like/follow our official online channels: Facebook, Twitter, Instagram, YouTube, Google MyBusiness & Google Maps, Pinterest, Spotify, Viber, Telegram, Lazada, and Shopee.

Try our Home Loan Calculator
Loan Calculator
Try Lumina Homes' loan calculator and get an estimate computation for your preferred Lumina property and home model.