Permanent Validity of Birth, Marriage, and Death Certificate
21 August 2022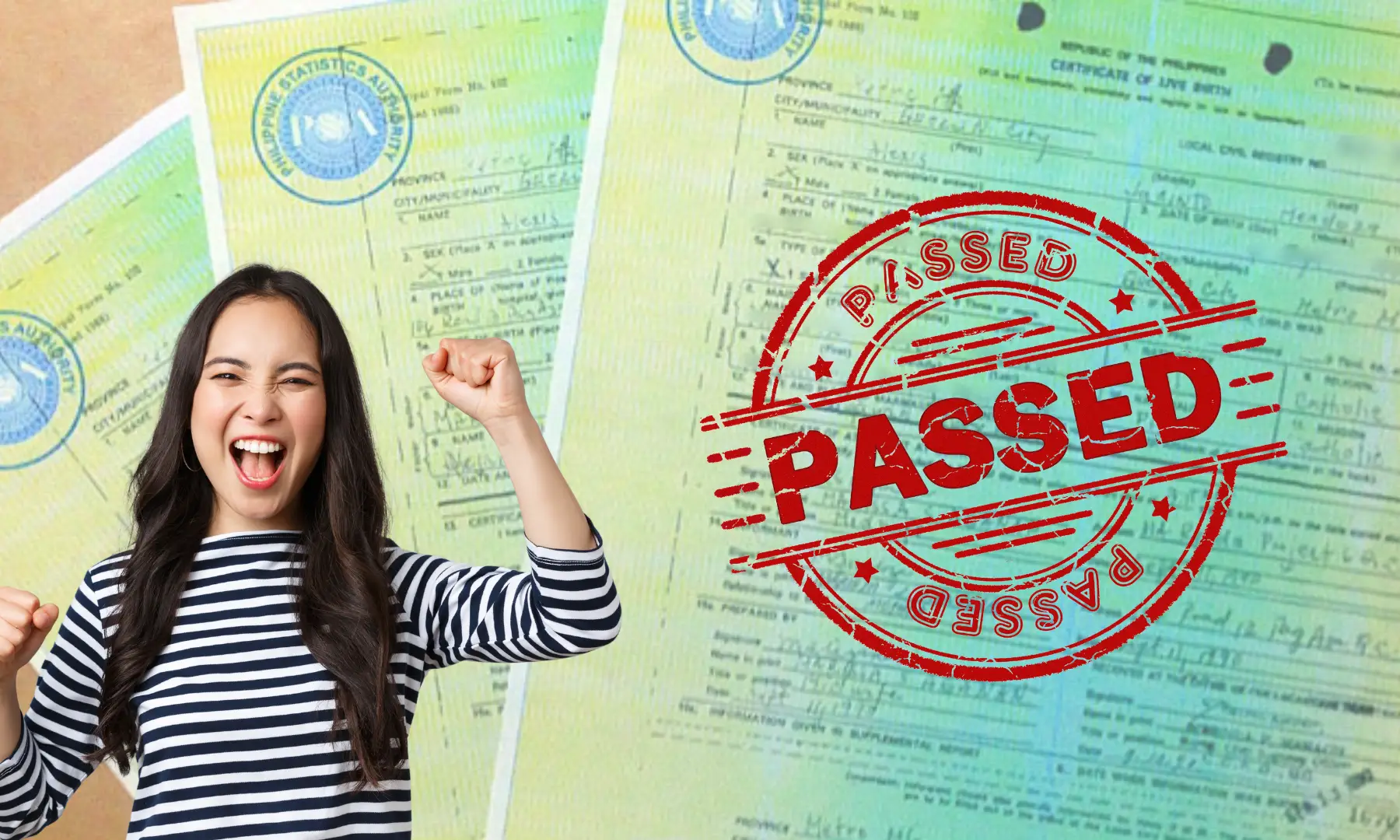 Whether you're applying for a new job, a passport, getting a license, fixing your government benefits, or even getting a housing loan, formal documents like birth, marriage, and death certificates are requirements to proceed with your applications. Fortunately, there was legislation that seeks to change the validity of birth, death, and marriage certificates to permanent documents that have lapsed into Philippine Law.
Now, the birth, death, and marriage certificates issued by the Philippine Statistics Authority (PSA) and the previous department, the National Statistics Office are now valid permanently.
Republic Act 11909 or Permanent Validity of Live Birth, Death, and Marriage Act
The "Permanent Validity of Live Birth, Death, and Marriage Act" became law last July 28, 2022. That means all birth, death, and marriage certificates that are issued, signed, certified, or authenticated by the Philippine Statistics Authority (PSA) now have permanent validity. Moreover, those issued by local civil registries will also have permanent validity no matter when they were issued.
August 1, 2022, Executive Secretary Victor Rodriguez communicated the enactment of the measure through correspondence sent to the Senate President's Office and the House Speaker's Office. The said documents will be acknowledged and accepted in all private and government transactions. This is also recognized as a proof of identification by an individual in any office.
Provided that the document is intact, readable, and still contains visible authenticity and security features, these certificates should be accepted in all government and private transactions or services that require them as proof of identity or legal status of a person.
To reiterate, there are exceptions to this newly passed law. If the details on the documents can no longer be read and if the security features on the issued files are no longer readable, and given that the authenticity of the document has been compromised, you will need to request a new document issued by the Philippine Statistics Authority (PSA).
The Final Reading and the 21 Affirmative Votes of the Republic Act 11909
The third and final reading of remedial legislation conferring lifetime validity on birth, death, and marriage certificates was approved last May 23, 2022. There were 21 affirmative votes, no negative votes, and no abstention for Senate Bill No. (SBN) 2450 or most commonly known as the Permanent Validity of the Certificates of Live Birth, Death, and Marriage Act. After it was approved in the House of Representatives, it was sent to the Senate for reconciliation and approval, paving the way for a bipartisan panel to hammer out a final version.
In Senator Revilla's view, the law was passed to address the growing concern that some organizations and government agencies accept only documents obtained in the past six months. This creates the impression that these are valid for six months only.
As chairman of the Civil Service, Government Reorganization, Professional Regulation Committee, and the sponsor of the bill, Sen. Ramon Bong Revilla Jr. thanked his colleagues for their support. Senate President Pro-Tempore Ralph Recto and Senators Francis Pangilinan, Win Gatchalian, Joel Villanueva, Juan Edgardo "Sonny" Angara, Grace Poe, Cynthia Villar, and Nancy Binay are all listed as co-authors of the bill.
Sen. Ramon Bong Revilla Jr also said that the piece of legislation has clearly provided permanent validity for birth, marriage, and death certificates regardless of when the documents are issued by the Philippine Statistics Authority or local civil registries. He also said that it should be recognized and accepted in all government or private transactions and services requiring such files. With this, Sen. Revilla Jr believes that our people no longer have to unnecessarily spend time and money to get new copies of their documents.
In addition, he also noted that while the Philippine Statistics Authority (PSA) has declared that the certificates of live birth have no expiration date of issuance, there will be government agencies and private organizations that will still require documents using the latest security paper. This costs Php 155 for an authenticated copy and Php 365 when delivered at their personal address.
He believes that it is most likely unfair for first-time job seekers to get documents that are issued within the past 6 months. Again, Sen. Revilla thinks that it is unnecessary time and money spent just to get birth certificates.
A person pronounced guilty of violating this law shall be punished with one to six months imprisonment or must settle damages of not less than P5,000 but not more than P10,000, or both, at the court's discretion. While a temporary disqualification from holding public office shall also be imposed if the violation is committed by a public official or employee.
PSA's Online Application Service
To avoid risking exposure to lots of high-risk illnesses and save yourself from the mumbles and jumbles of getting in line to get your PSA civil registry documents, you can utilize PSA Serbilis or PSAHelpline.ph instead. The Philippine Statistics Authority (PSA), formerly known as the National Statistics Office or NSO, now accepts online applications for civil registration papers via its website. Payment is online too so it's definitely hassle-free!
Listed here are 3 easy steps to get a PSA-issued birth certificate, marriage certificate, CENOMAR, or death certificate online via PSA Serbilis
Step 1. Fill out the Philippine Statistics Authority Online Application Form
Step 2. Make a payment for your document request.
Step 3. Wait for the certificate(s) delivery
Lumina Housing Programs: Getting One Requirement is Now Hassle-Free
This is the perfect opportunity to work on your requirements to finally get the house and lot property you and your family deserve! If you wish to start investing in real estate properties soon or are eager to get a house you can call your own, you will need documents such as Birth and Marriage Certificates.
Our accredited sellers will require you to present your civil registry records after you decide to make your home reservation with Lumina Homes. You no longer have to request and pay for a new one because if you have these documents, you can go ahead and take care of the other requirements. If you have more questions about the requirements needed to settle your homebuying process, don't hesitate to reach our respective officers and accredited agents and ask for help.
Lumina Homes will guide you on how you can process other requirements needed to help you prepare when you buy an affordable house and lot package with us. Check out our Lumina Sessions on YouTube and discover the benefits of having your own home. We have a great deal of informative videos that can help you choose the right property type for your family's needs. Also, we have the perfect tutorials on how you style your home efficiently and utilize the space for the best experience!
Come and reserve your very own unit with us and live inside our secured and happy communities. Talk to us today!

Try our Home Loan Calculator
Loan Calculator
Try Lumina Homes' loan calculator and get an estimate computation for your preferred Lumina property and home model.