Safety Equipment and Features That You Should Check When Living Solo
19 August 2022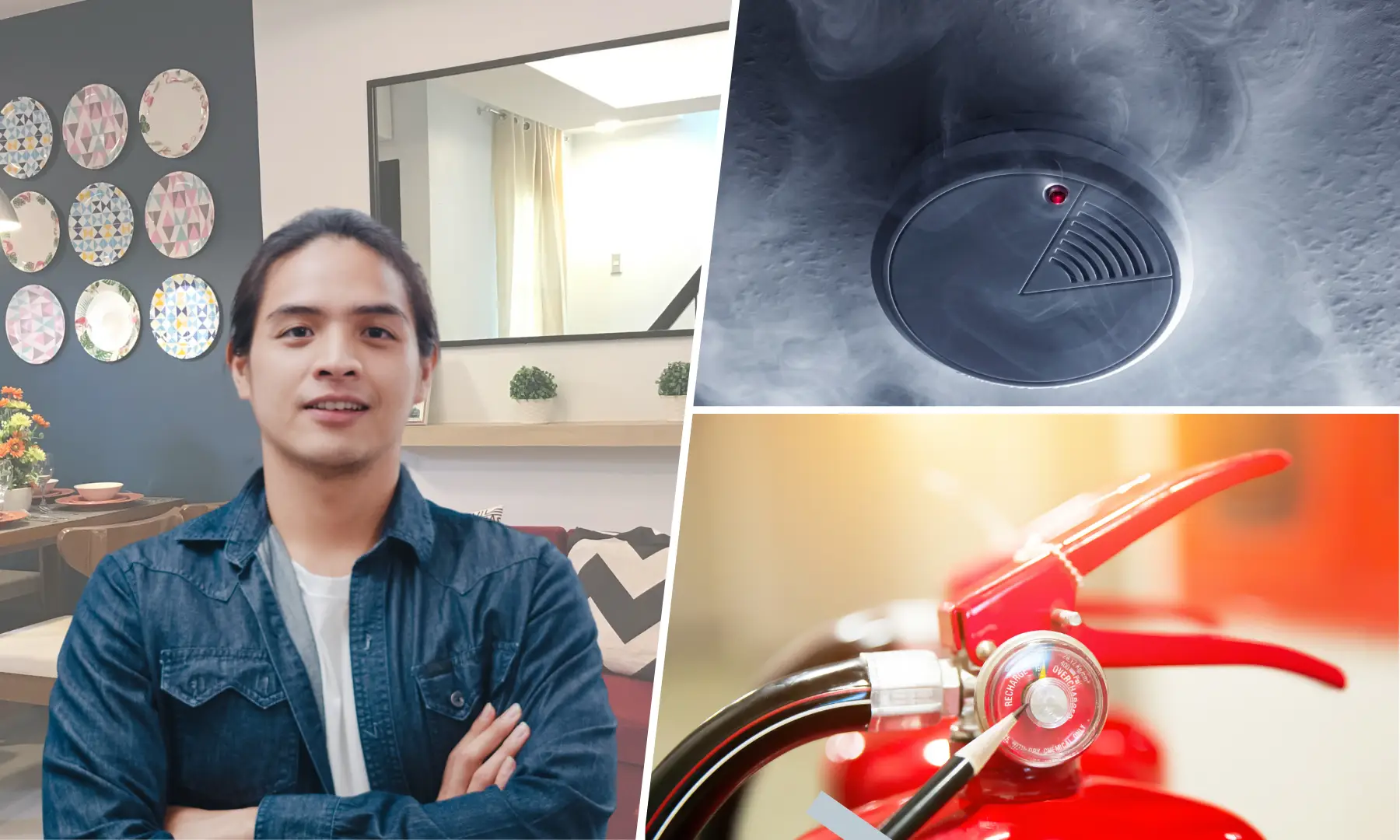 Millennials in the Philippines are famous for breaking established norms when it comes to their housing preferences. They are the group that traditionally moved out from the rest of their family members before settling down with a spouse and children. The need to "adulting," as many put it, motivates most of them.
While it's true that living on your own might be exciting, it's also important to remember that there are far more opportunities for harm when you're not surrounded by others. A secure residence is a fantastic financial commitment if you want to live on your own.
Living alone safety products that you must have
The possibility of an accident occurring at home is always present. Not all of them will be completely evadable, but if you give home security a high priority, you can cut the number down to size.
In order to help you stay healthy and accident-free while you're on your own, we've compiled a list of some of the most home safety essentials you must have at home:
1. Fire extinguisher for a fire safety home
As per the local fire department, one of the most fundamental needs for home safety is a fire extinguisher, and this is true no matter where you choose to call home.
There need to be two or three fire extinguishers in the average house. If there's a fire, you need quick access to all of them. Keep one near the kitchen door, since that's often where fires start in the house. In addition, one should be placed near an exit off the main corridor. A fire escape plan is also important as well as an emergency ladder, especially for emergency situation for two-story house.
2. Carbon monoxide detector
You should have carbon monoxide detectors installed if your home has a fireplace, fuel-burning equipment, or an attached garage.
Carbon monoxide is a gas with no discernable odor, color, or taste and can only be detected using a particular gadget called a carbon monoxide detector. It may be quite dangerous to your health if it builds up inside your house. One malfunctioning fuel-burning equipment or lack of proper ventilation is all it takes to start a fire.
3. First aid kit
When it comes to keeping yourself safe at home, a first aid kit is an absolute must-have. When you have first aid kit and safety items on hand, in most cases, a trip to the emergency room isn't necessary to address a minor injury. Make sure to place it in a place that you can easily access even during power outages.
First aid kits are readily available in drugstores and pharmacies, as well as on the internet. these kits may be customized by purchasing additional supplies as needed.
The following things are necessary for a first aid kit in the home:
- Adhesive bandages
- Triangular bandages
- Gauze rolls
- Gauze sponge
- Medical tape
- CPR face mask
- Alcohol-free cleansing wipes
- Scissors
- Tweezers
- Painkillers
- Antihistamine tablets
- Anesthetic spray for itching insect bites
- Disposable sterile gloves
- First aid guide (you can use an app instead)
- Injectable epinephrine, if necessary
Motion sensor lights
Because of its usefulness in providing a warning when someone approaches within a specified distance of the property at the location where the light is positioned, motion detector lights have become an integral feature of the home security system. Having them installed at the front and rear doors, as well as other major entryways, may provide you with an added protection against intruders who want to break in to your own home.
4. Smoke alarms or smoke detectors
Security against hazard events, such as house fires, is another important part of personal security at home. Fires may be devastating, but with early warning from smoke detectors, you can take preventative measures and lessen the likelihood of severe injury or death. This is why having smoke detectors installed in your house is money well spent.
5. Smart doorbell
You can see who's at your door without getting out of your comfy chair, thanks to the Ring video doorbell. The system records in full 1080p HD and includes infrared night vision, allowing you to keep watch on your house at all hours of the day or night from the convenience of your smartphone, tablet, or computer. It's the equivalent of having another pair of eyes and ears on the premises that makes it perfect add-on for your home safety essentials.
6. Disaster kit
With the recent extreme weather, we have encountered the effects of natural disasters like earthquakes, wildfires, hurricanes, and the loss of electricity in some parts of the country more frequently compared to the past years.
This is the reason why it's important the always have a Go Bag prepared in your home, especially if you are living alone. These kits may be rather comprehensive depending on the things that you mostly need. In no particular order, the following items are required in your Go Bag:
- Food good for 3 Days Supply of nonperishable food
- 3 gallons of water good for three days
- Flashlight & extra batteries
- Extra cell phone battery or Solar Charger
- Safety Matches
- Candles
- Whistle
- Battery-powered or hand crank radio
- Vital Documents
- Can opener
- Personal Hygiene Products
- Pet food & extra water for your pet
- Cash!
Other home safety essentials that you must consider:
Welcome Mats
As a bonus to its primary function of greeting guests at your front door, doormats may also be used to keep the dirt and moisture outside where it belongs and protect your flooring from damage after you're safely inside.
Handrails
Another smart precaution to take is to put up railings on both sides of the stairs in your home. Make it a habit to check on them often to ensure they are safe and in good working order with no need for maintenance.
Step stool
It can seem like a good idea to use those flimsy chairs as stepping stools to get to the upper shelves in your house, but you shouldn't. Always have a strong step stool handy to prevent falls and avoid accidents like spraining your back from falling.
Home safety when living solo doesn't end at home. You must also consider the safety features of the community you are living in.
Lumina Homes gives high assurance to its residents and future homeowners' safety with its security features such as a 24/7 guard house. This prevents break ins to the subdivision. Another security feature that we have is our perimeter fence that does not only keep our residents safe but also give them the privacy that an exclusive subdivision must have.
We also installed CCTV cameras all within our community to give extra protection to our future residents and homeowners.
You can check out the various home model units that we offer in our over 50 communities nationwide here on our website that will surely match your lifestyle, budget, and needs. Hurry, and make your home reservations now!

Try our Home Loan Calculator
Loan Calculator
Try Lumina Homes' loan calculator and get an estimate computation for your preferred Lumina property and home model.