First Aid Kit Contents at Home for Emergencies
24 May 2022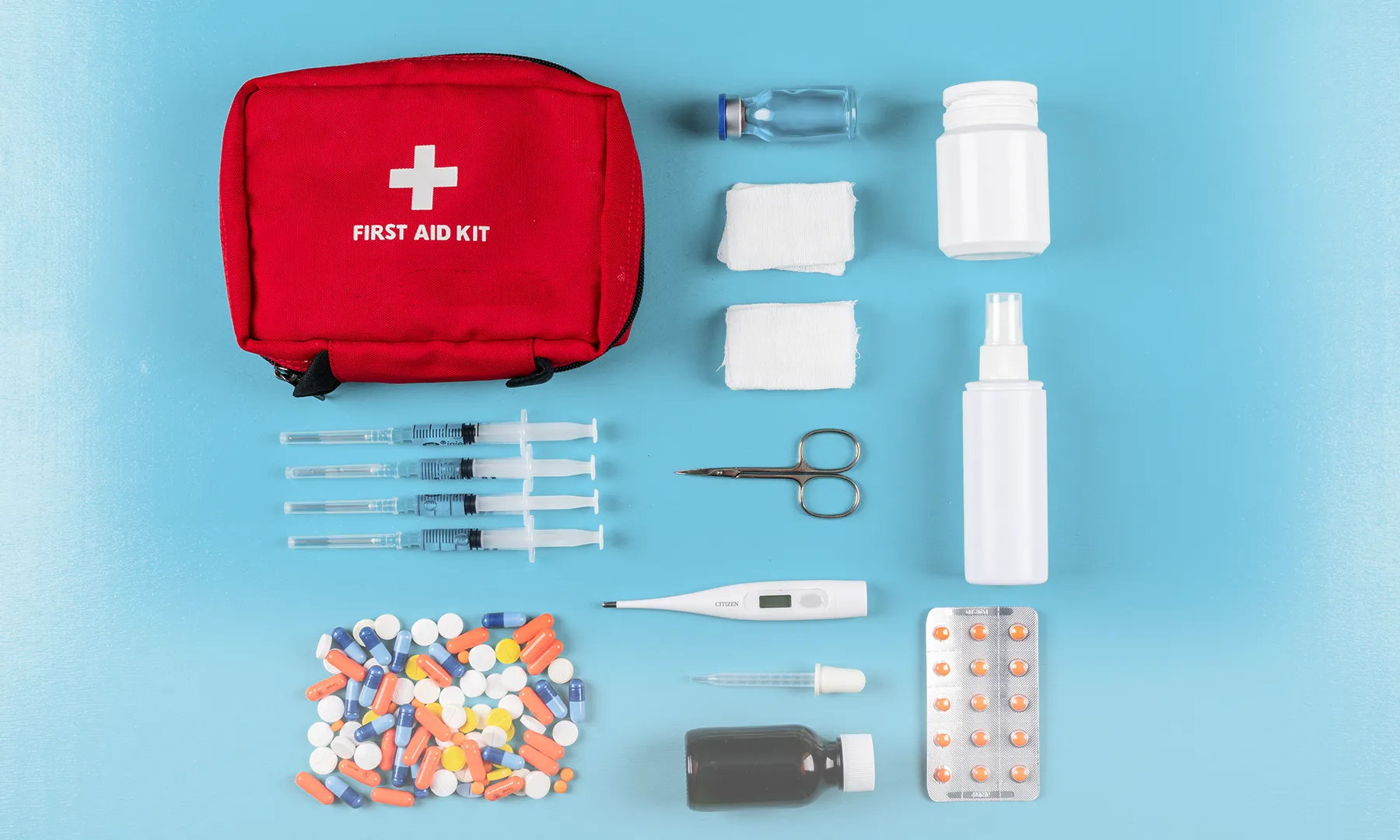 In the event of a common injury or emergency, having a well-stocked first-aid kit is a great asset to have.
As a matter of fact, it is best if you can keep at least one first-aid kit at your house and one in your vehicle at all times. You must also ensure that your kits are kept out of the reach of children, yet still accessible to them. Children who are old enough to comprehend the purpose of these kits should know where they are kept.
Many drugstores sell pre-made first-aid kits, but you may also put your own together. You may want to customize your kit depending on what you're doing and what you're essentials.
Things that first aid kits must have
A well stocked first aid kit is a must-have in each home, regardless of its size. In the event of a home emergency, such as a cut, scrape, or other injuries, you'll be prepared with this kit.
It may also be used to store emergency supplies in the event of a power outage or a typhoon. Here are the essentials for your home's first aid kit, regardless of whether you purchase them or make them yourself.
1. Safety pins
Safety pins may be found in a variety of places, including first aid. You may use them to keep a bandage or wrap in place once it has been put to a wound and clean it. As a first aid essential, make sure to include in your first aid kid assorted sizes of safety pins such as tiny, medium, and large safety pin sizes that may be used to hold and fasten bandages and wraps throughout the course of first aid.
2. Emergency phone numbers
In the event of an emergency, it's always a good idea to have a list of contact information in your home first aid kit. In spite of the fact that you can keep telephone numbers on your phone, you may not have the phone number for your local fire or police agency. Poison control and your doctor's office like your physician or your kids' pediatrician may also be useful numbers to have on hand. That way, you'll be able to get in contact with anybody at any time.
3. LED flashlight and flashlight batteries
LED flashlights and extra batteries are useful to have on hand if you lose power at night or need to do a task at night. You may also want to consider a few battery-powered lanterns so that you have light in a few critical areas of your home.
But aside from this, an emergency light is also crucial, especially during a typhoon or a power outage and you need to treat a wound in the dark.
4. Prescribed Medication
Prescription drugs should be kept in your first aid course box for at least a week, particularly if you have any family member that needs them for maintenance. In the event of an emergency, such as a typhoon, earthquake, or other calamities, having a modest supply of emergency services such as your usual prescriptions on hand might be advantageous. On top of that, it's a good idea to maintain a list of your medicines and their dosages in your kit at all times. You might also want to have an emergency supply of antibiotics inside your first aid kit in your home.
5. Over-the-Counter Medications
In the event that you are suffering from a headache, muscular pain, itching, or inflammation, over-the-counter drugs may be able to alleviate your discomfort. Always have the following drugs in your first-aid kit:
Acetaminophen
Antihistamines
Bismuth tablets
Cold medication
Ibuprofen
Laxatives
Loperamide ‌
Throat lozenges
6. Bandages and Cleaning Supplies
Some of the most frequent types of injuries you could get in your own house are cuts, scratches, and burns, amongst others. That is why make sure your first aid box is well-stocked with the following things to help you treat various injuries:
Adhesive bandages of various sizes
Adhesive bandage tape
Antibiotic ointment
Antiseptic wipes
Gauze pads
Hydrocortisone cream
Hydrogen peroxide
Latex gloves
Roller bandages
7. Thermometer
While a person's "normal" body temperature might fluctuate somewhat throughout the day, a rapid rise in temperature could suggest an illness or infection. Keep a thermometer in a convenient location so you can check for fever in yourself or a member of your family and decide what to do next. In buying a thermometer, you can opt for an infrared thermometer so that you can check your family member's temperature without having physical contact with them. This is essential, especially in cases where the patient has symptoms of the COVID-19 virus.
8. Instant Heat and Cold Packs
In the comfort of your own home, you are nonetheless susceptible to accidents. These injuries might cause pain. If you don't have ice packs in your freezer or your power goes out and you can't use your microwave, you may use quick heat and cold packs as first aid. You can activate them by squeezing them when they're at room temperature. Inside the pack, the water and salt mix together, which causes either a warming or cooling effect.
9. Tweezers
It's never fun to have a splinter or a sliver of glass into your flesh. Left untreated, it is not only unpleasant, but it may also get infected. ‌Tweezers may be used to help you remove difficult splinters. Keep them in your emergency kit so you can get them immediately rather than having to go around the home looking for them.
10. Phone charger and a powerbank
Everything you need is at your fingertips on your smartphone. Check the weather and the news, get in touch with loved ones to make sure they're okay, and call emergency services if necessary. However, if the battery runs out or dies, you're out of luck. Even if the rest of your power sources fail, a fully charged portable phone charger will keep your phone powered up.
A safe and secure community
Learning at least the basic first aid course from Red Cross will be helpful in times of emergency. But we know that you would feel more at ease and have peace of mind if your community has proximity to hospitals and other health facilities.
Lumina Homes provide you with all these with its strategic location at the heart of the commercial hubs in the cities and municipalities all around the country. Aside from this, you can also ensure the safety and security of your family as all of our communities are situated in flood-free locations.
Lumina Homes also level up its communities by adding eSpacio in its amenities, catering a wider space for important community centers like health center, barangay center, senior citizen center, and the like. This can give our future Lumina homeowners the convenience and accessibility to various community facilities within the subdivision.
Get your own safe and secure house and lot unit from Lumina Homes and make your reservations now!

Try our Home Loan Calculator
Loan Calculator
Try Lumina Homes' loan calculator and get an estimate computation for your preferred Lumina property and home model.