4 Fire Safety Tips at Home That Your Family Must Do
1 March 2022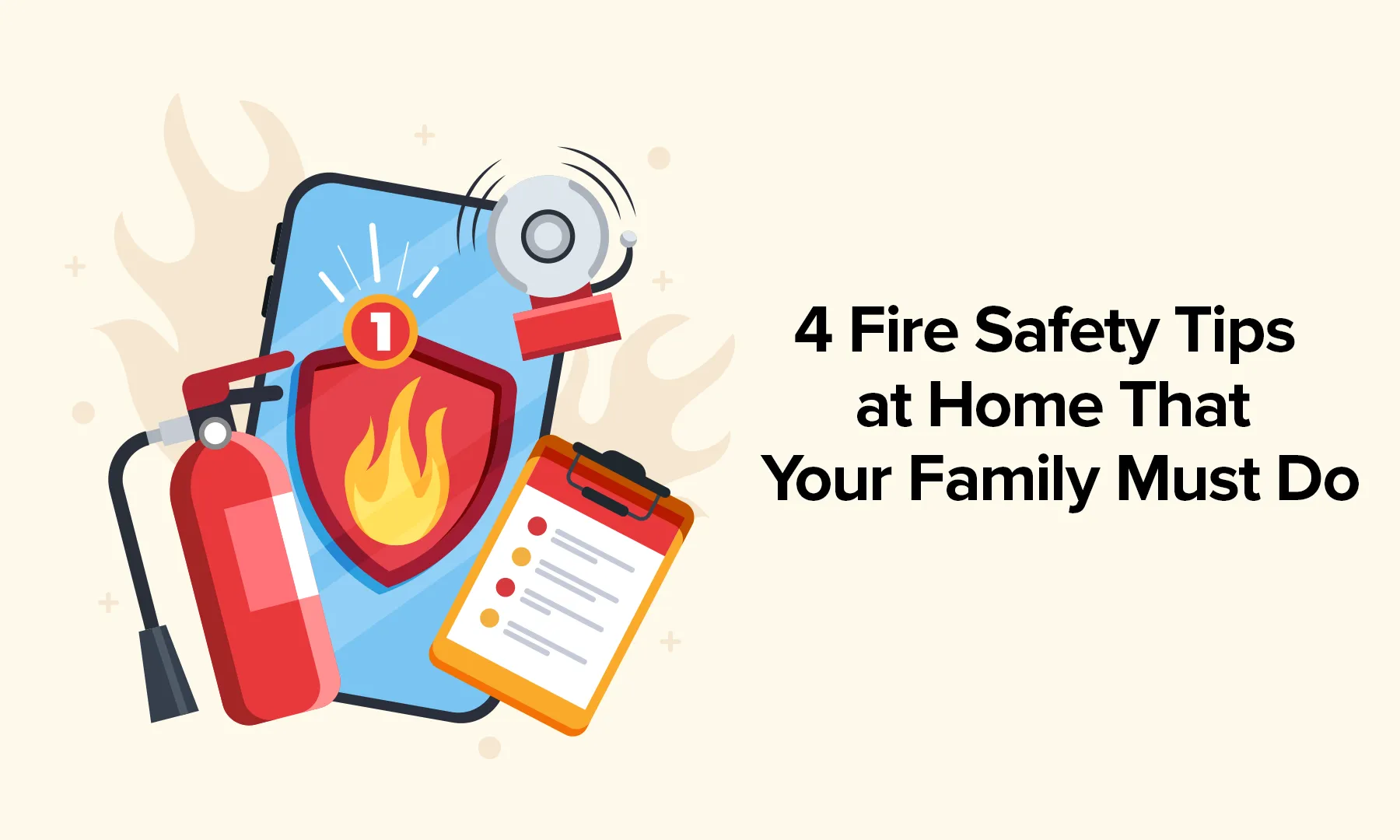 Faulty electrical wiring or connections, unsupervised open flames, and neglected electrical equipment or gadgets were the Philippines' top three reported causes of home fires.
Even if you live in a high-rise building, you'll need to be more prepared since it will be more difficult to access assistance. Even though your condominium is covered by fire insurance, you should be ready for anything. It's still preferable to avoid a problem than to deal with it later on.
Sadly, the need for fire preparation is sometimes only realized when it's too late for many people. We might get complacent and believe that "that won't happen to me" if we don't give house fires the attention they need since they aren't a part of our daily lives. Our lives may change in an instant thanks to an accident in the kitchen or even just the flicker of an ember from the fireplace.
That's why in line with Fire Prevention Month, we've compiled a list of suggestions for preventing house fires and, in the event that one does break out, the best ways to ensure that everyone gets out safely.
1. Install smoke alarms.
Fires that kill more than half of the individuals in their homes occur at night when they are sleeping and are most vulnerable due to space heaters. That's why most states in America mandate the installation of smoke alarms under the supervision of their National Fire Protection Association.
In the Philippines, a smoke alarm is also an essential component of household fire safety. If houses catch fire, smoke alarms are frequently the only thing keeping everyone out of harm's way. To optimize the value and efficiency of smoke alarms in the house, proper installation and maintenance are essential. People will be woken up before they are trapped or overpowered by smoke, thanks to this device's alert.
Make sure you remember this when your smoke alarms start beeping at 3 a.m. to alert you to a low battery since they are crucial for saving lives!
Places to install smoke alarms at home:
Make sure you have smoke alarms installed in each and every room of your house, including basements.

Make sure your smoke alarms are at least 10 feet away from the kitchen to avoid false alerts.

Fire alarms should be placed on the ceiling or near the ceiling.

Install a smoke alarm and other environmental sensors in your house as part of a comprehensive security system. Smoke alarms that send notifications to your phone no matter where you are may now be integrated into your smart home.

The installation of smoke alarms with strobe lights and bed shakers is recommended for those who are hard of hearing or deaf.
2. Always have a fire extinguisher ready.
Having a few fire extinguishers in your house may help you put out minor flames before they have a chance to spread and become out of control. Class A:B:C is the most popular extinguisher since it covers combustibles like paper and wood (A), flammable liquids like grease and oil (B), and electrical equipment (C).
Just a friendly reminder in storing a fire extinguisher at home, preventative methods include inspecting your fire extinguisher on a regular basis to ensure that it has no cracks, the locking pin is in place, and the handle is not damaged. Ask an expert whether your fire extinguisher can still be used if you observe any of these. If not, you'll need to get a new one.
3. Have a fire escape plan.
In the blink of an eye, a tiny fire in the house may blaze out of control. Most of the time, you have less than two minutes to get out of your house. This is the reason that in the case of a fire, having a well-thought-out evacuation strategy in place may save lives. If you have little children in the house, you should avoid making this fire drill a game. It doesn't have to be gloomy and unpleasant. Below are some of the tips on how to make a home fire escape plan:
There should be at least two exits from every room.

Always check to see whether the doors and windows going out to the outside are easy to open.

Find other ways outside of the city (windows leading to adjacent rooftops, collapsible ladders deployed from upper-story windows, etc.).

Establish a safe distance between the building and the specified meeting area.

It's always better to use the stairs or the fire escape than an elevator if you reside in a multistory structure.
4. Practice fire safety.
In practicing fires safety tips with your family members, make sure to consider these:
At least twice a year, with all members of the family present at all times of the day and night,

checking to see whether the doorknobs are hot before unlocking them

Closing doors behind you as you haste to leave

In the event of a fire, use the "stop, drop, and roll" strategy.

In order to get out, you'll need to crawl low to the ground, close your eyes, and cover your mouth.
Aside from this, make sure to also teach your kids to never hide during a fire and how to get out on their own if no one else can aid them.
Other home fire safety tips
Regularly check your electrical cords or wirings at home.
A yearly checkup is recommended, but make sure to also observe or check for any irregularities or defective electrical fixtures such as lights flickering, switches spitting, and a burning smell while plugging in equipment.
Avoid electrical overloading.
Most houses include extension cables for many devices to be used simultaneously. Overheating sockets and fire accidents can result due to this habit. Refrigerators, air conditioners, and other large appliances should all have their own dedicated outlets.
Keep a close eye on burning candles.
When using candles, it is best to utilize a special candleholder. Don't put it in an area where children, dogs, or anybody else can't knock it over. Ensure that they are not in the vicinity of flammable objects such as curtains, books, or papers, as this can easily lead to fire incidents.
Installing smoke detectors and keeping your home safe from fire incidents can be easier if you have your own space. Other than this, having your own space can give you more peace of mind as you don't have to share one apartment roof with other renters.
In getting a home, make sure that it is quite near to important infrastructures like the local fire department and highly accessible, just like Lumina Homes.
Discover the wide selection of home model units of Lumina through bank financing and achieve that feeling of assurance and safety this Fire Prevention Month by getting a space your can call your own.

Try our Home Loan Calculator
Loan Calculator
Try Lumina Homes' loan calculator and get an estimate computation for your preferred Lumina property and home model.