How to Get PSA Documents Online
18 August 2022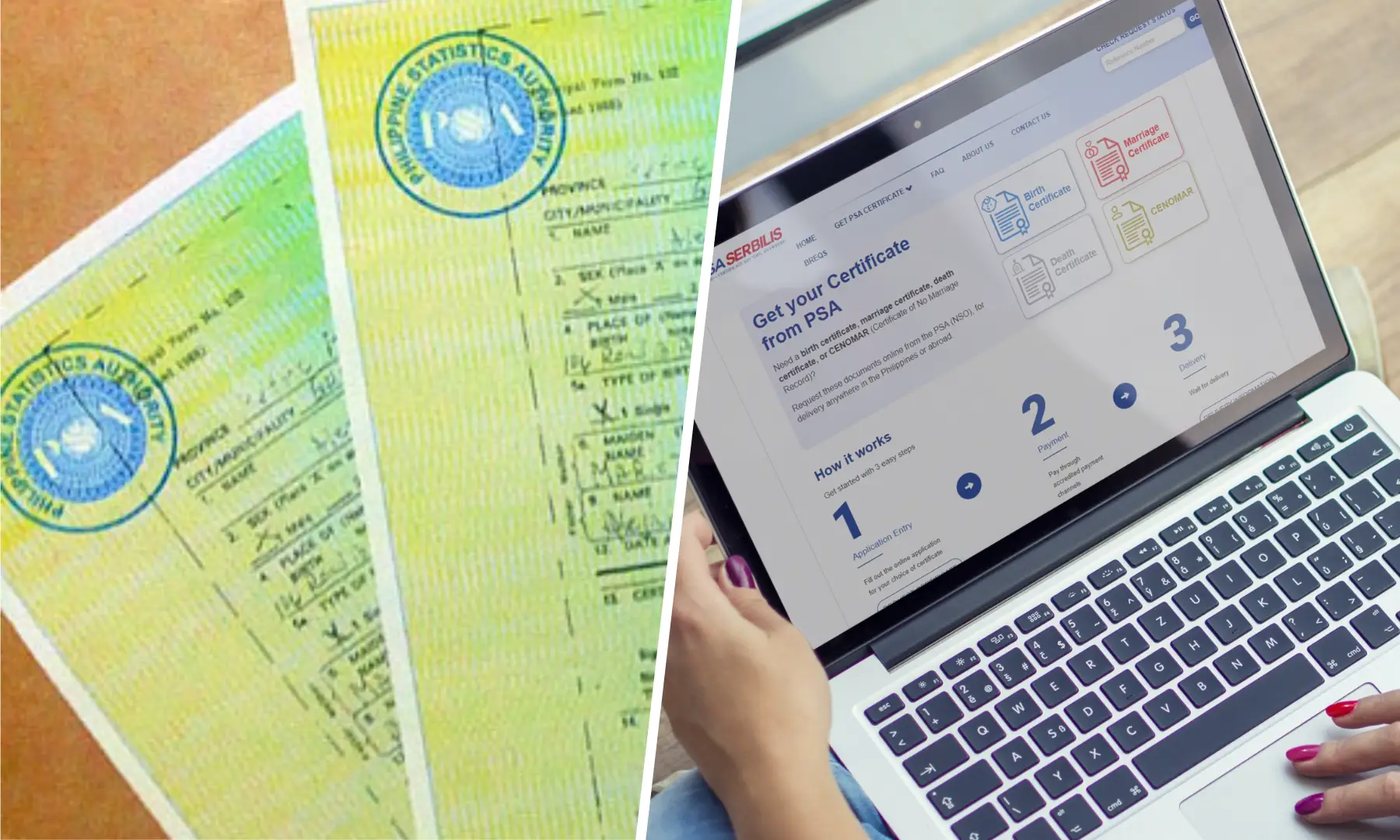 Can't find the time to visit the PSA office in person to get a copy of a birth, marriage, or death certificate? PSA's online application service is a time-saving substitute for walking in. As an added bonus, this is a much more secure choice than physically walking outdoors to complete your PSA application.
If you apply for PSA online, you may save the hassle of driving and waiting in line. The Philippine Statistics Authority or PSA, formerly known as the National Statistics Office or NSO, now accepts applications and fees for civil registration papers via its website. After a few days, you should get the desired certificates at your home or place of business.
Steps in getting a PSA birth certificate, marriage certificate, CENOMAR, or death certificate online via PSA Serbilis
Avoid risking exposure to COVID-19 and save yourself the hassle of traveling by receiving your PSA civil registry documents via PSA Serbilis or PSAHelpline.ph instead. Following is a concise summary of how to complete each PSA function online:
Step 1. Fill out the Philippine Statistics Authority Online Application Form
To obtain PSA certificates from PSA Serbilis, go to their website (www.psaserbilis.com.ph). As an alternative, you can also apply for a PSA certificate online by visiting the PSA Online Application website (www.psaserbilis.com.ph/Census/OnlineApplication) and selecting the Request Now option next to the certificate you want to get.
After reading and accepting the Data Privacy Notice and Terms & Conditions, click the Next button.
Fill up the PSA online application form by answering the questions provided. Following completion, a summary of your data will be shown. Verify that the information you provided is correct. You can also click the appropriate option to add a new document request and update any of the information you have entered. Then, press the Submit button once you're ready to send in your form.
When you submit a successful online application for PSA, you will be sent to an Acknowledgement page.
Step 2. Make a payment for your document request.
Once you have submitted your PSA Serbilis application online, you will be given a reference number. Please remember to write down or make a note of this number, as you will need it to make payment for the desired document(s).
All PSA Serbilis document requests have the following associated online fees:
Deliveries within the Philippines
For Birth, Marriage, or Death Certificate: Around Php 330
For CENOMAR: Around Php 430
Other countries delivery
For Birth, Marriage, or Death Certificates: Around US $20.30
For CENOMAR: Around US $25.30
***Please note that PSA Serbilis charges include not only processing but also shipping and all applicable taxes.
If you will obtain a PSA certificate at PSA Serbilis Online, you can pay your civil registry documents using any of the following approved payment methods:
Via GCash or credit/debit/prepaid card
A. To make a payment to PSA Serbilis, visit www.psaserbilis.com.ph/Census/Payment and hit the orange "Pay Now" button. Another option is to visit the Credit Card Terms & Conditions website directly at www.psaserbilis.com.ph/Census/CreditCardTermsAndConditions.
B. Press the I Accept button.
C. You may now proceed by entering your reference number. Then, click the Go button.
D. You may now make your payment after providing the necessary information.
Via UnionBank Online Banking
A. Log in to your online banking account at UnionBank.com.
B. Proceed to the bills payment page.
C. Choose "PSA SERBILIS (UNISYS)" as your merchant of choice.
D. Enter your reference number on the Subscriber Number field.
E. Type in the amount that you need to pay.
F. Confirm your payment. A confirmation message will be receieved once your payment has been successfully processed.
Via UnionBank Online app
A. If you have the UnionBank Online app installed on your mobile device, open it.
B. Enter your log-in details.
C. Go to "Pay Bills" and then "Select Biller."
D. Click the "PSA SERBILIS (UNISYS)" option.
E. Key in your reference number and phone number.
F. Look through the payment summary and hit the Pay button when you're ready to make your payment.
Alternatively, you can also pay your marriage record and other requested documents through offline payment channels that include Bayad Center branches and partners in the Philippines, any UnionBank branch in the Philippines, and for UnionBank account holders only, you can pay them through UnionBank ATM.
Below are the steps on how to pay your civil registry document offline:
A. Create a duplicate of the acknowledgment page and print both of them. You should provide one copy to the teller or cashier and retain the other for your own records.
B. Go to the local UnionBank or Bayad Center branch nearest you.
C. The following information must be filled out on the deposit slip:
*Company Name: PSA SERBILIS (UNISYS)
*Client Name: Name of the requesting party
*Subscriber/Reference/Policy/Plan No.: Write down your batch request number if you're paying for all requests in a batch or the request reference number if you're paying for a specific request only.
– Amount: Write the total amount due for all your online requests in a batch or the amount due for your requested PSA certificate
D. Give both the completed slip and the Acknowledgment page to the teller or cashier.
E. Make a payment for the PSA online service fee.
F. Hold on until you have your deposit slip or proof of payment
Step 3. Wait for the certificate(s) delivery
Are you all set with your online PSA application, including filing and payment? The next step is to wait for PSA Serbilis's third-party courier to bring the requested document to you.
For deliveries within the country, PSA Serbilis use 2GO Express and LBC Express. Meanwhile, for overseas delivery, they have PHLPost but if your requested express, then it will be under FedEx courier.
Below is the delivery timeframe of the documents to guide you:
Within Metro Manila
For Birth Certificate, Marriage Certificate, Death Certificate or CENOMAR: 4 to 6 working days
Other cities and provinces in the Philippines
For Birth Certificate, Marriage Certificate, Death Certificate or Certificate of No Marriage: 6 to 8 working days
Other countries
For Birth, Marriage, CENOMAR, or Death Certificates: The availability and delivery date for international orders vary.
If you can wait several days and don't mind paying more, the PSA online application is worth it. There is no need to take a day off at work and spend a whole day gathering the necessary paperwork when you can just fill out a PSA application online. In addition, you may protect yourself and your documents against COVID-19 with only a few clicks of your mouse.
Moreover, you can also get your documents anytime and anywhere you are in the world!
This is perfect as these documents are needed when you want to start a property investment with Lumina Homes. You will be asked to present your civil registry records after your make your home reservation with us. If you have these documents with you beforehand, then you can have a faster homebuying journey!
Want to know about the other requirements you will need to prepare when you buy a house and lot package from Lumina Homes? You can check our Lumina Sessions on our official YouTube Channel and discover the benefits of having your own home. Follow, like, and subscribe to Lumina Homes on YouTube!

Try our Home Loan Calculator
Loan Calculator
Try Lumina Homes' loan calculator and get an estimate computation for your preferred Lumina property and home model.