Fan Guide: Concert Essentials List 2022
26 November 2022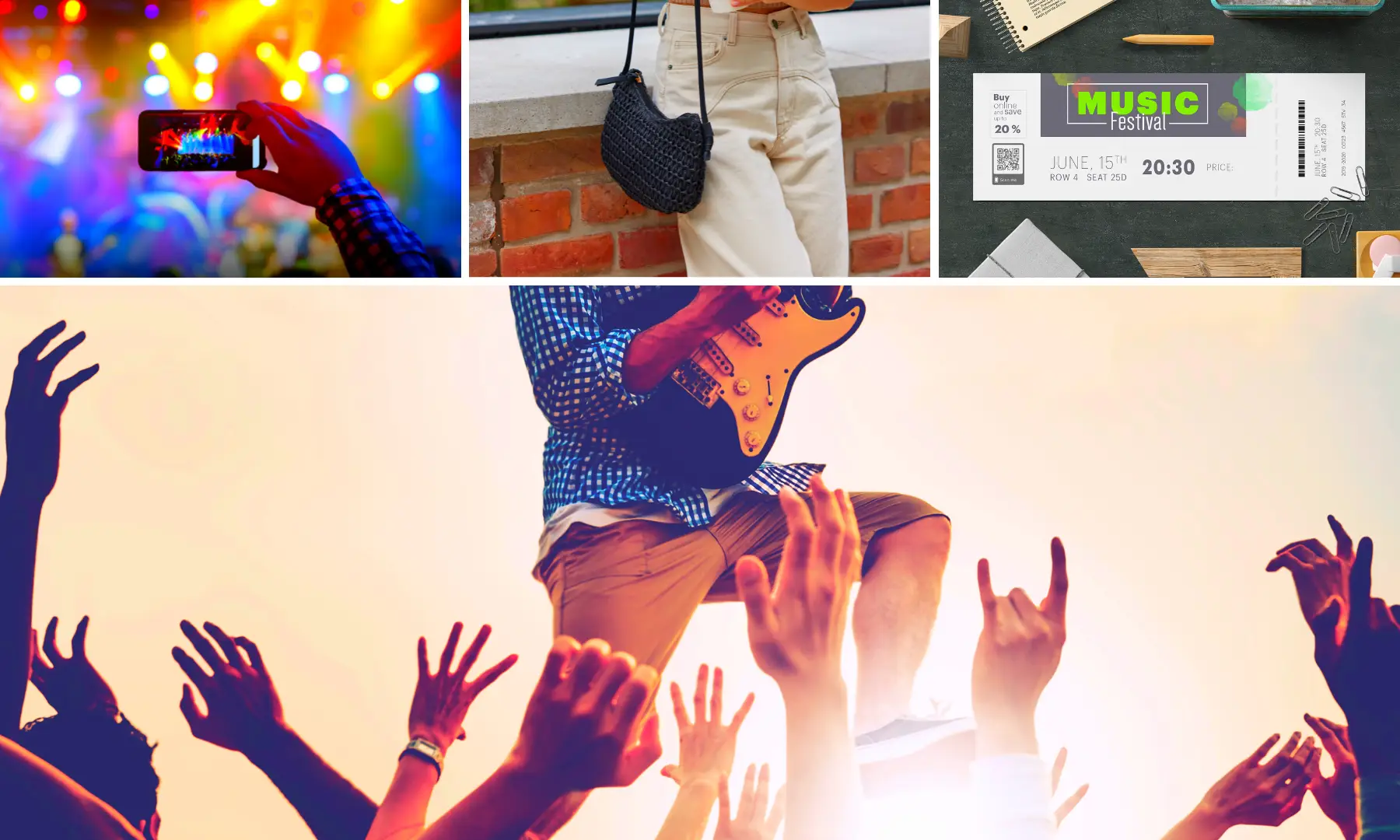 Do you recall the days when concerts and gatherings for fans were held regularly in Manila? Traveling from your Lumina Homes community to the concert venue was definitely a breeze. We long for a return to those simpler times, and finally, it's all back again!
We've been there, and we know how difficult it is to keep track of your safety and all the things you need to bring to concerts. To address this issue, we developed a short list of essentials that each fan should have on hand for their next concert experience.
Complete Concert Essentials List For Your Next Music Festival Experience
There is no exaggeration: concert season has arrived! Everywhere you go, people are simply happy to see their favorite musicians again, whether they're fans of Super Junior or LANY or any other kind of western or Asian idol group. To ensure that you are well-prepared-- whether it is your first concert or not-- we have compiled the following list of concert necessities.
1. Bag
There has been a recent trend among stadiums to establish a "clear bag policy" that mandates fans attending concert events carry only transparent, vinyl bags no bigger than 12" wide x 12" high x 6" deep.
We suggest a tiny cross-body bag or fanny pack if a transparent bag is not required at your concert venues. If you plan on hopping about and dancing all night, any of these backpacks will come in handy. Plus, your things will be on you all night, so you won't have to worry about keeping a watch on them and have some hands free.
2. Binoculars
They come in helpful if you don't have front-row seats. They're a great way to improve your view of the stage like in SM Mall of Asia Arena and have more fun at the performance.
3. Cash and Debit/Credit Cards
Using credit cards to buy tickets was encouraged as a precaution during the pandemic. However, if you regularly attend concerts, you may have noticed that more and more venues are only taking cash payments for tickets. You should bring both just in case but make sure to not overspend and stay within your budget for the concert.
4. Your Concert Ticket
Don't leave the home without having triple-check your scored tickets. With mobile ticketing applications like Live Nation Philippines and the option to upload your tickets to Apple Wallet, paper tickets are becoming less necessary. In the event that actual tickets are permitted, however, printing one out is a safe fallback.
5. Digital Camera
Please check the venue's policy in bringing cameras before leaving the home. Although most events merely ban lenses longer than 6 inches, certain locations have stricter policies.
6. A Valid ID
You'll need your ID to do everything from picking up your tickets at will call to purchasing a drink at the bar. Some events and locations need identification due to age limits, so don't forget to bring yours along.
7. Earplugs
Hearing loss or ringing in the ears is a common complaint among concertgoers. We call it tinnitus, and it may lead to long-term hearing loss. The most prevalent kind of hearing loss is due to exposure to loud noise, and concerts often exceed the 85 dB threshold necessary to cause damage to the eardrum. If you'll be in the vicinity of the speakers, earplugs will be helpful as they can muffle sound without distorting the original signal.
8. Face Mask
A face mask is required since the pandemic has not yet ended. Do not forget to bring along a spare pair in case the one you're wearing becomes stained with sweat while enjoying the live music.
9. Hair Ties
It's can get easily while singing and dancing from the Asia Tour of your favorite artists in a Manila concert. When the temperature rises, you may rest easy knowing that a hair tie is handy on your arm. You can also pack a few more to be safe.
10. Hand Sanitizer/Wipes/Tissues
Due to the COVID-19 pandemic, hand-sanitizing stations have been installed in most indoor and outdoor events. However, a restroom or hand sanitizer may not be convenient if you're in the thick of the throng or pressed up against a barrier. Bring your own bottle of hand sanitizer or some cleaning wipes/tissues just in case.
11. Mints or Gum
It's simple to get weary, thirsty, and dehydrated during the greatest hits tour. Chewing gum or using a mint may assist with this.
12. Phone fully charged
A fully charged phone is a must for any concert experience. You'll want to have access to your phone in case you need to snap a quick photo for Instagram, check the time, or coordinate with pals to meet up at the venue.
13. Portable Charger or Charging Case
A properly charged phone is essential for recording concerts and taking pictures of your favorite artist. We can't really go anywhere without our phones' juice pack with batteries.
14. Vaccination Card or a Negative Test
A full vaccination against COVID-19 or a negative test result from within 72 hours of the event are often requirements for admittance to concerts and festivals.
15. Sharpie or Pen
Have a pen or sharpie on ready in case you happen to encounter your favorite singer/songwriter, and you want a signature.
16. Sweater
Both the outside air and the theater itself could be cool after the concert ends. Keep a light sweater on hand as a precaution.
Get Easy Access to Your Concert Venues with Lumina Homes
The Philippines has been mostly quiet for the last two years, but the country is now welcoming both domestic and foreign musicians by opening its borders and providing them with venues. It's time for Filipino fans to go back out there, whether it's for a music festival showcasing some of our favorite local performers or an arena performance by a worldwide known vocalist, of course, while following all the necessary safety precautions.
Attending a concert is definitely a thrilling experience although it could be a hassle if you're house and lot in the Philippines is far from the world tour venues.
Getting to the concert venue has not been easier with Lumina Homes community as all our affordable house and lot for sale are located near major roads and highways - giving you the assurance and security that you can easily travel to your concert destination smoothly.
In addition, getting a home investment from Lumina Homes also entitles its site owner to bring live performances into the community through our eSpacio. Homeowners and future residents of our affordable house and lot can now enjoy good music and local food without requiring them to go out of the subdivision.
So, make a smart investment as early as now and get your home reservations from Lumina Homes!

Try our Home Loan Calculator
Loan Calculator
Try Lumina Homes' loan calculator and get an estimate computation for your preferred Lumina property and home model.