A Comprehensive Guide to Philippine Train Systems
25 March 2023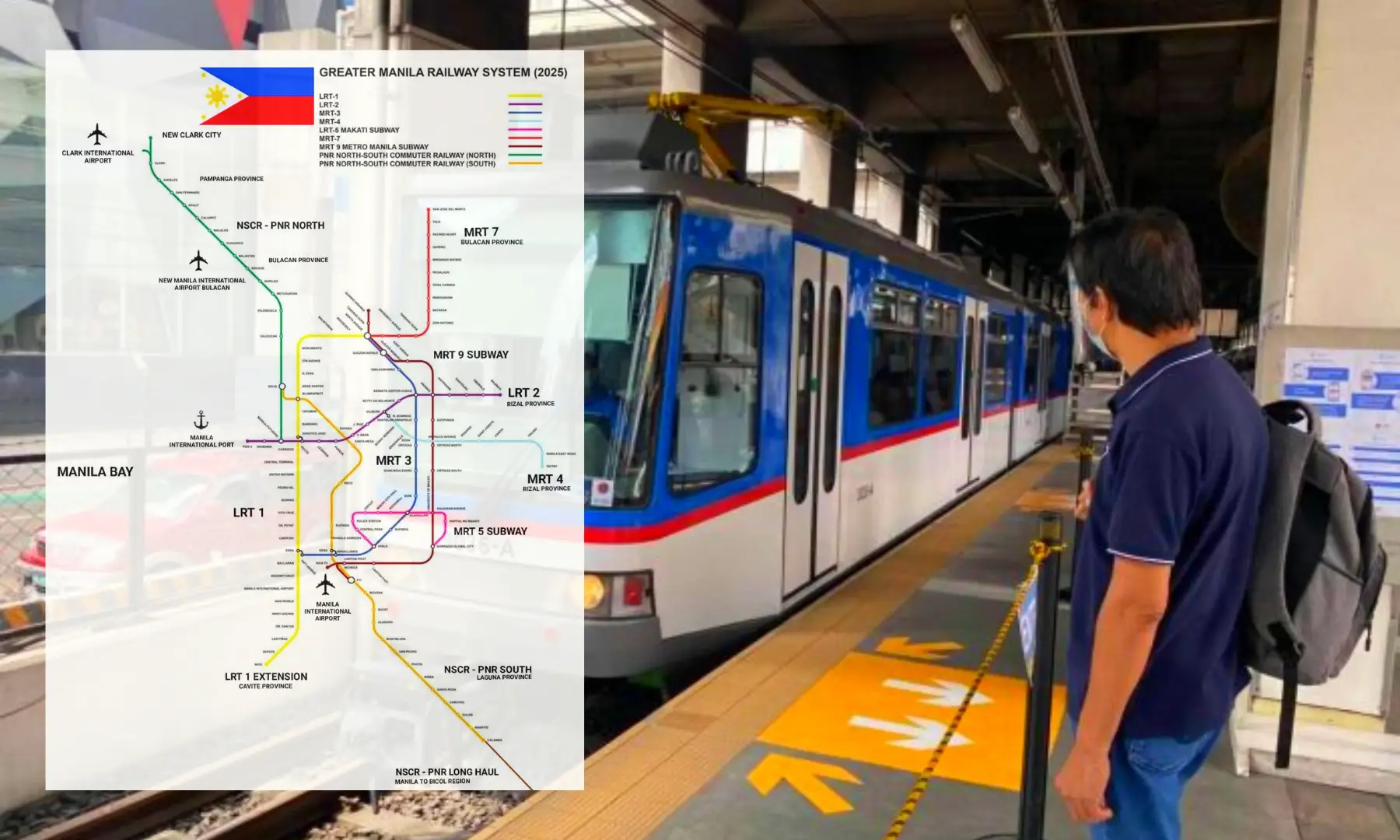 As the national government prioritizes infrastructure development in the country, commuters can harbor hopes of having at least fewer commuter problems ahead. With more and more train lines being constructed and the existing ones being improved and upgraded, it's safe to say that the current administration is going in the right direction in its pursuit of enhancing the transportation system and reducing traffic congestion in the Philippines.
From the Light Rail Transit Line and Metro Rail Transit Line to the Philippine National Railways, here is a comprehensive guide to the country's train systems, their stations, operating hours, and more.
Light Rail Transit (LRT) System
Simply called the LRT, this train line infrastructure consists of two operational lines: LRT-1 and LRT-2. The Manila LRT earned the distinction of being the first metro system in Southeast Asia, with Singapore coming in second after three years. Both LRT lines have a daily ridership of more than a hundred thousand passengers, prompting authorities to invest in more light rail vehicles.
LRT Line 1 was launched to the public in 1984, whereas the Rapid Transit Line 2 was introduced to commuters almost two decades later in 2003. It is being operated by the Light Rail Transit Authority (LRTA).
LRT-1
With a daily ridership gauged at half a million, LRT-1 has 113 trains connecting the cities of Pasay and Caloocan. Below are its 20 stations.
Baclaran

EDSA

Libertad

Gil Puyat

Vito Cruz

Quirino

Pedro Gil

UN Avenue

Central Terminal

Carriedo

Doroteo Jose

Bambang

Tayuman

Blumentritt

Abad Santos

R. Papa

5th Avenue

Monumento

Balintawak

Roosevelt
LRT-2
With a daily ridership of more than 200,000, it links the cities of Pasig and Manila. Below are its 13 stations.
Antipolo

Marikina

Santolan

Katipunan

Anonas

Cubao

Betty Go Belmonte

Gilmore

J. Ruiz

V. Mapa

Pureza

Legarda

Recto
Operating Hours
The following are the operating hours set by the LRTA, inclusive of weekends and holidays. Any changes will be announced periodically. This upcoming Holy Week, the last commercial trip for LRT will be on April 5, Wednesday, 7 PM. There will be no train operations on April 6 to 9 and will resume on April 10, Monday. The regular operating hours are listed below.
5:00 AM — the start of commercial operations (in both directions)

8:30 PM — the last commercial train departs from Antipolo Station to Recto Station

9:00 PM — the last commercial train departs from Recto Station to Antipolo Station
Metro Rail Transit (MRT) System
Simply known as MRT, is a rapid transit system that mainly serves Metro Manila commuters. Inaugurated in 1999, its only operational line so far is the MRT-3. There is another MRT line under construction, though the government has since procured new trains to respond to the growing number of daily commuters.
Metro Rail Transit Line 3 (MRT-3)
The MRT-3 has logged its record-high number of daily ridership in February this year at more than 400,000 since the pandemic. This 16-kilometer train system primarily serves the north and south of Metro Manila. Survive the MRT ride by familiarizing yourself with its 13 stations:
Quezon City
North Avenue

Quezon Avenue

GMA Kamuning

Araneta Center-Cubao

Santolan-Annapolis
Pasig City
Mandaluyong City
Shaw Boulevard

Boni Avenue
Makati City
Guadalupe

Buendia

Ayala

Magallanes
Pasay City
Operating Hours
MRT-3 runs commercial operations from Mondays to Sundays. Operating hours are subject to change, especially during holidays and bad weather conditions. Likewise, MRT-3's commercial operations are suspended on April 6 to 9 in light of the Holy Week observance. For the regular operating hours, refer to the quick guideline below.
North Avenue
4:36 AM — First trip
9:30 PM — Last trip
Taft Avenue
5:18 AM — First trip
10:11 PM — Last trip
PNR Metro Commuter Line
Operated by the Philippine National Railways, this train system comprises two metro commuter lines—Metro South Commuter Line and Metro North Commuter Line, including shuttle services assisting passengers in the metropolis. These two commuter lines meet at Tutuban station in Tondo. In 2021, new trains were sourced overseas to likewise respond to the growing number of commuters in the capital region.
Metro South Commuter Line
Stretching from Tutuban all the way to IRRI in Los Baños is the Metro South Commuter Line. Similarly, it has a shuttle service serving different provinces in southern areas.
Metro South Commuter Line Stations
There are 26 train stations in the Metro South Commuter line, namely:
Tutuban

Blumentritt

Laon Laan

España

Sta. Mesa

Pandacan

Paco

San Andres

Vito Cruz

Buendia

Pasay Road

EDSA

Nichols

FTI

Bicutan

Sucat

Alabang

Muntinlupa

San Pedro

Pacita MG

Golden City

Biñan

Sta. Rosa

Cabuyao

Mamatid

Calamba
The Alabang-IRRI Shuttle Service serves commuters from southern areas through the following stations:
Alabang

Muntinlupa

San Pedro

Biñan

Sta. Rosa

Cabuyao

Mamatid

Calamba

Pansol

Masili

Los Baños

College

IRRI
Metro North Commuter Line
The Metro North Commuter Line caters to passengers from Tutuban to Governor Pascual in the City of Malabon. The national government plans to connect the railway line up to Valenzuela, which will again increase the daily ridership capacity to 120,000 if the project steps forward.
Metro North Commuter Line Stations
There are a total of six stations on the North Commuter Line:
Tutuban

Solis

C-3

Asistio Avenue

Caloocan/Sangandaan

Governor Pascual
Meanwhile, the Governor Pascual-Bicutan Shuttle Service serves commuters from northern areas through the following stations:
Governor Pascual

Sangandaan

Asistio Avenue

5th Avenue

Solis

Blumentritt

Laong Laan

España

Santa Mesa

Pandacan

Paco

San Andres

Vito Cruz

Dela Rosa

Pasay Road

EDSA

Nichols

FTI

Bicutan
For the complete operating hours and real-time updates, follow the Philippine National Railways' official Facebook page.
Metro Manila Subway
Hyped as the "Project of the Century," the Metro Manila Subway is the first underground railway system in the Philippines, with the completion of the project's first phase targeted in 2023 or 2024.
Metro Manila Subway Stations
This 36-kilometer underground train line will comprise 17 stations in different locations in the metropolis. What is more, two stations are to be connected to the planned North South Commuter Railway. The following are the stations of the future Metro Manila subway:
East Valenzuela

Quirino Highway

Tandang Sora

North Avenue

Quezon Avenue

East Avenue

Anonas

Katipunan

Ortigas (formerly called Ortigas North)

Shaw (formerly called Ortigas South)

Kalayaan Avenue

Bonifacio Global City

FTI

Lawton

Senate

Ninoy Aquino International Airport Terminal 3

Bicutan
Makati Subway
Makati City, often regarded as the primary financial district of the country where luxury hotels and residences are built, will also have its own underground train system. The 8-kilometer transport system in Makati has a targeted completion date of 2025. The Makati subway is anticipated to have train stations in these locations:
Mile Long

Makati Fire Station

Circuit Makati

Makati City Hall

Makati Bliss

Intersection of Ortigas-Makati-BGC Bridge

University of Makati

Ospital ng Makati
Sources: With reports from the Philippine Daily Inquirer, ABS-CBN News, and GMA News
Modernization in the country's transport system is undoubtedly a priority of the outgoing Marcos administration. This includes the highly debated Jeepney Modernization Program. Nonetheless, the common Filipino commuter deserves nothing less than comfort and convenience when commuting to school, work, or on their way back home.
Lumina Homes communities nationwide are near major roads and transportation services such as the country's train systems. The existence and operations of these trains greatly benefit in decongesting Metro Manila and boost economic progress in nearby provinces, such as Rizal, Cavite, Bataan, Laguna, and more. As such, Manila employees can still commute back to their affordable house and lot in a Lumina community in their province in a much shorter trip time. With more infrastructure projects for commuting convenience, it eliminates the need to relocate in the already overpopulated and hypercongested Metro Manila for employment opportunities.
In addition to access to major roads and train stations, Lumina Homes projects are also near schools, hospitals, dry and wet markets, local government offices, and churches, making each community a complete package for those looking to take residence in a conveniently located neighborhood.
Embark on a virtual tour of Lumina properties and see it for yourself. For your investment inquiries, send us a message through this website or via our social media accounts. Achieve homeownership like never before and invest in an affordable house and lot with Lumina Homes.

Try our Home Loan Calculator
Loan Calculator
Try Lumina Homes' loan calculator and get an estimate computation for your preferred Lumina property and home model.