5 Common Commuter Problems Filipinos Face Daily
6 October 2022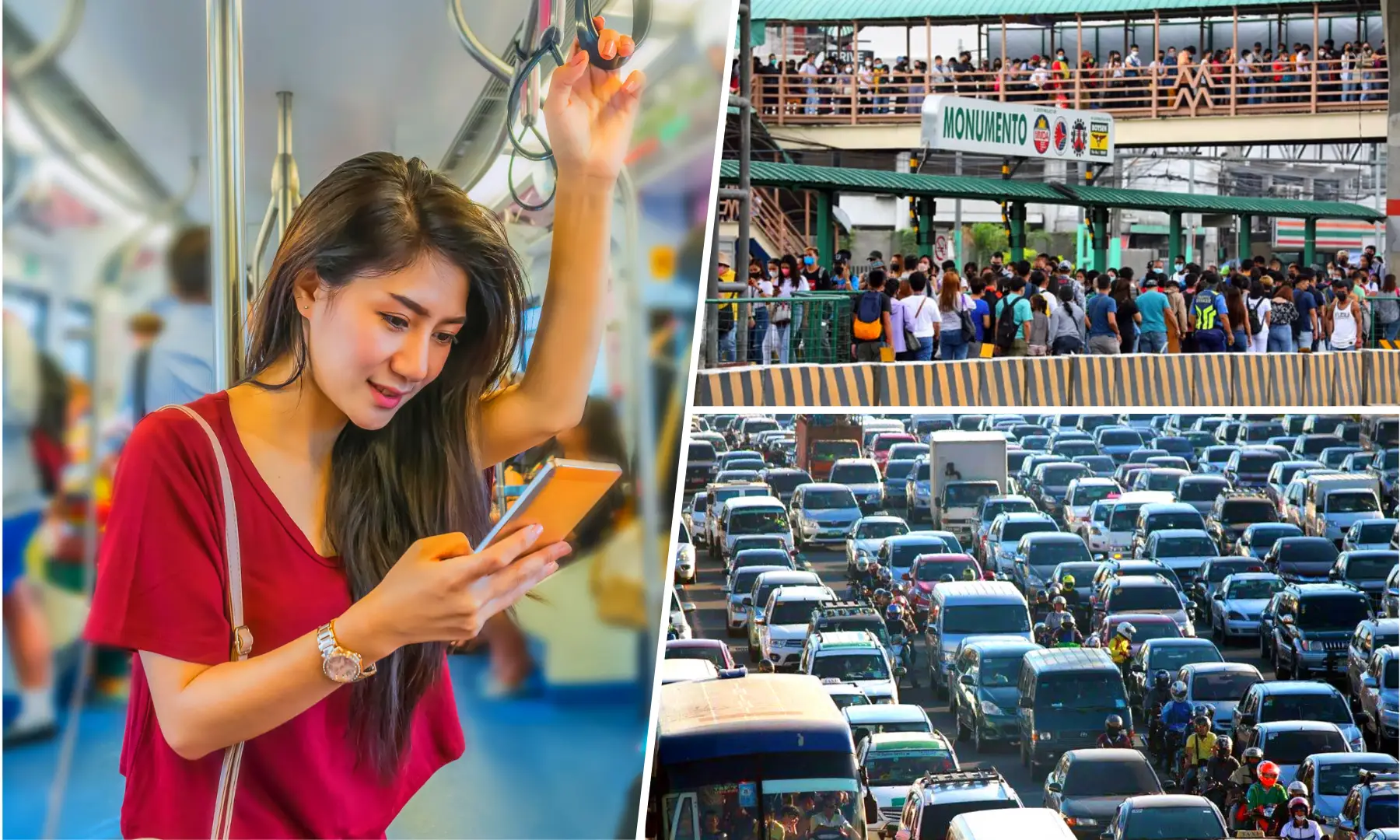 During the peak of the coronavirus outbreak, streets and highways were empty of vehicles and pedestrians roaming around, especially in Metro Manila. It's an unprecedented sight, but only because these were depressing times when quarantines and lockdowns were strictly imposed to contain the rapid spread of the airborne coronavirus.
Fast forward to 2022, most notably after the national elections, protocols have become lenient more than ever, until such time that public utility vehicles (PUVs) have become fully operational again sans physical distancing. Face mask use is still encouraged especially indoors, but is now optional in large, open spaces.
Public transportation is back, but so did the common commuter problems that were ever-present in pre-pandemic times. They're back to inconvenience Filipinos, and it seems that surmounting these commuter challenges is a Herculean task requiring, among others, efficient law enforcement, Metro Manila decongestion, and immediate government intervention.
In this article, the most infamous commuter problems in the Philippine setting will be tackled, as well as a few solutions to at least alleviate the daily struggles of the overly exhausted, stressed, and sleepless commuting Pinoys.
5 Common Commuter Problems in the Philippines
As we slowly go back to old times albeit with a face mask for protection from airborne viruses, let's take a look at the massiveness of commuter problems in the country. They are symptomatic of a transportation disease that needs an overhaul as soon as possible. Let's discuss them here and find some solutions to this decade-old problem in mass transportation.
1. Traffic jams seem insurmountable
In his paper "Public Transport Rationalization As A Means To Sustainability," Dr. Cresencio Montalbo Jr. reported that there are over 8.96 million people who ride jeepneys daily in the Philippines, while 1.87 million commuters hop on buses. However, that only makes up 22 percent of people who ride on Public Utility Vehicles (PUVs), the rest are private car owners, according to Move As One Coalition.
This paints an unsightly picture of traffic jams caused by the massive number of private cars outnumbering public transport. Adding insult to injury, Manila was ranked eighth with the worst traffic in the world, with a 43 percent congestion level and a total of 98 hours of traffic loss yearly, a research by GoShorty, an insurance technology site, reported.
The terrifying effect is not best seen in statistics, but in the actuality of struggles being felt by daily commuters, who have to endure longer trip times, shorter attention spans, increased stress levels, inadvertent tardiness to work, or simply wasted moments spent sitting on traffic that doesn't seem to move until all commuters reached a certain degree of anger and hunger.
2. Fare hikes are an added financial burden
Expensive fares have a direct correlation with increasing gas prices. Mass transport groups, as they should, demand the Land Transportation Franchising and Regulatory Board (LTFRB) to respond to their call for fare hikes due to increasing gas prices. The livelihood of PUV drivers are adversely affected too.
Fare increases vary from PUV types. Since October 3, the fare hikes have been approved by LTFRB. For traditional PUJs, it will be P12 from P11, while the modern PUJs are P14 from P13. The minimum fare for AUVs and SUVs is P55 from P50, while the minimum base fare for an ordinary city bus is P13 from P11, and it's P2.25 from P1.85 per kilometer. The flagdown rate for taxis, meanwhile, is at P45 from P40.
Add that to the increasing commodity prices, Filipinos are at the receiving end of the Philippine Peso reaching its all-time-low (P58.84 per 1 USD as of this writing) in its conversion rate against the powerful US dollar.
3. Long lines at PUV stations
Around 45.6 million commuters rode the Metro Rail Transit Line 3 (MRT-3) last year, constituting an average daily ridership of 136,935 in Metro Manila.
According to statistics, there were more than a hundred million passengers on train rides alone in 2021. A long queue of people is a terrible sight that the riding public is used to seeing during rush hour, but it doesn't mean they grew indifferent to them. Long lines in train stations and bus stops are indicative of the lack of efficient public transport, made worse by traffic caused by private cars dominating public thoroughfares. It's also common to see people making do with standing inside a bus that has reached its passenger limit, if only to reach their destination on time. Never mind arriving at work haggard, it's better than being late and risking termination due to unintentional tardiness repeatedly.
With face-to-face classes fully implemented after two years of distance learning, students are being met with a problem not as students but as commuters of an inefficient mass transport system, as seen in ridiculously long lines at ticketing booths and PUV stations.
4. Unwalkable sidewalks for pedestrians
Pedestrians-unfriendly sidewalks are also a problem commuters face daily. Inaccessible for Persons With Disabilities (PWDs) too, and unaccommodating for senior citizens, which is another testament to how the country is mired with transport problems that go beyond vehicular queuing.
In saying so, streets and cities must become people-oriented rather than centric on cars. There is an impending need for more laws to benefit commuters and the system of public transportation. Public service must be delivered not toward the welfare of vehicles, but of people and commuters braving their days on the way to work as they fulfill their roles as breadwinners and students as the hope of our nation.
5. Overall inferiority of mass transport system
It's a massive problem Filipinos struggle with since time immemorial, and authorities need to act to ease the traffic crisis, among many other transport ills plaguing Metro Manila, Quezon City, and other urbanized cities across the country. A car-centric transport system, traffic congestion, and failure of law enforcement contribute to the deterioration of the country's mass transport dilemma.
To be fair, several infrastructures are underway to aid the country's transportation system. The MRT-7, the NLEX Connector España Section, and even in legislature — the No Garage, No Registration Act was filed in Congress to address illegal parking and curb the traffic crisis. And the Magna Carta for Commuters, which aims to "enumerate and uphold the rights of the commuting public." The challenge now is in the success of law enforcement.
A few coping mechanisms to help Filipino commuters
Being stuck in traffic makes you vulnerable to stress, pollution, and airborne diseases such as the coronavirus disease. While cases have dwindled, it doesn't mean the virus has been purged, because it's not. Below are a few coping mechanisms that every commuter should know to alleviate the burden of daily commute in the Philippines.
1. Commute early
There's no doubt that this is a sacrifice that many commuters already practice to avoid tardiness to work. This means waking up way, way early and sacrifice sleep to not be at the receiving end of long queues in bus stations and terminals. Commuting early lets you go to work with less 'competition' as commuters are expected to scramble at the sight of an arriving PUV, not out of a lack of discipline but out of the necessity to arrive on time to their destination.
2. Secure a beep card
You may think it's not necessary, but securing a beep card will save you ample time from having to impatiently wait in long lines at ticketing booths. It's a great alternative to cash fare payments. These days, a beep card is no longer just usable in MRT and LRT rides, but also in buses and convenience stores. A beep card is not just a display in your wallet. It's handy and useful, so make sure to make the most of its convenience.
3. Bring water and snack
During your waiting time at the bus station or LRT and MRT, having a snack to munch on will fight off hunger and exhaustion. Sitting through traffic will also make you thirsty, so don't forget a bottled water that you could sip on while you wait for the vehicle to start moving again until you reach your destination.
4. Stay productive
Traffic is bad, but it doesn't mean you'd just stress over it. It's your free time while holding on to hope that the congestion will ease soon, so you might as well do some productivity-promoting activities while inside the vehicle. Reading through a self-help e-book, upskilling through studying an online course, catching up with TV series you missed, and yes, sleeping. After all, traffic is typically within hours, and taking a nap is your chance to rest.
5. Consider relocating near the office
We know how tough this decision is to make, but consider relocating near your office to cut hours of commute time and waiting in long queues at bus terminals and MRT stations. There are many Filipinos who actually endure traveling hours from a nearby province all the way to Metro Manila, and vice versa. This means lost hours spent on travel time. Talk it out with all family members and consider relocating. But if you don't see yourself in this situation, ponder on our next piece of advice.
6. Consider looking for WAH setups
The popularity of work-at-home (WAH) jobs has doubled during the pandemic when the physical office, an enclosed space devoid of natural ventilation, is the perfect venue to catch the virus. If your job description is doable outside of the office, it would not hurt to request a remote setup from the management and state your reasons. If they don't grant you the request, also consider looking for other jobs that will give you the flexibility of working from home, hence saying goodbye to the hassle of long hours of commuter hell.
Lumina Homes Perks: Shuttle Services Exclusive for Homeowners
Accessibility is what Lumina communities provide best for its homeowners. Lumina residents also enjoy the convenience of shuttle services with pick-up points so that they will not be hassled with the wrath of commuting. This is just one of the many exciting perks that Lumina Homes offers for its residents from 50 locations around the country.
If you are on the active lookout for an affordable house and lot for sale, Lumina Homes is known to provide affordability and quality with its housing provisions. Make your investment with us and own an affordable house and lot through Lumina Homes. Feel free to browse through our website and have a look at our housing units, amenities, and other real estate investment information that you need to know. Get your next house and lot in the Philippines now in a few clicks!

Try our Home Loan Calculator
Loan Calculator
Try Lumina Homes' loan calculator and get an estimate computation for your preferred Lumina property and home model.