What to Expect in Lumina Job Fair 2023?
1 May 2023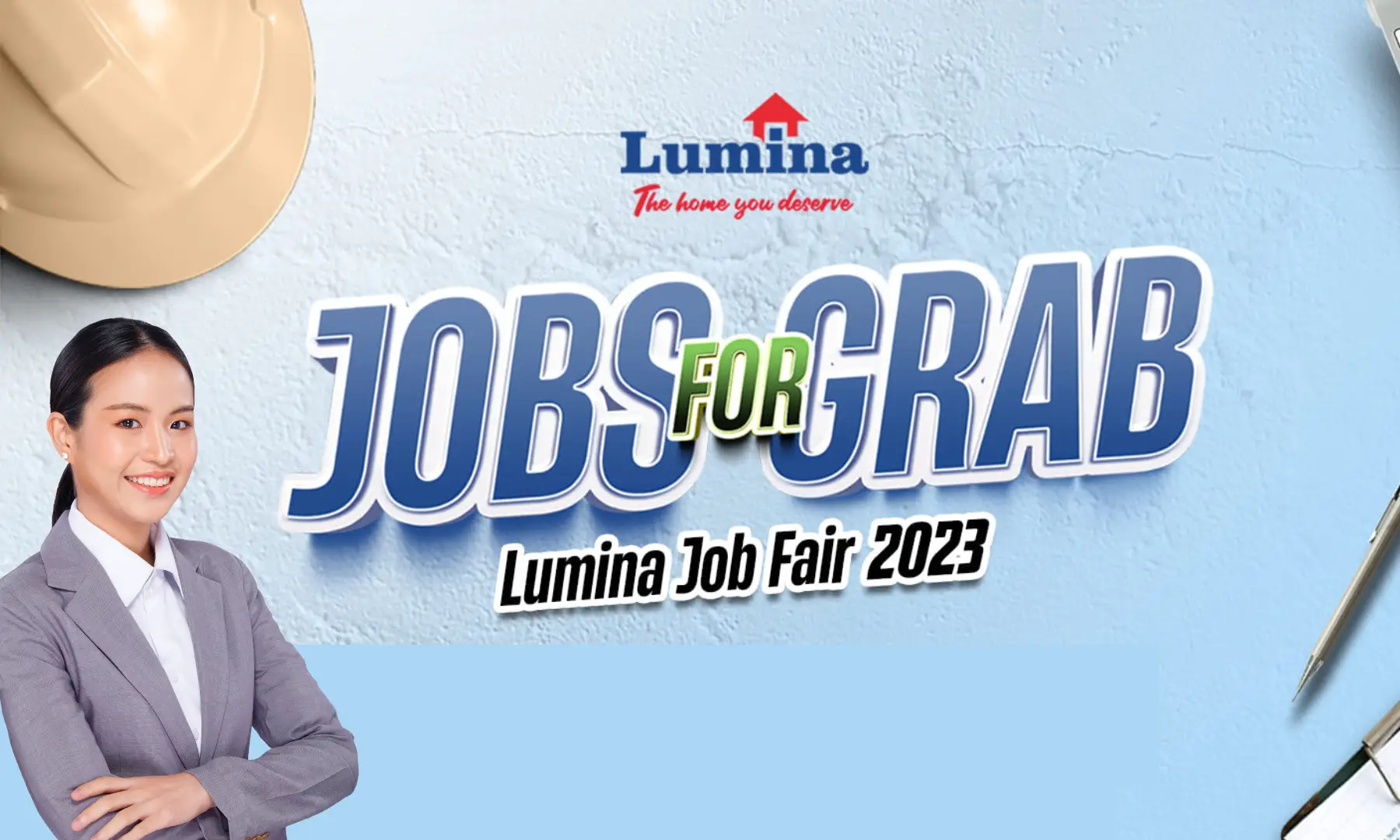 This upcoming May, Labor Day will be celebrated nationwide to express our vast appreciation to tireless Filipino workers. It's also a time when we could expect workers' rights advocates to stage a protest near the now-Presidential Palace to rightfully demand fairer working conditions, stricter implementation for mandatory employee benefits, a livable, higher minimum wage and, conversely, to vehemently oppose inhumane working conditions around the world.
Aside from expressing words of affirmation for our workforce and calling out abusive employers, one way to demonstrate importance toward Filipino workers and employees would be to conduct job fairs during Labor Day celebrations. After all, job fairs will help lessen the unemployment rate in the Philippines by offering guaranteeable employment opportunities for jobless Pinoys across the country.
This upcoming May 6 and 27, respectively, Lumina Homes is set to facilitate a job fair in its selected sites to join the nation in its quest for reduced unemployment rates.
If you plan to apply and participate in Lumina Job Fair 2023, this article will elaborate details on what you can expect during the event. If you're an aspiring homeowner, Lumina Homes will also dedicate a day for home hunters to get a good deal on their future house and lot purchase.
May 13, 2023: Jobs for Grab!
Over the years, Lumina Homes committed to expanding its housing projects nationwide. And with it, the real estate management team hired more and more employees to help the company to deliver the news of a housing brand offering quality yet affordable housing for Filipino families, especially for hardworking employees dreaming of having their own real estate property.
As more and more Filipinos resort to using the internet to search for properties, we also sought to improve our web visibility. Hence, we hired not only real estate agents, brokers, sales representatives, and other real estate professionals for our 50 housing projects from Luzon, Visayas, and Mindanao. We also hired candidates to help us in our digital marketing campaign and be able to reach more interested homebuyers online. Having said that, we employed digital sales associates, graphic artists, and content writers, among others, to boost our online presence.
For fresh college graduates, here's a piece of good news: you are welcome to apply and stand a great chance to get hired. We value potential just as much as industry experience. You'll gain significant experience working with us!
This upcoming May 6, Lumina Homes will again search for potential candidates who will become part of our ever-growing team of dynamic professionals! Lumina Homes' sister companies will also be hiring to fill its job vacancies. As for Lumina Homes, we are looking for the following:
Marketing Assistant

Admin Assistant

Accounting Assistant

Finance Assistant

Site Engineer

Architect

Horticulturist

Technical Services Assistant

Business Development Assistant

Customer Care Assistant

HR Assistant

Digital Sales Associate

Full Stack Developer

Graphic Designer

Content Writer

Video Animator
Lumina Job Fair 2023 is in partnership with the local TESDA, DOLE, and PESO. At the site, there will be tables and tents for the Lumina Marketing team, both for sales and recruitment, as well as for Human Resources and our affiliates, such as MGS Corporation, Mitsubishi Heavy Industries, Streamtech, Primewater, and All Value. During the event, Lumina Homes will also draw ₱5,000 worth of raffle items, such as spa and salon gift certificates.
The real estate sector, of which Lumina Homes is a huge part, is a resilient and lucrative industry. Grow your career with us and apply at Lumina Homes on May 6! You will also get the chance to win raffle prizes. So don't miss the chance!
May 24, 2023: Hardwork Pays Off
On May 24, Lumina Homes will give excellent offers to aspiring property owners. This is one of our little ways of giving thanks to Filipino employees who are working tirelessly hard to fulfill their being breadwinners of their respective families. And if you want to give your loved ones a better home that you can truly call your own, here's what Lumina Homes will offer on May 27 for aspiring homebuyers:
1-Day No Reservation Promo
A serious buyer can take hold of a unit without paying for it. He or she gets to "own" the unit of her choice for seven (7) days. This means the property cannot be bought or reserved by others for a week. The condition is the buyer must be able to pay a reservation fee before May 31, 2023.
If the buyer fails to do so, the property of his or her choice will be open again for reservation among interested buyers. Normally, Lumina Homes only allow payment for reservation fee for a house and lot unit to be reserved. But this May 24, we allow serious homebuyers to reserve a unit without paying a reservation fee until May 30.
If affordability and quality of a house and lot in the Philippines are the primary factors you're looking for, then Lumina Homes can fulfill the promise of giving you an affordable house and lot for sale. Besides quality and cheaper selling prices, Lumina Homes communities nationwide are accessibly located near vital establishments for the entire family's comfort and convenience.
That is, your future Lumina Home from either Luzon, Visayas, or Mindanao is rest assured to be in proximity to schools, shopping centers, medical facilities, local government offices, and more. In addition, residing within a Lumina community entitles you to enjoy exclusive amenities such as a multipurpose hall, gazebo, basketball court, mini-gardens, and a playground for your kids. There is also round-the-clock security and guarded entrances to ensure the collective protection and safety of homeowners.
This upcoming May as we observe and support workers' rights nationwide during Labor Day, you can either get hired by Lumina Homes and become part of our team, or reserve your affordable house and lot without having to pay for a reservation fee upfront! In essence, the property you will reserve will be yours for seven days and no one can reserve it while it's under your name. Once you have the money, you can pay the reservation fee before May 30.
After that, you are a few steps closer to acquiring your dream house and lot in the Philippines! Lumina Homes can help you attain homeownership with less stringent requirements and friendly accommodations from our sales team. Experience what it's like to be a Lumina homeowner and seal your real estate investment with our award-winning housing brand!

Try our Home Loan Calculator
Loan Calculator
Try Lumina Homes' loan calculator and get an estimate computation for your preferred Lumina property and home model.