Successful Groundbreaking Event for Lumina Calauan Laguna Phase 1
16 February 2023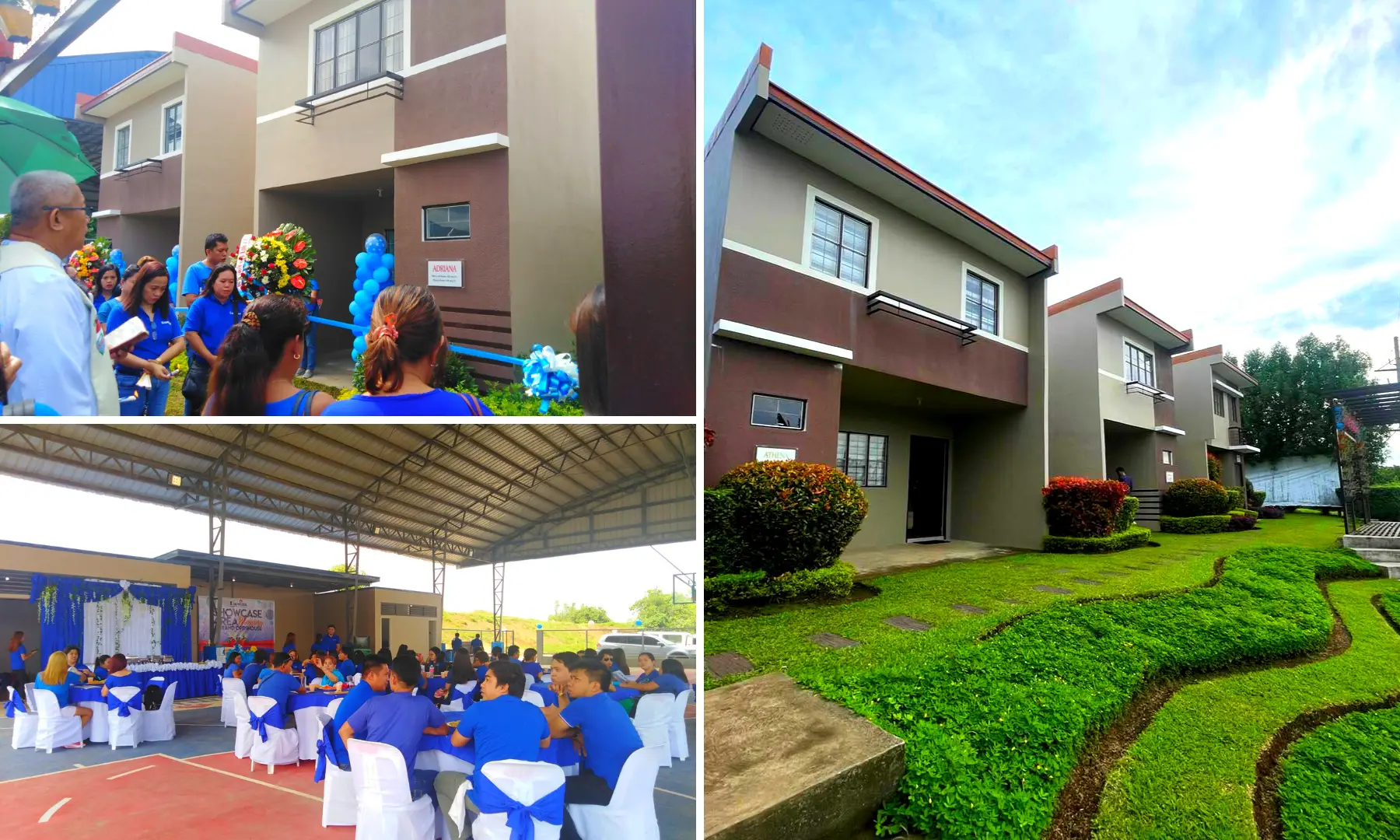 Lumina Homes finally completed its presence in the CALABARZON region by introducing its first Laguna project, Lumina Calauan. A successful groundbreaking ceremony was recently hosted for its Lumina Calauan Phase 1 development. It's a traditional ritual for Lumina Homes to make a sacred deposit to signify a strong and lasting foundation before starting a construction project.
The groundbreaking event was headed by Ms. Armela Ruiz, Lumina South Luzon Division Head, and joined by the projects marketing staff and accredited sellers who have been looking forward to Lumina opening in Laguna after its successful groundbreaking ceremonies and construction site developments in the adjacent province of Batangas.
Affordable Housing in Lumina Calauan
Lumina Calauan will consist of a wide selection of affordable house and lot for sale suitable for every Filipino family. Among these are Lumina's two-storey homes - Adriana townhouses and Athena duplexes and single firewall houses, all with carport provisions. The Adriana model has a 44 square meter floor area in a 36 square meter lot. It can accommodate up to two (2) bedrooms and one (1) toilet and bath with a home space for living, dining, kitchen, and service area.
Meanwhile, the Athena model has a 53 square meter unit with a 63 square meter lot area. It features a complete home space for living, dining, kitchen, and service area. It can also accommodate up to three (3) bedrooms, one (1) toilet and bath, and a provision for one (1) family area. Thus, it offers bigger spaces and better natural ventilation for homeowners.
Moreover, the Athena homes also come with ceramic tiles on the ground flooring, ceiling, and interior paint. Therefore, it provides mobility for families with toddlers and kids as they can move and settle in faster and easier, making it worry-less and stress-free.
As the leading provider of affordable house and lot in the Philippines, Lumina Homes uses a cast-in-place or reinforced concrete system for Lumina Calauan model homes. But rest assured, these are disaster-ready, insect-resistant, have a high level of strength, and have the sound-blocking ability.
Currently, Lumina Calauan opened its Phase 1 with over 500 saleable affordable house and lot units. In the future, Lumina Calauan will be equipped with practical amenities to complete its affordable subdivision living offering. These amenities include a guarded entrance with CCTV, a basketball court, a gazebo, mini gardens and playground, a shuttle service to transport guests and residents, and reserved open spaces for commercial purposes.
Lumina Calauan is located in Barangay Masiit in Calauan, Laguna, with a 9-hectare residential development project with two (2) enclaves.
Furthermore, Lumina Calauan is one of the nearest provinces to Manila. You can easily access the residential community via public transportation and private vehicles. You can take the South Luzon Expressway (SLEX) and get off to Calamba if you come from Manila via private car. Then, turn right to A. Marfori road and right-turn again to head straight to Lumina Calauan. For commuters from Manila, ride a bus going to Santa Cruz-Laguna, and get off to Barangay Bangyas. Then, you can walk or ride a tricycle going to the community.
Lumina Calauan is also close to various establishments, including schools and universities, shopping malls and public market venues, tourist spots, recreational centers, and famous heritage sites. This includes the University of the Philippines Los Baños, Field of Faith Sanctuary, Hidden Valley Spring, Pagsanjan Falls, Mount Makiling, Rizal Shrine, and the Enchanted Kingdom. Hence, this newly developed building project is surrounded by magnificent mountain views with a pollution-free climate all year round. So, it is the best residential location for low-income families, OFWs, and retirees. It can also be used for house rental units as an investment option.
Why Choose Lumina Calauan Laguna
While Calauan represents 2.59 percent of the total population of Laguna province, it is noted for its geographical and historical landmarks. This humble municipality from the South continues to have seen a surge in local economic activity. Not only is it seen as an ideal location for your dream home, but it also offers wide open green spaces and a more leisurely pace of living.
Future homeowners of Lumina Calauan will get to enjoy some of the biggest infrastructure projects of the national government. One of these is the four-lane 10.7-kilometer Laguna Lake Highway, connecting Manila to Rizal. The said project has been open since November 2018, which reduces the travel time from Bicutan to Taytay from an hour to thirty minutes.
In addition, Laguna also benefited from other Build, Build, Build programs such as Tayabas Bypass Road and Kaykulot Diversion Road. As part of the Luzon Spine Expressway Network, the Tayabas Bypass Road serves as an alternate route for motorists. Through the Pagsanjan-Sta Cruz-Los Baños-Calamba corridor, you can reach Quezon and Bicol in a few minutes. Meanwhile, the Kaykulot Diversion Road is a 1.7 diversion road that stretches from Sta. Rosa-Ulat-Tagaytay Road-Laguna via Calamba Road. You can take this route if you're heading to Park in the Sky or Picnic Grove.
Besides Lumina Calauan, other low-income housing projects in CALABARZON are Lumina Tanza in Cavite; Lumina Batangas (in Sto. Tomas), Lumina Tanauan, Lumina Bauan, Lumina Lipa, and Lumina Rosario in Batangas; Lumina Baras, Lumina Pililla, and Lumina Binangonan in Rizal; and Lumina Quezon (Tayabas) and Lumina Sariaya in the Quezon province.
Lumina Homes is an affordable public housing arm of the most reputable real estate property developer in the country, Vista Land and Lifescapes, Inc. With over 50 key locations nationwide, rest assured that these are situated near public amenities and built for better living conditions.
For interested buyers looking for a new venture, you can avail of these affordable housing packages through bank financing, in-house financing, and PAG-IBIG loan. You will be given the best payment scheme options suitable to your financial capability. All you need is to accomplish the necessary documents needed and submit them through our Lumina Calauan admin office for evaluation. Once approved, you will enjoy the full perks of living in one of the masterplanned communities of Lumina Homes.
For more information on Lumina Calauan, contact (0917) 629 6523. Also, you can take a virtual tour of Lumina Calauan on our site to learn more.

Try our Home Loan Calculator
Loan Calculator
Try Lumina Homes' loan calculator and get an estimate computation for your preferred Lumina property and home model.