Sta. Maria Bulacan Ranks as the Hottest Travel Destination
30 April 2023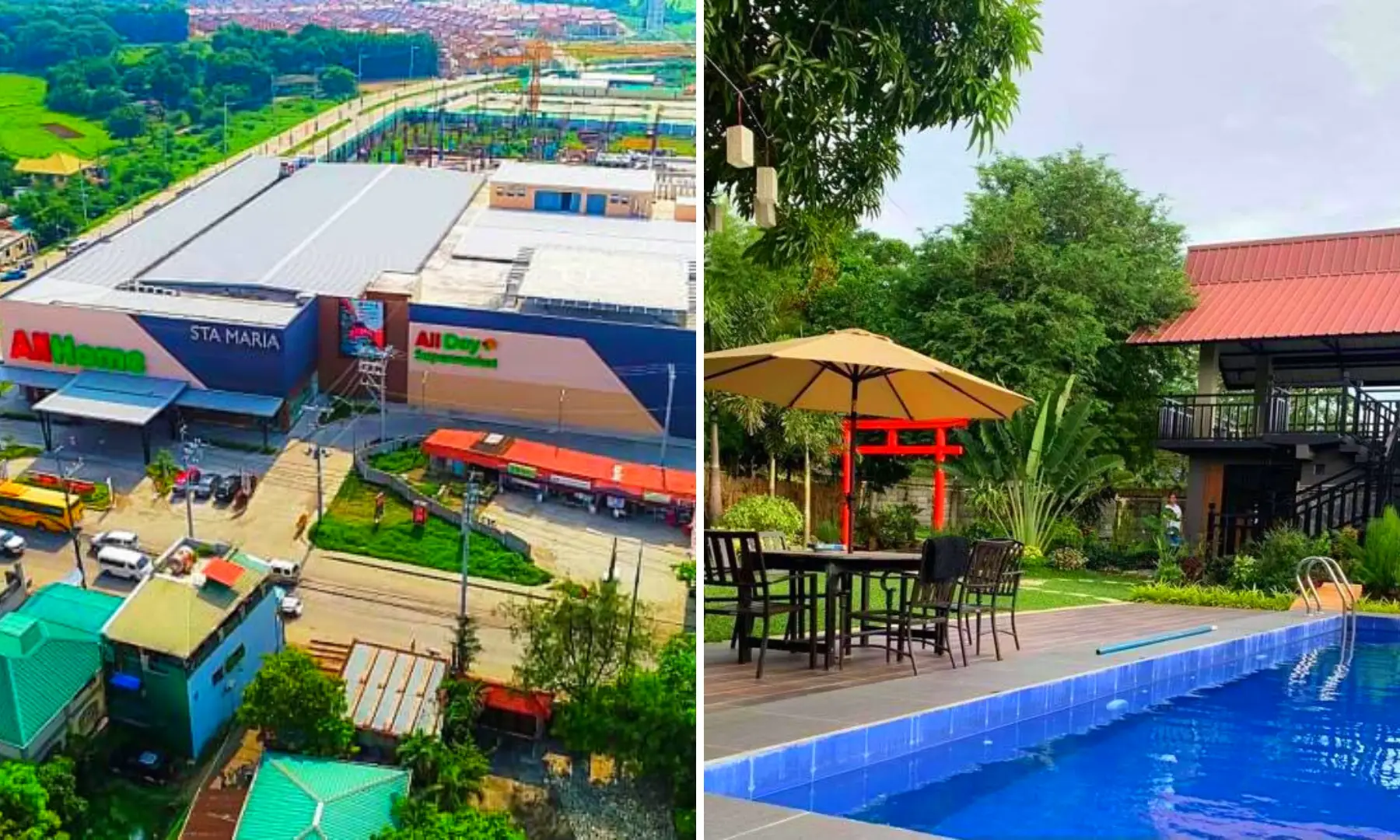 Inside the Province of Bulacan lies a town called Santa Maria. It is a city in the province's eastern section. The cities of Angat and Norzagaray to the north, Marilao to the south, San Jose del Monte to the east, and Balagtas and Bocaue to the west form its lateral boundaries in Central Luzon.
Sta. Maria, being named after its patron saint, is the ideal area to settle down if you value quiet proximity while enjoying some urban amenities. If you like the rural life, you will appreciate the abundance of agriculture you will see. However, your preferred fast food joint or grocery store is just a short drive away.
Definitely, a home location in which you can enjoy a great harmony between the city and the countryside may be found here!
AirBnB: Santa Maria, Most Searched Travel Destination in PH
The number of people looking for somewhere to stay in the Philippines on Airbnb increased by about 400% between March and April of this year and the same months in 2022, as shown by the company's most recent statistics. On the other hand, international travelers coming in the country still prefer to have Manila domestic travel.
This year's increase in Airbnb booking may be attributed in part to the five-day lengthy Holy Week holiday, during which millions of Filipinos vacationed all throughout the nation.
During that time, Santa Maria, Bulacan ranks first in the top five most-searched destinations by Filipinos for this summer season. Meanwhile, the United States, Canada, as well as Asian destinations Japan, Korea, and Thailand were the most popular international destinations for Filipinos.
Wondering why Sta. Maria ranked first this summer? Here are the possible reasons why:
Off-the-beaten-path destinations preferences
About a third of Filipinos have stated that they are looking forward to increasing their travel as a result of years of travel restrictions. With this, over 60% of Filipinos agreed that visitors to their country should be able to easily and affordably visit off-the-beaten-path areas so that local economies would not suffer.
In this regard, Sta. Maria Bulacan, being only an hour away from Metro Manila is an ideal local destination for a quick weekend getaway this summer season. It is also has a lower population density, and therefore less crowded compared to other famous summer destinations in the Philippines to international guests such as Boracay, Cebu City, and Palawan.
Hospitable locals
Filipinos surveyed also said that the friendliness of locals, who make visitors feel at home and are eager to show them around, is a major selling factor for Philippine tourism.
Since Sta. Maria Bulacan is located in the suburbs, the culture and tradition of hospitality of Filipinos are preserved here, making tourists feel that they are welcome to visit the municipality anytime.
Revenge travel trend
There has also been a shift in the way Filipinos travel, with families and barkadas or group travel rose in the event of revenge travel. Also, even if bookings for groups increased by about 180 percent in 2022, most Filipinos still use Airbnb for trips with only two people.
With the large group travel rising in the summer season, the top local destination would be somewhere that has a plethora of resorts, private swimming pools as well as natural resources, like Sta. Maria Bulacan.
Top Resorts in Sta. Maria Bulacan
Summer is here and most Filipinos love to go to the beach or a private resort for a quick weekend getaway dip in the pool. If you're looking for resorts that are just an hour away from Manila, then, Sta. Maria Bulacan is the place to be! Here are some of the resorts you must include in your next family summer trip:
Nokori Private Resort
If you're in a house and lot in the Philippines Sta. Maria Bulacan, you should try out this hotel with a Japanese motif. Vacationers seeking a Japanese Zen experience will feel right at home at Nokori Private Resort. The pool and other facilities at this hotel are very well-organized.
Address: 1407 P. Manok Road, Barangay San Jose, Patag 3022 Santa Maria, Bulacan (Around 16 minutes travel from Lumina Pandi)
Guevarra Private Resort
Guevarra Private Resort is another great option for a relaxing staycation. A kid-friendly swimming pool and event space make this little Sta. Maria Bulacan resort ideal for family reunions and other special occasions. Those in the Sta. Maria, Bulacan area searching for a place to organize an intimate pool party or wedding celebration can look no further.
Address: 493A Guevarra St, Caypombo, Santa Maria, 3022 Bulacan (Around 20 minutes travel from Lumina Pandi)
Villa Esperanza Resort
This resort is great for families because of all the fun things to do around the pools that the kids will enjoy. Your child's birthday party or other special occasions will be memorable here. Its large swimming pools and bungalows are ideal for accommodating small parties without compromising on privacy.
Address: Balasing Road, Alapista St., Santa Maria, Bulacan (Around 20 minutes travel from Lumina Pandi)
Hidden Tropics
Hidden Tropics is a chic resort in the heart of Sta. Maria Bulacan which was opened on February 2018. Imagine yourself at that exclusive, opulent resort in Sta. Maria, Bulacan, ready to take the ideal Instagram photo.
Address: 1407 P. Manok Road, Barangay San Jose, Patag 3022 Santa Maria, Bulacan (Around 31 minutes travel from Lumina Pandi)
Aqua Vista Private Resort
The Aqua Vista Private Resort is a fantastic option for groups traveling together, whether they are friends, relatives, or coworkers. The resort's cottages, common areas, rooms, pool, and bathrooms are all well-maintained. That way, visitors can rest easy knowing they're in a clean space.
The owner and employees of Aqua Vista Private Resort also have a stellar reputation for their warm and welcoming service. They go above and beyond to meet the demands of their visitors and create an atmosphere where everyone can relax and enjoy themselves. Aqua Vista Private Resort's visitors will appreciate this high standard of service.
Address: Purok Looban, Santa Maria, Bulacan (Around 41 minutes travel from Lumina Pandi)
Floating Sanctuary
If you want a more contemporary resort with large pools for your family or party, this may be a good option. As you take in the fresh air while lounging by the pool, you'll appreciate the forest's contribution to the ambiance.
Address: 1438 Pasong Kasay, San Vicente, Santa Maria, Bulacan (Around 51 minutes travel from Lumina Pandi)
Lumina Pandi, Your Perfect Investment Near the Trending Summer Destination
You can now take advantage of the Sta. Maria's in-demand summer spots by getting a house and lot in Pandi as an investment.
Get an affordable house and lot for sale in Pandi and convert it into an AirBnB that you can rent out to tourists and travelers who want to escape the summer heat in Manila and enjoy the various resorts, local dishes, and nature that can be found in Sta. Maria Bulacan.
One of the best choices you have is Lumina Pandi. This affordable house and lot in Pandi community is a few minutes away from the famous resorts and other tourist destinations in Sta. Maria Bulacan. It is also located close to marketplaces, grocery stores, public and private schools, as well as medical facilities and infrastructure, which can give your renters the optimum convenience and movability during their trip.
Discover our fast-selling townhouses in Lumina Homes Pandi, ideal for your AirBnb rental business, and make your reservations now!

Try our Home Loan Calculator
Loan Calculator
Try Lumina Homes' loan calculator and get an estimate computation for your preferred Lumina property and home model.