Shopee 10.10 Sale: Get 10% Off on Lumina Homes Reservation Vouchers!
8 October 2022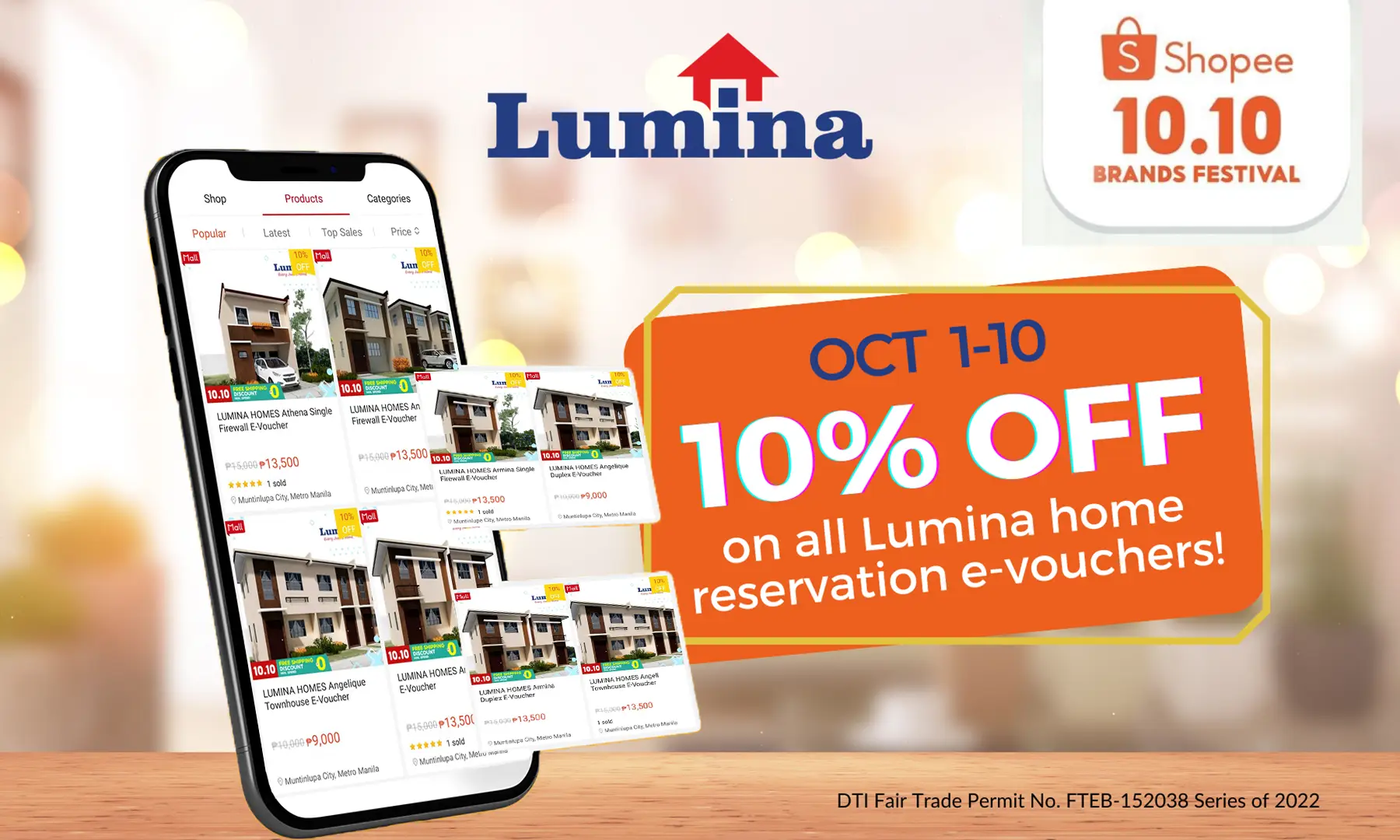 Can you hardly wait for Christmas? Honestly, you have every right to be, as the day draws ever closer. With it seeming like life is nearly back to normal after two years of being cooped up at home due to health restrictions, we can expect that many people are looking forward to throwing a jubilant party for this year's holiday season!
Let's be honest. In the Philippines, the spirit of this joyful season may be felt as early as the first day of the ber months, making the country beat the record of the earliest nation to celebrate the Christmas Season every year.
In this light, many people begin making preparations far in advance of the actual holiday season for the purpose of hosting or attending various types of social events. They begin planning what treats to make and what presents to buy for their loved ones.
Speaking of gifts, make your preparations early for the holidays and make sure to get a gift that they may put to good use and won't lower the value of your hard-earned money.
Make Your Lumina Home Reservations and Get 10% Off
Now that there are less than a hundred days till Christmas, it's possible to run across random shoppers who have already started making wish lists for their loved ones.
We understand that it may be difficult to choose the ideal present for loved ones, since you would like to get them something they'll appreciate and find useful while not putting a dent in your bank account..
You can now be smart and start gifting yourself or your loved ones with a wise investment through Lumina Homes' affordable house and lot for sale and get a 10% discount when you make your home reservations in Lumina Homes Shopee Mall during Shopee 10.10 Brands Festival!
As the second in Shopee's series of year-end shopping events, the 10.10 Brands Festival gives Filipinos even more reason to celebrate the number 10.10 with its great discount voucher code deals, rewards, as well as free shipping vouchers with no minimum spend and get jump on their Christmas shopping.
Giving consideration to this great event and following our giveaway of a house and lot in the Philippines during the Shopee 9.9 Super Shopping Day TV Special, Lumina Homes is giving away a 10% discount this month on all of its affordable house and lot e-vouchers reservations on Shopee as part of the Shopee 10.10 sale promo.
Not only do you get to take advantage of Shopee and Lumina Homes' incredible price cuts, but you can also receive a slew of freebies including FREE electricity application, FREE water application, FREE Homeowners Association membership fee, WAIVED bank charges, and FREE processing of title!
How to Shop with Shopee using Shopee Mobile App?
Don't miss this opportunity to get a Lumina Homes e-voucher with a 10% reduction on the reservation cost in Shopee App and follow these easy steps on how to purchase an affordable house and lot for sale.
Step 1. Go to our official Lumina Homes Shopee Mall location at www.shopee.ph/luminahomesofficial.
Step 2. Check out the e-vouchers that are available house and lot reservation vouchers listed in our official store.
Step 3. To find out where you can use our discounted e-vouchers, you may contact the sellers partners Lumina Homes and chat with us. The e-voucher you buy also comes with an electronic description, which may provide you further details about your home purchase.
Step 4. Once you've decided on a certain house model, you may buy the corresponding e-voucher with your credit card or online banking, GCash, or Shopee Pay by clicking the "Buy Now" or "Add to Cart" buttons. No need to input any promo code since the price is already discounted upon purchase.
Step 5. After purchasing your preferred unit, make sure to keep your lines open as a Lumina Homes Expert will be notified of the sale and will contact you to schedule a convenient time for a marketing briefing and paperwork completion.
Lumina Homes has over 50 communities in the most significant cities and municipalities around the Philippines, so no matter whether you are in Luzon, Visayas, or Mindanao, you're sure to find the perfect place to start your home investment.
You can choose from our communities in Albay, Agusan del Norte, Bataan, Batangas, Bulacan, Bukidnon, Cagayan, Cavite, Cebu, Davao del Sur, Iloilo, Laguna, La Union, Misamis Occidental, Negros Occidental, Nueva Ecija, Pangasinan, Quezon, Rizal, Sorsogon, Tarlac, or Zambales and get a quality home for your family in an affordable price!
Our house and lot in the Philippines such as the Adriana Townhouse, Angelique Townhouse, Angelique Duplex, Angeli Townhouse, Angeli Duplex, Armina Duplex, Angeli Single Firewall, Armina Single Firewall, and Athena Single Firewall are among our most popular choices because they are designed to accommodate a wide range of lifestyles and family sizes.
Hurry and shop with us now as this promo only runs from October 1 to 10, 2022 as part of Shopee 10.10 Brands Festival campaign!
You can also chat with Shopee or go to Shopee PH Help Center to know how to register or install a Shopee App on your mobile phone.
Use ShopeePay as Your Preferred Payment Method for this Shopee 10.10 Brands Festival!
After getting permission from the Bangko Sentral ng Pilipinas, ShopeePay may now be used as an in-app electronic wallet by Filipino consumers, adding up to the list of convenient ways to pay your dues. ShopeePay wallet allows users to make account updates, buy goods and services, and get refunds in a flash. The money in this account may also be used to pay for in-person purchases as well as those made inside the app.
Get your brand new home with your ShopeePay Wallet
ShopeePay makes it possible to get started investing in a house and lot from Lumina Homes. Now, at any Puregold location in the nation, you can book a reservation for your preferred Lumina home, as well as settle any outstanding bills, while you're out doing your weekly grocery shopping!
ShopeePay is now accepted at more than 406 Puregold stores around the Philippines, making it convenient for Lumina homebuyers to reserve their dream homes without leaving the comfort of their favorite grocery store.
Being the first real estate developer to partner with Shopee, Lumina Homes definitely spearheaded a convenient innovation in the home shopping industry of the Philippines. So, what are you waiting for? Visit us through the Shopee App or site to get your 10% discount on home reservations now and experience a hassle-free home-buying experience with Lumina Homes!
DTI Fair Trade Permit No. FTEB-152038 Series of 2022

Try our Home Loan Calculator
Loan Calculator
Try Lumina Homes' loan calculator and get an estimate computation for your preferred Lumina property and home model.