Lumina Tarlac Residences launched Emery Affordable Rowhouse
3 November 2022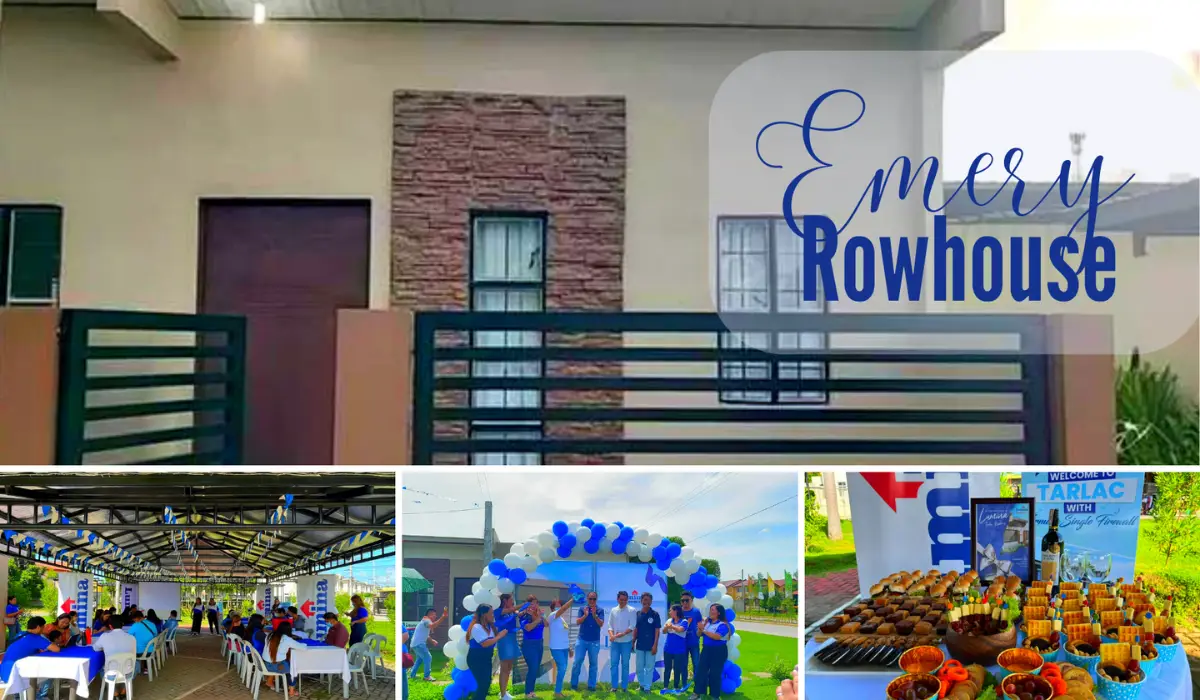 Lumina Tarlac Residences recently launched its newest addition to its line of home model property located in Concepcion, Tarlac province headed by Lumina Division Head Engr. Neil Almonte and Lumina Tarlac's top performing sellers.
Young professionals in the Philippines face one of life's greatest challenges when they begin their search for a home. Due to the impossibility of purchasing real estate entirely, renting is often considered to be the superior alternative. As a matter of fact, for most young professionals, the most important factors in owning a house and lot in the Philippines are its closeness to their place of employment, the availability of convenient public transit, and stable utility services.
Lumina Homes, one of Vista Land's most reputable housing segments, has noticed a shift toward apartments among young professionals because of the company's realization that these individuals do not require expansive compounds but rather prefer living in close proximity to their respective places of employment. Hence, the birth of the newest affordable house and lot for sale in Lumina Residences Tarlac as the best investment for young professionals.
Introducing the Emery Starter Home Model
The first Emery Starter Home model was just released by Lumina Homes in their newest project, Lumina Tarlac Residences, in the municipality of Concepcion. The Emery series is one of the latest from Lumina Homes, and it's perfect for busy young professionals or anybody wishing to make a first foray into real estate investment.
Emery Rowhouse Features
Young professional home seekers have some great features to look forward to in our newest affordable house and lot unit.
On a standard 36 square meter lot, Emery's interior measures in at 22 square meters floor area. It also has the typical features that other Lumina Homes rowhouse units have such as a living room, dining and kitchen area, a toilet and bath, one bedroom, and a provision for a service area.
But what makes it more promising than our first editions of rowhouses is that this particular home model unit includes painted fence and a steel frame gate. On top of that, it also has ceramic floor tile and high-tech bathroom amenities like the telephone shower head, handheld bidet, and twin flush-type water closet-- making it a more convenient home condo-living style for our young professionals and a distinguished bungalow apart from its earlier versions.
An accessible home location for people on-the-go
Emery's display room may be seen at Lumina Tarlac in Barangay Maliwalo, Tarlac City, where the company's marketing department is also based.
In addition to seeing the Emery display home, the onsite Marketing representative can also provide our interested home seekers and potential homebuyers with a comprehensive tour in the whole Lumina Tarlac community. Since Lumina Tarlac is an established community, you can see what life in a Lumina neighborhood is like for current residents and get a sense of what it will be like for you at Lumina Tarlac Residences in Concepcion.
Lumina Tarlac Residences: A Promising Investment for Young Professionals
Being one of the most anticipated affordable housing development now near Metro Manila, Lumina Tarlac Residences has definitely a curb appeal to Filipino first-time home investors and buyers as well as to our young professionals who are dreaming to invest in affordable real estate properties at a young age.
Located in Brgy. San Agustin, Concepcion Tarlac, this community is located along McArthur Highway, SCTEX, and CPLEx-- providing high movability and accessibility to its future homeowners. With a total population of 7,429 according to the census made in 2020, the area represents 4.37% of the total population of the town of Concepcion.
People from all across northern Luzon use this part of Tarlac province as a passageway to go to Metro Manila, hence the government has implemented a number of Build Build Build initiatives to make the trip more bearable for them. Some of the newest infrastructures that are available and must look forward to close in this part of the province are Tarlac- Pangasinan- La Union Expressway (TPLEX), Capas-Botolan Road, Pulilan-Baliuag Diversion Road, Bagac-Mariveles Road, and the Villa Aurora Bridge.
All these developments that are happening near Concepcion, Tarlac make it a hassle-free, safe, and convenient subdivision for the whole family and young individuals aiming for independent living.
Other home model units available in Lumina Tarlac Residences
Need to have a bigger space for your growing family? Lumina Homes Tarlac Residences also offer other affordable home model units for every type of Filipino Family. All these two-storey three bedrooms, 1 carport home model units are semi-furnished upon turnover and can definitely provide the extra space needed by your family.
Armina Home Model
The Armina home model units from Lumina Homes have two types: Duplexes and Single Firewall units.
Both of the house styles fit well on a standard 54 square meter lot, making their interior living space 42 square meters. Our Single Firewall is unique in a way that it does not connect to any other structures, thus its future residents can enjoy more space and privacy. In addition, there is also a service area, a carport, a living room, a dining and kitchen area, three bedrooms, and a toilet and bath. It also includes free ceilings and tiles on the ground level, among other perks.
Athena Home Model
Just like our Armina home model units, Athena also has Duplexes and Single Firewall units to choose from. This is the biggest home model unit that Lumina Homes communities currently offer.
Both of the house styles fit well on a standard 63 square meter lot, making their interior living space 53 square meters with the Single Firewall as a stand-alone unit. It has a living area, dining room, kitchen, three bedrooms, a toilet and bath, provision for a garage, provision for a family room, and a service area.
Amenities that await future residents
Purchasing the affordable house and lot from Lumina Tarlac Residences will entitle its homebuyers a lifetime use of its various amenities such as the Mullti-purpose hall, Covered basketball court, and a 24/7 guarded entrance. We also included at the front gate of Lumina Tarlac Residences a park and a playground, perfect for creating happy childhood memories with their friends while ensuring their security and safety.
With the recent pandemic, homebuyers are more interested in having more open floor plans, higher ceilings, and greater ventilation in their new dwellings, this is why Lumina Homes began adjusting the composition of the homes it sells to meet this need.
Lumina Homes also keep up with various lifestyle developments throughout the years to cater to the fast-paced environment of modern society. Start now a forward-looking home investment and innovations at an affordable price with Lumina Homes!

Try our Home Loan Calculator
Loan Calculator
Try Lumina Homes' loan calculator and get an estimate computation for your preferred Lumina property and home model.