Different Property Types in the Philippines: Know Which Fits Your Budget and Lifestyle
7 May 2022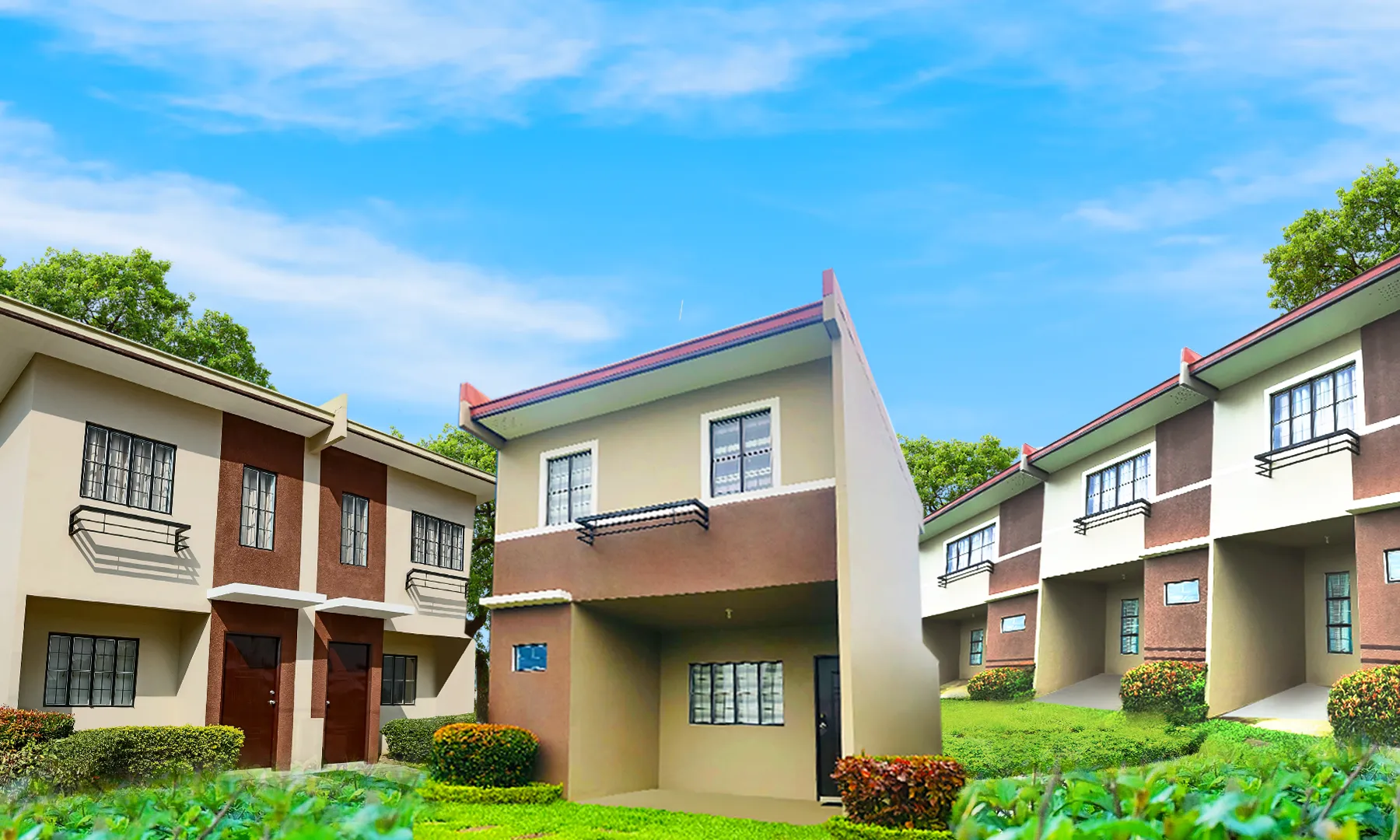 Just like being a condo owner, there are both exciting and hard aspects to purchasing a piece of real estate in the Philippines. However, since the Philippine real estate market offers so many different kinds of houses, it may be tough to choose one that suits your tastes, budget, and way of life.
When buying a house, it's crucial to be aware of your alternatives and weigh them against one another. Knowing the differences between different kinds of houses, from single-family residences to rowhouses, and everything in between, may help you choose the right one for your lifestyle and your family's needs.
Types of houses in buying a real estate property
If you want to know what makes one kind of housing better than another type of real estate property, you have to ask yourself a lot of questions about what you want and value in your own life. We collected some of the most common living space styles below to help you out be familiarized with the type of houses in the real estate industry.
You may use this guide to help you sort through all the various kinds of houses that are out there.
1. Bungalow
Small, cottage-style ground floor homes with large, covered porches are common in this sort of house. Open room designs, spacious front porches, and a slanted roof are all features of bungalows.
An Overview
This house was built with the following features in mind:
Bungalows are typically square in shape and have very little storage space with all the rooms compacted in a single-storey house, making them ideal for young and active professionals. The bedrooms are often on the ground level, with the living room in the middle of the floor plan, and the arrangement is typically open. Bungalows often feature a large front porch with a steeply pitched roof.

It is common for bungalows to have tiny and single-story homes.

Wide single- or double-hung windows distinguish bungalows from other types of houses. A bungalow's squared pillars and unenclosed design emphasize the house's symmetry, proportion, and overall harmony.
Pros
Easy to maintain. It's easy to clean the home since it has just the right size for independent living. Because the roofs of bungalows are lower to the ground, gutters can be cleaned and improvements to the architecture may be made more easily.
Suitable for mobility. There aren't any stairways in the bungalows since most of them are single-story constructions. Homeowners with restricted mobility-- like the elderly relatives-- will appreciate the stairless layout of living on the same floor. In addition, it is ideal for families with small children.
Cons
The open floor layout of the bungalow makes it difficult to separate the living areas from the bedrooms and maintain privacy. Low-roofed homes with tapering internal walls can have some noise issues since sound travels so fast through the structure. When beginning a family, bungalows are ideal, but as your family grows, you may want extra rooms and a bigger living area.
2. Rowhouse
Clustered housing is another term for rowhouses. These are a row of residences that share shared walls and a common floor space, but are not attached to one another. For the most part, the developer used a row spacing of 4, 6, 8, or even 10. Larger lot areas are often advantageous for end-unit lots. This style of home is ideal for newlyweds and retirees, like OFWs, who are looking to downsize.
Pros
The advantages of buying a rowhouse are that it is both pleasant and easy to live in one. It's the ideal size for a young family just starting out. It's less costly than living in a condo apartment, which is more pricey.
Cons
The downside of acquiring a rowhouse-style property is that it restricts your ability to make expansions and improvements. Dogs barking, music blasting, and even a screaming infant may be drowned out by a shared wall.
Lumina Homes bungalow rowhouses
Lumina Homes offer a wide range of bungalow rowhouse for our independent professionals that can give them better space and home value than the mid rise condos built in a single building structure. You can choose from:
Aimee Rowhouse

Aira Rowhouse

Anna Rowhouse

Airene Rowhouse
3. Townhouses
Townhouses are a popular choice for young Filipino couples beginning a family. 80% of Filipinos between the ages of 35 and 45-- and starter families-- wish to live in a townhouse, according to research. Land developers are turning to townhouses as a solution to the ever-increasing need for housing in the Philippines. You're paying for a home and a lot that are for sale.
Pros
Sense of Privacy. Separate outside doors are a standard feature in townhouse construction. There are no shared passageways between townhouse residents, as there are in condominiums. Townhouses often have a guarded entrance, ensuring your safety and privacy.
Faster home turnover. In comparison to condominiums and subdivisions, townhouses can be sold quickly because the developer built fewer units.
Lumina Homes townhouse home models
Lumina Homes offer a wide range of townhouse home model units that are near shopping malls and urban cities that you can choose from:
Angeli Townhouse

Angelique Townhouse

Adriana Townhouse

Bettina Townhouse
4. Duplex
Duplexes are two independent residences on one land that have their own entrances. It's perfect for a house full of kids. Duplexes are not twin homes; they are properties that share a single lot. You may have several owners, but they have the same shared lot ownership in the property.
Pros
Affordability. People are drawn to duplexes because of their low cost of ownership. It's less expensive than a two-story house attached to a single-family home.
Perfect for extended families. In a duplex, there are two separate houses on the same property, each with its own entrance-- making it perfect for families with many kids. Real estate buildings that share a single lot are called duplexes rather than identical twin houses. Even though there are several owners, each one has a vested interest in the property.
An ideal first home. For newlyweds, a duplex is an ideal first home. You can enjoy the benefits of a detached home without the high cost.
Passive Income generator. Renting out half of a duplex is a great way to make some additional money or rental income while still living in your primary residence, especially if the house and lot is located near the modern urbanites. It is possible to keep tabs on the lessee's stewardship of your property if you are residing on the premises. As a result, this is an excellent investment opportunity for homebuyers.
Lumina Homes Duplex home models
Lumina Homes offer a wide range of duplexes that will surely be perfect for your extended family or for some extra rental income:
Angeli Duplex

Angelique Duplex

Armina Duplex

Athena Duplex
5. Single-detached two-storey housing
To describe a piece of real estate as "detached," you'd use the word "stand-alone." The single-detached two-storey home lies in the midst of the lot, surrounded by open space on all sides and the front and rear. It's also known as a single firewall unit. There is also a greater distance between neighbors in a single-family detached two-storey home, and the floor area is larger giving its residents more privacy.
Pros
More space. Single firewall units provide additional living space on the outside. The open areas on the sides, front, and rear of the property serve as an extra barrier from the homes next door that can give its owner more privacy. For pet owners, this additional room might serve as a play area for their furry family members. Being able to add a pool, patio, or even a playground for your kids is made possible because of the additional area the homeowners have.
More freedom. For those who want the flexibility to customize their home, two-story detached houses are the best option. You may do anything you want with the additional outdoor living area you have since you don't have to get permission from the property management to do so. In a two-story detached property, the only limit is the building renovation law, homeowner's association rules and your budget for house improvements.
Higher resale value. When it comes to resale value, two-story properties are more desirable than single-story properties. When making a real estate investment, it's critical to consider the property's future resale value. This is because of your property's advantages and size, as well as its facilities and condition.
Lumina Homes single firewall home model units
Lumina Homes offer a wide range of single detached house and lot that lets your family enjoy the benefits of prime homeownership:
Angeli Single Firewall

Armina Single Firewall

Athena Single Firewall
Although buying your own unit space can be both an exciting and challenging experience, especially for fire time home buyers, getting your first home can be absolutely rewarding-- mentioning the luxurious and exclusive amenities that you can enjoy inside the subdivision.
Lumina Homes' house and lot, apart from having a prime location near the city center, also have great amenities that different owners or residents can enjoy such as:
Covered basketball court

Multipurpose hall

Mini gardens and playground

eSpacio- a new larger space for Lumina Homes residents that contains area for but not limited to jogging path, community center, Tambayan ni Juan, shuttle terminal, and more parking spaces.

24/7 guarded entrance

Perimeter fence
Make your having your dream home come true with Lumina Homes over 50 projects nationwide and flexible payment schemes through a home loan via bank financing and enjoy all these perks with your family and loved ones.
For home reservations and more information about these home model units, you can visit our website.

Try our Home Loan Calculator
Loan Calculator
Try Lumina Homes' loan calculator and get an estimate computation for your preferred Lumina property and home model.