Lumina Pandi Launch an Eco-friendly Home Innovation
24 May 2023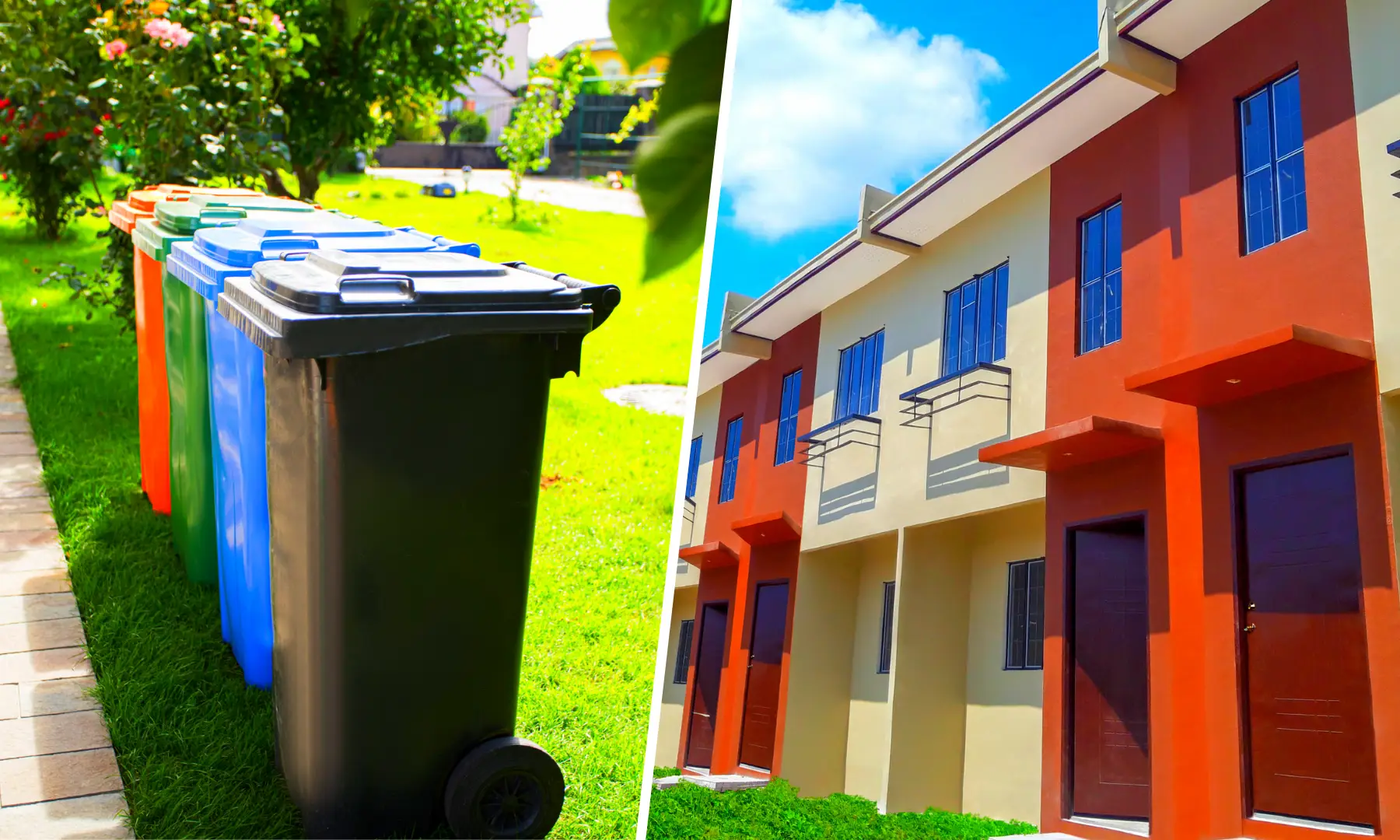 In a global community where the vast majority of human activities are harmful to the environment and human health, eco-friendly household innovations provide a welcome relief. As a result of these advancements, we can be certain that all of our energy needs will be met by clean, renewable sources that will never run out or harm the environment.
It has the potential to greatly cut down on garbage production while simultaneously encouraging recycling and reusing efforts. Because of this, Earth won't turn into a giant garbage dump in the years to come.
A clean, eco-friendly community always starts with proper waste containers, and with this, Lumina Homes is committed to providing a greener and healthier community for its residents and prospective homeowners.
Eco-Bins: Revolutionizing Waste Disposal in Lumina Homes Communities
Lumina Pandi is one of a number of Lumina projects to recently debut an "Eco-bin" in addition to its usual activities and amenities. This newest eco-friendly project was launched on April 28, 2023.
Through this newest addition to our house and lot in Pandi, homeowners who are interested in having their own trash disposal manager installed in their property's fence may get their hands on a ready-made blueprint for eco-bins, a new environmentally friendly invention.
Ms. Ubie Cristobal, Area Head for Lumina Bulacan, presided over the launch ceremony, and guests were given a tour of the unit where the eco-bin had been put to see it for the first time. Residents of Lumina Pandi, marketing officials, and the best sellers in Lumina North Luzon also attended the said launching event.
In addition to eco-bins, Lumina Homes has taken other steps toward creating a sustainable community as well as house and lot Philippines, including the installation of solar-powered streetlights, the maintenance of landscapes in its open spaces, the creation of community gardens, the implementation of regular tree-planting and clean-up initiatives, and the provision of extensive road networks inside the community for residents to engage in physical activity, such as jogging or biking.
Building the Blocks of a More Hygienic, Healthier, and Cleaner Community
Lumina Homes, as a sustainable community, has implemented "Eco-bins," a convenient and effective trash disposal management system that can be freely utilized in each and every affordable house and lot in Pandi. With a variety of trash cans placed within easy reach, household maintenance is streamlined, and the house is kept cleaner and more orderly.
Below are some of the benefits residents can enjoy from having dedicated waste containers in community development:
Promoting a more hygienic community
Although their primary function is to collect garbage, these eco-bins also serve an aesthetic purpose by encouraging orderly living spaces. The cleanliness and orderliness of an area are directly correlated to how well its rubbish and cleaning routine are managed.
Keeping the environment safe
The introduction of eco-bins to your home investment was mostly motivated by the need to restrict the proliferation of infectious illnesses that may be found in open garbage dumps. These garbage cans are also designed to conceal waste and trap most smells within, so they can blend in with their surroundings without being unwelcome.
Encourage recycling habits
Having a designated place to put trash is one of the most useful features of eco-bins since it facilitates recycling. When you have an accessible garbage container at home, it makes it easier to sort recyclables from nonrecyclables. By means of this, you and your children can always have the motivation to pursue good recycling habits, and it may come naturally in your daily living.
Security
Eco-bins may seem like they wouldn't have anything to do with neighborhood security, but anybody who has ever come across a stray dog or cat exploring their trash can knows exactly what is it we're talking about.
Although much of the waste is insignificant, the fragrance of some items might draw in animals. It doesn't take much for animals to rip apart plastic bags and uncover the loot. They may even possibly harm themselves if they continue doing this. Fortunately, these nuisances may be avoided with the easily accessible eco-bins in your property investment to keep trash safely contained.
Lumina Pandi, Setting New Standards for Sustainable Living
Lumina Pandi is one of the first Lumina communities in Bulacan; therefore, it can show you what an established Lumina neighborhood looks like while it is gradually transforming in to a more sustainable community. It is a 22-hectare house and lot development with thoughtful features like a 24/7 guarded entrance with CCTV that's always on, a covered basketball court, and a mini gardens and playground.
Being one of Lumina Homes' developments in the province of Bulacan, close to Pandi town proper and other Bulacan's bustling towns, Lumina Pandi is one of the most vital locations since it is so well-liked by potential homeowners.
This leads to additional other affordable housing developments from Lumina Homes in the Central Luzon province, like our thriving communities in Plaridel, Calumpit, Baliwag, and San Miguel.
Here are the available home model units on the Lumina Pandi site:
Eliza Starter Home
Eliza is the newest bungalow design offered by Lumina Homes, and it distinguishes out from the others thanks to its painted fence, steel frame gate, ceramic floor tiles, and modern bathroom equipment like a telephone shower head, handheld bidet, and dual flush-type water closet. It is a single-bedroom 24 square meters rowhouse on a 36-square-meter land area.
This renovated rowhouse has been outfitted with state-of-the-art conveniences and furnishings to make it ideal for first-time purchasers with an active, fast-paced lifestyle that necessitates ease of movement and access.
Angelique Townhouse
This is a two-storey 35 square meter townhouse on a regular 36 square meter lot. It features dining & kitchen, one (1) toilet & bath, a living area, a provision for two (2) bedrooms, and a carport, as well as a service area.
Angeli Home Model units
Lumina Pandi's Angeli home model units have two varieties, including duplexes and a single firewall homes.
Both of them are 42 square meter two-storey homes on a regular 54 square meter lot. They feature dining & kitchen, one (1) toilet & bath, a living area, a provision for three (3) bedrooms, and a carport, as well as a service area.
Living in Lumina Pandi gives you premium proximity to the Balagtas town center, schools, colleges, and universities, as well as medical facilities. Convenience is also achievable in this community with marketplaces. transport terminals and local government offices located a few blocks from home.
Lumina Homes Pandi is striving to be one of the best sustainable communities in the country. The model home featuring the eco-bin is available for viewing in Lumina Pandi in Barangay Pinagkuartelan, Pandi, Bulacan, just 14 minutes away from Balagtas Exit.

Try our Home Loan Calculator
Loan Calculator
Try Lumina Homes' loan calculator and get an estimate computation for your preferred Lumina property and home model.