WATCH: March's Top 10 Movies in the Philippines You Should Add to Your List Right Now
3 April 2022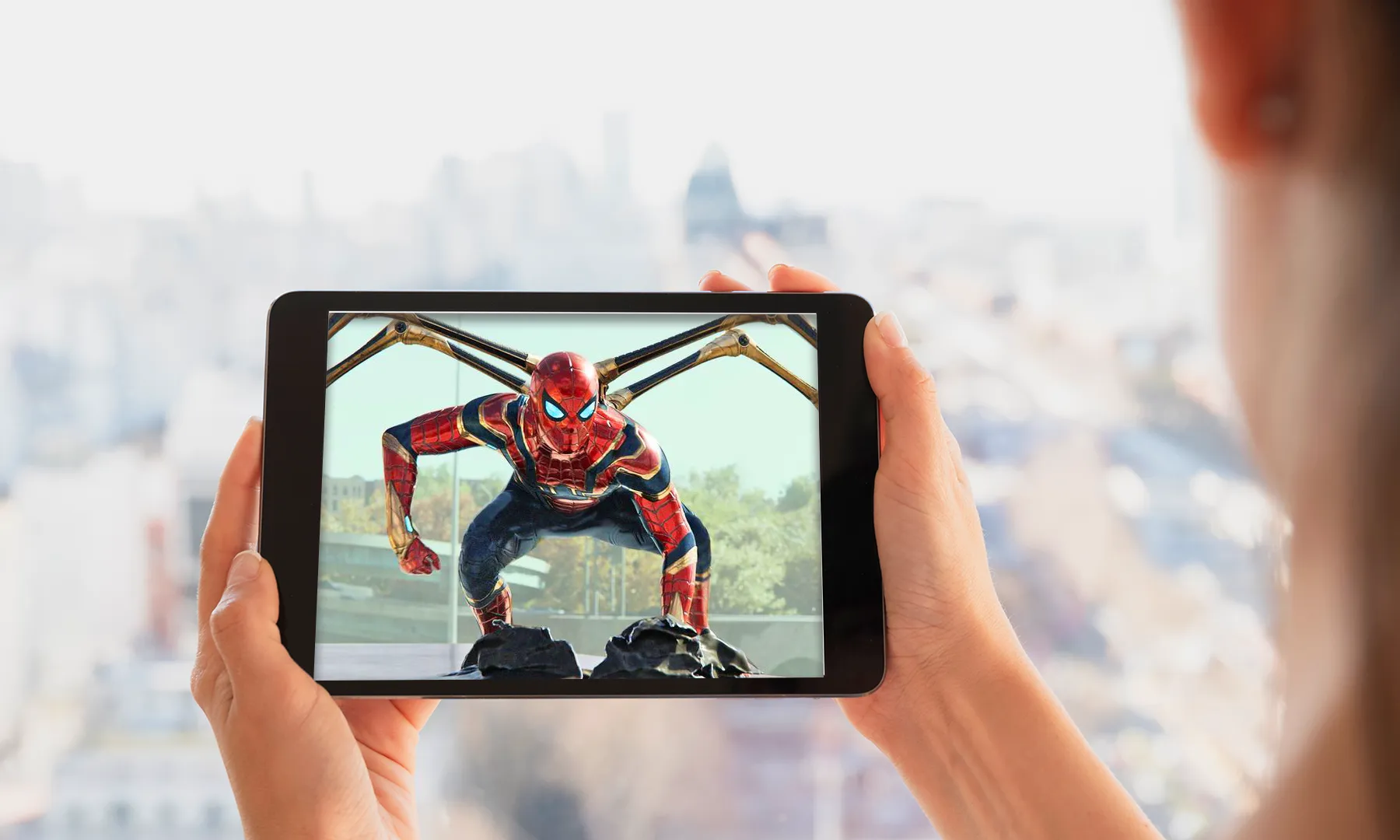 Have you tried counting the times the saleslady has asked you whether you availed a loyalty shopping card already? Or those moments a random promo would just pop up on your timeline? How about that enticing seat sale the airlines are offering? They may seem too good to be true, but it is the universe telling you to treat yourself.
There are countless ways you could soothe your aching self from surviving the crazy world of adulthood, working for eight hours a day only for the bills eating half of what you earn. Phew! Don't worry, though. As always, we got you covered!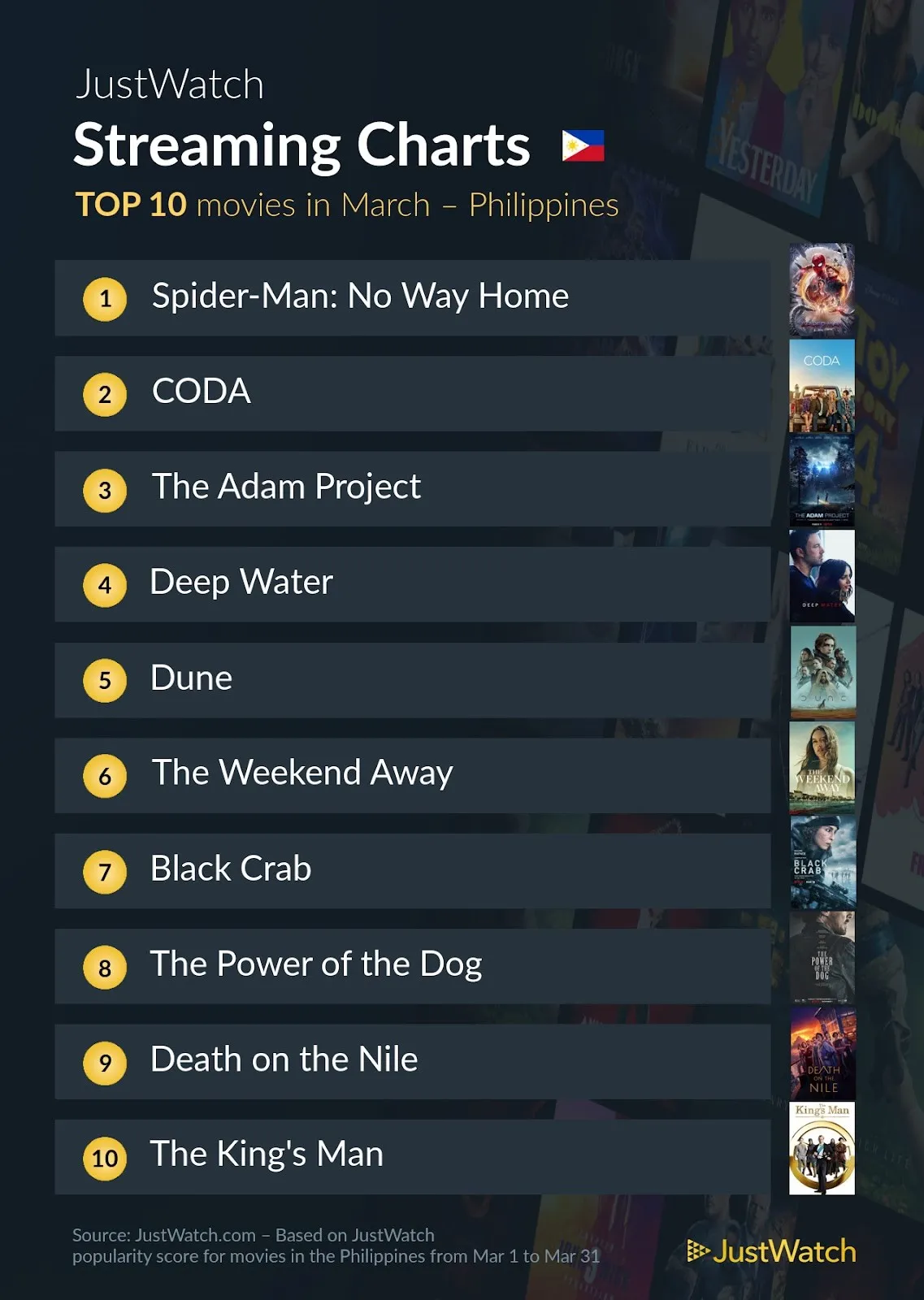 We've rounded up the top ten films in March perfect for a movie time alone or with someone dear to you.
10. The King's Man
IMDb Rating: 6.3/10
Where to watch: Hulu, HBO Max, Amazon Prime Video, Apple TV
The epic The King's Man opens our list on the tenth spot. This action movie features a man who would try to stop wars plotted by the world's worst criminals of the 20th century. It is a father's saga in protecting his loved one from the after-effects of the catastrophic plan. The film is an adaptation of Mark Millar's comic book series about a secret spy organization.
9. Death On The Nile
IMDb Rating: 6.3/10
Where to watch: Hulu, HBO Max
An exciting adventure awaits you on the Death On The Nile. It is a peculiar holiday for detective and former police Hercule Poirot as his vacation turns into work. A young heiress was found life-less, drowning in her blood, while onboard. Now the cop would treat each high-end guest, dressed in their best suits and gowns, as a suspect in his quest to find out the truth. Who could it be?
8. The Power of the Dog
IMDb Rating: 6.9/10
Where to watch: Netflix
Do you remember when you and your sibling would fight over a candy like it's the last in the world? The Power of the Dog tells a relatable family story, but on this one, it's not candy they're fighting over for, but love from the same woman. The end-tale of the charismatic rancher Phil and his brother would be decided by a widow named Rose. An unpredictable love story that would take you on a roller-coaster ride of emotions.
7. Black Crab
IMDb Rating: 5.6/10
Where to watch: Netflix
The next on the list takes us into the sci-fi world with Black Crab. Set in a post-apocalyptic era, six soldiers would take on the journey of carrying a mysterious package that could save them from war. In honor of their calling, they would brave the land unsure who to trust and blind of the future. But how can the unknown save you?
6. The Weekend Away
IMDb Rating: 5.6/10
Where to watch: Netflix
The Weekend Away is another mystery thriller perfect for the season. It follows the holiday story of two best friends who planned a getaway to Croatia. It was all ordinary until one of them went missing and the other woman was accused of the crime. In an attempt to fight for her name, Beth would unleash a dark secret that would shake her identity.
5. Dune
IMDb Rating: 8.1/10
Where to watch: Amazon Prime Video, Apple TV, Vudu, Google Play
Still on the list is Dune. Frank Herbert's novel is a science fiction that features humanity thousand years into the future. The movie is centered on a noble family that becomes involved in a war for control over the galaxy's most valuable asset. Battling visions of a dark future, young heir Paul Atreides will have to travel through time and space to save his people. Dune is a brilliant adaptation of the literary piece paired with smart storytelling and premier production.
4. Deep Water
IMDb Rating: 5.4/10
Where to watch: Hulu, Amazon Prime Video
Ben Affleck stars in another thriller film, Deep Water. He plays husband Vic who allows his wife to have an open relationship, in a desperate effort to save their failing marriage. As a result, the lowkey psychopath becomes the prime suspect of the disappearance of his wife's lovers. The surprising twist of the story makes the erotic film a first-rate production of its kind.
3. The Adam Project
IMDb Rating: 6.7/10
Where to watch: Netflix
The Adam Project makes every adult's dream a reality—to turn back time and fix every mistake. Fighter pilot Adam Reeds partners with his 12-year-old self in a mission to save the world from futuristic spaceships. Watch how an accident would turn to an unexpected reunion and liberating journey of self-discovery through this action-packed film.
2. CODA
IMDb Rating: 8.0/10
Where to watch: Apple TV Plus
This award-winning film will surely tear you up with its heavily-themed scenes and realistic plot. CODA actually stands for Child of Deaf Adults which is the situation of central character Ruby. She is the only hearing person in the family with a passion for music but then a problem would push her to choose between her pursuit or her family. Find out who she'll lend her ear to in the end.
1. Spider-Man: No Way Home
IMDb Rating: 8.4/10
Where to watch: Amazon Prime Video, Apple TV, Google Play Store, Vudu
Unsurprisingly, the crowd-favorite superhero lands on the top spot. Spider-Man: No Way Home continues the story of protagonist Peter Parker picking up from its sequels Spider-Man: Homecoming and Spider-Man: Far From Home. The plot is spiced with another superhero, Dr. Strange, entering the scene. With the intent to help the young boy, he unexpectedly opened another, making it even harder for Peter to survive the current situation.
To enjoy all these Top Movies in March 2022, you must have a fast and reliable internet connection. The good thing is that Lumina Homes inked a partnership with Streamtech so you can stream and binge-watch anytime in the comforts of your home.
Aside from a fiber internet connection, Streamtech can also bring you to your favorite television shows through their partnership with Planet Cable. You may subscribe to their cable-internet bundle that combines fiber internet connection and cable television under one plan. With its affordable internet offers, you can look forward to making the most of your budget.
You can also choose to purchase the Extendifi WiFi Extender to let you enjoy the powerful connection wherever you are at home, streaming the latest movies in your favorite app.

Try our Home Loan Calculator
Loan Calculator
Try Lumina Homes' loan calculator and get an estimate computation for your preferred Lumina property and home model.