A Growing Optimism: Philippine's Home Prices Growth in 2021
9 April 2022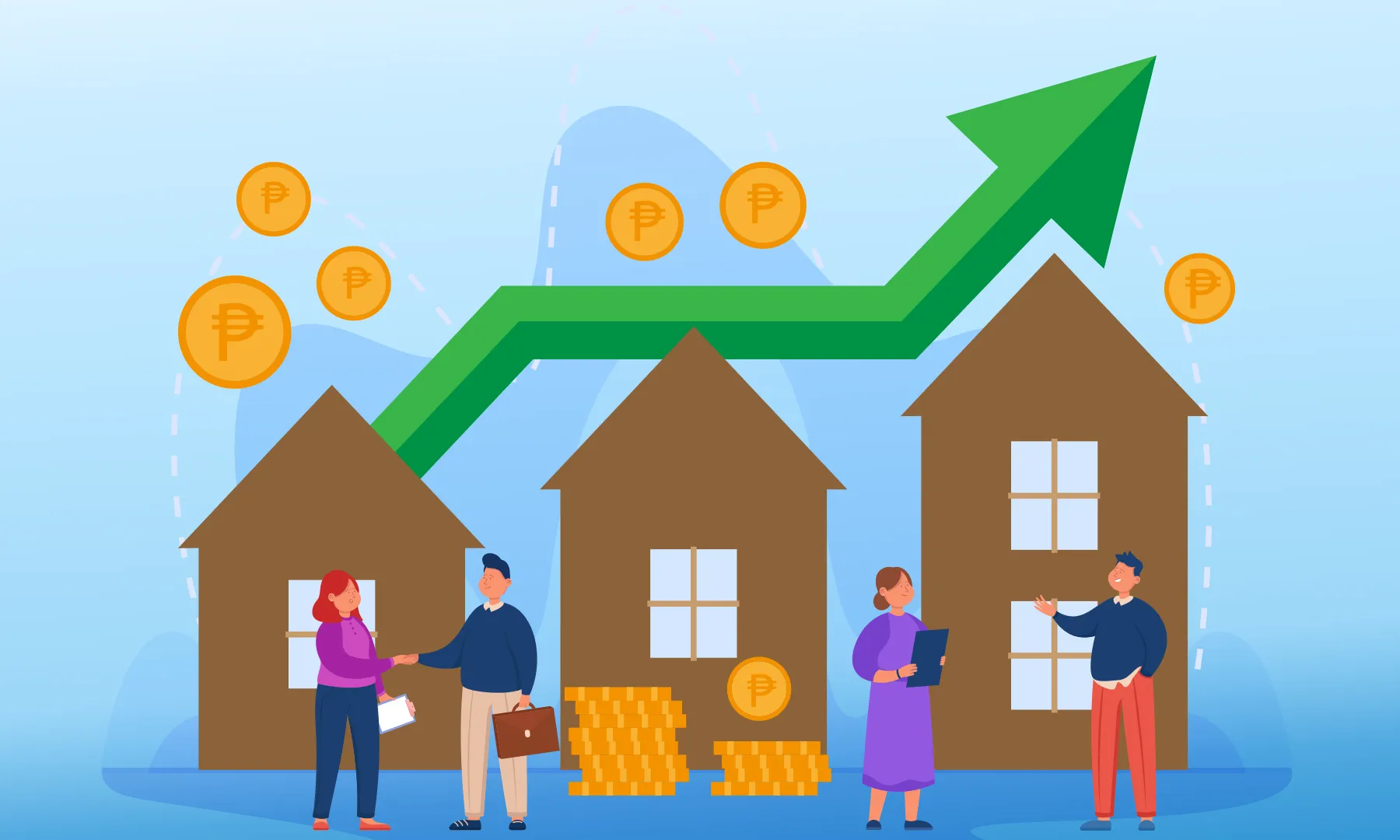 Surely, owning a house or a residential real estate property is one of every Filipino's dreams—a stable place that they can call home and return to after a long, tiring day. That supports Bangko Sentral ng Pilipinas' latest research about the sustained growth of residential real estate prices in the previous quarter of 2021.
The data from Residential Real Estate Price Index (RREPI) revealed that the nationwide residential property prices rose up to 4.9% as consumers preferred to buy real estate properties during the said period. Now, there could be a number of factors, but one could be the easing of pandemic restrictions all throughout the country. In consequence, Filipinos are now giving more value to investing in the property market while bouncing back from the pandemic's demoralizing effects.
Known to be as resourceful and adaptive, no wonder Filipinos are already getting back on their feet. The latest reading from Bangko Sentral ng Pilipinas is aligned with the consumer expectations survey showing a higher ratio of Filipinos who preferred to buy home units and real estate properties during 2021's 4th quarter.
What is Residential Real Estate Price Index or RREPI?
The RREPI is a measure of the average change in the prices of various types of housing units like single-detached/attached houses, duplex housing units, townhouses, and condominium units. Residential Real Estate Price Index (RREPI) is based on banks' data on the actual mortgage of the approved loans granted to acquire new housing units only.
Moreover, it is a chain-linked index and is computed using the average appraised value per square meter, weighted by the share of the floor area of each type of housing unit to the total floor area of all housing units. The RREPI is used as an indicator for assessing the real estate and credit market conditions in the Philippines. The Bangko Sentral ng Pilipinas has been releasing the report since the first quarter of 2016.
Data for the RREPI are collected through BSP Circular No. 892 dated 16 November 2015, which requires all universal/commercial banks (UBs/KBs) and thrift banks (TBs) in the Philippines to submit to the BSP a quarterly report on all RRELs granted.
By area, the data from BSP revealed that residential property prices in the National Capital Region (NCR) rose by 5.0% Year-on-Year, although it's lower than 11.4% in the third quarter of 2021. On the other hand, Areas Outside the National Capital Region (AONCR) also went up by 5.1%. Condominium units and townhouses were the main drivers of the sustained growth which leads to the decline in prices for duplex housing units and single-detached or attached houses.
On a quarter-on-quarter basis, residential property prices grew by 2.6% in the AONCR, following the national trend, but declined by 1.2% in the NCR. Clearly, this report shows that Filipinos are now much more aware of how living in certain areas affects their quality of life.
By type of housing units, the increase in prices of townhouses and condominium units drives the year-on-year (YoY) growth in property prices. Looking at the report, the 4.9% YoY rise in the nationwide RREPI in Q4 2021 was mainly driven by the rise in townhouses' and condominium unit prices. That increases by 22.6% and 10.4%, respectively.
The YoY growth in their prices, however, was slower compared with the 21.7% and 2.0% in Q3 2021. "In the case of condominium units," the Bangko Sentral ng Pilipinas stated, "the upward trend in prices was mainly attributed to the units in the AONCR. By contrast, prices of duplex housing units and single-detached/attached houses contracted by 10.2% and 1.1%, respectively."
In the Q4 of 2021, the total of residential real estate loans (RRELs) granted for all types of new housing units in the Philippines contracted by 11.5% yearly, expanding by 2% quarter-on-quarter. The same trend applies in the Areas Outside the National Capital Region but the number of loans granted for the NCR declined from the year-on-year and quarter-on-quarter in the past.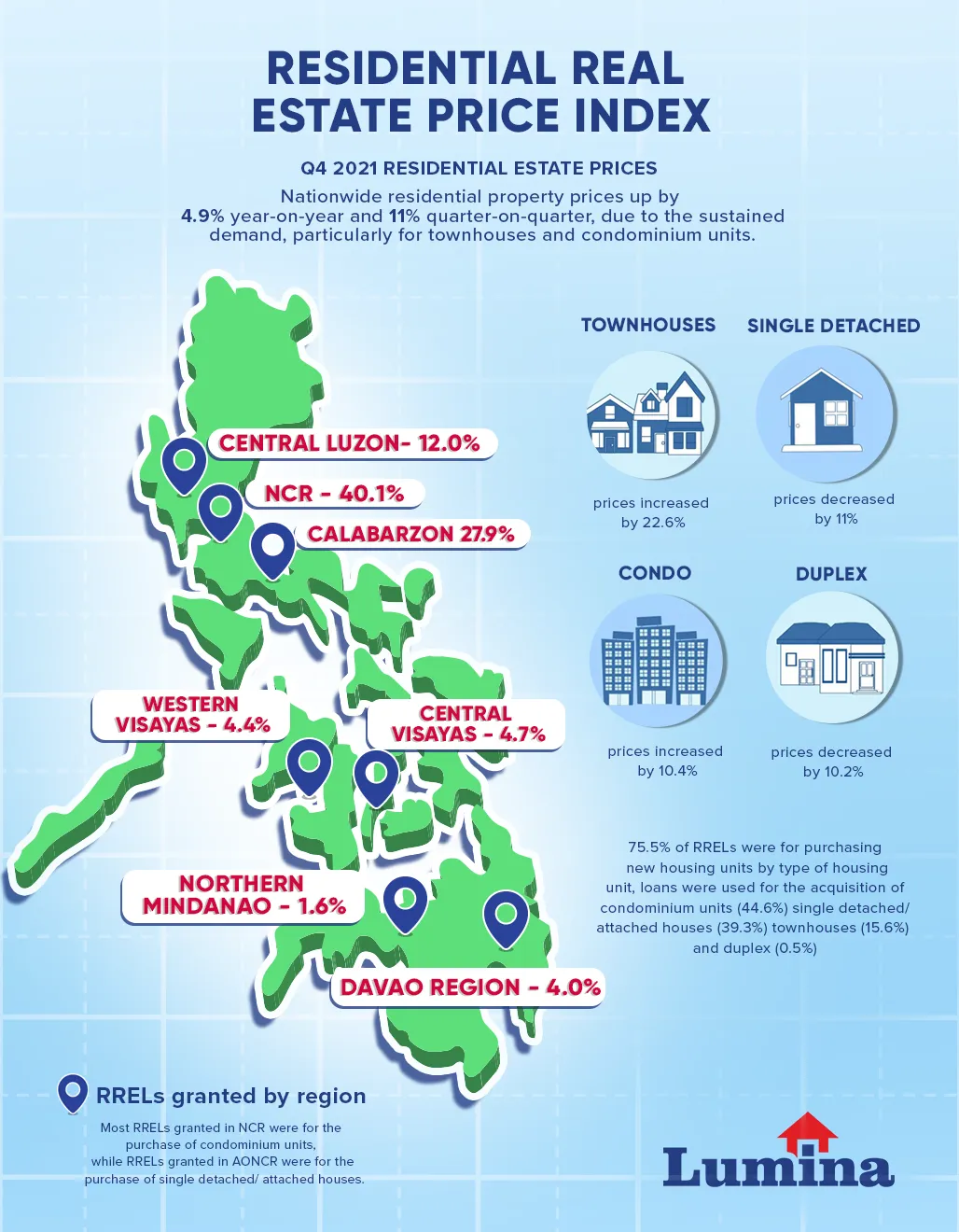 The report says, "The average appraised value of new housing units in the country stood at Php74,347 per square meter (sqm) and the average appraised value per sqm was higher in the NCR (at Php 115,235) than both the national average and AONCR average (at Php49,905)."
In the last quarter of 2021, the data from BSP said that almost a third (73.5%) of residential real estate loans (RRELs) were used to purchase new housing units. Relating to the type of housing unit, most of the residential property loans were used to purchase condominium units (44.6%), followed by single-detached/attached houses (39.3%) and townhouses (15.6%).
Are you planning to buy a home unit or a residential property soon? If you're still renting an apartment instead of utilizing the available means to own a real estate property, then you should talk to real estate pros. Don't settle down in filling your landlord's pocket with your life savings. Check out Lumina Homes' quality and affordable house and lot properties in over 50 key locations in the Philippines!
Why Choose Lumina to Find Your Ultimate Dream Home
Awarded as the Best Affordable Housing Developer at the Carousell Property Awards 2021, Lumina vows to provide affordable yet quality housing to Filipinos. It was established way back in 2012 with a flagship project in Sto. Tomas, Batangas, and has now constructed a number of properties in over 50 key locations from Luzon, Visayas, and Mindanao.
Choosing Lumina for your dream home is worthwhile and an excellent choice for the following reasons:
Strategic community locations
Lumina Homes communities and neighborhoods nationwide are strategically located. We made sure that our housing projects are near schools for your kids, medical facilities for the entire family, wet and dry markets for your grocery needs, tourist and leisure spots where you and your beloved ones can relax in, and major roads and thoroughfares to make every journey to school, work, and leisure a breeze.
Hence, if you're on the hunt for a ready-for-occupancy unit, Lumina Homes is present in over 28 provinces in the Philippines! In Luzon, we have Batangas, Cavite, Rizal, Laguna, Bulacan, Isabela, La Union, Pangasinan, Bataan, Zambales, Tarlac, Pampanga, Nueva Ecija, Cagayan, Quezon, Albay, Camarines Norte, and Sorsogon. In the Visayan region, we have Iloilo, Cebu, Negros Occidental, and Capiz. Finally, in Mindanao, we are present in Agusan del Norte, Zamboanga del Sur, Misamis Occidental, Bukidnon, South Cotabato, and Davao del Norte. Lumina is here to help you every step of the way!
Quality perks and lifestyle amenities
Among the top housing developers in the country, Lumina takes pride in its well-developed and functional amenities. From a multipurpose hall, mini-gardens, playgrounds, jogging paths, terminals, and modern community centers, Lumina envisions a self-sustaining community for you, your family, and your fellow Lumina homeowners.
Ease of transactions
Got no time to travel and check out a Lumina house model that you like? Great news! Lumina Homes came up with digital real-estate solutions like virtual home tours and subdivision walkthroughs, online reservations, and online appointment booking. Also, Lumina Homes have online payment options through digital wallets and digital banking in partnership with national bank players. Moreover, you can obtain your dream house and lot in the Philippines through housing loans and flexible payment terms.
Indeed, a real estate investment secured through Lumina Homes is something you wouldn't regret spending your hard-earned money on. An affordable house and lot for sale at your preferred property location is awaiting your occupancy soon. Experience the pride and joy of convenient homeownership through Lumina Homes!

Try our Home Loan Calculator
Loan Calculator
Try Lumina Homes' loan calculator and get an estimate computation for your preferred Lumina property and home model.