Ultimate List of Filipino Christmas Songs
11 November 2021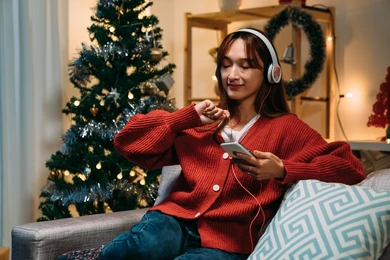 You know it's time for the holidays when the radio stations start playing upbeat Christmas songs. Christmas is the perfect time to bust out your favorite carols, grab a microphone, and let loose. As long as you're having a good time, you don't have to worry about whether or not you're out of tune.
Even though the official Christmas season in the Philippines is from the 16th of December through the first Sunday in January, many of us began playing holiday music in our homes, businesses, and shopping centers as early as September, the first ber month of the year. We also start to hear nothing but Christmas music on the radio by that time.
But do you know that our Filipino Christmas carol is mostly based on the religious significance of December 25th? Aside from this, there are also Christmas carols that capture both the exuberance and the melancholy of the season, made possible by our creative and talented local artists, songwriters, and singers.
1. Pasko Na Naman
Praising individuals who have been kind throughout the year, Pasko Na Naman is more than simply a Filipino Christmas hymn. Giving and celebrating life are the themes of this song. In this Christmas song, Filipinos express their anticipation of Christmas, the passing of time, and the joy of singing Christmas carols with their loved ones. Don't be afraid to blast this Levi Celerio and Felipe De Leon classic out loud and be proud in patronizing our Filipino culture.
2. Ang Pasko ay Sumapit
Ang Pasko ay Sumapit, a Christmas carol written by Filipino poet Vicente Rubi in 1933, is widely considered to be the most popular Christmas song in the Philippines. It's a song that's simple to sing along to because of its catchy tempo and sing-along lyrics. When the 16th of December rolls around, this song is sung by many Filipino kids who participate in "karoling". Throughout the song, the lyrics depict the whole tale of Filipino Christmas celebrations, from the beginning of the Christmas season in September until the beginning of the New Year.
3. Kumukutikutitap
This is the creation of none other than Ryan Cayabyab, a Filipino music icon. It's got that happy rhythm to it. Sometimes, a rhyme comes up in the lyrics and play of words in poetry. This song's lyrics are a big part of the enjoyment of singing it or even trying to sing it. There's no shame in getting the syllables mixed up with the delight this song brings!
4. Kampana ng Simbahan
The Misa de Gallo, a pre-Christmas liturgy celebrated by Filipinos, is one of the most cherished holiday traditions. To keep up this tradition and Catholic Faith, this song encourages everyone to get up early and participate in the festivities.
5. Mano po Ninong, Mano po Ninang
Ryan Cayabyab's Mano Po Ninong, Mano Po Ninang is another must-have on your Christmas playlist. It is the Filipino Christmas song for thanking our godparents and godmothers for their gifts while wishing them good fortune and happiness.
6. Noche Buena
The song's catchy tune and sentimental lyrics recall the beautiful Filipino custom of holding a Noche Buena or a Christmas Eve dinner for the family. This song describes the bonding that occurs when members of the Filipino family join together to eat traditional dishes like lechon and tinola. Listening to the tune is enough to get us pumped up for the feast that you will go gaga craving for some Christmas ham.
7. Sa Maybahay ang Aming Bati
You know it's Christmas in the Philippines when you hear this song being sung by neighborhood kids. Songs such as "Sa May Bahay Ang Aming Bati" are ingrained in Filipinos' minds and memories. The cumbancheros sing this song as a welcome to the members of the family and a plea for them to contribute a few bucks in the spirit of Christmas.
8. Paskong anong Saya (Bati Nami'y Merry Christmas)
One of Sylvia la Torre's best-known works, this song is reminiscent of Filipino folk melodies and is a classic. While the lyrics of this song by the Queen of Kundiman are in both Tagalog and English, they seem dreamy and nostalgic for a bygone era of rural Christmas celebrations. Good, encouraging, and upbeat, it greets everyone with a smile and a positive outlook on the holiday season.
9. Misa de Gallo
Levi Celerio, the country's most celebrated musician, wrote this heartwarming rendition of a beloved Christmas carol. The Filipinos' Catholicism is on full display in this traditional Christmas carol. Although the message is modest, it is heartfelt. It reminds us that it doesn't matter how large or little a gift we get. What important is we should always be grateful for it.
10. Sa Paskong Darating
Sa Paskong Darating, a song by Celeste Legaspi, may be heard in every corner of the Philippines as the holiday season begins.. With her soulful vocals, Legaspi perfectly complements the upbeat lyrics of the song. The hymn and the tune are enchanting in their own right that every time you hear this song, you would want to leap up and down with delight.
11. Pasko Na Sinta Ko
A Christmas love song about enduring a difficult Christmas. When OFWs are away from their family for the holidays, "Pasko Na Sinta Ko" has served as their official song of choice. In 2001, Gary Valenciano sang it in front of an audience. People who miss their loved ones during the frigid Christmas season can find solace in the melancholy melody of this classic Filipino love ballad.
12. Tuloy na Tuloy Pa Rin Ang Pasko
To us, the words of this APO Hiking Society song are particularly poignant since they express a universal issue that many of us experience at this time of year due to the novel COVID-19 pandemic. Caroling and Noche Buena are just two of the things we look forward to in every year's holiday season. We should remember that the true meaning of Christmas is love and joy, and no matter what happen, it's important for us to celebrate the birth of our Savior, Jesus Christ. The jazzy and fast tempo of this song is another explanation why this is an all-time favorite Christmas tune by Filipinos.
A safe and merry Christmas
Songs about Christmas have spawned a colossal body of work in the musical world. During the holidays, the airwaves are filled with many renditions of Christmas songs thanks to the Filipinos' musical creativity and proclivity for singing. But this list can be only more meaningful and have a merry Christmas if we celebrate the yuletide season with the family members complete at home.
This year, we can all be a Star ng Pasko with a warm heart while not forgetting to observe the proper public safety and health protocols.

Try our Home Loan Calculator
Loan Calculator
Try Lumina Homes' loan calculator and get an estimate computation for your preferred Lumina property and home model.