Discover a Part of our History and Nature in these Tourist Spots in Pilar, Bataan
26 August 2022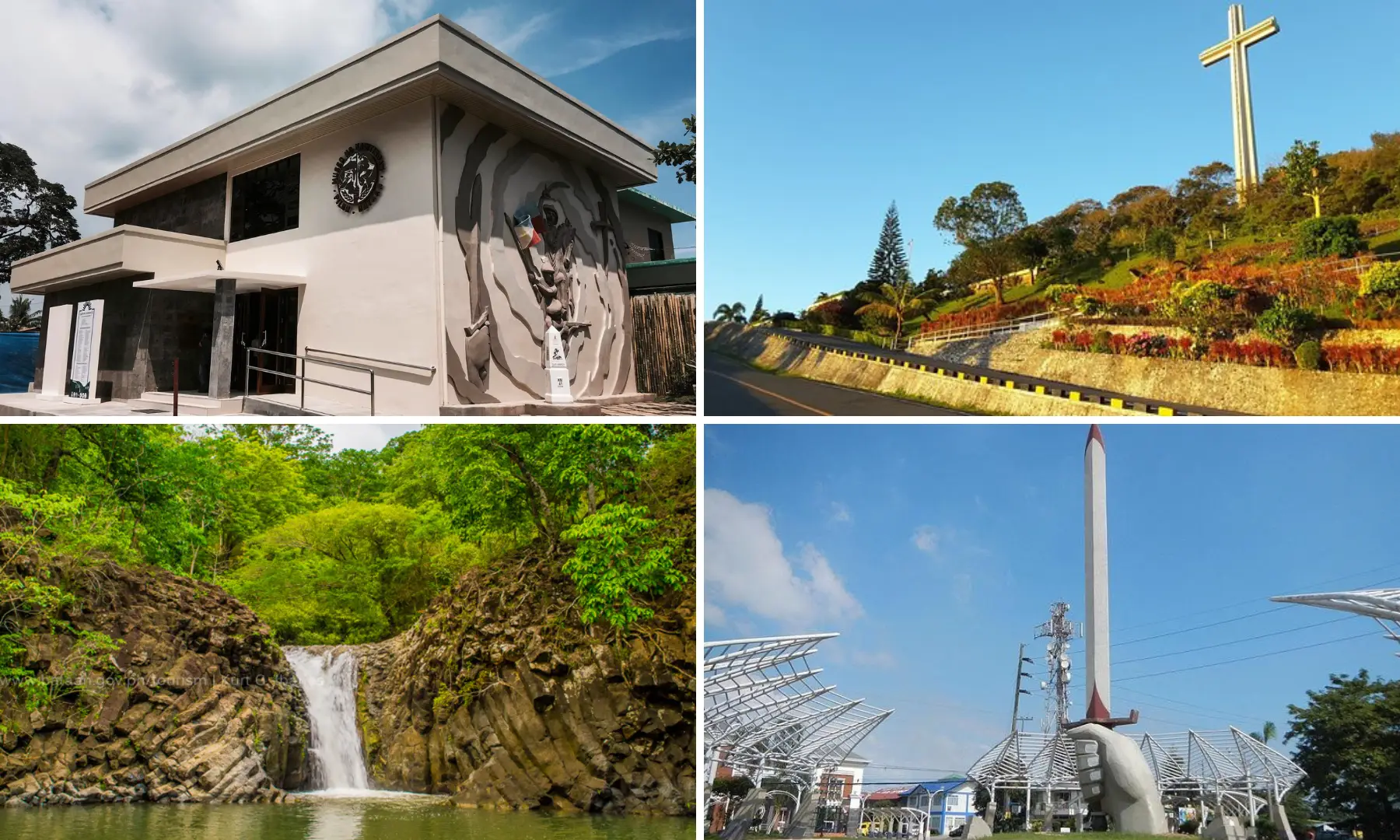 Bataan, a province in the Philippines, is sometimes overlooked because of its reputation as the smallest in Central Luzon. However, the province is really home to several popular attractions.
Bataan has a wealth of beautiful landscapes, including beach resorts, mountains, and waterfalls. And if you're looking for a great destination to take your entire family or friends on a Philippine holiday, go no further than the Municipality of Pilar in Bataan. The town of Pilar has become more popular as an eco-tourism destination because of the work of local tourists and government agencies to protect the area's native ecology.
Here is a list of Pilar Bataan tourist spot that you must not miss on your next visit to this province:
Mount Samat National Shrine
The town of Pilar is home to a significant historical site on the Bataan peninsula. The narrative begins during the Second World War. In 1942, when World War II finally came to a close, the huge cross was erected as a symbol of victory.
The Mount Samat National Shrine also provides various tourist attraction related to our country's history. Some of them are:
Museo ng Kagitingan
The "Museo ng Kagitingan" or Museum of Valor preserves relics from many different time periods, beginning with the pre-colonial era and ending with World War II.
Located just off Route 41 near the Nuestra Señora del Pilar Parish Church in Mariveles, one of the two origin places of the historic Death March (the other being in Bagac), is the Museo ng Kagitingan. The museum shows works by local artists among artifacts from the 19th century, such as clothes and household goods. Stained glass mosaics depicting well-known Pilar locations were created by Resty B. Canlapan, who also won first place in the competition for stained glass painting design.
Therefore, the museum welcomes not just students interested in Bataan's past, but also those with a passion for the arts. You can visit the museum everyday from 9 am to 5 pm, with the exception of lunch which is from noon to 1 pm.
Shrine of Valor
The Shrine of Valor is the most prominent and well-known World War II landmark in Bataan, and it can be found at the top of Mount Samat near the town of Pilar.
The Dambana ng Kagitingan, or "Shrine of Valor," is a monument cross honoring the bravery of Filipino and American troops who fought off a Japanese invasion of the Philippines in World War II. The memorial cross stands at 301 feet tall and has bas reliefs of several of the country's heroes, including Dr. Jose Rizal, Andres Bonifacio, Emilio Aguinaldo, Antonio Luna, Lapu Lapu, and Gabriela Silang.
Not only do these spectacular sculptures depict the death of Dr. Jose Rizal and the Battle of Bataan, but they also depict a wide range of other important moments in Philippine history. Nabiag Nga Bato, which translates to "living stone" in the native Ilocano dialect, is the name given to the collection of sculptures as a whole.
A stunning panorama of Manila Bay, the old island of Corregidor, and the peninsula of Bataan can be seen from here. It features operable windows that let in "extremely" frigid air.
Where to visit: Mount Samat Rd, Pilar, Bataan (Around 16 minutes travel time from Lumina Pilar)
Flaming Sword
The name of this Pilar, Bataan monument comes from the fact that it represents the fortitude of the Filipino people at a time when their democracy and freedom were being attacked by colonizers.
This famous sight is a huge hand clutching a sword that is over 30 feet in length. The Flaming Sword, erected in concrete and steel, is a landmark in front of Pilar's municipal hall. It doesn't cost anything to visit the Flaming Sword, either, any time of day or year. On April 9, Filipinos throughout the world observe the Araw ng Kagitingan to reflect on the tragic events that transpired during the infamous Bataan Death March in which many Filipino and American soldiers died.
Where to visit: Panilao, National Rd, Pilar, Bataan (Around 17 minutes travel time from Lumina Pilar)
Dunsulan Falls
Dunsulan Falls is easily accessible from the peak of Mount Samat, where the valor shrine is also situated since it serves as the major drainage for the mountain's crater. Unlike a regular beach resort, Dunsulan Falls is a wonderful place to relax and clear your brain after visiting the shrine of heroism, which carries significant historical and emotional importance to the locals.
The place has a really calming ambiance, full of peace and serenity, perfect for letting go of any stress or tension. The people are kind, there's plenty of room to roam, and you can indulge in some much-needed R&R in a variety of forms. The area is open for you to explore at your leisure, and there are plenty of picnic tables to spend a meal or a day outside. In addition, the site has a fantastic tree-hopping experience.
Tree Hopping Adventure
In the province, tree-hopping is a new and thrilling experience for adventurers and ecotourists alike. The first tree-hopping experience in the province is now accessible to the public, and it is located in Dunsulan Park, just below the historic Mt. Samat, and close to the park's stunning waterfalls.
The local government sought to make the most of Dunsulan Park by providing opportunities for residents and tourists to appreciate the area's natural splendor, so they commissioned the development of this recreational and exploratory endeavor. Next to each other is a 420-meter zipline and tree-hopping adventure, both of which are operated by the local government. Ziplining and a tree-to-tree obstacle course are available for the discounted price of Php 600. Just to ride the zipline would cost you Php 350.
As long as the tree-hopper is tall enough to use the harness safely, there is no minimum age requirement. The inherent safety elements make it possible for people to face their fear of heights while enjoying the rich view of nature.
Where to visit: Liyang Pilar, Bataan (Around 8 minutes travel time from Lumina Pilar)
You can now conquer your fears and be immersed in the rich history of Pilar Bataan with the available house and lot in Lumina Pilar!
Pilar is one of the smallest towns in Bataan, yet it has a wealth of historical and scenic attractions for its size. With the purchase of our affordable house and lot in the Lumina Pilar community, you'll save time and energy by avoiding extensive journeys.
Aside from being near various tourist spots in the town, Lumina Pilar also has proximity in various transportation hubs like the Bataan Complex Terminal, MEX Jeep Terminal, and Port of Capinpin Terminal Port giving you great convenience in traveling and exploring other tourist spots in the province such as the Bataan Tourism Center and the Bataan Technology Park that used to be the home of the Philippine Refugee Processing Center.
Lumina Pilar is easily accessible from everywhere because of its location in Brgy. Liyang, Pilar, Bataan, granting it the proximity to the Gov. JJ Linao National Road which is a kilometer away from everything.
Get now your house and lot Philippines from Lumina Pilar and take advantage of its fresh air, nature park, and historical sites!

Try our Home Loan Calculator
Loan Calculator
Try Lumina Homes' loan calculator and get an estimate computation for your preferred Lumina property and home model.