How To Be A Social Media Influencer
19 September 2022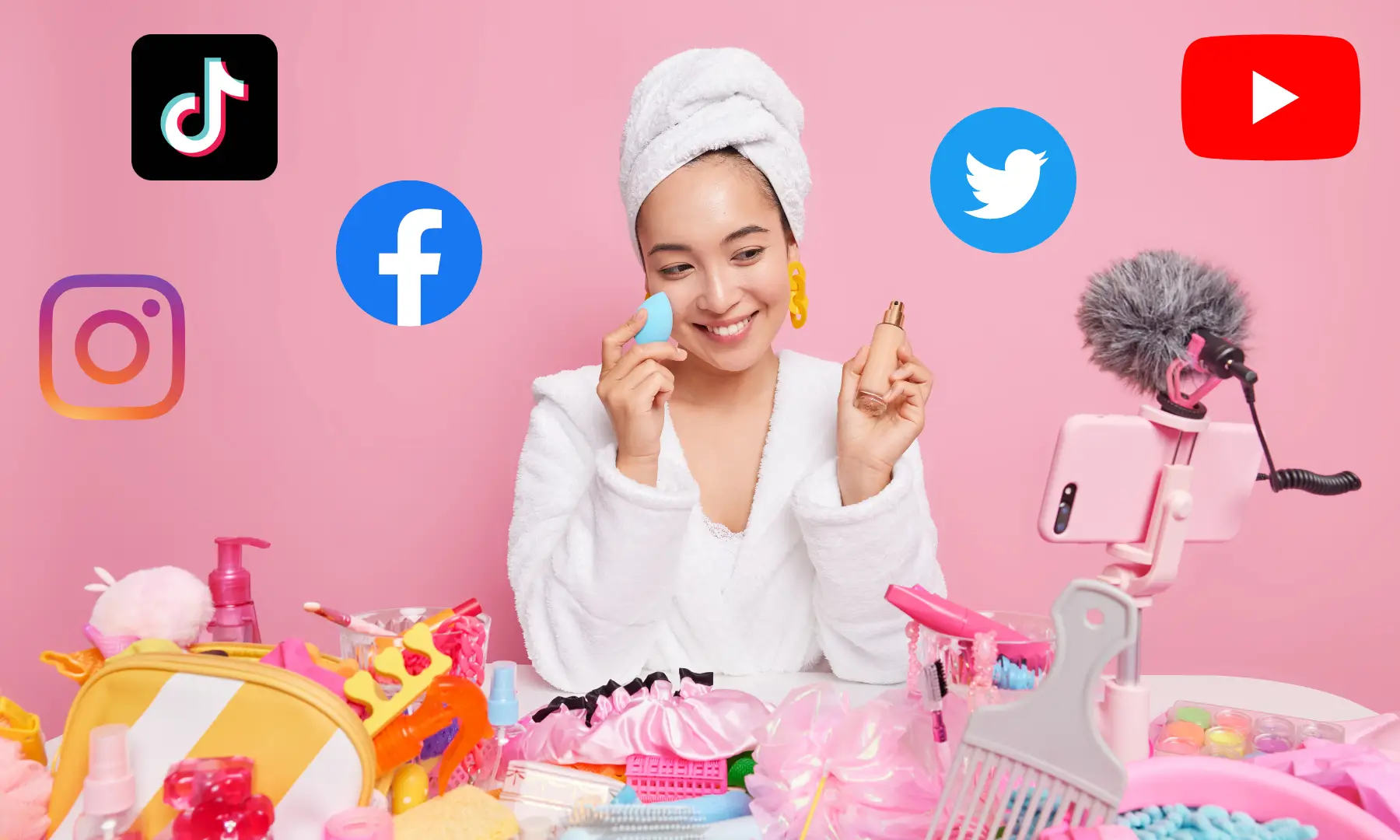 Before Facebook became the epitome of "social media," Friendster and MySpace were first considered the premier social networking sites where people could develop online connections worldwide with friends, families, and strangers alike.
But years later, Friendster has completely ceased its operations, MySpace has transitioned to a music and entertainment site, while Facebook continues to enjoy an unprecedented number of active social media users, alongside Twitter, Instagram, YouTube, and TikTok.
Fast forward to today, social media has become an integral part of nearly everybody's lives. Especially for Filipinos, with the Philippines constantly making headlines in perennial rankings of countries with the heaviest social media users.
It's the digital age, and a day just wouldn't pass without a person logging in to the internet through at least one of the aforementioned social media outlets.
In addition to its function of fostering friendships online, social media has also become a lucrative platform for influencers whose bread and butter consists of posting and creating a plethora of content to their thousands, in some others millions, of followers.
That is what this post will demystify for curious aspirants. So let's get to learn practically everything you need to know about becoming a social media influencer in the Philippines!
Social Media Influencers and What they Do
Social media influencers are people with a strong social media presence and are looked up to online for a niche-specific content that they publish.
The power that they hold could be determined by the number of hearts, shares, and views they garner in a matter of minutes, with the tremendous potential of attaining the 'viral' status, which leads to yielding more profit, more engagement, and more followers.
It could be a doctor giving medical advice and debunking medical myths in a humorous manner, like viral Tiktoker "Dr. Kilimanguru" who typically begins his TikTok videos infusing romance-related jokes before going into scientific terms.
It could also be in the lifestyle niche with fitness and travel vlogger Wil Dasovich, whose viral YouTube videos "encourage everyone to go out, explore, and make the most out of every situation they come across," as described in his Joby bio.
Types of Social Media Influencers
The types of social media influencers could be verified by, first, the specific online platform in which they publish their content. Case in point: YouTubers, Facebook influencers, Instagram influencers, Twitter influencers, and TikTokers.
Likewise, social media influencers are classifiable based on their high follower count. Nano influencers have followers of up to 10,000, micro-influencers with more than 10,000 to 100,000 followers, macro-influencers with more than 100,000 to 1 million followers, and mega-influencers enjoying celebrity prestige with more than a million loyal fans.
Top Social Media Influencers in the Country
Unsurprisingly, traditional celebrities, actors, and actresses top the social media space with the most followers. Anne Curtis is the most followed on Instagram and Twitter with 18 million and 14.7 million followers, respectively, while it's GMA superstar Marian Rivera who enjoys the top spot on Facebook with 27 million followers.
According to Statistica, "ChoOxTV" is the top online gaming streamer with over 13 million followers via Facebook, followed by cosplayer and Blacklist International co-owner Alodia Gosiengfiao. On TikTok, 16-year-old Niana Guerrero has the most fans with over 29 million in the entertainment niche for her exceptional and adorable dance covers.
Meanwhile, according to Hopper, a digital marketing platform, three Filipino social media influencers made it to the world stage in terms of excellent earnings made through Instagram: Beauty vlogger Michelle Dy (269th), host and TV personality Joyce Pring (289th), and fashion model Mikaela Martinez (349th).
Benefits of Social Media Influencing
Online clout, prominence, and profit are the top advantages that a social media influencer can wield through his or her influencing power. Aside from earning lucrative profit and attaining a status equivalent to that of a showbiz personality, the rewards of social media influencing can go beyond clout chasing and income potential.
If you're an expert at something and you get to influence people to emulate what you do, it's a great feeling of doing something important in your life by being of service to other people. In fact, a good number of social media influencers earn money through influencer-generated content by making a video about random acts of kindness.
How Social Media Influencers Make Money
During the height of the pandemic crisis, 62.5 percent of Filipino respondents reportedly shopped online, given the need for mass lockdowns and quarantines in the early up to the middle stages of the coronavirus. The survey was done during the third quarter of 2021.
Along with this truth, social media influencers do have some convincing power that makes their audience purchase products that they promote. Beauty personalities would not promote a substandard product that would ruin their credibility, would they? In exchange for promoting a certain brand's product, they pay the influencer a respective fee.
Besides sponsored posts, affiliate marketing is also a potent source of income for influencers, where they get to earn commissions from brands if someone purchased through the influencer's social media channel where the affiliate link surfaced, like an Instagram My Day.
Influencers who have reached a certain level of prominence venture into producing their own merchandise, like a clothing line, for true-blue subscribers. This is what popular "Cong TV" did for his Cong Clothing line. "Unkabogable" star Vice Ganda also produced Vice Cosmetics for his avid fans.
Monetization tactics also include advertisements through YouTube, video ads and Badges through Instagram, receiving Stars from fans through Facebook, and video gifts and tipping for TikTok influencers.
Influencers in the Philippines Earn How Much Money?
Logically, the amount of money that an influencer earns in the Philippine setting will largely depend on a high follower count, engagement rates, and overall reach per post.
According to an official study by Blogapalooza in 2020, newcomers can earn up to P5,000 per posting, micro-influencers earn about 40,000, macro-influencers get P80,000, while the mega-influencers with millions of fans could rack up to or even higher than P150,000 per social media post.
What You Need to do as an Aspiring Influencer
To jumpstart your social media influencing career, your investment in digital equipment will help you to create content that can make people click the follow or subscribe button. This includes a laptop, smartphone, ring lights, and a DSLR camera, among others.
These are necessary equipment to create and publish content that is top-caliber, especially for vlogging. A low-resolution video back in the day may be no big deal, but today it is a huge turnoff that the sight of a blurry video will make viewers click away.
As a newcomer in the industry, you would also need to make a ton of research and might even find yourself coming across social media courses that will help familiarize yourself with the ins and outs of the industry.
You can enroll in online courses like digital marketing, data analytics, and a niche-specific course to further hone your skill. This enables you to become more equipped before launching your social media influencing career.
7 Tips to Become a Social Media Influencer in the Philippines
As an aspiring social media influencer, you would need a guide to help you make decisions and come up with content that will hype you up and your social media account. Here are our seven tips to guide your influencer journey:
1. Pick your niche
Knowing where you're good at is the gateway to cementing and finalizing your niche. Pick an area that you're not only good at, but are passionate about. Some people are good at math, but don't see themselves solving equations for the rest of their lives. Passion and expertise—these two are your top two determinants to establishing your niche.
Be that as it may, it's alright if you don't regard yourself as an expert (yet!) in any particular area. This is when upskilling comes into the equation—or enrolling to online courses regarding the niche you wanted to master and make a profit from.
2. Select your social media platform
Most social media platforms are equally lucrative. But depending on your niche and target audience, some social media platforms are more lucrative than others, while some niches are more suitable for a specific media platform.
For example, vlogging is not as sensible to post on Instagram as the primary outlet, as the latter social media site is more suitable for sponsored posts through photos, short-form videos, and aesthetic purposes.
If your area of choice is lifestyle vlogging and long-form videos, YouTube and Facebook are your best bet.
3. Determine your target audience
Not everyone will relate to your content. With this straightforward truth, you have to make your objectives clear about your target audience and the kind of content that you will soon consistently publish. Knowing this gives you an idea of what to post, and how you will go about building your intended follower base.
4. Consistency is key
Bloggers also fall in the category of social media influencers. And it's no secret that monetizing blogs can be a painfully slow process. Bloggers need to continually publish high-quality content to build a reputation as a website providing relevant information in certain keywords, and therefore rank high on Google search results through white-hat SEO strategies.
The same goes for all kinds of social media influencers. Consistency allows for greater online visibility and increased persona awareness. And the more you post content with high relevancy, the more you build trust for both your followers and company brands that could tap you for product promotion through sponsored posts and affiliate links.
5. Spread awareness
Make your social media presence known. Make the initiative and reach out to brand managers and pitch yourself as a reliable, confident, and efficient influencer who could help businesses achieve their perpetual goal of converting cold prospects to becoming actual consumers.
As an influencer, you present yourself as an extrovert, at least through your online channel and other social media platforms. You will need to develop marketing strategies to make yourself distinct from other influencers who already figured out their market.
6. Patience is a virtue
Every social media influencer started their career from scratch. Comedy content creator and vlogger "Cong TV" began his journey with a parody video in 2008 and certainly had no idea he is going to be a legend in the Filipino vlogging community.
As an aspiring influencer, patience pays off eventually. It may take a number of months or even years before you achieve your desired goal, but your patience is an integral ingredient to achieving long-lasting success, and cliche as it may sound, it's definitely worth it in the end.
7. Authenticity is everything
Don't try to copy other influencers' way of promoting themselves in the social media arena. You can develop your own branding and your unique content that would arrest audiences into becoming willing prisoners of your social media posts (so to speak).
Don't fall into illegal transactions, either. It may be alluring to buy bogus followers and boast off follower count in six to seven digits, but there's no need for sophisticated technology to detect deception. Do not wait until you're find out, which will only ruin your influencer career forever.
Be A Lumina Homes Affiliate Influencer!
Relatively new to the industry or a veteran influencer, join Lumina Homes' network of affiliate marketers and be a Lumina Homes affiliate influencer! This is a great way to generate income through the influencer marketing industry in the real estate business.
Being part of Lumina's team of affiliate influencers will boost your online visibility by associating yourself with a respectable real estate brand such as Lumina Homes. By becoming part of Lumina Homes' social media influencer marketing team, you will also have the chance to own a house and lot in the Philippines!
If you have at least 5,000 social media followers, and have completed our accreditation form for the affiliate program, you're all set for evaluation!
Lumina Homes is a top community developer of affordable house and lot for sale. Visit our Lumina website and other social media accounts for a variety of affordable house and lot units with subdivision amenities and other exciting perks.

Try our Home Loan Calculator
Loan Calculator
Try Lumina Homes' loan calculator and get an estimate computation for your preferred Lumina property and home model.