Setting-up a Mini Gym at Your Lumina Home: Exercise Equipment for Small Spaces
10 May 2022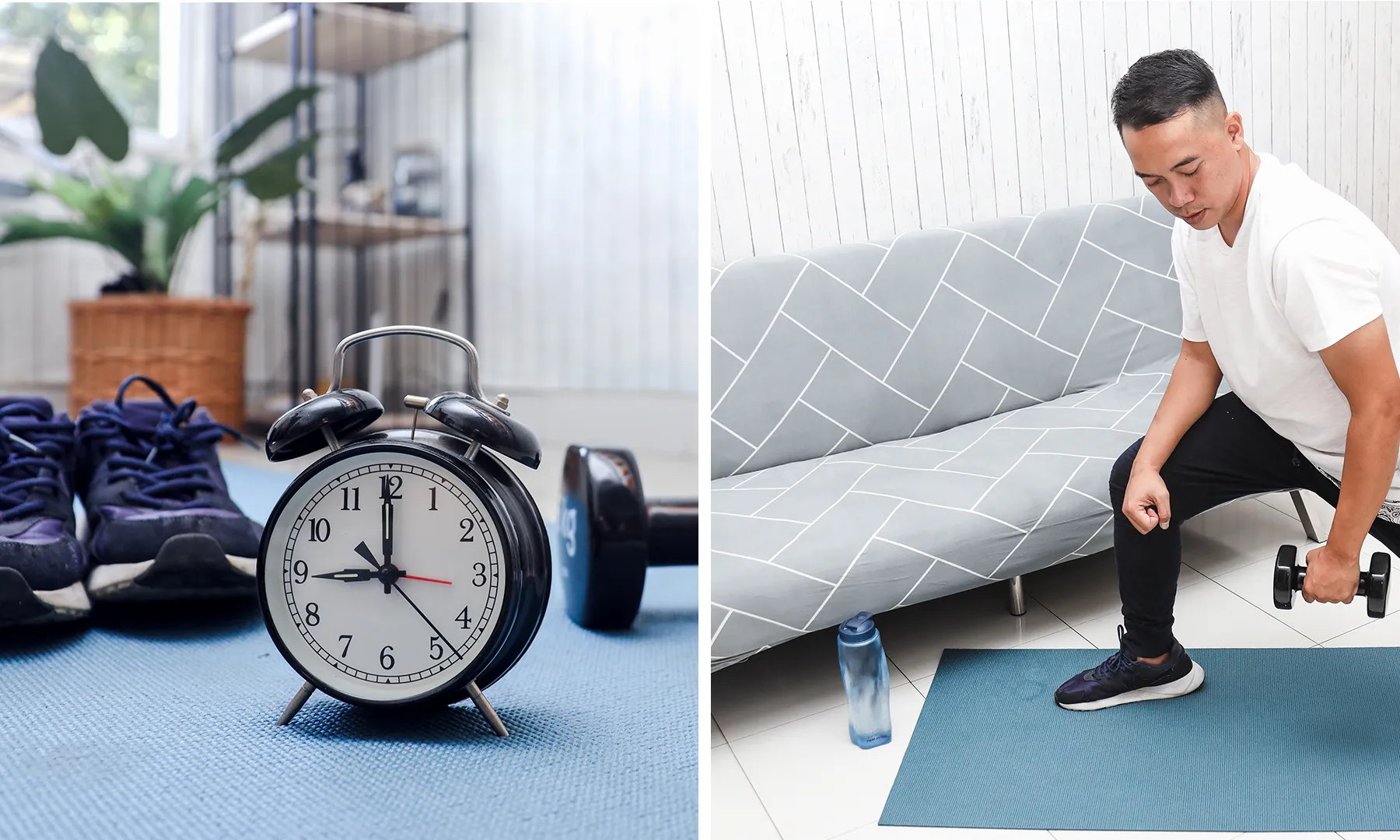 Working out at home does not need a lot of room, contrary to popular belief. Yes, having more room would be ideal, but not all of us can afford that much space at home. But this must not hinder you from achieving convenient and practical home exercise equipment that is just enough to place into your small floor space.
Whether you're looking to build muscle bulk, improve your endurance, practice yoga, or undertake High-intensity interval training sessions (HIIT) workouts on a weekly basis, this list offers the right equipment for you. Additionally, because of their overall size or ability to fold, these choices may be used in more compact settings.
Workout Equipment for your home gym
Below is a list of home exercise equipment for small spaces that you can find helpful as well as a great addition into your home gym for a full-body workout and strength training:
Compact Elliptical
According to Harvard Medical School, using an elliptical for 30 minutes will help you burn around 2.16 calories per pound of body weight. To put it another way, if you weigh 160 pounds, you can expect to burn 345 calories in only 30 minutes of elliptical exercise.
That's a lot of numbers! And thanks to this compact elliptical space-saving workout equipment, you may do so even if you have a limited amount of room. It has wheels on the back so you can move it into storage after you're done using it.
Door-mounted Punching Bag
Is boxing a particular delight for you? You can still work on your punches and hooks at home without wasting floor space or having to deal with a huge punching bag in your little room. It's a punching bag that may be hung from a doorway with a width ranging from 28 to 36 inches. At the end of the day, this temporary configuration doesn't scratch the door and offers you the opportunity to vent some of your aggravation.
Exercise Bar
It's easy to work out your arms, back, and chest without taking up a lot of floor room with this piece of equipment. A doorway is all that is required. And, of course, this tiny workout equipment won't take up a lot of room in your home gym.
You may use your door as a pullup bar with the help of this cushioned piece of gym gear. You can perform pull-ups while wearing a weight vest since it can support 300 lbs of weight. But there's more to it than that, too. There is a slew of different workouts that you can do with it as well. Pushups, situps, and dips are included in this. There are three hold positions on the bar, allowing you to concentrate on different muscle groups.
Folding Exercise Bike
If the weather isn't cooperating, you may still ride a bike inside and tone your muscles.
Because of its foldable form, you can conveniently stow this little exercise bike away when not in use. It has a weight capability of 300 pounds and is made of high-quality steel. The LCD display may let you monitor calories burned, time, distance, speed, and heart rate. A high-density sponge seat is also included in this machine's ergonomically-designed seating area.
Foldable Rowing Machines
For a low-impact yet sweat-inducing exercise, use the air rowing machine, which adapts to your speed and strength as you row. Rowing machines help you burn 400-800 calories an hour by using 84 percent of your body's muscles. "Sweat-inducing" is a gross understatement.
With regard to small-space workouts, this equipment folds up. After the exercise, you can easily move it to a designated storage area because of its built-in wheels. Hidden by privacy blinders in a tiny flat, you can keep it out of sight.
Space Saving Bow
When it comes to strength training, a resistance bow like this is an excellent option for saving space while yet providing an effective exercise.
You receive an aircraft-grade aluminum bow with up to 110 lbs of strain from several resistance bands. Your body receives the same worth of workout from this method as it would from lifting heavy dumbbells, yet it takes up a fraction of the space.
Under-Desk Treadmill
An excellent cardio exercise may be achieved on a treadmill despite being one of the most dreaded. Treadmills, on the other hand, tend to be large and cumbersome, making them unsuitable for tiny places. It's not like that, at least not in this case. You can put this treadmill under a desk, sofa, bed, and so on since it is just 6.5" tall. To make things even easier, it has wheels built-in.
Vertical Climber
First and foremost, when it comes to redecorating a tiny space, keep everything upright. This is why this piece of space-saving training equipment is ideal for tiny areas. It enables you to store things vertically, as well as do workouts.
It may also be leaned against a wall for storage because of its folding form. Alternatively, you may conceal it with privacy blinders until your next home exercise.
Other gym equipment for small spaces:
Looking for home gym equipment or fitness equipment that you can bring anywhere inside your house? These compact exercise equipment might be best for you!
Adjustable Dumbbells - for strength training
Ankle Weights - for toning and pilates
Booty Band or Mini Resistance Band Loops - for toning, pilates, butt and thigh
Kettlebell - for strength training, conditioning, and cardio workout routine
Light Dumbbells - for toning, yoga, pilates, and kickboxing
Mini Foam Rollers - for stretching, toning, yoga, and pilates
Mini Inflatable Exercise Ball - for pilates and abs
Resistance Bands - for stretching and toning
Sliders - for toning and abs
Yoga Mats - for stretching, toning, yoga, and pilates
Achieve your very own Home Gym with Lumina Homes
As Lumina Homes continue to create house and lot innovations and deliver suitable homeownership experience to every kind of lifestyle, we recently launched our prime home model units that provide more home space and extra room for your home gym or home office.
Through its townhouses, duplexes, and single firewall units, Lumina Homes residents as well as future homeowners can enjoy that extra space inside their home that they can utilize and design freely based on their preferences or lifestyle.
Achieve now your own dream home gym and luxuriate in the perks of convenience and practicality as well as active and healthy living with our enhanced home model units!
For more information and available house and lot packages that can be bought through bank financing in our over 50 communities nationwide, please visit our website. Get your home reservations now!

Try our Home Loan Calculator
Loan Calculator
Try Lumina Homes' loan calculator and get an estimate computation for your preferred Lumina property and home model.