Bucket List Worthy: Tourist Spots in Rosario Batangas
1 September 2022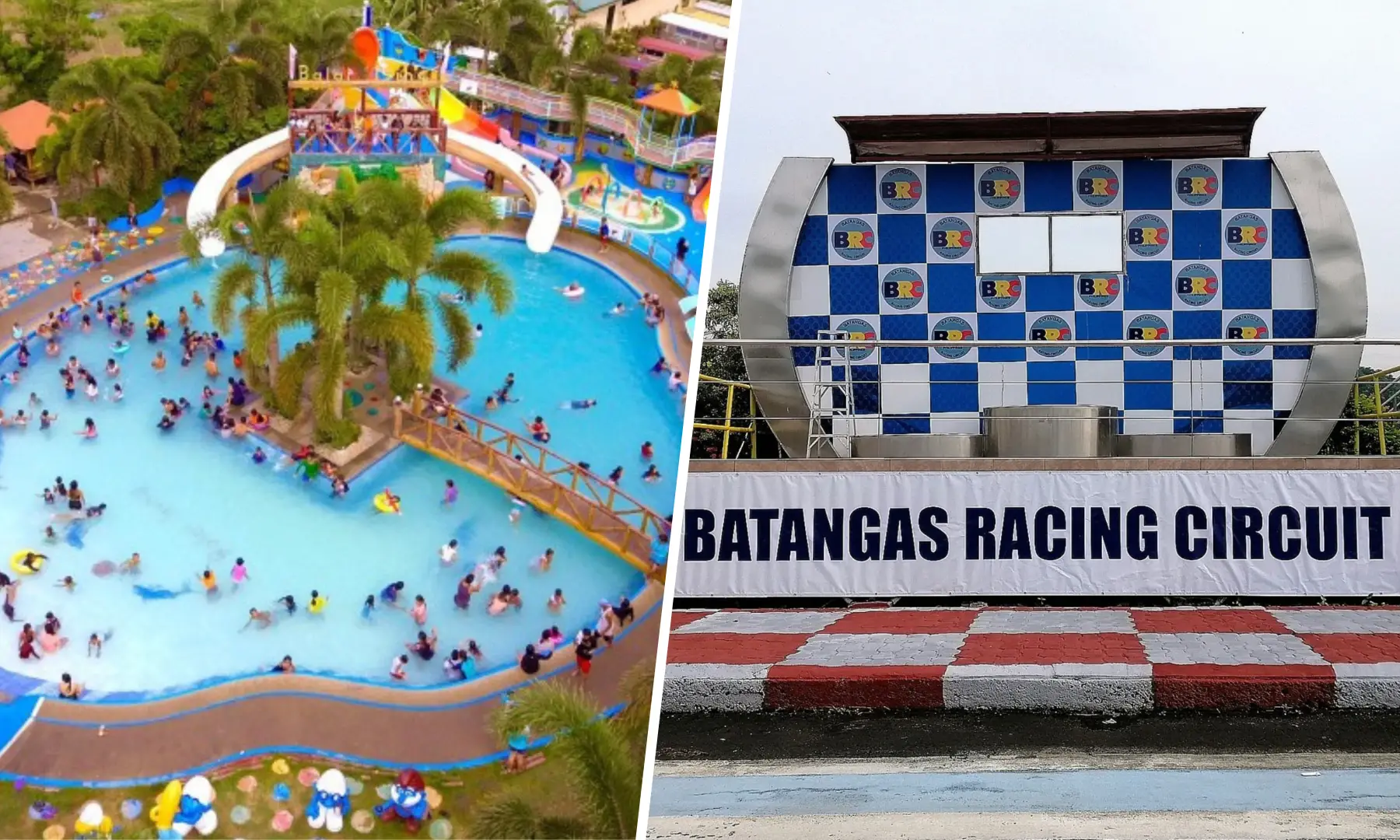 Rosario has both a robust agricultural sector and easy access to metropolitan conveniences, so it's a good compromise for anybody looking for a more well-rounded kind of lifestyle.
Apart from this, the Municipality of Rosario also comprises potential tourism destinations through its steeply sloping southeast sections of the town. Its existing preserved forest cover also helps the town spur the growth of tourism in the forms of mountaineering, nature tourism, and other eco-tourism ventures-- inviting nature lovers, students, and scientists who find reforestation efforts interesting or worthwhile.
We collected in this article some of the hot places in Rosario, Batangas in case you are searching for new attractions to visit around the town:
Batangas Racing Circuit
For motor and car enthusiasts, this is one of the tourist spots that you must include in your Rosario Bucket List.
About 106 kilometers from Manila lies the Batangas Racing Circuit (BRC), a permanent 3.700-kilometer racing circuit in the town of Rosario, Batangas, Philippines. The whole circuit is licensed by the FIA or the Fédération Internationale de l'Automobile as a Grade 4 track and has 14 turns in a clockwise pattern. The track may also be set up for go-karts with a distance of 2,000 meters, and it has a shorter circuit of 2,800 kilometers.
This racing circuit has hosted races for both two- and four-wheeled vehicles. The National Drag Racing Championship, Philippine GT Championship, Philippine Touring Car Championship, FlatOut Race Series, and Philippine Superbike Championship are just a few of the events that have been held there. Past events at the track include the Circuit Showdown and the Toyota Corolla Cup as well as the Asian V8 Championship, Asian Formula 3 Championship, Toyota Corolla Cup, and Philippine Formula Toyota Cup.
Among the many amenities offered by BRC are a grandstand, hospitality suites, and permanent pit lane garages.
Where to find it: Garcia-Rosario-San Juan-Candelaria Road, Rosario, Batangas (Around 28 minutes travel time from Lumina Rosario)
Tan Ville Garden Resort
If you need to get away from the bustle of the city, Tan Ville Garden Resort is the place to go. The atmosphere here is calm and relaxing. Their food and service are also both great as the staffs are friendly enough to give you recommendations for fun things to do and delicious meals to try.
You won't also run out of activities to think of since Batangas City is not far from the resort. In addition to providing round-the-clock care, they also keep the guest rooms in clean condition. If you want to escape the city at a reasonable price, this is the ideal place to stay in Rosario Batangas.
Where to find it: Namunga Street, Rosario, Batangas (Around 21 minutes travel time from Lumina Rosario)
Grotto at Tombol Hill
On top of Tombol Hill, you'll find this grotto. Getting to the peak should take a moderate climber around 30 minutes, but might take a beginner up to 45 minutes. The steepness of this cave certainly increases the sense of adventure, and you'll be able to take in a breathtaking view of the city and its surroundings once you reach the peak.
It is during Holy Week and Lenten Season that this location really comes into its own, drawing hordes of devotees to see the 14 stations of the cross and their life-size figures representing the Holy Passions. In addition to this, on top of Tombol Hill, overlooking the grotto, is a monumental figure of Christ, arms outstretched in a sign of welcome. This figure is now instantly recognizable to anybody visiting Rosario and become the landmark of the municipality.
Where to find it: Tombol Hill, Rosario, Batangas (Around 15 minutes travel time from Lumina Rosario)
Villa Crisanta Garden Resort
Rosario, Batangas is home to the enchanting Villa Crisanta, another hidden treasure far from Manila's frantic pace. Don't look any farther than this resort and spa if you're in need of a place to relax, swim, and enjoy nature. Their Pavilion can also host events for up to 400 guests. Two enormous pools and a spa are also available in this garden resort.
To describe this resort anything else than gigantic would be a massive understatement since you may choose from a variety of different event spaces to accommodate your gathering's size and theme. In addition, there are cozy cottages for those who want to spend the night.
Where to find it: National Road, Barangay Sta Cruz, Rosario, 4225 Batangas (Around 15 minutes travel time from Lumina Rosario)
Naambon Falls
Rosario is a great destination to visit if you're a nature lover in need of a relaxing vacation. The number of visitors to Naambon Falls has recently increased, particularly from the cycling and motorbike communities. People still make the trip to see this natural marvel despite its somewhat remote location in barrio Calantas, 23 km from Rosario town proper, in the center of the Rosario and Lobo mountains. If you love adventure and challenging trails, this site is perfect for you as you may find yourself facing many twists and turns along the way as you go here.
Where to find it: Barangay Calantas, Rosario, Batangas (Around 57 minutes travel time from Lumina Rosario)
Balai Ising Garden Resort
A place near Metro Manila that can offer an awesome place to relax for a calming night with family and friends is Balai Ising Garden Resort.
This resort offers great amenities including one main big pool and other smaller pools and kiddie pools with slides that your whole family can enjoy. The place is also quite instagrammable with its creative design and life-size figurines perfect for photo ops!
They also offer a wider range of cottages and rooms for a day tour, night swimming, or an overnight stay. On top of that, Balai Ising Garden also has a pavilion for events or group activities.
Where to find it: Provincial Road, Brgy. Putingkahoy, Rosario, Batangas 4223 Old Rosario, Philippines (Around 30 minutes travel time from Lumina Rosario)
Enjoy nature and urban living in Lumina Rosario
You can now achieve the convenience of city dwellers and the serene provincial life with the house and lot in the Philippines located in Brgy. Quilib Rosario, Batangas.
Founded in 1687, the Municipality of Rosario is one of the oldest towns in Batangas and offers convenient access to the region's most important urban centers and municipalities, including Padre Garcia and Lipa City to the north, San Juan and Quezon Province to the east, Taysan and Lobo to the south, and Ibaan and Batangas City to the west.
This gives the affordable house and lot for sale in Lumina Rosario the advantage and convenience to travel to neighboring towns and cities in the Province of Batangas including San Jose Batangas, the Fortune Island in Nasugbu, Laiya Beach in San Juan, Sepoc Beach in Anilao, Masasa Beach, and the Malabrigo Lighthouse in Lobo.
You can also easily join the fun and the delicious Sinukmani Festival of Batangas as Lumina Rosario is situated less than 5 minutes from the national highway, which leads directly to the city's main business centers not to mention the community's proximity to transport terminals such as San Juan - Lipa Jeepney Terminal, Rosario-Lipa Jeepney Terminal, and SM Batangas Grand Terminal.
Get now your own dose of nature and accessibility with the affordable house and lot of Lumina Rosario and make your home reservations now!

Try our Home Loan Calculator
Loan Calculator
Try Lumina Homes' loan calculator and get an estimate computation for your preferred Lumina property and home model.