Accessible Schools and Colleges near Lumina Tarlac Residences
25 November 2022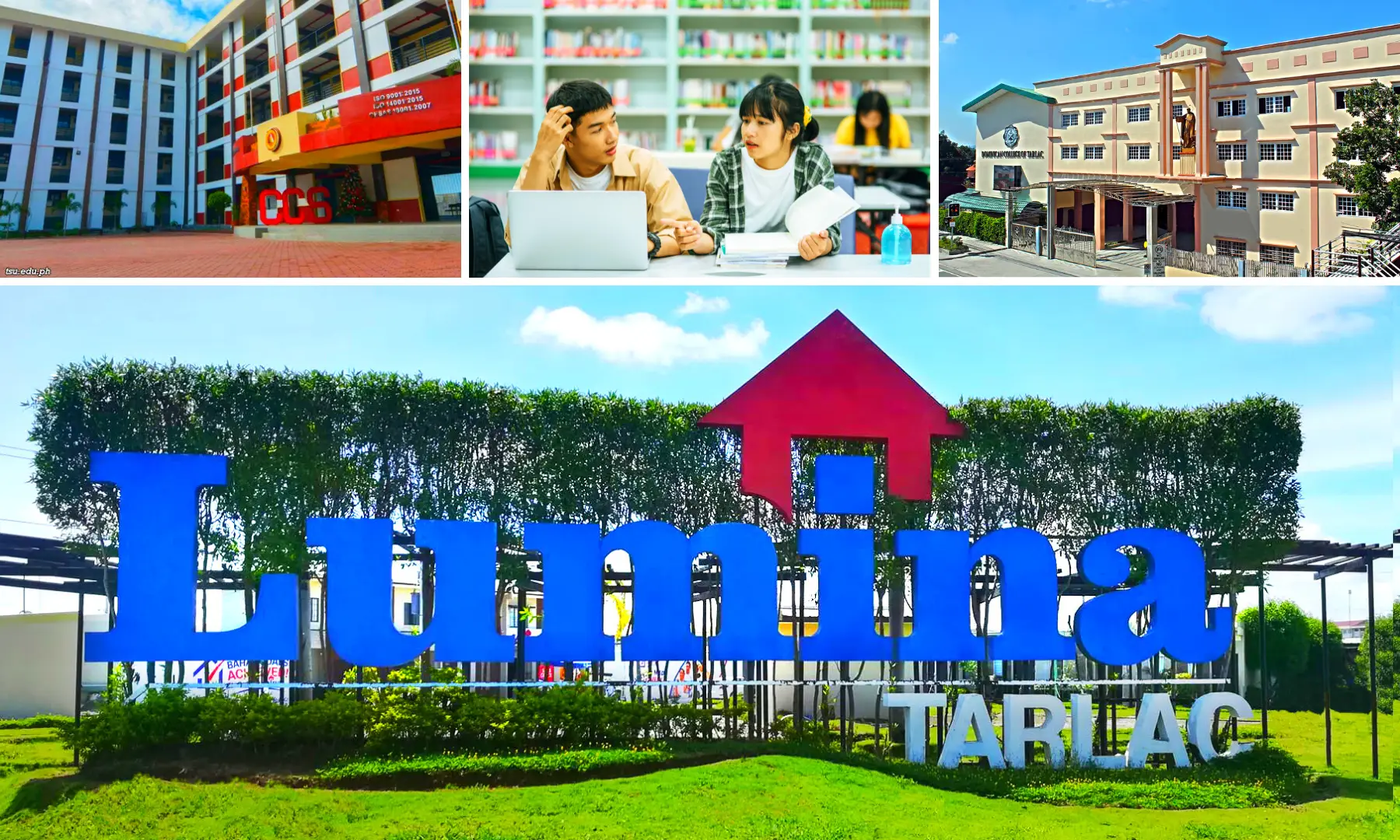 The province of Tarlac has always been recognized for being Central Luzon's melting pot, owing to its strategic location and diversity in culture, people, languages, tourist spots, and cuisine choices. Lumina Homes saw this as something exceptionally appealing and developed a mass housing community in Tarlac City and Concepcion.
There are Kapampangans in the south, Ilocanos in the northern parts, and Tagalogs in the center. This fact alone gives an array of exquisite differences spanning cultures and traditions, tourist destinations, and local delicacies.
In this article, let's get to know one of Tarlac province's gems a little bit more! Afterward, get to know nearby schools in the first-class municipality of Concepcion Tarlac for those who eye the melting pot province to invest in an affordable house and lot for sale.
The Laid-Back, Suburban Life in Concepcion, Tarlac
The suburban town of Concepcion is the native residence of former senator Benigno "Ninoy" Aquino Jr. whose assassination in 1983 triggered a massive outpouring of protest that then led to the world-famous EDSA People Power Revolution, which put an end to the Marcos dictatorship.
But aside from this historical relevance, Concepcion boasts a rustic splendor that appeals to homeowners who fancy a life in a generally peaceful neighborhood, sans the overwhelming noise of a super-busy metro.
If you see yourself living within the provincial beauty of Concepcion without being devoid of amenities and perks that used to only be available among exceptionally urbanized cities, it is worth checking schools and academic institutions that are accessible from the town. Below, we list down these academic institutions for students from elementary to college.
1. Tarlac State University (TSU)
Kickstarting the list of schools and colleges is Tarlac State University. Established in 1906, it is the center of academic excellence for students in the province. It is also a prime producer of top-notchers in various academic fields. What is more, it is the first-ever state university to have been awarded Level IV accreditation from the Accrediting Agency of Chartered Colleges and Universities in the Philippines (AACCUP), a formidable testament to the university's provision of academic excellence and global competency.
TSU currently holds four campuses, namely the Main Campus in San Vicente, Tarlac City, the San Isidro Campus in San Isidro village, the Lucinda Campus in Binauganan village, and the newest addition to the institution: Capas Campus, which is the nearest to a recently launched community for Tarlac residences and real estate investors.
TSU offers a wide variety of higher education courses, making it the primary choice of college education among students not only in Tarlac but also from its neighboring provinces of Pangasinan in the north and Pampanga in the south.
The Main Campus is home to the College of Business and Accountancy, College of Public Administration and Governance, College of Arts and Social Sciences, College of Engineering, and the College of Law.
Under the Lucinda Campus, meanwhile, is the College of Teacher Education (English, Filipino, Science, Mathematics, and MAPEH concentrations, among others), College of Science, College of Criminal Justice Education, and the TSU Laboratory School.
The San Isidro Campus, on the other hand, is home to the College of Technology (Automotive), College of Computer Studies, and the College of Architecture and Fine Arts.
Finally, the Capas Extension Campus, which is proximate to Lumina Tarlac Residences, caters to students who are nearby residents. The departments here include CPAG, CCJE, and CTEd, particularly aspiring teachers in Elementary Education.
2. Dominican College of Tarlac (DCT)
This Catholic institution is anchored with the belief that the ultimate objective of education lies in the formation of a person who shall lead a purposeful life spent in "union with God, community with others, and harmony with creation." Having said this, the Dominican College of Tarlac makes it crucial to pioneer a learning system that will create a community of students with opportunities not only for academic advancement but also for the deepening of faith, and epitomizing the values of a true-blooded Dominican.
The Catholic academic institution caters to students from elementary, junior, and senior high school, as well as higher education with key courses offered, such as Liberal Arts, Education, Hospitality Management, Computer Studies, Business and Accountancy, and Criminal Justice Education.
3. STI College Tarlac
STI or Systems Technology Institute College is a private tertiary institute whose academic specialization is found in its technical and business courses. It was established in the year 1983 by four entrepreneurs who sought to offer training on basic programming for interested Filipino students. STI traces its humble beginnings to only two campuses, but has now more than a hundred branches in various strategic parts of the country.


Currently, STI College in Tarlac caters to Senior High School students in the province with three main strands, namely Humanities and Social Sciences, Information and Communications Technology, and Home Economics. Meanwhile, below is a list of courses for interested college applicants.
Bachelor of Science in Computer Science (BSCS)
Bachelor of Science in Information Technology (BSIT)
Bachelor of Science in Hospitality Management (BSHM)
Bachelor of Science in Tourism Management (BSTM)
2-yr. Associate in Computer Technology (ACT)
4. AMA College Tarlac
AMA Computer College Tarlac is a private academic institution in the City of Tarlac that is affiliated with AMA Computer College, the country's pioneer and premier provider of computer education in the Philippines and a proud member of the AMA Education System.


For many years, AMA College Tarlac has been consistent in its educational mandate of unceasingly providing students of Tarlac City with top-quality Information Technology-based education. What is more, it has been active and hands-on in assisting its graduates and alumni to become highly competent professionals in the field of Information Technology as well as in other fields of specialization.
AMA College Tarlac offers a Senior High School program duly accredited by the Department of Education, with strands such as Academic and Technical-Vocational-Livelihood (TVL), Accountancy, Business, and Management (ABM), Humanities and Social Sciences (HUMSS), General Academic Strand (GAS), and Information and Communications Technology (ICT), and Science, Technology, Engineering, and Mathematics (STEM). Meanwhile, available courses for collegiate aspirants include Computer Studies, Engineering, and Business Administration.


Accessible Elementary Schools in Concepcion Tarlac or nearby
Burot Elementary School
San Agustin Elementary School
Sapang Tagalog Elementary School
Dolores Elementary School
Lumina Tarlac Residences: Invest in Suburban Living with Convenient Perks
Strategically situated in San Agustin village, Lumina Homes in Concepcion, Tarlac is a community located along McArthur Highway with access to major expressways such as SCTEX and CPLEx for commuting convenience. This is why Tarlac is known to be an accessible passageway for people heading to and from the bustling Metro Manila.
Overwhelmed by the noise and bustle of the metropolis? Lumina Tarlac residences offer what most homeowners and prospective property owners desire for in a home and in a community at large - relaxed, convenient, and conducive to a comfortable atmosphere where there are trees, sprawling spaces, walkable and bikeable paths, but still gifted with proximity to various commercial establishments, schools, churches, hospitals, shopping centers, and government offices.
Just recently, the first Emery Starter Home model was launched by Lumina Homes through its newest affordable housing project in the first-class municipality of Concepcion in Tarlac province. The Emery series stands as one of the latest and newest development from the trusted real estate provider, which guarantees future homeowners amenities and perks that are catered to a lifestyle of comfort and convenience in a laid-back community.
Other housing models in the mass housing community include Armina and Athena, both of which have a duplex and single firewall house types, depending on the preference of aspiring homeowners. Each unit contains signature Lumina Homes features such as a living room, areas for dining and kitchen, a toilet and bath, a bedroom, and a service area provision.
To get to Lumina Tarlac Residences, hail a jeepney with a Capas-Bamban signboard from Robinson's Luisita in San Miguel heading to Arko ng Tarlac. Upon arrival, ride a tricycle in the corner street of the San Agustin Village, which is an easy three-minute drive to Lumina Tarlac Residences.
If you have inquiries on an affordable house and lot in this convenient location of Tarlac, do not hesitate to send in your messages. Own your next house and lot in the Philippines today, and make it in the province of Tarlac, a multicultural hub with amenities and perks for a smooth-sailing homeownership in the province.

Try our Home Loan Calculator
Loan Calculator
Try Lumina Homes' loan calculator and get an estimate computation for your preferred Lumina property and home model.