6 Fun Ideas to Celebrate Fathers' Day at Home
5 June 2023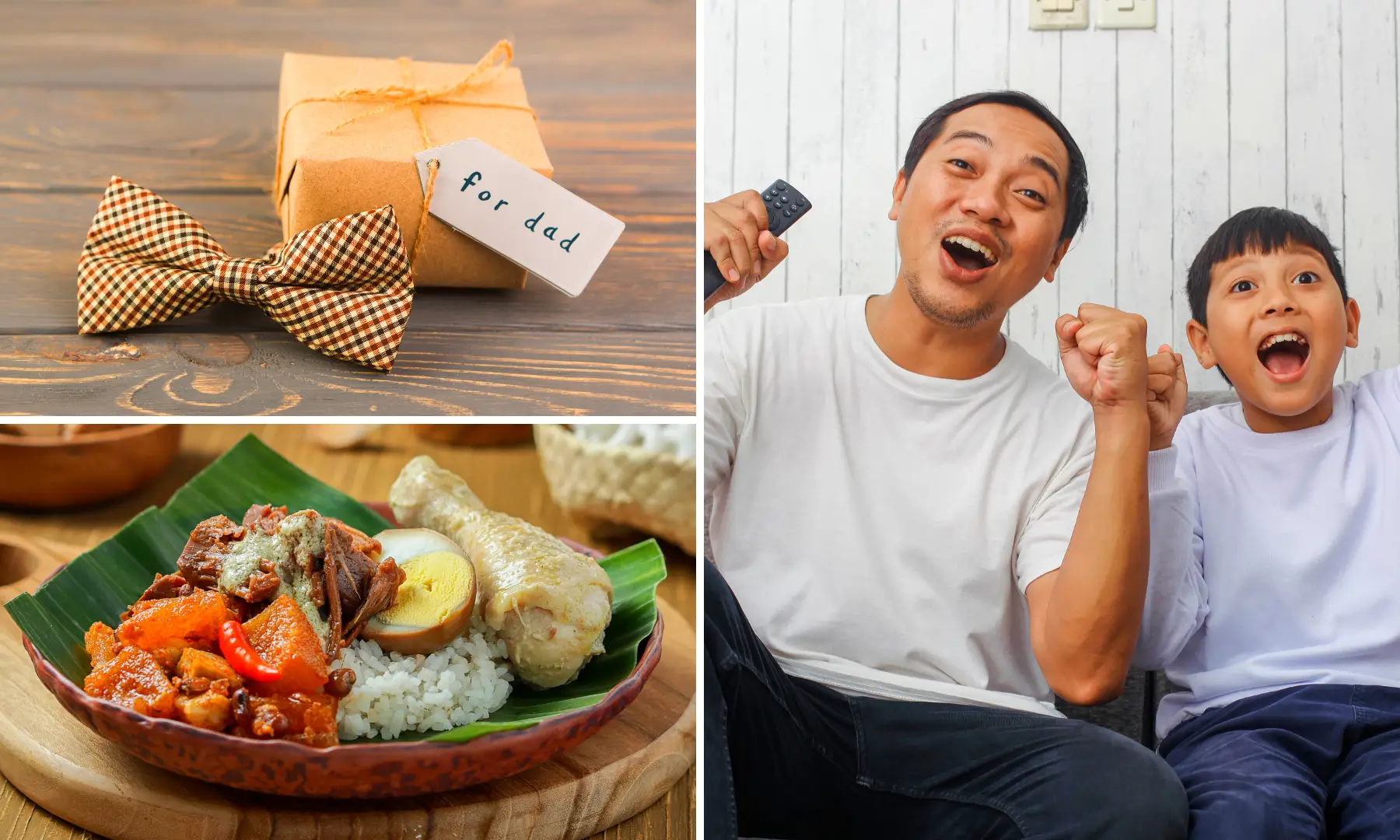 After celebrating the love and sacrifices of our mothers on Mother's Day, it's now time to celebrate the equal love and sacrifices of our fathers on Father's Day. Commemorative holidays such as these give sons and daughters the opportunity to express their utmost appreciation and affection for their parents during such a special day.
If you plan a Father's Day celebration at home, there sure are fun Father's Day ideas that you can consider doing together with your dad. Below, express your genuine love for your father with these Dad's Day activities and join him in celebrating the sacrifices of all fathers around the world.
Fun Father's Day Activities to Do at Home
Aside from saying heartwarming words such as "I love you, Papa" and "Thank you for your sacrifices," demonstrate your affection for your father through activities that require you and your own dad to interact and bond together. Celebrate Father's Day in the Philippines with the following fun activities:
1. Join him in watching his favorite show
Sometimes, your father just wants to relax and watch his favorite show. And what perfect day to do this if not on the day their existence is celebrated? Prior to watching, make sure you have already made your research and found a perfect movie or show that your father would love. It could be local or Hollywood action films, or classic comedy movies that could make your pop crack in an uproarious laughter. Or, you can also consider having him watch fatherhood-themed films on a Sunday movie night that will make him feel proud to be a father. It could also be something that would make him cry because he could relate to it to a great extent. Either way, here is our mixed list of movies that are perfect to watch with dads:
Indiana Jones and the Last Crusade (1989)

The Lion King (1994)

Finding Nemo (2003)

The Pursuit of Happyness (2006)

Miracle in Cell No. 7 (2013)

Like Father, Like Son (2013)

Seven Sundays (2017)

Ford v Ferrari (2019)

Fatherhood (2021)

Doll House (2022)
2. Give him a gift you know he'll love
Fathers appreciate whatever you will give them, and it doesn't have to be expensive. A shirt in his favorite color, a stylish pair of shoes, a dashing jacket that he'll look handsome during your trip to Baguio, or even just a hat or sunglasses will surely be something he'll enjoy, make him smile, and thank you for your gift. However, it's much better to give your father something that would make him pleasantly surprised. For example, consider buying your father a mini golf course you can set up in your yard if your papa loves golf! This is something new and something your dad will thank you for.
3. Order him his favorite food and eat together
Perhaps after watching a two-hour movie, treat Dad even more by ordering food he loves from his favorite restaurants near Lumina Homes. If you have the time (and cooking skills courtesy of enrolling in an online cooking class), you can also cook him dinner with his favorite dish! Doing so is something that your dad will vastly appreciate. After that, you can eat together and say your individual expressions of love to your father to make him feel special.
4. Play father-friendly games
Spend Father's Day at home with games! This is perfect for the whole family with kids. It can be physical games that will make you sweat, or your father's favorite sport, such as basketball, badminton, or tennis. You can do this in the great outdoors through your community with a basketball court. A scavenger hunt would be fantastic, too!
Aside from these, you can also play fun indoor family activities during rainy days through board games such as Monopoly, Scrabble, Chess, and Uno card games, since June is the start of the rainy season in the Philippines. If you want to be more creative and spontaneous, you can come up with your own game! Make it a friendly competition by setting a rule that whoever loses will be in charge of washing the dishes! (Side note: If your father loses, let it pass! It's his special day, after all.)
5. Cook barbecue in your backyard
During holidays such as Christmas and New Year, it's often the dads who are in charge of the barbecue. Make it the same for Father's Day, but make it extra special by camping in your backyard. This is an awesome way to spend time and bond with your dad, especially if he's often out for work. Take it as an opportunity to catch up, ask each other questions, get to know his family tree, and all the other stuff.
6. Play his favorite songs the whole day
Take your loudspeaker out or your own dad's old record player in the living room and play his playlist! Make him feel that you know his music taste, and that you're very much willing to stop listening to your usual Spotify playlist in honor of your dad and his favorite pieces of music and bands in his good old days. Play The Beatles, The Rolling Stones, Pink Floyd, Journey, Bon Jovi, and Aerosmith, among many others. To surprise him, you can study these artists and bands and memorize their most popular songs so that you can sing along with your dad! Make it more fun by going on a karaoke session, and singing him his favorite songs. This is going to be an awesome and unforgettable moment that's one for the books!
This upcoming Father's Day 2023, it's undoubtedly the best time to show your love for your hardworking father. A movie night, giving him a well-thought-out gift, playing board games, ordering or cooking his favorite meals, bonding over a barbecue session, and singing along in karaoke are just some of the best activities you can have with your father.
All of these are something you can do at your future Lumina home. Our housing communities nationwide are equipped with amenities such as a basketball court, jogging path, multipurpose hall, gazebos, and a multifunctional community center. All of Lumina's affordable house and lot provisions from Luzon, Visayas, and Mindanao are also near schools, markets, clinics, leisure and tourist spots, local government offices, and convenient modes of transportation.
Your future value-priced Lumina house and lot in the Philippines is waiting for your home reservation inquiries. Get in touch with an accredited Lumina seller today and achieve comfort and convenience with your investment in our affordable house and lot for sale!

Try our Home Loan Calculator
Loan Calculator
Try Lumina Homes' loan calculator and get an estimate computation for your preferred Lumina property and home model.