5 Historical Places in Philippines Near Lumina Homes
10 November 2022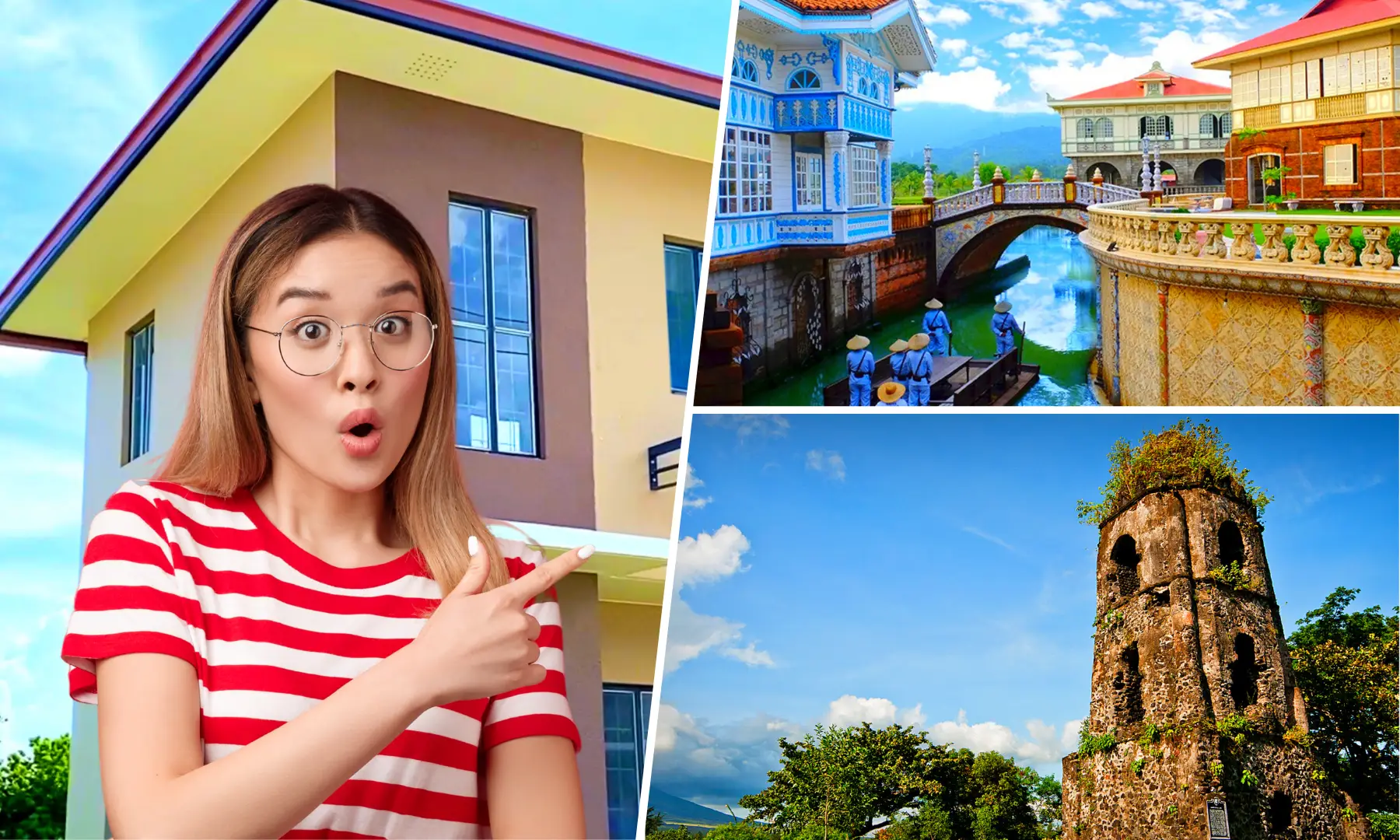 There's a new drama sensation that captures the attention of many Filipinos today - the historical "fantaserye" of Maria Clara at Ibarra. It's a local drama series about a Gen Z nursing student who always meets struggles every day.
She struggled to manage everything from family to work to school until she was given a book review assignment about Noli Me Tangere. Little did she know that this book would bring her back to the Spanish colonial period and meet the characters and our national heroes.
So learn to be a history buff! It's time to showcase the most anticipated Pinoy drama. Discover the five (5) historical places in the Philippines highlighted in this series, which are also near Lumina Homes.
Mesmerizing Spanish Colonial Period through these Historic Spots
You would understand how the lead character felt about the significance of learning about the life of our country's National Hero, Jose Rizal, and his book called Noli Me Tangere.
You would prefer visiting the Philippines' heritage sites like the National Museum, Rizal Shrine or Rizal monument, and the dancing fountain in Luneta Park, Manila. But, there's always something missing that you have failed to remember its importance. This new drama series will give a unique twist where a new generation meets the old Philippines.
So, have your own Maria Clara at Ibarra moments with these most important historical landmarks.
1. Cagsawa Ruins
It is one of the popular attractions in the Philippines and is located in the town city of Daraga in Albay Province.
History
Cagsawa Church was built by the Franciscan friars in 1724 and is considered a national cultural treasure. But it was damaged on February 1, 1814, due to a devastating eruption of the Mayon Volcano. The only thing that's left is the bell tower of the church.
Affordable Place to Stay
If you bought an affordable house and lot in Lumina Legaspi, Cagsawa Ruins is only 28 minutes away. Therefore, you can explore this one of the most memorable historical sites in the Philippines.
2. Barasoain Church
It was the most iconic structure during the Spanish era, as it played an important role in many events in Philippine history.
History
Now known as Our Lady of Mount Carmel, Barasoain Church earned the title "The Cradle of Democracy."
Headed by Emilio Aguinaldo, it was the site of the First Philippine Republic inauguration, the First Philippine Congress convention, and the drafting of the Malolos Constitution.
This church was founded by Augustinian Missionaries in 1859 and is located in Malolos, Bulacan. This was famous for its architectural designs and adornments like painted domes, wood carvings, and rose windows.
But, it was burned down during the outbreak of the Philippine Revolution. However, it was renovated and proclaimed a National Shrine on August 1, 1973, by President Ferdinand E. Marcos.
Best Location to Buy Your Dream Home
Barasoain Church is about 42 kilometers from Metro Manila or only 23 minutes from Lumina Bulacan.
3. Aguinaldo Shrine
Another filming location of Maria Clara at Ibarra is located in Kawit, Cavite. It's the ancestral home and official residence of General Emilio Aguinaldo.
History
It was the first place the Philippine flag was waved publicly during the declaration of Philippine independence on June 12, 1898. It was also the first time the country's national anthem was played, symbolizing the end of Spanish rule in the country.
After Aguinaldo died in 1964, it was declared a National Shrine. As the first president, he donated the home to the government. Aguinaldo Shrine features Aguinaldo Park, Shrine, and Museum, which will give you more knowledge about its humble beginnings.
An Ideal Place to Buy a Home
If you want to buy an affordable house and lot for sale near the Aguinaldo Shrine, Lumina Tanza is only 36 minutes away or 24 kilometers from Manila.
4. Las Casas Filipinas de Acuzar
If you're looking for a romantic getaway like couples Maria Clara and Crisostomo Ibarra, visit the Las Casas Filipinas de Acuzar. It is located in the town of Bagac in Bataan, featuring Spanish colonial architecture mansions or heritage houses owned by Jose Acuzar.
Features
This 40-hectare property has 128 guest rooms and 63 elite casas or luxury rooms as of 2021. Other features of Las Casas include:
A small church called Sanctuario de San Jose.
Napiya Spa.
Tulay ni Lola Basyang.
The replica of Puente de España in Manila.
Points of Interest
To complete your historical visit to Bataan, head to the Mount Samat National Shrine in Pilar. It was built to commemorate and honor all the Filipino and American soldiers who fought and died against Japanese forces for freedom.
You can also take a tour of Corregidor Island and the Malinta Tunnel. It was the seat of the Philippine Commonwealth Government and the headquarters of the Allied Forces. It was also deemed that these historic buildings or structures protected so many lives during the Second World War.
A Perfect Place to Stay or Invest
Fortunately, you can find one of the most livable residential communities near Las Casas. Lumina Pilar is only a 33-minute ride, which is a perfect investment location, especially for tourists wanting to rent out for cheaper accommodations. Also, it's a 20-minute ride from Manila.
5. The Ruins
Last but not least is the Taj Majal of the Philippines, located in Bacolod City, called The Ruins. It was owned by a wealthy sugar baron, Don Mariano Ledesma Lacson, and was built in 1920.
History
Inspired by Italian architectural designs, this marvelous mansion was constructed for his Portuguese wife, Corazon Maria Osorio Rosa-Braga, as a testament to love. His wife died in 1911, and was also pregnant with their 11th child then.
The Ruins mansion was built on a 440-hectare sugar plantation on the border of Talisay and Bacolod. But in 1942, it was burned by Filipino guerilla fighters hired by the United States Armed Forces during World War II. It was set aflame for three (3) days to prevent the Japanese invaders from using it as a military office.
A Suitable Community Nearby
Today, it is among the most visited historical sites in the Philippines and is only 26 minutes from Lumina Bacolod.
Other Historical Landmarks in the Philippines List to Explore
You can explore the entire country to satisfy your Philippines travel bucket list with a historical event.
1. Luzon
Among the significant historic spots in this popular drama series are actually from the northern part of the Philippines - Calle Crisologo of Vigan City in Ilocos Sur. It's not the actual site of Intramuros.
Calle Crisologo Street
Such historical sites are more than just cobblestone streets; UNESCO also calls it the best-preserved Spanish colonial town in Asia. It is a shopping haven of souvenir shops, authentic cuisine restaurants, and antique stores.
Fort Santiago
If Vigan is too far to travel, you can visit Fort Santiago of Intramuros Manila. The thick walls of Fort Santiago are considered the oldest Spanish fortress in the Philippines and one of the top historical sites in Manila.
San Agustin Church
If you prefer a Spanish-designed church like the Barasoain, San Agustin Church is just around Metro Manila. It was built in 1571, hailed as the oldest church in the Philippines, and an inscribed UNESCO World Heritage.
Shrine of Mary, Queen of Peace
Fast forward to the era of the People Power Revolution and Martial Law in the Philippines. Head to the Shrine of Mary, Queen of Peace. It can be found along Epifanio de Los Santos Avenue and Ortigas Avenue in Quezon City. This monument is still connected to a more recent event in the Philippines.
Malacanang Palace
The Malacanang Palace is also open to many tourists and history buffs. It is located at San Miguel and along the Pasig River, serving as the official residence of the Presidents of our country. Originally built to house a Spanish aristocrat in 1750, you can glimpse its luxurious staterooms and the rich culture and hear stories of the presidents.
2. Visayas
Discover more historical sites in the southern part of the Philippines.
Cebu City
Cebu City is known to be the first Spanish settlement in the country. Visit Basilica del Santo niño de Cebu, and you can find the relic of the holy infant Jesus and believed to be a gift for Queen Juana.
Just a few minutes away, you can take a selfie with Magellan's Cross, a Christian cross set by Magellan in Cebu. Then, walk along Pigafetta Street, and you can find the Fort San Pedro or Plaza Independencia.
Mactan Shrine, known as Lapu-Lapu Shrine, was built to honor Lapu-Lapu. He was a native leader who defeated the Spanish soldiers and killed the Portuguese explorer Ferdinand Magellan, also known as the Battle of Mactan.
Bohol
You can also take a tour of the Sandugo shrine in Tagbilaran City, Bohol, a place where a blood compact happened. Blood compact is a tribal tradition that forges friendship. Since you're in Bohol, don't miss visiting the Chocolate Hills.
Leyte
Don't forget to visit the Red Beach in Palo, Leyte's MacArthur Park, or Leyte Landing Memorial Park. This war memorial structure symbolizes that the Philippines was free from the Japanese occupation on October 20, 1944. It was also remembered as the largest naval battle of World War II and MacArthur's fulfillment to the Filipino people.
3. Mindanao
Did you know that there is also a Rizal Shrine in Mindanao?
Dapitan City
One of the significant landmarks in the city of Dapitan is the shrine of Dr. Jose Rizal. Known as the Jose Rizal Memorial Protected Landscape, this 16-hectare estate was owned by our national hero coming from his lottery winnings. This Rizal Shrine and Park consist of five (5) reconstructed bamboo and nipa houses, originally built by Rizal.
Sultan Kudarat
In front of the Provincial Capital Building is the monument of Muhammad Dipatuan Kudarat. He was a Sultan who fought against the Spanish invaders and defended his Islamic faith. Since the Spaniards could not conquer his territory, the Sultan and the Spanish governor signed a pact of peace.
Get Up Close and Personal with Historic Places in the Philippines
The Philippines has a plethora of famous landmarks and beautiful places you must visit. They are just waiting to be discovered and explored. The best thing is that Lumina Homes is giving you the favor of getting up close and personal with these heritage sites. You only need to choose the preferred location for your house and lot in the Philippines.
Lumina Homes developed a master planned residential community in over 50 locations nationwide. All are complete with amenities, easy access to your essential needs, and a friendly and safe environment.
Whether you're a millennial, OFW, employed, freelancer, or business owner, there's a housing package suitable for your needs. Start creating your own memories like Maria Clara and Ibarra did. Get in touch with our accredited sellers to learn more about available properties throughout the Philippines.

Try our Home Loan Calculator
Loan Calculator
Try Lumina Homes' loan calculator and get an estimate computation for your preferred Lumina property and home model.