11th Villar SIPAG OFW and Family Summit: Providing an Avenue for Financial Literacy
29 October 2022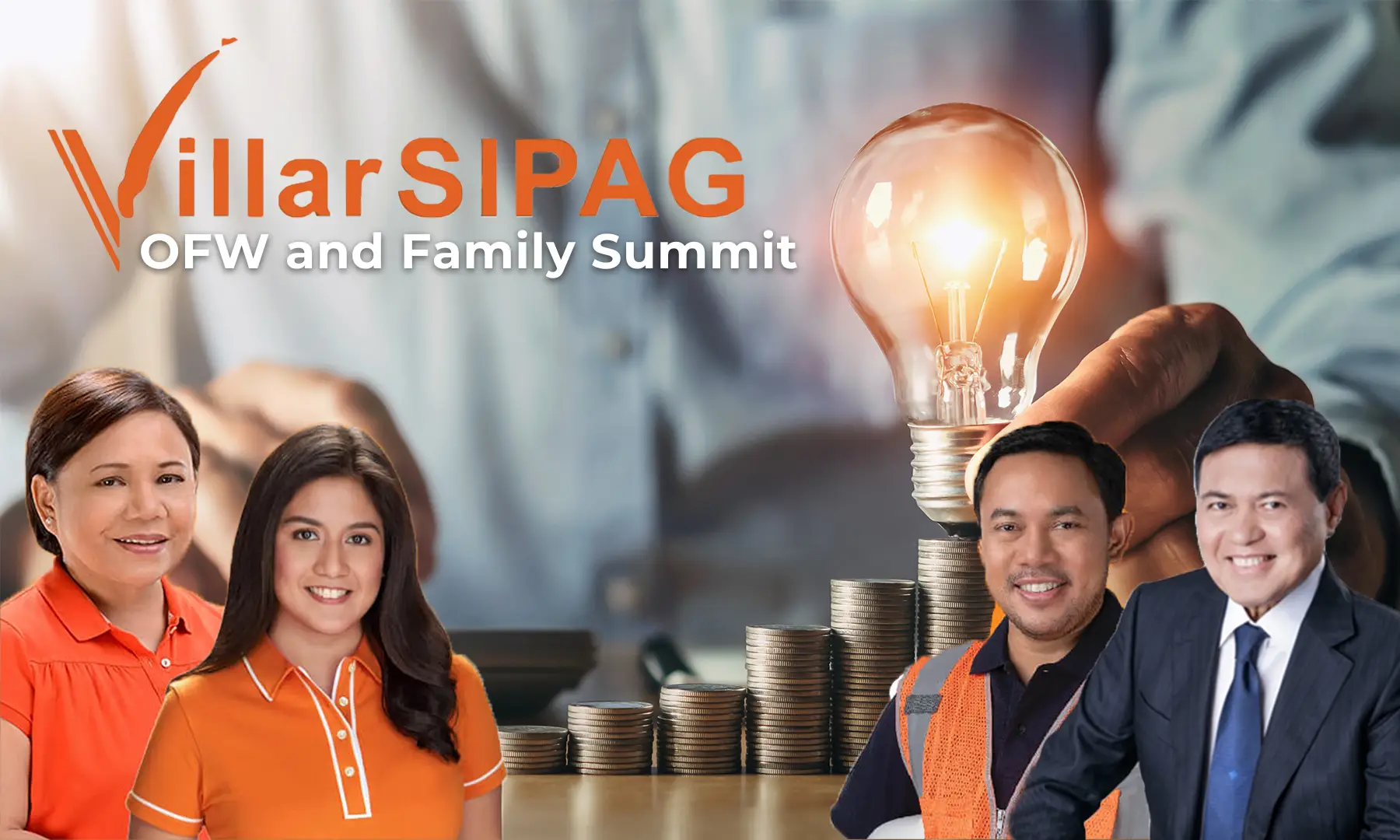 Teach a man how to fish rather than giving him one.
This is a proverbial life lesson attributed to Lao Tzu, a Chinese philosopher and founder of Taoism. It teaches a valuable lesson about how giving something to somebody is just a temporary satisfaction for the man in need. So instead of offering a man a fish, teach him how to fish — teach him a skill — so that he could learn to provide for himself, rendering the help of other people around him inessential and needless.
But there could be a more empathetic approach to this: giving a man what he needs, then teaching him the skill to achieve independence and literacy, all at the same time.
Villar SIPAG and its mission on poverty reduction
The twin responsibility of giving and teaching a life skill is what the Villar Social Institute for Poverty Alleviation and Governance, or Villar SIPAG, a non-stock and non-profit organization established in 1995, aims to fulfill — anchored with the social objective of improving the quality of life of Filipino families in their home country.
Villar SIPAG is dedicated to achieving this goal by conducting humanitarian programs, such as nutrition caravans, medical and dental missions, relief operations for typhoon victims, youth empowerment, environmental initiatives, and administering an annual event to pay tribute to Overseas Filipino Workers (OFWs) along with their loved ones.
The annual highlight, where the teaching comes into the equation, is the highly anticipated summit for the country's modern-day heroes and their families, where they are invited to join an educational gathering to learn about the fundamentals of investing, financial planning, venturing into a business, and get the chance to win prizes such as a house and lot from a trusted real estate brand.
Now in its 11th year, the OFW and Family Summit 2022 is a testament to Villar SIPAG's continued success as a non-profit organization in its charitable endeavors of alleviating poverty and providing helpful financial lectures for Filipino families from around the country.
Villar SIPAG's OFW and Family Summits in retrospect
Last year during its 10-year anniversary, Villar SIPAG's annual summit was conducted virtually through Zoom and Facebook Live in light of the coronavirus crisis. It was an unprecedented time, but the team behind Villar SIPAG was unfazed and pushed through the event online for the very first time in its 10 years of service.
Every year, the OFW and Family Summit comes up with a theme that will highlight its objectives and hopes for OFWs and their families. Last year's concept was "Masiglang Kabuhayan sa Bagong Panahon" (A Resilient Livelihood in the New Normal), sending a message of hope and the trademark Pinoy resilience despite the virus outbreak wreaking havoc in the lives and livelihoods of millions of Filipinos.
The 9th edition in 2019 had the theme, "Kabuhayan sa Sariling Bayan" (Livelihood in Your Motherland), promising local opportunities to eliminate the need for Filipinos to fly overseas in search of greener pastures. While the 8th edition in 2018 exemplified financial literacy with the slogan, "OFW: Perang Pinaghirapan, Palaguin" (Grow Your Hard-Earned Money).
In previous years, moreover, the summits featured lectures and forums to accommodate OFW concerns and perks, extending from access to financial services, legal assistance, and social benefits, among others, which aims to help Filipino migrant workers with their legitimate concerns. The yearly OFW and Family Summit are traditionally held every November.
11th OFW and Family Summit: 'Bagong Simula sa Sariling Bansa'
Aside from helping Filipinos develop a sense of financial literacy and attain their financial goals, the annual summit is another way for Villar SIPAG to gesture its enduring gratitude to OFWs who have to leave the country to work abroad and serve as breadwinners to their families.
This year's theme, "Bagong Simula sa Sariling Bansa" (A New Beginning in Your Own Country), speaks about harboring hopes among many OFWs that they can restart a better life in their own country without feeling the urgent necessity to work abroad and leave their families yet again.
In light of this, the summit aims to teach Filipinos the art of investing their hard-earned money and gaining financial literacy through its lectures from financial experts. After last year's virtual meetup, this year's event will be held onsite at The Tent in Vista Global South, C5 Extension Road, in Las Piñas City on November 18, Friday at 8 AM.
The Villar family, spearheaded by SIPAG chairperson Manny Villar and Senator Cynthia Villar, anticipates that the gathering will be attended by a mass of OFWs and their families after last year's virtual event. The Villar family is also expected to give away a brand-new house and lot, motorcycles, and other prizes for lucky winners.
Every year, Senator Villar renews her calls for OFWs and their families to participate in the annual event to learn about the importance of having a financial plan laid out as well as clear, concrete goals for the future of their families, which is their gateway toward financial security while living in the Philippines.
Grab the chance and register today for free!
If you're an OFW, a wife, child, parent, or a relative of someone who is currently working abroad, you are highly encouraged to register and secure a raffle entry for the event. Don't miss your chance to learn about investment, real estate, and the latest business trends and innovations. And win a variety of exciting prizes including a house and lot!
There are four (4) ways for you to register free of charge:
For online registration, go to http://ofwsummit2022.villarsipag.org/registration/
Scan the QR code on the official posters and follow the instructions to register.
Go to any OFW & Family Summit Desk available in Vista Mall and Starmall branches nationwide.
For onsite registration, you can visit the specified venue a day before the event to secure your raffle entry.
Requirements to Bring to the Las Piñas Venue
Once you have decided to join and register for free, do not forget to bring any of the documents below to verify you and your family members who are the heart of the event.
A copy of the OFW's Passport or the OFW's relative with a Working VISA
Any Proof of Remittances
Seaman's Book
Job Contract
A copy of the documents that serve as proof of relationship to the OFW (Marriage Certificate, Birth Certificate, etc.)
An Anti-Covid Vaccination Proof (Vaccination Certificate (VaxCert), Vaccination Card, or International Certificate of Vaccination (ICV) with 1st Dose and 2nd Dose)
If a relative will attend the summit on the OFW's behalf, bring documents along with Valid ID and Birth Certificate
Prizes to win at the 11th OFW & Family Summit 2022
After learning an array of knowledge about handling one's finances, another highlight of the annual event dedicated to Filipino migrant workers is the raffle draw where prizes are to be taken home by participants of the annual gathering. These are the following:
Two (2) Winners of Kawasaki Motorcycles from Petron
Ten (10) Winners of AllDay Pangkabuhayan Showcase
Thirty (30) Winners of AllHome Appliances
The Grand Winner will get a House and Lot from Camella
What's in store for participants of the annual summit?
According to official reports, there had been 2.24 million repatriated overseas Filipino workers as of June 13, 2022, due to the pandemic crisis. This speaks up about Filipinos finally coming home after years of being away from their families, as well as starting a new life and seeking opportunities back home for sustainable income and livelihood.
What Villar SIPAG will assist participants of the summit with is through welcoming repatriated Pinoys and their family members by helping them manage and budget the finances that they earned after years of working overseas. Through the summit, they would also learn about various investment opportunities to maximize their earnings. This includes investing in real estate, an investment sector that is resilient and proven to withstand an economic crisis such as the global pandemic.
What is more, there will be discussions about starting and managing a business for OFWs who wish to stay back home for good. Not a few OFWs fear that when they return to the country, there are lesser opportunities for them to work and sustain a living after their repatriation.
Hence, through Villar SIPAG's annual OFW and Family Summit, eligible OFWs and their families will be given ample opportunities, resources, information, links, and projects that they could take advantage of free of charge. This is also the perfect time for OFWs and their families to be heard by airing their grievances during the event, and help them secure a more comfortable life not overseas, but in their home country surrounded by people who mean everything to them.
OFWs and Real Estate Investment: Symbols of Resiliency
Now in its 10th year of providing an affordable house and lot for sale among Filipino families, Lumina Homes is one with Villar SIPAG in giving our Filipino migrant workers the recognition they deserve for their hard work, selflessness, dedication, and resiliency.
Participants of the annual summit will be introduced to investing and real estate. Lumina Homes is an excellent choice not only for an affordable house and lot, but also as an investment vehicle with lesser risks yet high financial returns. Hence, returning OFWs can also venture in real estate investment trusts (REITs) without having to buy properties for passive income.
Likewise, for repatriated OFWs who want to invest in a house and lot in the Philippines, Lumina Homes ensures affordability with no compromise on quality in its housing provisions. Send us your investment inquiries and one of our accredited sellers will be glad to assist you!

Try our Home Loan Calculator
Loan Calculator
Try Lumina Homes' loan calculator and get an estimate computation for your preferred Lumina property and home model.