10 Best Places to Watch Fireworks Display in Philippines
30 November 2022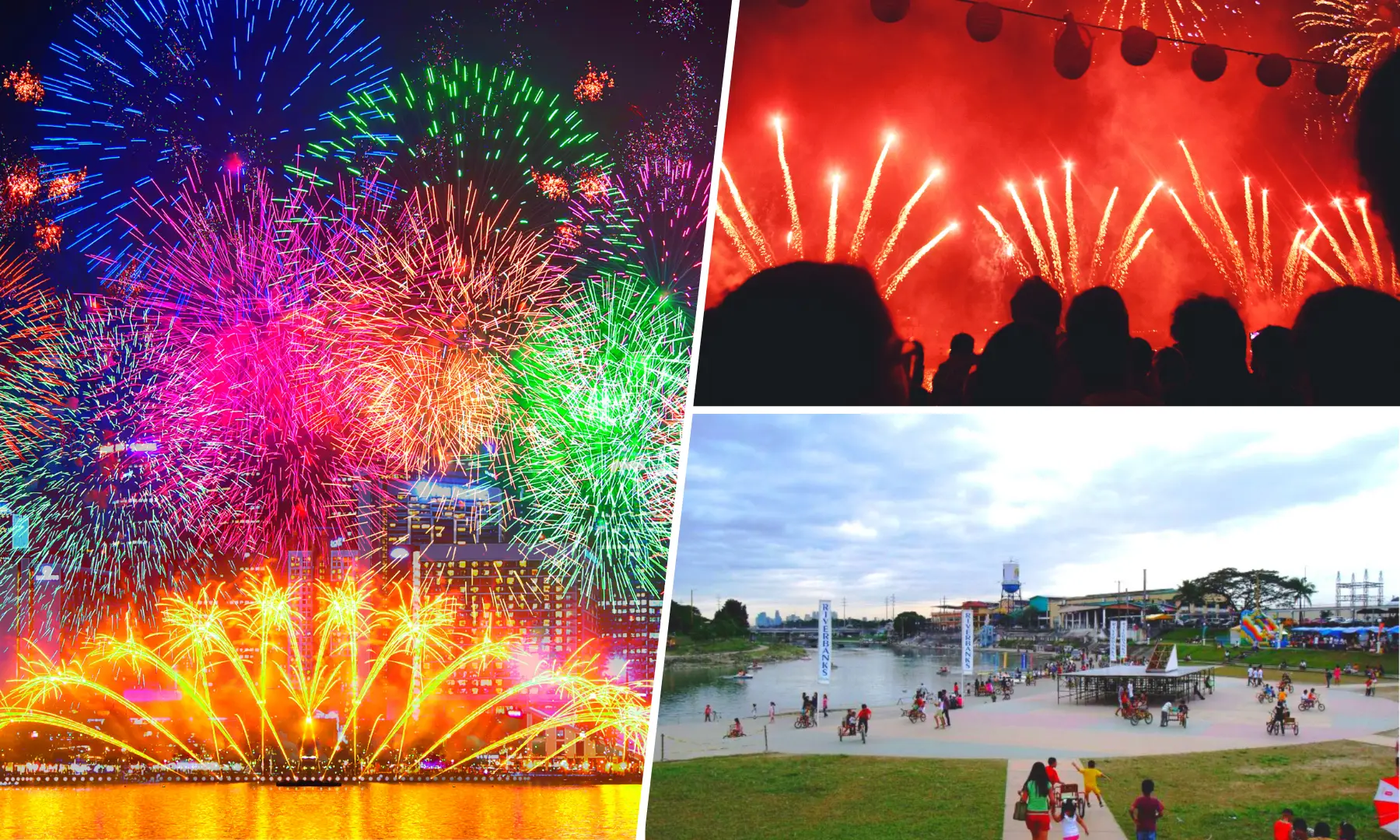 Festivals and gatherings are so prevalent in the Philippines because Filipinos surely love to celebrate. These celebrations bring together community, family, faith, and tradition in an uplifting way. In fact, the Philippines celebrate New Year and Christmas not just with parties, gift-giving, and festivity, but also with fireworks!
New year celebrations are commonly paired with a grand fireworks display. All you have to do is search for a location where you can enjoy it with a great view. Lumina Homes, an all-economic residential developer, has built over 50 community projects where you can purchase a house and lot in the Philippines. With its strategic locations, you can definitely enjoy amazing fireworks show nearby or go to special places to watch musical live performances with celebrity appearances to spend your New Year's Eve.
If that's how you want to celebrate this coming Christmas and New year's eve with your family and loved ones, we rounded up several best places you can check out for a spectacular firework display.
10 Best Destinations to Watch Spectacular Fireworks Display in the Philippines
1. Boracay
Enjoy a captivating fireworks display in one of the top tourist destinations in the world, Boracay. A perfect place for friends and family to celebrate New Year's Eve. Take part in wild countdown parties, eat delicious seafood, and more in Boracay. With its energetic wildlife, crazy parties on the White Beach, and captivating fireworks displays, the whole island will surely captivate you and you'll spend a memorable vacation with your family, friends, and loved ones.
2. Tagaytay
If you're looking for a destination with cooler weather, Tagaytay is the place to be! With lots of cafes, restaurants, hotels, and spots to choose from, you will definitely find a location where you can enjoy spectacular fireworks displays from afar. Hence, if you want to spend your new year's celebrations in a much-relaxed and peaceful way, come and check out Tagaytay.
3. SM Mall Of Asia
SM Mall of Asia or MOA is one of the most popular places to spend New Year's Eve, especially with its amazing entertainment options and festive events. A wide variety of entertainment is on offer to tourists on this special occasion, including celebrity performances, bands, pyro displays, and more. At its Grand Festival of Lights, SM Mall of Asia is also hosting spectacular fireworks shows, so you don't have to wait until New Year's. Keep an eye out for the updated schedule so you can take the family to one.
Aside from fireworks displays, The Mall of Asia entertains visitors with live entertainment, performances by celebrities, marching bands, and special sales events. Surely, SM Mall of Asia's Fireworks Display is one of the fireworks shows you don't want to miss.
4. Sofitel Philippine Plaza Manila
Next on the list is Sofitel Philippine Plaza Manila. It's one of the best hotels in Manila where you can experience several New Year's Eve parties. The amazing fireworks show at Sofitel Philippine Plaza Manila is definitely a must-see. The New Year is now fast approaching, so stay at this hotel to enjoy the countdown. Additionally, the hotel's chefs prepare exceptional dishes on New Year's Day in addition to the festive activities.
5. Rizal Park
If you are looking for a cozy environment over the New Year and Christmas, Rizal Park is where you need to go! The National Parks and Development Committee (NPDC) organizes an annual festival and fireworks display at Rizal Park that draws hundreds of thousands of families. It is usually customary for New Year's celebrations to begin with a concert and a 15-minute fireworks show.
Hence, if you and your loved ones don't mind being around a lot of people, you can enjoy camping and picnicking in the park. A family celebration like this can bring happiness, entertainment, and lifetime memories to any family.
6. Resorts World Manila
One of the coolest places to celebrate the New Year and Christmas is Resort World Manila. A very spectacular hotel, Resorts World Manila offers all-around entertainment, and one of the biggest and most exciting celebrations with fun activities will be held there.
Having this kind of experience with family and friends will surely be a memorable one, with thrilling entertainment, fantastic dining, and lots of fantastic surprises. Additionally, Resorts World Manila hosts a number of live concerts featuring celebrities while an impressive fireworks display counts down to the New Year.
5. Marikina Riverbanks
Have you been looking for a tourist destination you can visit and enjoy with your family and friends? Marikina Riverbanks will also celebrate the end of the year in a festive style with its series of Christmas activities this December. Visit Marikina Riverbanks on New Year's Eve and enjoy the celebrations they will be hosting.
In addition to the fireworks display, you will also be treated to a grand pyro-musical performance. They also have a popular bazaar, food park, rides, and much more that you can enjoy and explore.
6. Quezon Memorial Circle
Packed with amazing light shows and 3D mapping displays, the Quezon Memorial Circle is a spectacular nighttime attraction. Celebrate the new year with a string of band performances, tasty treats, and more at the Quezon Memorial Circle. There are several restaurants, playgrounds, amusement parks, museums, and other attractions in this national park in Quezon City.
A variety of outdoor activities await the whole family, including four museums, restaurants, cycling and jogging trails, a pond, a playground, and an amusement park. For many years, The Circle has been one of the best amazing sites to celebrate Christmas and New Year in the Philippines. They also have a New Year's Countdown in the Circle, featuring local celebrities.
7. Eastwood City Mall
Last on our list is Eastwood City Mall. This year, Eastwood City is welcoming the holidays with a giant Christmas tree decorated with life-size lighted flower displays throughout the Eastwood Mall Open Park. There will also be weekend live music performances, mascot meet-and-greets, and spectacular fireworks displays at Eastwood City until the end of the year. So, you and the whole family can enjoy Christmas and New Year while watching fireworks displays and spending meaningful time together.
While it's nice to spend and celebrate the holidays in one of the best places mentioned above, nothing beats spending time with your family in the comfort of your own home. Let's not forget the real essence of the holidays and welcome the new year with grateful hearts. Enjoying a spectacular fireworks display can be a wonderful experience for the family but it's also the warmth and presence of each member that matters the most.
Are you still looking for the best gift that you can give to yourself or to your family? Lumina Homes got you! Kickstart an investment and choose an affordable house and lot for sale that will cover your family's needs.
Celebrate Life with Lumina Homes
We understand that homeownership is crucial and it requires a lot of effort, preparations, and sacrifices. Hence, get more value for your money by choosing an affordable house and lot from the various Lumina Homes projects in the Philippines. In over 50 key locations strategically located across the Philippines, you have plenty of options to settle down.
We are highly committed to ensuring the safety and satisfaction of our residents. Hence, we have equipped our communities with functional amenities like a 24/7 guarded entrance, a basketball court, multipurpose halls, playgrounds, mini gardens, jogging paths, commercial spaces, and many more. To learn more about this valuable investment, contact a Lumina Homes accredited seller today.

Try our Home Loan Calculator
Loan Calculator
Try Lumina Homes' loan calculator and get an estimate computation for your preferred Lumina property and home model.