ViCon 2022 opens April 22, to unveil Vista Estates
8 April 2022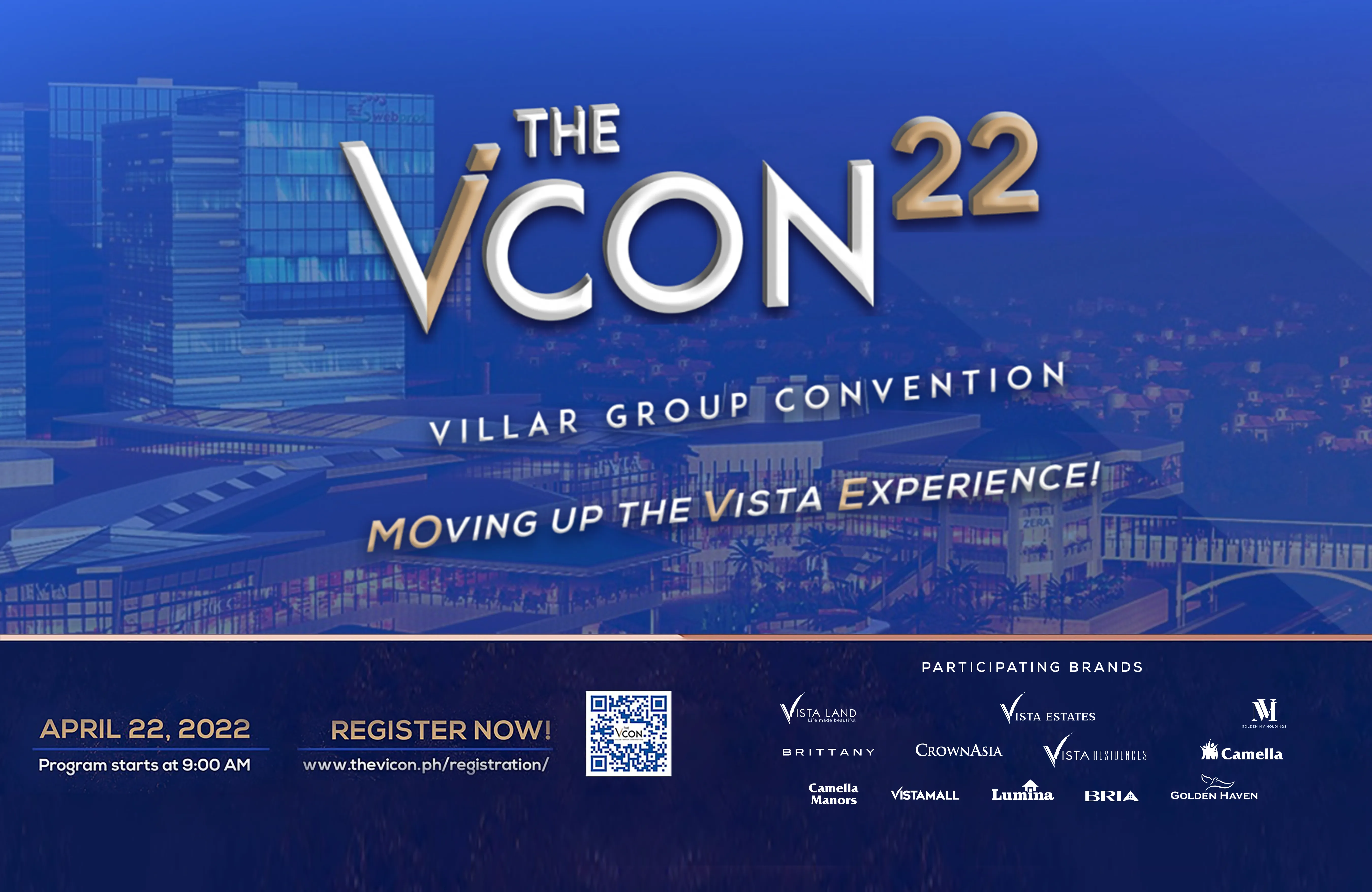 The real estate property sector is one of the safest long-term investment ventures that Filipinos can take advantage of if they want to invest in accomplishing a financially secure future. But whether you're an aspiring investor or homeowner, you ought to know about the latest happenings in real estate.
This upcoming April 22, join Lumina Homes and its sister companies as the Villar Group unveils Vista Estates at the ViCon 2022: Moving Up the Vista Experience (MOVE)!
Vista Estates is Vista Land's mixed-use development of prime master-planned communities that aim to re-create global living and uplift the lives of Filipinos by building unique, premium, sustainable, and amazing lifescapes.
With over 30 master-planned developments nationwide and counting, Vista Estates promises to offer sustainable, innovative, lifestyle-driven, green spaces, and world-class properties that are primed for growth.
These include business parks and IT zones, institutional complexes like learning institutions, worship places, hotels, event venues, medical centers, commercial and retail districts, leisure and wellness hubs, and vertical residences.
Bataan: The Most Business-Friendly Province in the Philippines
The province of Bataan, along with its capital city Balanga, is regarded as the most business-friendly province for its ever-flourishing local economy and the numerous business and employment opportunities present here. It is also called the "Education Center of the Province" for housing multiple colleges and universities, enabling aspiring higher education students to study in reputable academic institutions without leaving their own province.
Among these universities and colleges are, Bataan Peninsula State University-Main Campus, Bataan Heroes Memorial College, Tomas del Rosario College, Asia Pacific College of Advanced Studies, Philippine Women's University CDCEC - Bataan, St. Joseph's College of Balanga, and Microcity Computer College Foundation Inc.
Bataan's premier eco-estate is yet another reason as to why it's a highly livable place that makes it popular among businesses, real estate investors, and aspiring homebuyers. Vista Estates' Verida is inspired by the Garden City of Singapore, which is also known to be Asia's Most Sustainable City with roof gardens and green walls adorning the so-called Lion City. As such, Verida aspires to be the country's foremost green nexus for modern-day urban dwellers with green-themed choice amenities such as the passive parks Singapore is known for.
In Focus: Lumina Homes, The Affordable Housing Arm of Vista Land
Lumina Homes is one of the Vista Land companies that established its presence in Western and Central Luzon, such as Bataan in the City of Balanga, aptly called Lumina Balanga Residences. This community is surrounded by green open spaces and amenities that will further provide convenience and comfort to homeowners, such as a multipurpose hall, gazebos, a jogging path, mini-gardens, a play area, and a community center for different offices.
Aside from Bataan, Lumina Homes is also present in other Luzon provinces such as Pangasinan, La Union, Isabela, Cagayan, Tarlac, Nueva Ecija, Pampanga, Bulacan, Zambales, Cavite Batangas, Laguna, Rizal, Quezon, Albay, Sorsogon, and Camarines Norte. Representing Visayas are the provinces of Iloilo, Capiz, Cebu, and Negros Occidental. In Mindanao, meanwhile, Lumina has housing communities situated in Agusan del Norte, Zamboanga del Sur, Bukidnon, Davao del Norte, South Cotabato, and Misamis Occidental.
All Lumina developments in the Philippines are located strategically near essential establishments, institutions, and business centers. This includes academic institutions, medical facilities, dry and wet markets, shopping centers, famous restaurants, local government offices, leisure spots, tourist destinations, and more. Lumina Homes put a premium on our clients' comfort and satisfaction. That's why we made sure that our housing projects are only located in accessible neighborhoods.
Invest in Comfort and Convenience, Invest in Lumina Homes
Many homeowners are having a paradigm shift in what makes a place of residency worth living in. Most now think that there ought to be a balance between rural and urban living. This can be realized by residing in a community with a provincial and green background whilst having the chance to enjoy the perks and amenities that are only typically found in highly urbanized cities.
Lumina Homes is one of Vista Land's premier developers which specializes in providing affordable housing for Filipino families nationwide. To date, we have served thousands of Filipinos to achieve their dream homeownership without obliging them to shell out more money than they can afford. Yet despite this, there is no compromise on the quality of houses, as all of them are built and designed to last for convenient vertical estate living.
Lumina Homes communities from Luzon, Visayas, and Mindanao are also surrounded by a green environs and sprawling living spaces. Annually, Our property brand also started "Lumina Luntian" to give our fair share of environmental contributions through tree-planting initiatives and other related activities.
If your eyes are fixed on an affordable house and lot for sale, Vista Land's Lumina Homes is the perfect property brand to secure your real estate investment. Wherever is your preferred location, there is a Lumina house and lot in the Philippines which will fulfill your housing and lifestyle needs.
Discover more about Lumina Homes, an affordable house and lot developer of Vista Land, alongside its sister companies during our convention in ViCon.
Moving Up and 4ward
The Villar Group has been holding The ViCon for the fourth time, and the unique real estate convention continues to gather home seekers, investors, and stakeholders under a single roof, albeit virtually for now.
join its sister companies, namely Golden MV Holdings, Brittany, CrownAsia, Camella, Camella Manors, Vista Mall, Vista Residences, Bria, and Golden Haven, at the online event.
Property promos and discounts await participants in the event, who can also get access to exciting activities and other event-exclusive prizes from ViCon 2022's participating sponsors and partners.
Be in the know of what to expect in the real estate industry in the country. Will homes reflect the evolving taste of post-pandemic residents? How will the new lifestyle inspire architectural and design changes in commercial hubs?
To provide its future residents with limitless growth opportunities, Vista Estates will build modern-day cities that are inspiring in vision, compelling in creativity, and grand in diversity. ​For more information about Vista Estates, visit the Vista Land website.
Learn from the leading property developer and get ready to join ViCon 2022. Register for free here.

Try our Home Loan Calculator
Loan Calculator
Try Lumina Homes' loan calculator and get an estimate computation for your preferred Lumina property and home model.