New Clark Airport Yields Vast Opportunities for Lumina Pampanga Residents
5 May 2022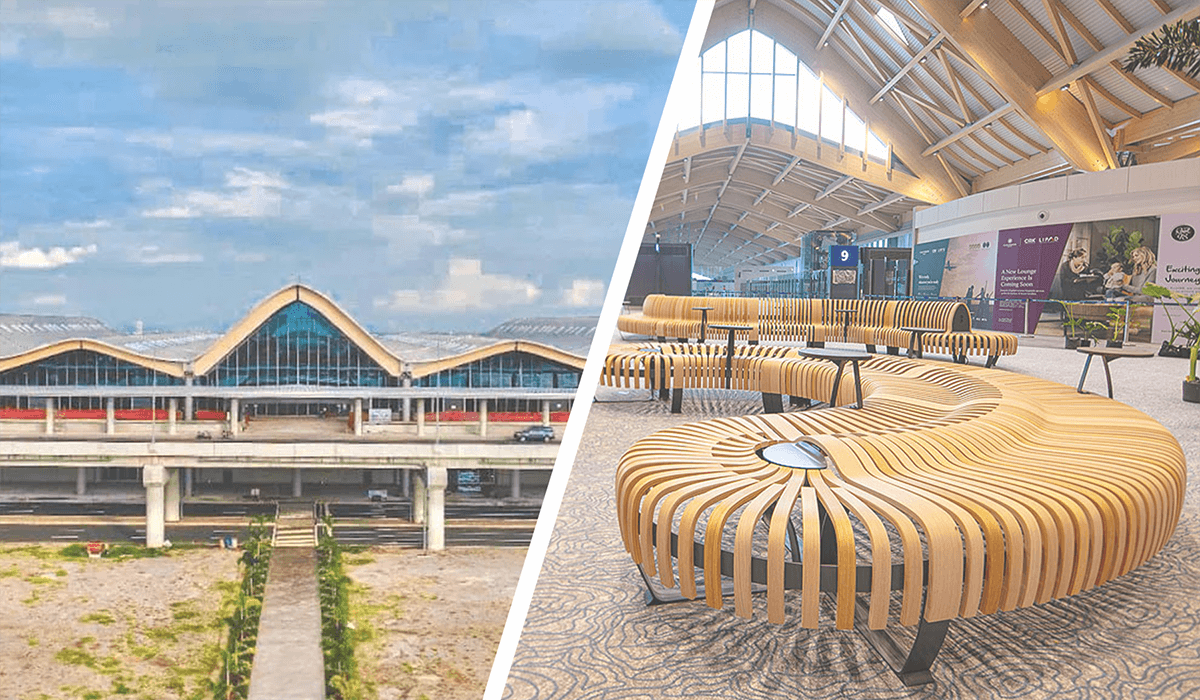 As the world's leading gateway to Asia, the new Clark International Airport not just promised but also opened new highs in economic and social growth for Central Luzon-- as well as other opportunities and perks to the communities around it are projected to follow suit.
As a point in fact, an important turning point in aviation history is reached with the opening of Pampanga's new international airport, which includes state-of-the-art facilities, advanced technology, and a wide range of new services for travelers.
Clark International Airport CRK
Clark International Airport (CIA), formerly known as Diosdado Macapagal International Airport (DMIA), is located in the Clark Special Economic Zone (CSEZ) in the Philippines near Angeles City, in Luzon.
The Clark Airbase (33,653 hectares), which was decommissioned in 1991 after the eruption of Mount Pinatubo, was used to build the airport. Cleanup of trash and lava had taken two years before the CSEZ, which includes DMIA airport, was opened.
There are two 10, 500-ft long concrete runways here which are used by the bulk of commercial planes flying in and out of the city. The airport is located 85 kilometers northwest of Manila and is often utilized for business trips both inside and outside of the city.
Among the most historic provinces in Luzon, Pampanga welcomes visitors with a range of breathtaking mountains. Folklore has it that the summits of Mt. Arayat and the Zambales mountains are gods who protect the province and its inhabitants.
The architects of Clark International Airport's massive new terminal paid respect to these mountains by mirroring their magnificent outlines in the superstructure, giving the structure a strong feeling of location.
Opening of the New Passenger Terminal Building (New CRK Terminal)
The passenger terminal building at Clark International Airport (CRK) in Pampanga opened its doors to the public last May 2, 2022.
A capacity of at least 8 million passengers per year is claimed by the Department of Transportation or DOTr for the new 110,000 square meter Clark terminal building, which the agency believes would relieve congestion at the Ninoy Aquino International Airport in Metro Manila.
It also has contactless features for both domestic and international travelers including self-service check-in kiosks and bag drop systems, all-gender toilets, nursing stations, and multi-faith prayer rooms, as well as the country's first-ever lounge for our Overseas Filipino Workers or OFWs.
The airport terminal was also the first hybrid public-private partnership (PPP) project under the Build Build Build program and is operated by the Luzon International Premiere Airport Development Corp. The new terminal was built through a cooperative effort between the DOTr and the Bases Conversion and Development Authority (BCDA).
On top of this, it was also envisaged by the DOTr that the commencement of operations of this new terminal building would provide additional prospects for employment, investment, tourism, and other socio-economic sectors to open up, not just in Central Luzon but in other parts of the nation.
New Clark Terminal Building as a World Class Airport
Both domestic and international flights are served by the new Passenger Terminal Building, which is 1.5 kilometers from the current terminal and has color-coded boarding gates for each route. In all, it has a capacity of 8 million passengers per year and has four floors, 18 aero bridges, and a total floor space of 110,000 square meters.
Travelers are welcomed by a soothing palette of gray and cream in the Arrival Corridor, which precedes Immigration. Passengers are greeted at the Baggage Reclaim Area with a ceiling design that resembles the jagged stone walls of spectacular caverns in Central Luzon.
In addition, passengers will also be able to distinguish between local and international boarding gates. The international boarding gates are dominated by a vivid green, whereas the domestic boarding gates are dominated by a peaceful blue. The blue depicts Manila Bay's seas, while the green represents Mt. Arayat, which faces the domestic boarding gates of the airport, which is located in the vicinity.
This area's Check-In Hall is decorated in earth tones with a gentle gray as the focal point's primary shade. To evoke the lush flora and the crater lake of Mt. Pinatubo, cool and relaxing accents of green and blue have been added. Water at Mt. Pinatubo's crater lake is characterized by a particular shade of blue that's just shy of turquoise. Glass buildings surrounding the terminal, such as the Security Screening Area, are also tinted with this color.
The Pampangueño "parol," or star lantern, are prominent hanging fixtures in the heart of the Airside Retail Area, displaying a rhythmic display of color. The kaleidoscopic hues represent happy times spent with loved ones and the importance of cherishing such times forever.
An international premiere airport development a few minutes from home
With the new terminal building completed at the Clark International Airport, this promises not just convenience and accessibility to other parts of the country and the world but also greater opportunities and economic growth for the residents living in the area.
Make sure to grab this wonderful opportunity and become a part of our thriving community in Lumina Pampanga.
Lumina Pampanga is located in Brgy. Panipuan, Mexico, Pampanga and it is just around 25 minutes travel time from the Clark International Airport and the Clark Freeport Zone. It is an almost 2 hectare housing development land with an exclusive saleable house and lot units. Our subdivision also includes amenities such as Multi-Purpose Hall, Guarded Entrance, Mini Gardens & Playgrounds, and shuttle service for the homeowners.
Aside from the new airport terminal, Lumina Pampanga also has proximity to transport terminals such as SM Terminal (29 mins) and Victory Liner Bus (19 mins). Our community is also close to major roads, highways, and expressways such as the Olongapo-Gapan Road (17 mins), North Luzon Expressway or NLEX (5 mins), and MacArthur Highway (19 mins).
This highly accessible community from Lumina Homes is greatly in demand so hurry and get the chance to own a house and lot package and achieve your lifelong dream of hashtag Bahay Goals!
With Lumina Pampanga, it does not just promise you the convenience and accessibility but also a higher appraisal value not to mention, a higher return-- thanks to its proximity to Clark International Airport and other commercial hubs in the province.
Aside from Pampanga, there are other 50 developments in several key locations nationwide like Rizal, Bulacan, Bataan, Zambales, Nueva Ecija, Tarlac, Pangasinan, La Union, Cagayan, Cavite, Batangas, Laguna, Quezon, Albay, Sorsogon, Iloilo, Capiz, Cebu, Negros Occidental, Agusan del Norte, Zamboanga del Sur, Bukidnon, Misamis Occidental, Davao del Norte, and Davao del Sur.

Try our Home Loan Calculator
Loan Calculator
Try Lumina Homes' loan calculator and get an estimate computation for your preferred Lumina property and home model.