Lumina Pandi Unveiled its Newest Affordable Rowhouse Eliza
5 November 2022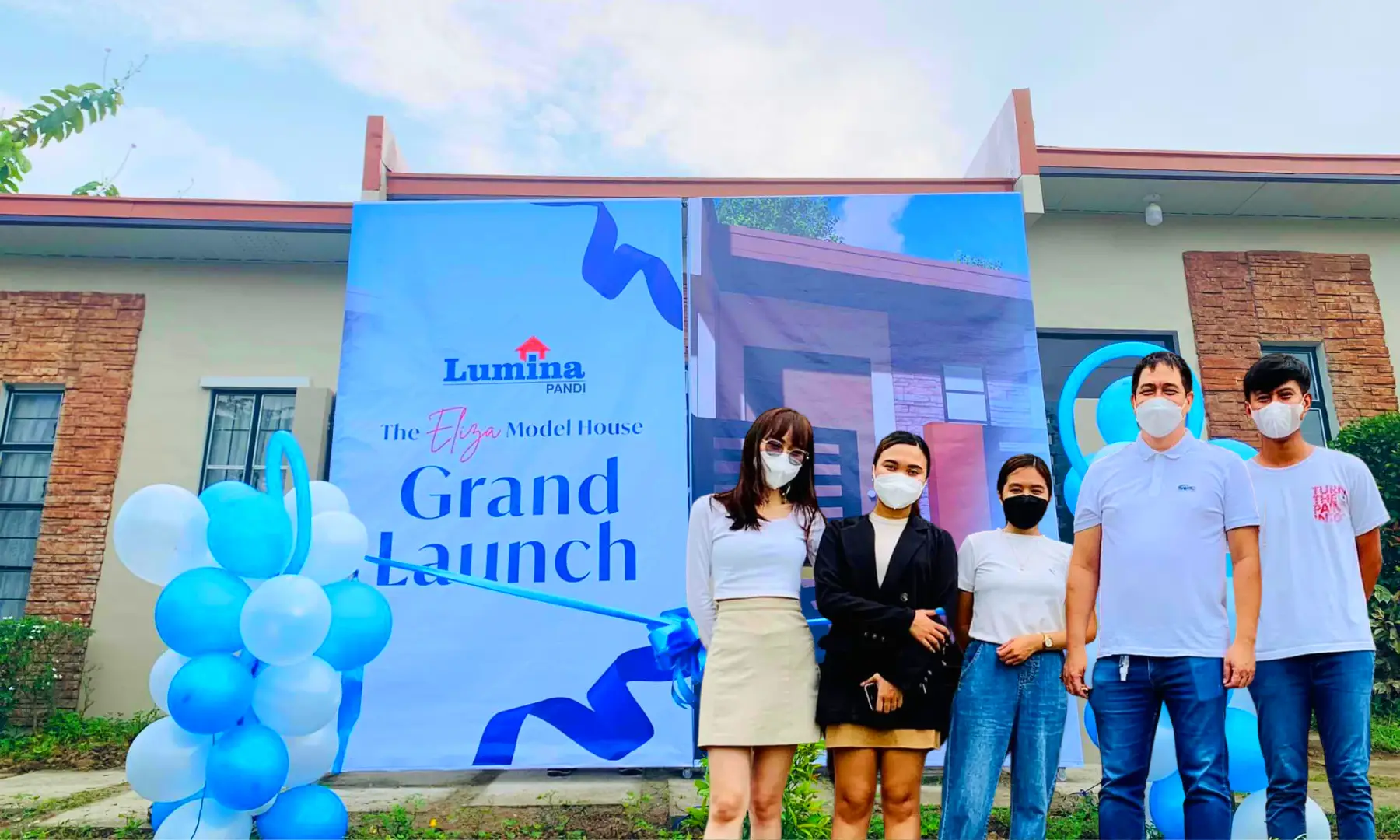 Eliza, a new Starter Home by Lumina Homes Pandi, was recently launched at a ribbon-cutting ceremony presided over by Area Head Ms. Ubie Cristobal and attended by the top-performing salespeople from Lumina Bulacan. This was the first publication date that Lumina Homes' latest home model unit was unveiled to the public.
Eliza is a part of Lumina Homes' newest line of turnkey homes, and it's ideal for those who are always on the go or who are just getting started in the real estate market.
We know that for many, the process of buying their first house is exciting and a little bit overwhelming since we need to consider a wide range of things. In fact, if truth be told, buying a property entails more than just selecting a listing you like and signing the paperwork.
Eliza Starter Home: A Perfect Outset for First-time Homebuyers
Eliza is a standard-sized house at 24 square meters on a 36-square-meter land area. This new home model unit has all the features that Lumina Homes' flagship rowhouses have such as a Living Area, a Toilet and Bath, as well as a Single Bedroom and a Kitchen and Dining Area.
Since Eliza is Lumina Homes' newest bungalow model, it stands out from the others with its painted fence, steel frame gate, ceramic floor tiles, and updated bathroom fixtures that include a telephone shower head, handheld bidet, and dual flush-type water closet. All these new features and innovations added in this upgraded rowhouse are the best match for first-time homebuyers who have a very in-demand lifestyle, requiring them prime movability and accessibility in everyday living.
The affordable house and lot for sale that you are looking for
Most prospective home purchasers should prioritize a home's affordability above anything else. It's a huge victory to be able to save enough money to buy a house. First-time homebuyers often have second thoughts about making a large purchase because they worry that they won't be able to afford a down payment and a mortgage payment each month. That's why it's also encouraging to know that, with the support of house loans from various financing organizations including banks, currently, affordability is now within reach in Lumina Pandi's Eliza Starter Home.
Enjoy high accessibility and convenience
As important as price and home features are, location is often the deciding factor when buying a home for folks who are always on the go.
Pandi is just 41 kilometers from the capital of Manila and is situated in the eastern section of the Bulacan province. It is now an integral component of Greater Manila, the urban sprawl of which can be seen all the way to San Ildefonso, Bulacan to the north. This makes your Eliza Starter Home in Lumina Pandi highly accessible and within reach compared to other similar properties.
Enhanced home security features
Keeping your new house secure and safe is your first priority. Among the most up-to-date features of the Eliza Starter Home is a steel frame gate, providing a more secure and private entrance and reassuring you that your family is protected. This is aside from the painted fence that is added into home features to ensure that no stranger can easily enter your house and lot premises without your permission.
As a matter of course, whether you are a first-time homebuyer or an active person, you should always prioritize your safety as nobody would want to live somewhere they could never feel safe and protected.
Come Home to Lumina Pandi: Your Starter Community Near the Metro
Originally a part of the Town Santa Maria de Pandi, the municipality is popular for its rich Philippines history and Pandi played an integral part in reaching Philippine independence with the various towns in Bulacan headed by the Kakarong de Sili (now known as a sacred ground for Katipuneros) which was organized shortly after the Cry of Pugad Lawin.
Getting tired of renting on a square mile away community from your workplace or the metro? Located about 14 kilometers from the Balagtas Exit, the 22-hectare Lumina Pandi actual site housing community development offers affordable house and lot options. You can get there quickly and simply from Manila by taking the North Luzon Expressway (NLEX) and getting off at the Balagtas exit.
One of Lumina Homes' first endeavors was the Lumina Pandi. As a result of its popularity among potential new homeowners, Bulacan Province has become one of our most vital locations. This has resulted in the launch of similar, low-cost housing communities in places like Plaridel, Calumpit, Baliwag, and San Miguel.
Lumina Homes Pandi can be found in Brgy. Pinagkuartelan, Pandi, Bulacan Province. With a total population of 6,899 according to the Census made in 2020, the area represents 4.45% of the total population of Pandi providing a province lifestyle with the city's convenience.
The properties in this community are just a few minutes away from various educational institutions, medical facilities, marketplaces, major roads and thoroughfares, as well as transport hubs and government offices.
In addition, this house and lot in the Philippines are also close to landmarks that have a vital and historical role in our society, giving you more tourist attraction options to visit.
Other home model units available in Lumina Pandi
Do you prefer more rooms or does your lifestyle require you to have more home space? Discover the benefits of ready-for-occupancy units brought to you by Lumina Pandi's other home types!
Angelique Townhouse
The standard size lot is 36 square meters, while the total home space is 35 square meters. It has a living room, dining area, kitchen, a provision for two bedrooms, one bath and toilet, a provision for a carport, and a service area.
Angeli Home Model Units
Aside from the Angelique Townhouse, Lumina Pandi also has two types of Angeli Home Model units: a Duplex and a Single Firewall unit.
Both of these home types have a house size of 42 square meters on a standard residential lot size of 54 square meters. It has a living area, dining room, kitchen, provision for three bedrooms, 1 toilet and bath, a provision for garage, and a service area. The only difference between the two home models is that Angeli Single Firewall home model is a stand-alone unit, best suitable for families or individuals who want to have bigger lot space and more privacy.
Lumina Pandi amenities
Some of the thoughtful features of Lumina Pandi include mini gardens and playground, a covered basketball court, broad roadways, and open places that are ideal for jogging or walking. Purchasing your Starter Home in Lumina Pandi also entitles you to get another latest addition to our community amenities which is eSpacio, giving you more spaces for everyday activities.
So, make your Starter Home reservations now in Lumina Pandi and get the latest innovation in home investment in Lumina Homes!

Try our Home Loan Calculator
Loan Calculator
Try Lumina Homes' loan calculator and get an estimate computation for your preferred Lumina property and home model.