Lumina Offers Exclusive Discount at Shopee 6.6 Mid-year Sale
1 June 2022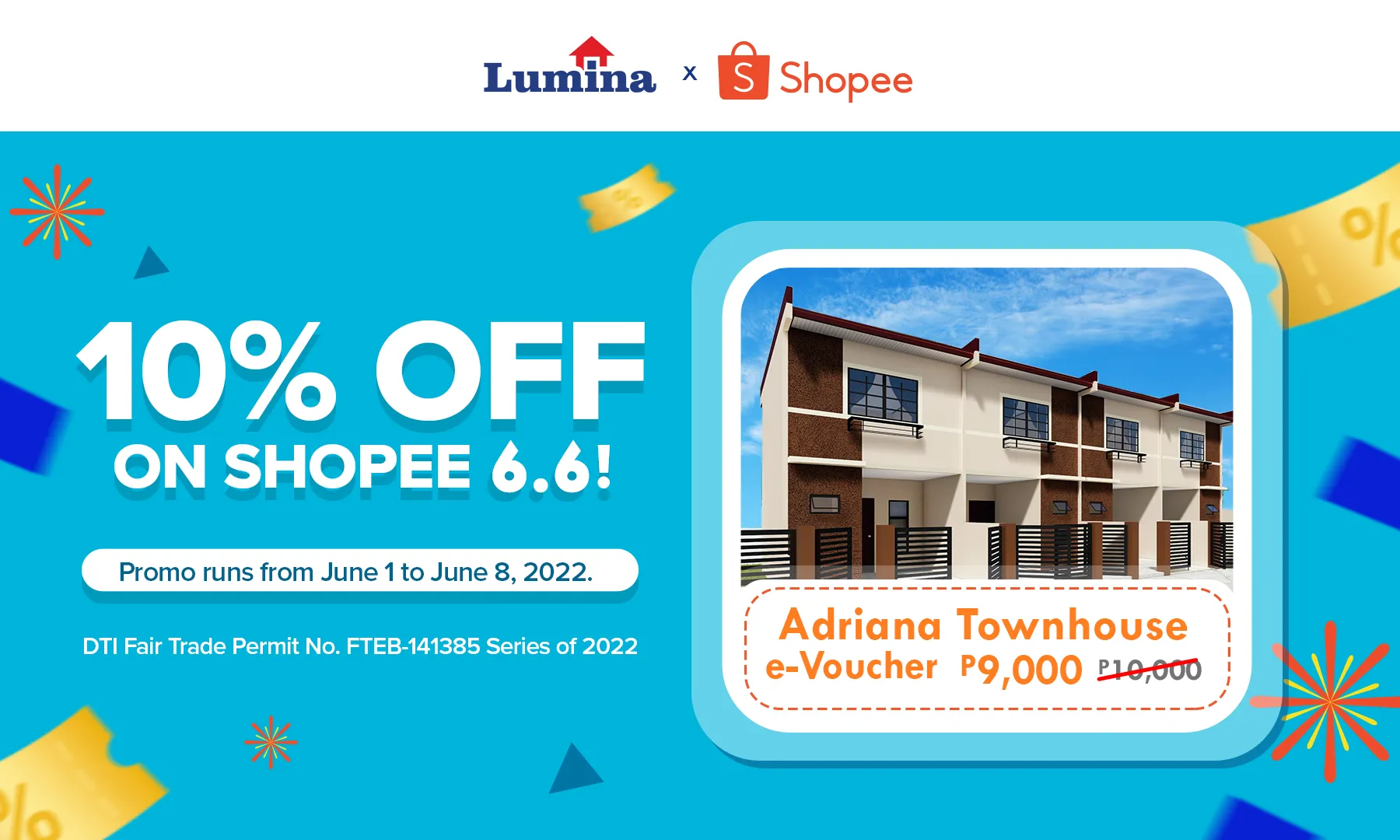 It's been two years since the ever-innovative Lumina Homes joined online shopping platforms—it's just the first housing company to launch on Shopee!
If you missed the Shopee 5.5 sale, worry no more! Every month gets more exciting with the fantastic deals at the tip of your finger, and Lumina Homes will always be here to brighten the much-awaited shopping day!
For Shopee 6.6, you can exclusively enjoy Lumina's home reservation discounts. Starting June 1 to June 8, have a chance of a lifetime and avail yourself of Lumina Homes' e-vouchers at 10% off! Here are the available e-vouchers: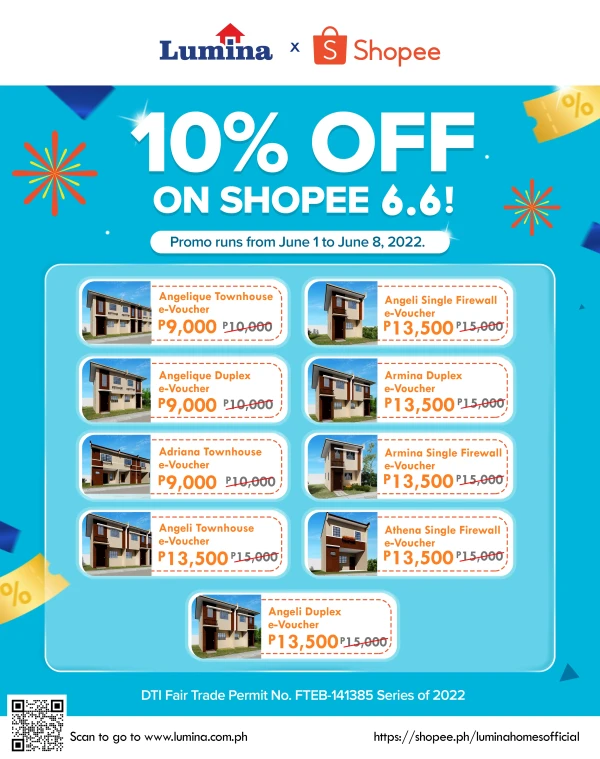 1) Follow Lumina Homes on Shopee Mall: www.shopee.ph/luminahomesofficial. 2) Check and browse the available home reservation e-vouchers. 3) You may read the description of each e-voucher and chat with the seller to inquire about the different project locations of Lumina Homes where you can use the e-voucher; 4) Select your preferred e-voucher and click "Add to Cart" or "Buy Now," and pay for the e-voucher through GCash, Shopee Pay, Shopee Pay Later, or linked bank account, and more. 5) Lumina Homes will then receive a notification of the sale. Afterward, a Lumina representative will contact you for the schedule of online appointments, such as marketing briefing and completion of documents.
Lumina Homes partnered with Shopee as a reliable digital mode of home reservation which will offer real estate investors and property seekers a safe and convenient means to reserve a house and lot," said Engr. Joemi Tan, Lumina Homes Division Head for North Luzon and Mindanao.
It's halfway through the year, and we at Lumina Homes are providing jampacked surprises for home seekers!
6 Reasons Why Lumina Homes is the Ideal Property Investment for You
This Shopee 6.6 Mid-Year Sale where we have a promo price and discounted e-voucher for aspiring homeowners, here's a rundown of six (6) no-nonsense reasons why Lumina Homes is the ideal property investment for you.
1. Affordable properties
When it comes to availing of an affordable house and lot for sale, Vista Land's Lumina Homes is one of the top, if not the top, brand choices among aspiring homeowners. This is validated by a recognition given by Carousell Property Awards, which recognized Lumina Homes as the "Best Developer for Affordable Housing." This is a testament to how our brand has served, and continues to serve, Filipino families nationwide with our affordable but quality homes.
2. Convenient amenities
Affordable and quality houses and lots still would not suffice without the amenities that will make homeownership a breeze even more. Having said this, future Lumina homeowners will get to gain access to signature Lumina amenities such as, but not limited to, a multipurpose hall, basketball court, mini-gardens, play area, gazebos, jogging path, and a community center that can accommodate functional offices for all.
3. Strategically located communities
It has always been a mantra in the real estate industry that the most important and essential factors in developing house and lot communities are location, location, and location. This emphasizes the crucial importance of property locations in making it desirable for aspiring homeowners, as well as the profitability of the property in the future, in case the owner plans to sell it. Not needless to say, properties located close to essential establishments will have a justifiably higher selling price.
Ideally, an affordable house and lot for sale must be in proximity to the following: academic institutions, medical facilities, wet and dry markets, shopping centers, local government offices, churches, and accessible modes of public transportation for commuting convenience. A poorly located housing development will only inconvenience residents, which is not what Lumina Homes hopes for its clients. And so, our master-planned communities nationwide are rest assured to be strategically located to help property owners in their day-to-day activities.
4. Safe and crime-free neighborhoods
Aside from access to vital establishments and institutions, aspiring homebuyers also look for properties in neighborhoods that are generally safe, secure, and crime-free. Lumina Homes took this into account and provided guarded entrances as well as 24/7 security services for our homeowners. This shall keep residents safe and give them the peace of mind that no thief will disturb their sleep and take their property due to the lack of security measures.
5. Less stringent home-buying process
The home-buying process should be an exciting activity for prospective homeowners. And while it can be quite a hassle sometimes, it doesn't have to be stringent and restrictive. At Lumina Homes, we assure you of a less stringent home-buying process. We also offer flexible payment options as well as easy financing terms. This will tremendously help you strategize on how best you can pay for your future house and lot in the Philippines.
6. Good developer reputation
Finally, Lumina Homes has established a good reputation for providing affordable house and lots that stood to benefit thousands of Filipino families who dreamed of having their own homes without spending more money than what their economic status allows. What is more, Lumina Homes was recognized by award-giving bodies such as Carousell Property Awards for being the Best Developer for Affordable Housing.
For ten years now and counting, Lumina Homes intends to expand its housing provisions nationwide. Currently, it has available properties in 50 key cities and municipalities from prosperous provinces in the Philippines. In Luzon, we have Lumina properties in Rizal, Cavite, Batangas, Laguna, Bulacan, Bataan, Tarlac, Pangasinan, La Union, Cagayan, Zambales, Nueva Ecija, Quezon, Albay, Sorsogon, and Camarines Norte.
In the Visayas region, meanwhile, Lumina Homes is present in Cebu, Iloilo, Capiz, and Negros Occidental. In Mindanao, finally, our housing brand constructed sustainable communities in the provinces of Zamboanga del Sur, Agusan del Norte, Bukidnon, Misamis Occidental, South Cotabato, and Davao del Norte.
Convinced to buy a Lumina affordable house and for sale this mid-year sale with a discount voucher on the Shopee Mall store? Don't hesitate to contact us and send in your investment inquiries. We look forward to speaking and discussing with you your future Lumina dream house and lot in the Philippines!
LUMINA HOMES X SHOPEE 6.6 PROMO DTI Fair Trade Permit No. FTEB-143933 Series of 2022

Try our Home Loan Calculator
Loan Calculator
Try Lumina Homes' loan calculator and get an estimate computation for your preferred Lumina property and home model.