Join Lumina Homes Labor Day Weekend Blowout
28 April 2022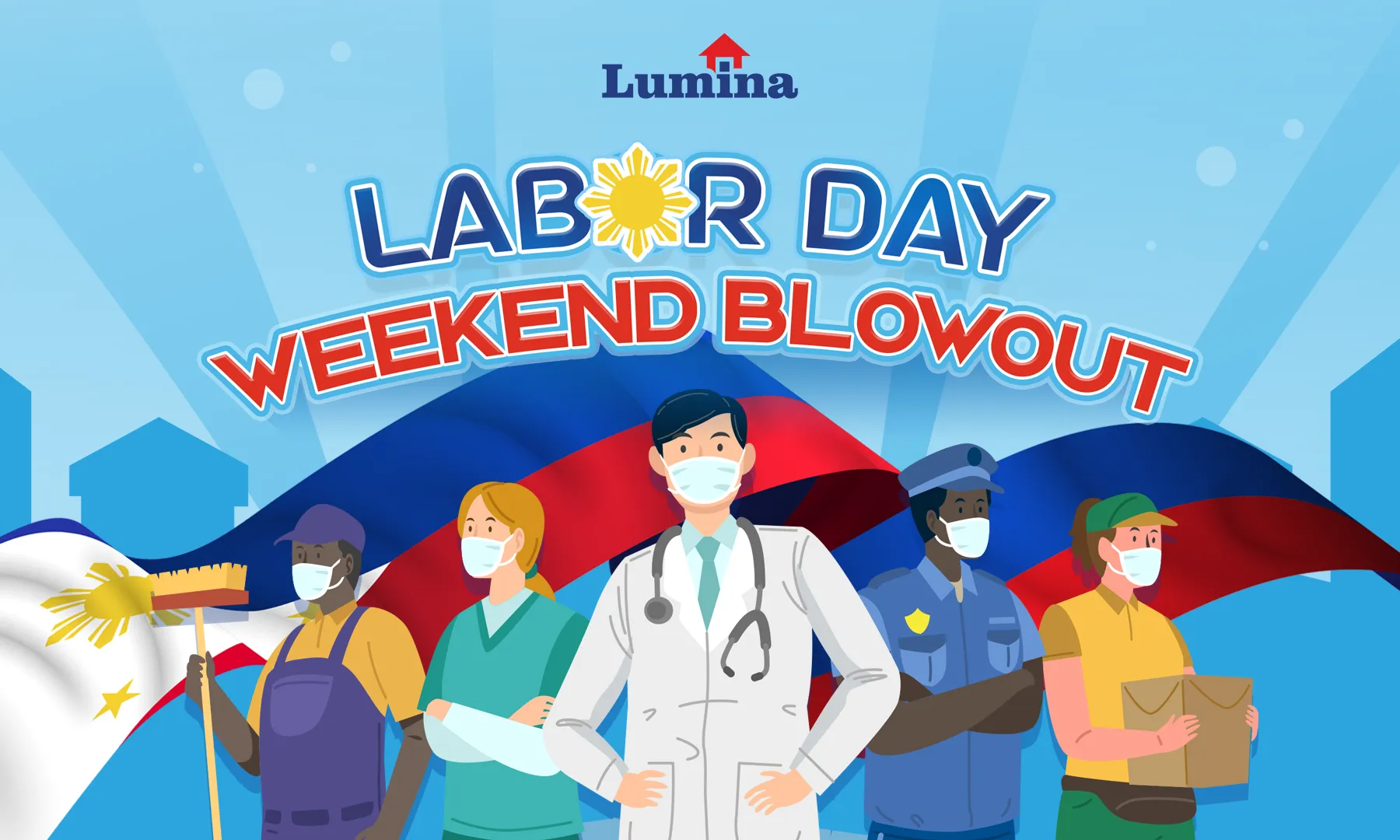 Lumina Homes pays tribute to all our hardworking and dedicated workers who continue to show their strength and perseverance in delivering the best services in our socio-economic community this Labor Day.
In honor of our hardworking workers, Lumina Homes will launch its Relax and Reserve Promo in celebration of this year's Labor Day from April 30 to May 1, 2022.
But before we get to the main event, let's reflect and look back to how Labor Day celebrations became one of our most important national holidays.
Labor Day in the Philippines: History and its Significance
Known as "Araw ng mga Manggagawa" in Filipino, Labor Day is a Philippine national holiday that is celebrated annually every May 1. The first Labor Convention in the Philippines transpired on May 1, 1903. Filipinos from major cities in Metro Manila were organized by the first Philippine labor movement, "Union Obrera Democratica de Filipina (UODF)." Participants underwent a street parade and marched from Plaza Moriones in Tondo to the Malacanang Palace.
Founded in 1902 by Isabelo Delos Reyes and "Herminigildo Cruz, UODF was formed to protect and defend workers' right to fair wages and livable working conditions under the American occupation. This led to the arrest of Delos Reyes on grounds of rebellion and sedition. Dominador Gomez then succeeded him and served to organize 100, 000 workers, which also resulted in his arrest on the same grounds. In 1908, the Philippine Assembly finally passed a legislative measure making May 1 as Labor Day.
We commemorate Labor Day to pay tribute to the collective hard work of Filipino workers nationwide, especially those considered belonging to marginalized sectors, such as farmers, fisherfolk, and factory workers. But of course, we celebrate every worker irrespective of collar color.
During Labor Day celebrations, labor organizations and workers' rights activists stage protests to rally for better working conditions, higher minimum wage, opposing contractualization, and calling out abusive employers. Since 1903, laboring classes and advocates were empowered to air their legitimate grievances by conducting a Labor Day parade for every worker in the country. This national holiday can also serve as an avenue to teach the spiritual and educational aspects of the workers' movement.
How to Celebrate Labor Day
Since Labor Day is a non-working holiday, you and your family can bond to celebrate the occasion while reflecting on the vast contributions of the entire Filipino workforce to the country's national economic growth. As an employee yourself, you deserve to unwind and relax during Labor Day and be entitled to paid holiday leave.
That is to say, you can go on a trip to some of the top tourist destinations in the country. To make it fitting with the occasion, you can visit places in the Philippines with immense historical value about the Philippine labor movement as a whole.
Labor Day Promo with Lumina Homes
Homebuyers who will make a home reservation during this promo period can avail of seven (7) exciting and great offers from Lumina Homes including:
FREE Water Application Fee

FREE Electric Application Fee

FREE Homeowners Association (HOA) Membership Fee

FREE Loan Processing

FREE Title Processing

Longer Downpayment Term

Lower Monthly Downpayment
In addition to this promo, Lumina Homes will also have a Labor Day Weekend Blowout on April 30, 2022 wherein guests and participants from Lumina Open House can get some great activities and services such as free haircut, live entertainment, and exciting sales promos!
Just make sure to mark your calendars and spend this weekend in our participating Lumina sites that include:
Lumina Pandi in Pinagkuartelan, Pandi, Bulacan

Lumina Tarlac in Maliwalo, Tarlac City, Tarlac

Lumina Batangas in Brgy. San Vicente, Sto. Tomas City, Batangas

Lumina Sariaya in Sampaloc Santo Cristo, Sariaya, Quezon

Lumina Bacolod in Vista Alegre, Bacolod City, Negros Occidental

Lumina Iloilo in Abilay Norte, Oton, Iloilo

Lumina Butuan in Taguibo, Butuan City, Agusan del Norte
On top of that, Lumina Homes will also be opening its doors for food vendors and local merchants on their Labor Day Weekend Blowout.
Calling all vendors and merchants in Lumina Homes and neighboring barangays!
This is your time to shine and introduce your businesses as Lumina Homes welcomes you to participate in our Labor Day Weekend Blowout by selling and featuring your local products and specialties in our event.
During the Lumina Homes' "Labor Day Weekend Blowout," a countrywide big openhouse event, we are opening our "eSpacio" amenity center to local vendors and businesses in the Lumina neighborhood and the nearby barangays on April 30!
eSpacio is the latest development and amenities inside the Lumina Homes communities that offer bigger spaces for its homeowners including but not limited to Multipurpose Hall, Mini Gardens, Play Area, Jogging Path, Community Center, Tambayan ni Juan (after the idea of a night market), Shuttle terminal, and more parking spaces!
Each Lumina Homes subdivision, which is known for their quality house and lot packages as well as rewarding amenities will have an eSpacio at its heart as a pledge to provide more life and excitement to its residents and future homeowners,. A safe, healthy, and satisfying life may be enjoyed by Lumina Homes' residents just a few steps away from own homes thanks to eSpacio.
Interested to join this fun and exciting activities this weekend with Lumina Homes? You may contact the following participating sites for more details:
Lumina Pandi (0967) 782 4567

Lumina Tarlac (0929) 334 4679

Lumina Batangas (0920) 911 1470

Lumina Bacolod (0951) 062 4350

Lumina Iloilo (0961) 132 0445

Lumina Butuan (0951) 550 4761
Don't forget to capture this great event and upload it on your social media accounts to show your support to our committed Filipino workers by using the hashtag, #LaborDayWeekendBlowout.
Lumina Homes is the affordable house and lot arm of Vista Land. If you have investment inquiries on your future Lumina house and lot in the Philippines, feel free to message us directly through this website.
Join the fun and excitement this weekend and give yourself and your beloved family the gift of a quality yet affordable house and lot for sale obtained through Lumina Homes!

Try our Home Loan Calculator
Loan Calculator
Try Lumina Homes' loan calculator and get an estimate computation for your preferred Lumina property and home model.