EDSA Carousel Bus Free Ride Starts a 24/7 Operation this December
5 December 2022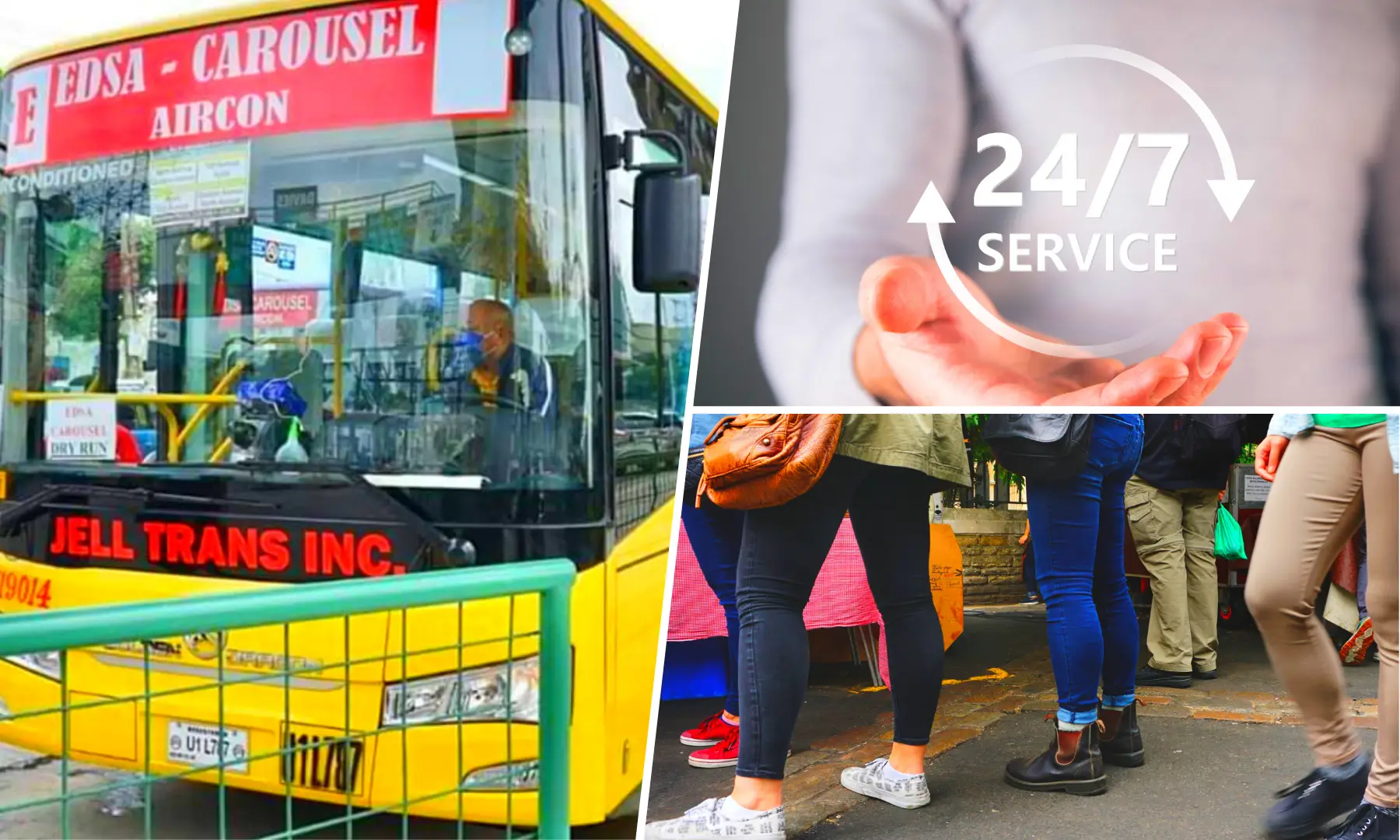 Have you been enjoying the perks of free rides in Metro Manila to go to neighboring cities like Taguig, Makati, and Quezon City? As the prices of commodities continue to surge, more and more schools and universities are switching to face-to-face classes. Hence, students and workers are utilizing the public transport programs from the government to save up.
Indeed, living in the metro can be tiring. The daily commute mixed with the crowded spaces and pollution can take its toll on you. If you're currently looking for an affordable house and lot in a premium community near the metro, Lumina Homes got you covered! With communities in over 50 key locations, you'll have plenty of options where you can kick-start your home investment.
Free EDSA Bus Carousel Rides 24/7 to Begin This December
As an early holiday treat for metro commuters, the Free EDSA Bus Carousel ride will begin its 24/7 operation on December 1 up until December 31, 2022. according to the Department of Transportation Secretary Jaime Bautista.
There will be 100 Public Utility Buses (PUBs) operating on the EDSA Busway between 11:01 PM and 3:59 AM, and 650 PUBs operating between 4:00 AM and 11:00 PM, with an estimated 3 (3) round trips from Monumento Station to Paranaque Integrated Terminal Exchange (PITX) or 6 (6) single trips. It complies with Board Resolutions No. 174 & No. 176 dated 2022.
In order to accommodate the expected influx of passengers during the upcoming holiday season and to provide more assistance to commuters, the Department of Transportation (DOTr), led by Transportation Secretary Jaime Bautista, as well as the Land Transportation Franchising and Regulatory Board known as LTFRB have launched this initiative. There are also many more of our compatriot commuters who have been continuously impacted by the increase in commodities and crude oil prices.
EDSA Bus Carousel security operations will also be intensified by the DoTr, through the Inter-Agency Council for Traffic (I-ACT). According to Mr. Mark Steven Pastor, the Undersecretary for Road Transport and Infrastructure of DoTr, passengers' safety is the main concern. With the forecasted increase in ridership this December, the I-ACT will make sure all commuters get on and off the EDSA Busway safely.
It was previously only possible to use the Free EDSA Bus Rides from 4:00 a.m. up until 11:00 p.m. Any time outside of these hours, the fare costs passengers P13 for the first five kilometers and P2.20 for each additional kilometer. Taking 18 bus stops between Caloocan City and the Paranaque Integrated Terminal Exchange (PITx), the route runs from the city to the Integrated Terminal Exchange.
At the height of the pandemic, the Duterte administration rolled out the EDSA Bus Carousel. In order to accommodate over 300,000 passengers daily, the government has arranged to pay bus concessionaires. While Secretary Bautista admitted that concessionaires were delayed by two weeks with their payments, he assured them that the delays will be addressed before the end of the year following the 2023 National Expenditure Program.
Other Free Rides Offered in Metro Manila
On a tight budget and planning to head out this weekend with your family or friends, this list of free rides will come in handy.
MRT-3
According to the Department of Transportation, commuters can still ride Metro Rail Transit Line 3 for free until the end of June. The free rides, which commuters can take advantage of from 4:40 in the morning to 10:00 in the evening were supposed to end. Despite this, the agency extended it to accommodate more passengers affected by rises in fuel prices and inflation.
MMDA Ferry Ride
Did you know that the MMDA provides free rides along the Pasig River? In case you're traveling to Makati, this offer from the MMDA might be a viable alternative. All you need is a valid ID in order to get your free ticket. There may be variations in ferry schedules from station to station, according to MMDA. You can get the latest updates by visiting their website.
"Libreng Sakay" Program for Students
In addition to the extension of the free EDSA Carousel bus ride, the Department of Transportation announced last July 1, 2022, that it will offer a free ride program for students from August 22 to November 4, 2022. As part of the program, titled Libreng Sakay for Students, students will be able to use MRT-3, LRT-2, as well as Philippine National Railways (PNR) to help them save up.
As a matter of concern for students whose learning outcomes have been affected by the pandemic, the undersigned recommends the implementation of Libreng Sakay for Students during the first quarter of the school year 2022-2023, which begins on 22 August 2022 and ends on 04 November 2022. This is all based on the memorandum signed by President Marcos, Libreng Sakay for students will be implemented on Metro Rail Transit Line-3, Light Rail Transit Line-2, and Philippine National Railway.
Choose Residential Project Near Transportation Hubs
Are you tired of commuting and being stuck in traffic for long periods of time? Maybe it's time for you to choose a laid-back life in the cities just outside the metro! If you are looking to purchase an affordable house and lot unit in Bulacan, Tanza, or around Rizal, Lumina Homes is the most suitable choice! In addition to offering security and convenience, our Lumina communities are strategically located in prime locations. Through affordable housing programs, you and your family can rest assured that our residential projects provide the highest quality living conditions. Furthermore, our subdivisions are located near major business establishments and commercial spaces.
So, if you are presently looking for a house and lot in the Philippines, we offer built-to-last units! With us, you get to pick your dream location in the Philippines and find a house and lot worth your investment. You do not need to second guess about reserving your unit in one of our Lumina communities. Get in touch with one of our accredited sellers today!

Try our Home Loan Calculator
Loan Calculator
Try Lumina Homes' loan calculator and get an estimate computation for your preferred Lumina property and home model.