Ways on How to Get a CENOMAR in the Philippines 2022
21 September 2022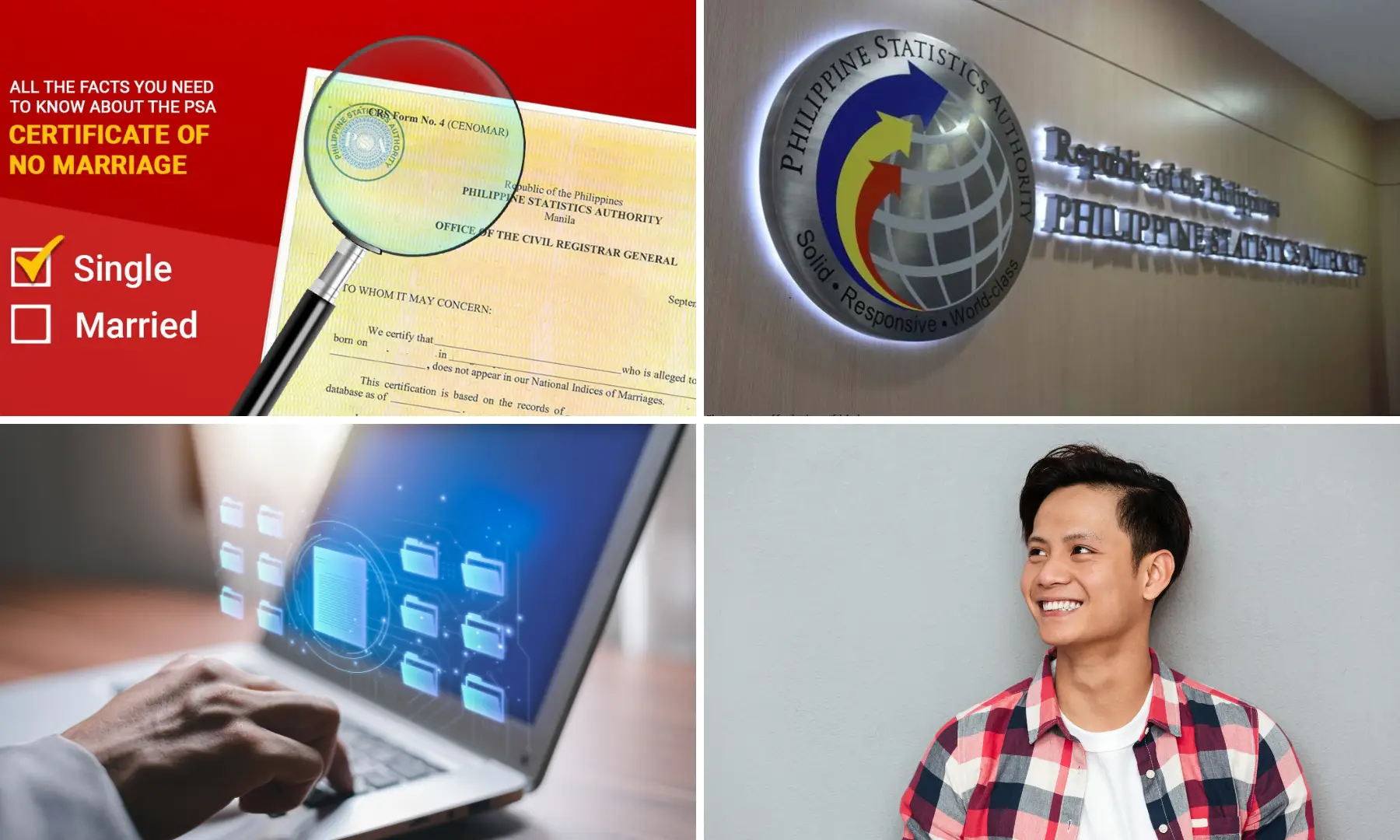 The Philippine Statistics Authority Office (PSA) has further improved its authentication services. They adopt new technology to speed up and streamline their processes.
Thus, you will have the fastest way to get authenticated PSA certificates. It includes birth certificates, death certificates, and CENOMAR. Apart from walk-in applications, you can now obtain CENOMAR online.
So, do you need a CENOMAR for specific purposes like buying a house and lot in the Philippines? Here are important facts you must know.
What is a CENOMAR?
A CENOMAR or Certificate of No Marriage is an official document that states an individual's marriage record. It's a basic requirement for Filipino citizens applying for a marriage license. But, it is also used for fiance visa applications, school enrollment, and local and overseas employment.
There are also two types of marriage record certificates bearing different uses.
Certificate of Singleness.
It is the standard type of CENOMAR document request, which is the main requirement for a marriage license application. An individual has not entered a contracted marriage and is free to remarry for annulled individuals.
Advisory on Marriage Certificate.
It is a type of CENOMAR document request needed for Filipinos who usually apply for loans, claims, and benefits.
CENOMAR Validity
Some requesting companies or agencies implement at least six (6) months upon the date of certification issued. But, like other PSA and civil registry documents (birth certificate, death certificate, etc.), CENOMAR technically has no expiration date.
Basic Requirements
Duly accomplished CENOMAR application form
One valid ID, such as SSS/GSIS, Driver's License, etc.
Supporting documents in the absence of the listed valid IDs
An authorization letter with the applicant's signature (if you are not the document owner)
How much is the CENOMAR payment fee?
P210.00 per copy, if through PSA Offices

P420.00 per copy plus another extra cost fees, if through PSA Helpline

P430.00 per copy plus additional service fees, if through PSA Serbilis Online

P235.00 per copy, if through SM Business Center
How long does it take to process CENOMAR?
The same day, if through PSA Offices
3-4 business days (within Metro Manila) and 3-8 business days (Provincial areas), if through PSA Helpline
4-6 working days (within Metro Manila), 6-8 working days (Provincial areas), and refer to PHLPost Delivery schedule (International delivery), if through PSA Serbilis online
Within 7 days, if through SM Business Centers
Getting Your Certificate of No Marriage Record
You can get CENOMAR copies through a walk-in application or PSA CENOMAR online via their official websites.
Walk-in Application
The most traditional way to request a Certificate of No Marriage document is through a walk-in application, especially if it's urgent. Plus, it has cheaper application fees.
1. Visit the nearest philippine statistics authority (PSA) Office.
You can also visit the nearest census serbilis centers. Note that they have a cut-off time for accepting CENOMAR applications. So, it is ideal to come early to obtain the CENOMAR on the same day.
2. Fill up and accomplish the CENOMAR application form.
Head to the Information Desk, and get your priority number and request form. Ensure you enter accurate details of the following:
Complete name of the applicant or the person who wants to get certified
Complete name of the father
Complete maiden name of the mother
Date of birth
Birthplace
The purpose of getting a CENOMAR
Number of copies needed
3. Submit your request form for evaluation.
Hand in your request form to the evaluating officer and the requested documents. If you're an authorized representative, present an authorization letter.
4. Pay the CENOMAR application fee.
Go to the assigned cashier and pay once approved by the evaluating officer. Then, get your receipt to check the stamped released date and time of your CENOMAR.
5. Wait for the release of your CENOMAR copy.
Head to the releasing area and wait for your name to be called by the releasing officer. It can usually take an hour or less to obtain the requested PSA document depending on the volume of requests on the said day of your paid requests.
Important note:
You can follow these steps if you prefer getting PSA CENOMAR document requests through SM Mall and Business Centers. But, releasing copies can take up to seven (7) working days.
You must present your official receipt, claim stub, and a valid ID upon claiming. You must also bring an authorization letter if you are a duly authorized representative.
Online Application
The most convenient way is to apply for a PSA CENOMAR request online. You can choose from PSA Helpline (delivery within the Philippines) or PSA Serbilis Online (for international delivery).
Besides yourself, only the following PSA certificates of your children and parents are allowed online. Moreover, you are not allowed to get someone else's CENOMAR online if you are below 18 years old.
1. Visit their official site.
If you live in the Philippines, go to PSA Helpline. If you live abroad or work overseas, opt for PSA Serbilis Online, and you will be redirected to a pop-up window for the following procedure.
2. Follow the instructions carefully.
Read the terms and conditions and the DATA Privacy Notice before proceeding to the next page to order or request CENOMAR online. For PSA Helpline, click the Order Now button. For PSA Serbilis, click the CENOMAR request button.
3. Fill up the CENOMAR online application form correctly.
Input all applicable details correctly as exactly what appears on your PSA birth certificate and other legal documents. You are also required to enter the delivery address and contact number. Ensure there is no mistake to avoid unsuccessful delivery.
Then, double-check and review the summary of your request, especially the delivery details, before you click the Submit or I confirm button.
4. Pay the corresponding CENOMAR fee.
Then, click the payment button. Pay the corresponding payment fee, including other costs, such as the delivery charges. PSA CENOMAR online application offers a selection of payment option channels, such as the following:
online payments (Gcash, Paymaya)
online banking payments for Unionbank account holders and BDO account holders
credit card (MasterCard, Visa Card)
remittance centers (Bayad center)
Once successfully paid, wait for the Acknowledgement receipt. Note that there is no cancellation policy nor refund policy.
5. Wait for the delivery of CENOMAR.
For local delivery, it can take 3-8 business days. International requests may depend on the Philippine Postal Corporation delivery schedule.
You may also opt for the Special Courier Services delivery option. But, the cost and delivery depend on your preferred courier's standard serviceable areas.
Important note:
Track your CENOMAR delivery by clicking the Check Request Status button through PSA Helpline or PSA Serbilis website. All you need is to enter the reference number.
Secure a CENOMAR for your Investment Needs
A Certificate of No Marriage serves as proof of identity. Whether buying an affordable house and lot for sale or getting loans, it is considered part of the eligibility requirements. Hence, it is not just a piece of paper but a ticket to start an investment.
So, are you thinking of owning an affordable house and lot today? Get a CENOMAR now and other documents needed for faster approval. Let Lumina Homes be part of your journey. We have available homes near these PSA offices - San Fernando City, San Pablo City, Cagayan de Oro City, Ozamis City, and more.
Contact our nearest accredited reseller today for further assistance.

Try our Home Loan Calculator
Loan Calculator
Try Lumina Homes' loan calculator and get an estimate computation for your preferred Lumina property and home model.