Top Travel Websites in the Philippines for Flight and Hotel Accommodations
9 March 2023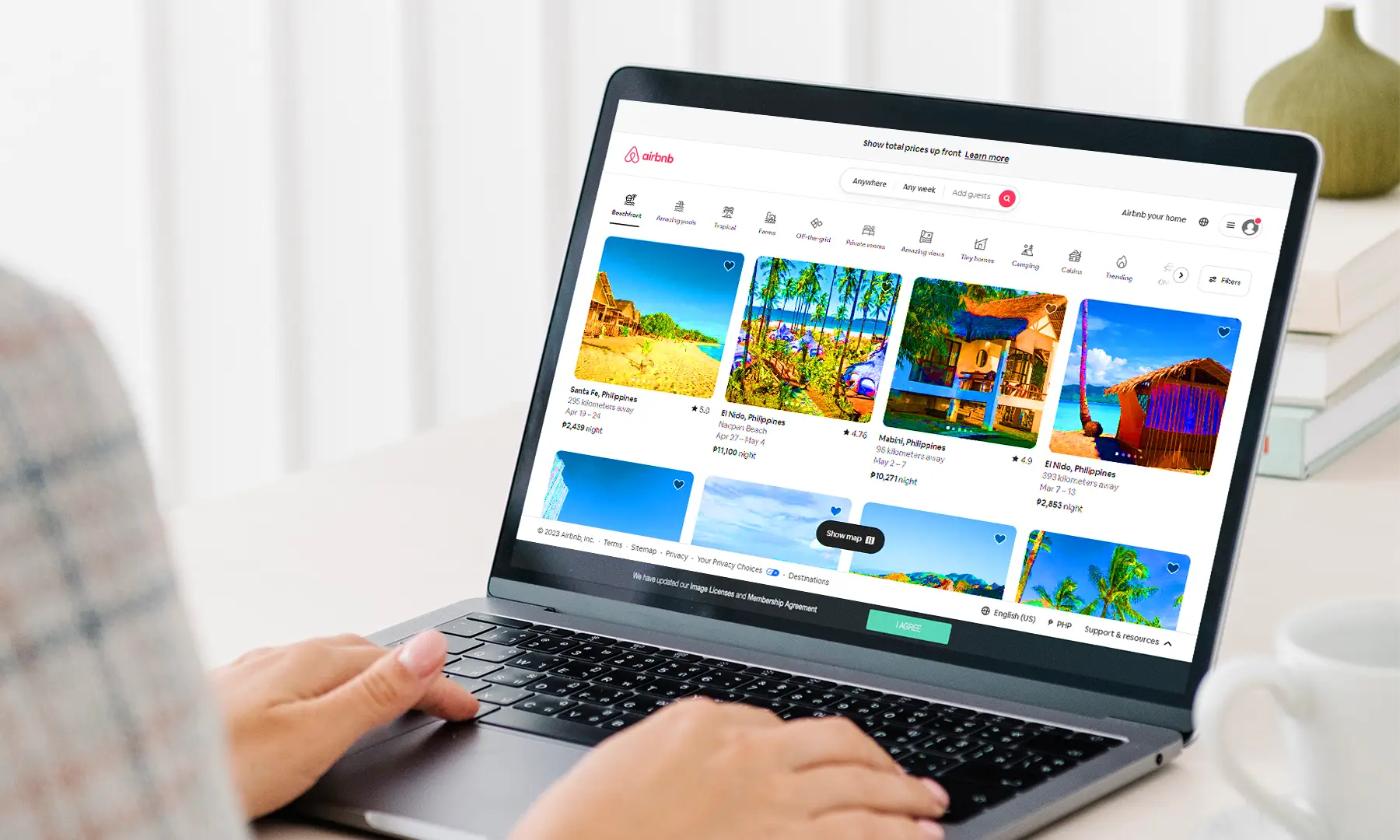 If you plan to travel soon, whether to a local or an overseas destination, preparation for the trip is of utmost importance. While you may be tempted to practice spontaneity and choose to become "adventurous" by holding a come-what-may personality, it's better safe than sorry.
This is where travel websites come into the equation to help travelers like you have a safe, hassle-free, and convenient journey. If you're not quite sure which travel websites are legit and trusted by fellow travelers, you've come to the right site to get reliable advice on which ones can accommodate you in your 2023 travel goals.
Lumina Homes, Vista Land's affordable house and lot for sale developer for over 10 years, provide useful online guides on homeownership, real estate, investment, and travel in the Philippines.
6 Top Travel Websites in the Philippines 2023
Bookmark any of these travel websites to help you prepare and plan your trip to your dream destination this 2023!
Airbnb
Airbnb is one of the most trusted travel websites in the country. What makes it distinct from others is that many of the available properties are owned by private individuals and homeowners. This allows you to directly communicate with the host and air your concerns before booking your destination. But if you prefer a hotel to stay at, Airbnb has this option for you as well.
Airbnb offers a variety of properties for vacationers, from houses located on the beachfront to treehouses and other unique dwelling types for your well-deserved vacation travel.
Booking.com
When looking for a travel website to get the best hotel deals, Booking.com is the website to depend on. They allow booking for both hotel accommodations and flights. If you only plan to use the website just for the flight without the hotel accommodation, they allow this setup as well.
For a place to stay, Booking.com can give you a wide variety of options, from hostels, resorts, apartments, camping grounds, and guest houses, to name a few. Need a car rental or an airport taxi upon arrival at your destination? You can book a driver affiliated with the company. Booking.com will be able to track your flight progress, and would even wait for you in the event of a delayed flight. They will also be transparent with the costs, so no worries about any extra charges.
Traveloka
Traveloka is a leading travel website for Southeast Asian countries including the Philippines. The company assists vacationers to book flights and hotel services for their scheduled trips. With Traveloka, they can book a flight and a hotel to stay in or avail of their car rental and airport transfer services. If you download the Traveloka app on your phone, you can get a discount of up to ₱300 on your first travel using the website.
TripAdvisor
If you need an expert travel website and look for reviews from experienced travelers, then TripAdvisor is the perfect website to use. They have customer reviews for restaurants, hotels, tourist attractions, and more. Reviews from the website would help to set proper expectations. If your travel destination gets a high review, then that should double your excitement!
Aside from these, TripAdvisor is also tremendously helpful when it comes to comparing prices and accommodations from the top travel websites listed here. They will help you determine which site has the better deal, which will allow you to save more money.
Agoda
Whether you have short or long travel plans, Agoda is the website and hotel-booking platform to be. It is a leading travel website in the country for its flight and hotel bundles that appeal to wanderlust travelers. Their Best Price Guarantee promo, for example, is an excellent tactic for vacationers looking for the best deals. If you found cheaper rates on a different platform, Agoda will either credit the difference or match the price, making you stay on the platform to book your flight and hotel accommodations.
In case you decide to postpone your travel plans due to unforeseen circumstances, Agoda offers a free cancellation. This is provided that the cancellation request is submitted before your due date. Agoda will then refund 100 percent of the costs.
Skyscanner
Skyscanner is one of the top flight-booking platforms in the Philippines. Just like TripAdvisor, it has a comparison feature that lets you compare booking prices from different providers without having to individually go to each website just to make pricing comparisons.
Aside from hotel accommodations, its comparison feature is also available for car rentals, where it lists the prices from different car rental providers to help you save up and choose the best vehicle renter for your vacation.
Quick Reminders Before Booking your Flight
According to the World Health Organization, COVID-19 remains a "public health emergency of international concern." Therefore, while we are in a much safer situation than we used to from the first two years of the pandemic, practicing caution is still highly encouraged. This especially holds true for international travel.
To be exempted from having to be antigen-tested, the Philippines' Department of Health states that your proof of vaccination status must indicate that you're fully vaccinated. Otherwise, you are required to present a negative test result within the last 24 hours. Travelers who tested positive may be required to quarantine. Local authorities encourage the use of face masks, though it's now optional. It's mandatory only when inside healthcare facilities and medical transport. Public transportation by land, air, and sea may also require the use of face masks for precaution.
Here are other considerations and/or preparations you need to take prior to your travel and even arriving at your destination:
Make sure you have your passport and travel documents with you. This is a no-brainer, but sometimes you may forget them out of sheer excitement.

When traveling to major cities or a destination you are completely unfamiliar with, you must take note of local laws from the local government unit or the local media.

Before traveling abroad, get local advice from residents of your destination online. Read through blogs about the place, people, culture, and laws imposed by their foreign government. This will help you acclimatize.

Get travel insurance to give you financial protection before and during your travel, as well as cover overseas medical costs if the unforeseen happens.

When engaging in "adventurous" activities, make sure to wear the proper safety equipment, such as a life jacket for your sea adventure, and other safety gear necessary for protection.
If you have a local destination, many Lumina Homes communities nationwide are nearby famous destinations. Take for example the Mayon Volcano in Albay. Lumina Homes have built a presence in Legazpi City to cater to the housing and lifestyle needs of Bicolanos through our affordable house and lot provisions.
There are also beach resorts in Batangas where Lumina Homes communities are also present. We also developed housing communities in Iloilo, Pangasinan, La Union, and many others where beaches and other attractions are nearby.
This means residents from these areas don't need to travel far just to experience a family vacation in the country's top tourist destinations. Get your house and lot in the Philippines this 2023 and enjoy proximity to tourist spots, marketplaces, malls, and many more!

Try our Home Loan Calculator
Loan Calculator
Try Lumina Homes' loan calculator and get an estimate computation for your preferred Lumina property and home model.