Steps for DTI Online Business Name Registration
21 August 2022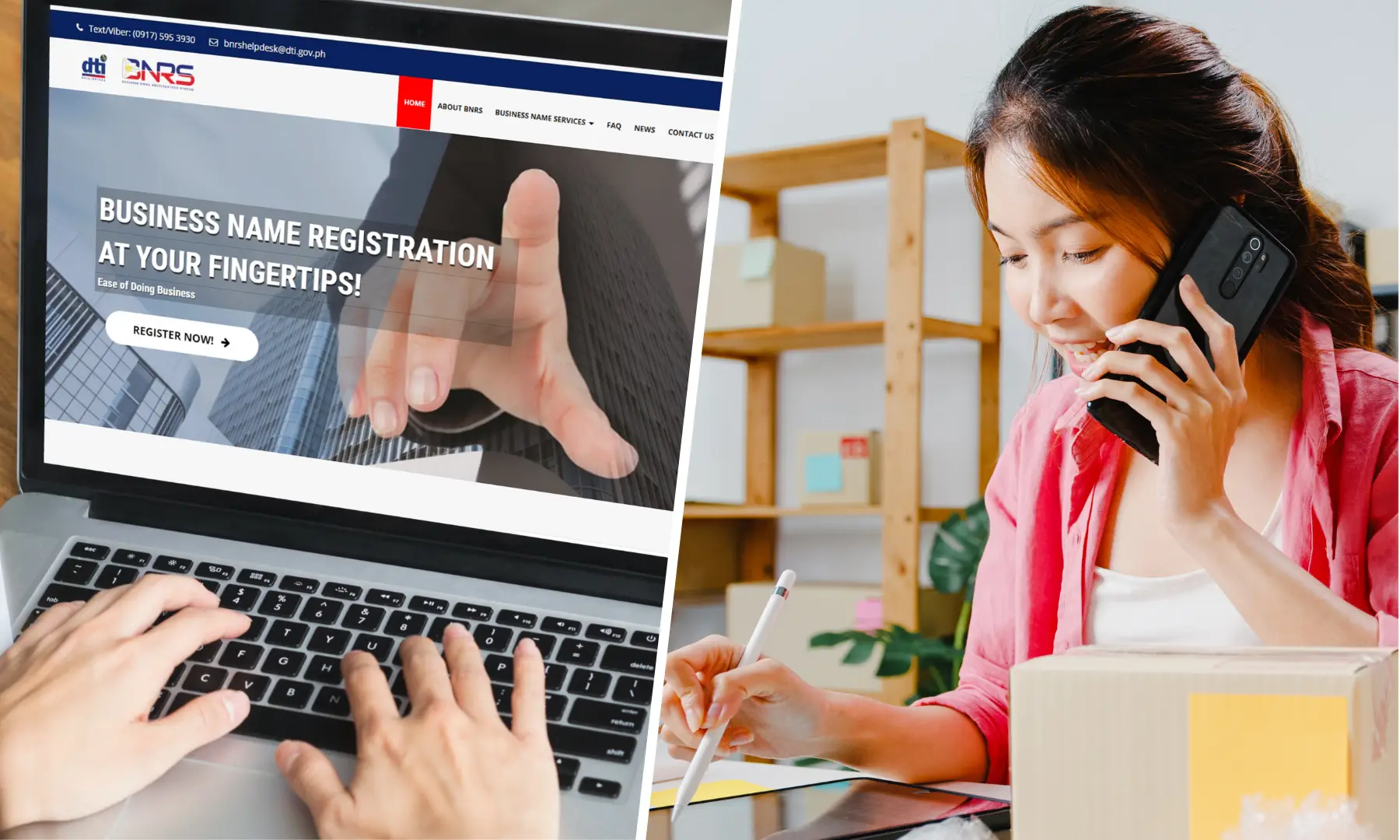 Numerous people were adversely affected by the recent COVID-19 pandemic. The nationwide lockdown and restrictions affected each and everyone's work, education, and way of life in general.
Due to this, others have decided to take their chances and establish online businesses to adapt with the current economic and health crises that we experienced. This includes freelancing, blogging, and the increasingly popular option of online sellers.
Many find this as a great opportunity since it is easy to start up and doesn't need a lot of cash and a major perk is that you may work from the comfort of your own home! Because of this practicality, these developments in our business sector are seen by experts to continue even after the pandemic.
How to register in DTI for business
If you are just new in the online business industry and already doing business transactions, chances are you might be wondering how you can register your business name with the Department of Trade and Industry DTI. In this section, we are going to discuss the step-by-step guide on how to register in dti for business:
Who are eligible to apply for a business registration?
It's possible to apply for DTI company name registration if you match the following requirements:
At least 18 years of age. For foreign nationals under the age of 18, you must provide documentation proving you are from a country where the legal age is less than 18.
Filipino citizen
Foreign national needs a Certificate of Registration of Sole Proprietorship/Authority to Engage in Business in the Philippines issued by the Philippine government to get a DTI permit online and register business
Refugee or stateless person
A representative may submit your DTI business registration application on your behalf by sending your authorization letter as a business name applicant, his or her valid ID, and any other relevant papers.
DTI Business Registration Requirements
For requirements on getting a DTI certificate for your business online, you can check them all below:
In order to apply for a business name and get a DTI permit, you must have two copies of the Business Name Registration Form filled out and on hand, along with one of the following acceptable forms of valid government-issued ID:
- Passport
- Government office ID
- IBP ID
- NBI Clearance
- OWWA ID
- Police Clearance (in ID form)
- Postal ID
- PRC ID
- PWD ID
- Seaman's Book
- Senior citizen ID
- UMID
- Validated state college/university ID
- Voter's ID
In addition, other related documents may be required depending on the application:
For foreign nationals
In order to do business in the Philippines, a foreigner must get an Alien Certificate of Registration and Certificate of Registration for Sole Proprietorship or a Certificate of Authority to Engage in Business in the Philippines from the Department of Trade and Industry.
For refugees/stateless persons
An official certificate of recognition from the DOJ-RSPPU must be included in the required documents.
Business Name Registration Fee
The cost of business registration may vary depending on the online business territorial scope:
Within a barangay: Php 200
Within a city/municipality: Php 500
For regional business scope: Php 1, 000
For national business scope: Php 2, 000
Documentary Stamp Tax of Php 30 must also be paid at the time of DTI registration.
Business Name Registration System Online Process
The Business Name Registration System (BNRS) should be used to submit all DTI business name registration applications. Through this online system, the Certificate of Business Name Registration may be obtained without visiting the DTI office.
In order to register business names online with the BNRS, these are the step by step guide that you need to follow:
Step 1. Visit the BNRS site's New Registration page.
Go through the terms and conditions on the DTI website before registering for the BNRs program. Click the "I Agree" button at the bottom of the page after you've finished reading.
Step 2. Fill Out the online registration form and register your business name
Fields indicated with a red asterisk cannot be left blank. Also, in order to complete the online form, you'll need to enter your tax identification number (TIN).
Step 3. Pay your DTI business registration fee
The applicable fees for your business name registration fee have a validity period of seven calendar days after the date of the online application using the transaction reference number.
DTI registration fees may now be paid online or through payment channel. You don't have to leave the comfort of your own home to complete your registration payment! What you need to do is the following:
a. Go to the "Business Name Services" section of the DTI website and choose "Transaction Inquiry" from the drop-down menu.
b. Click the "I Agree" button to confirm your acceptance of the terms and conditions.
c. Put in the new Reference Code.
d. For a quick lookup of similar businesses, click on the Search button. The name of your company will display in blue hyperlink when you click on it.
e. When you're done, you'll be taken to the transaction summary page In order to alter or finalize your payment transaction, click "Resume" at the bottom of the page.
f. After that, you'll be sent to the "Payment Details" page, where you may choose from a variety of payment method including PayMaya, GCash, and Smart Padala.
Step 4. Check the registration certificate on your registered email account.
The Certificate of Business Name Registration and official receipt will be sent to you via email after the payment has been processed successfully.
Step 5. Register your online business name with DTI
Once your payment has been verified, click "Register New Business" to finish the DTI online registration process for your business name.
The first thing a committed entrepreneur should do is learn how to apply for a DTI business permit. In order to stand out from the crowd, it's important that you have a registered business name with DTI. With this, you're ready to face the challenges and competition of having an online business.
In cases that you don't want to give up your regular job, having a business at home can also help you to earn some extra income aside from your day job. This extra money that you earn from your side hustle can then be helpful to start an investment for your future.
One of the great future investments to consider is a real estate property. Having a space that you can call your own is one of the biggest milestones a person can achieve in his life aside from being a safe and stable investment.
Witness how your property value grows as time passes and reap the benefits of the appreciated value of your house and lot.
With Lumina Homes, your house and lot package will surely increase its value since each of our 50 communities nationwide is located in key cities and municipalities. We are also close to commercial centers and transportation hubs that give you accessibility and convenience in your daily grind.
To know about the various home model units that we offer in each site, you can check it out here in our website or you can also visit our official Facebook, Instagram, and TikTok accounts for the latest promo and discounts!

Try our Home Loan Calculator
Loan Calculator
Try Lumina Homes' loan calculator and get an estimate computation for your preferred Lumina property and home model.