Safety Guide: Flood Hazard Maps A Key Instrument for Property Buying
31 July 2023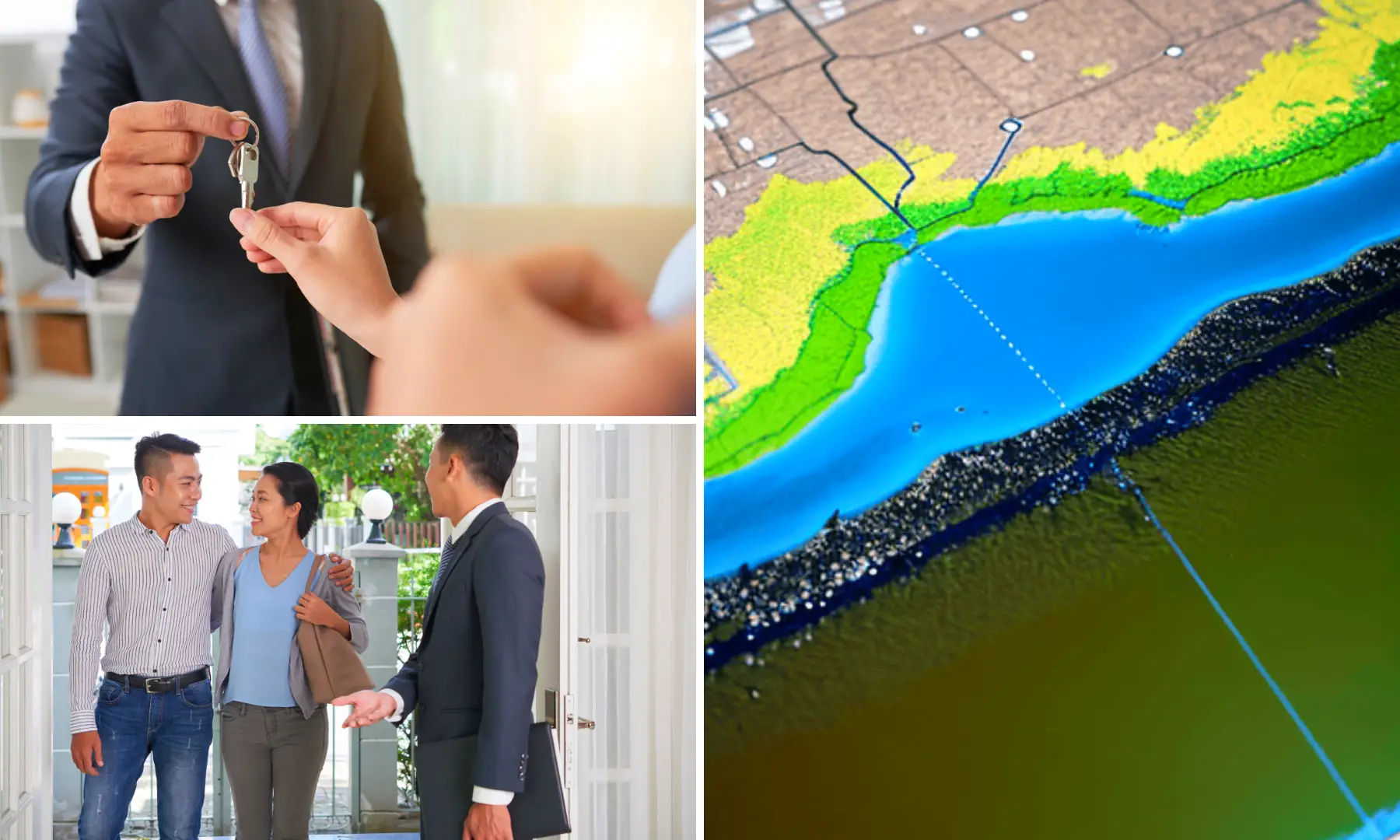 Flooding remains the country's number one disaster, posing a significant threat to everyone and every property in its path. As natural calamities continue to challenge communities, understanding flood risks have become paramount for homeowners, renters, and business owners alike. To address this critical concern, we present a comprehensive guide aimed at empowering individuals with the knowledge and resources to safeguard their properties and loved ones. This guide, represented by the acronym R.I.S.K., focuses on four essential aspects: Reduce Your Risk, Insure Your Risk, Share Information on Risk, and Know Your Risk and Your Community's Risk. By embracing these principles, individuals can proactively combat the hazards associated with flooding. Throughout this article, we will explore flood maps, flood zones, flood risk, and flood insurance, arming you with the necessary information to take proactive measures and mitigate potential damage to your house and property. So, join us as we dive into the depths of flood hazard maps—a key instrument for making informed property buying decisions for your official residence.
Get Familiar with the Flood Risk in Your Community
1. Living Near Levees: Understanding the Risks and Preparing for Floods
Understanding the risks associated with when a person resides or works near levees is crucial for individuals residing in flood-prone areas. While levees may offer some protection during specific flood events, they are not fail-proof, and their effectiveness depends on regular maintenance. Over time, levees can deteriorate, increasing the potential for catastrophic failure or overtopping, leading to severe flood damage. Surprisingly, in some instances, the flood damage can surpass what would have occurred if the levee had never been built. To safeguard your property and finances, it is essential to be well-informed about the risks linked with levees and take proactive measures to prepare for potential floods. By learning about your community's flood risk and understanding the precautions you can take, you can better protect yourself and your property during challenging times.
2. Discover Your Flood Zone through Flood Risk Maps
Enhance your comprehension of flood zones and make well-informed choices to mitigate risks by exploring flood hazard maps. The Department of Science and Technology (DOST) as well as Philippine Atmospheric, Geophysical and Astronomical Services Administration or called PAGASA offer valuable free resources, including flood maps, to help you gain insights into your community's flood risk. Simply enter the barangay or town/city you wish to inquire about, and unveil the flood zone it belongs to. With this essential knowledge at your disposal, you can take proactive measures to safeguard yourself, your property, and your official house. Incorporating flood risk information into land use planning can lead to more resilient and safer communities.
3. Real-Time Flood Information from Integrated Flood Risk Management System
On September 10, 2022, Mapakalamidad.ph, an innovative web-based platform, was officially launched to provide Filipinos with crowdsourced and up-to-date flood information during calamities, especially during heavy rainfall events. The platform's primary goal is to identify and assist citizens in times of disaster by locating and mapping flooded areas in real time.
Through Mapakalamidad.ph, Filipinos now have access to real-time information on flooding situations, allowing them to visualize severely affected communities, municipalities, and even specific barangays on an interactive map. The platform relies on crowdsourcing, collecting information from various social media platforms. Flooded areas are marked on the map based on confirmed reports, enabling citizens and disaster and emergency response, units to identify places requiring immediate assistance. Additionally, motorists can assess flood depths and seek alternate routes if necessary, making it a valuable tool for navigation during floods.
One of the standout features of the platform is its color-coded flood warning system, which helps users quickly gauge the extent of real-time flood depth in areas impacted by typhoons or monsoon rains. The color scheme for flood mapping now includes:
Red: Flood depth greater than 150 cm
Orange: Flood depth ranging from 71 to 150 cm
Yellow: Flood depth ranging from 10 to 70 cm
Purple: Caution required for both residents and passersby.
With its reliance on social media platforms and the active involvement of the Filipino community, Mapakalamidad.ph has emerged as a vital tool in providing the country with real-time flood information and empowering citizens to act and respond effectively during calamities.
Gain Insights into Your Property's Individual Flood Risk
Over the years, Federal Emergency Management Agency (FEMA) has made significant investments in gathering high-quality data to assess flood risk and determine flood insurance rates. This comprehensive flood insurance premium methodology, observed not only in the United States but also in other countries, like the Philippines, utilizes this valuable data to gain a deeper understanding of the unique flood risk associated with each individual property, enabling the establishment of appropriate flood insurance premiums.
When evaluating the risk, the flood insurance premium methodology takes into account various flood risk management variables, including:
1. Distance from the flooding source: The proximity of a person or property to potential flooding areas is a crucial factor in assessing its flood risk.
2. Flood frequencies beyond the 1% annual chance flood event: The methodology considers the likelihood of floods occurring beyond the typical 1% annual chance flood event.
3. Various flood sources: The risk assessment includes different flood sources, such as river overflow, storm surge, coastal erosion, heavy rainfall, and specific property characteristics (e.g., distance to water sources, elevation, and cost to rebuild).
By incorporating these diverse factors into the flood insurance premium calculation, property owners, including those in countries beyond the Philippines, can obtain a comprehensive understanding of their property's unique flood risk. This information is essential for setting appropriate flood insurance premiums, ensuring that property owners are adequately protected in the event of a flood.
Taking Action to Minimize Flood Risk in Your Home
Taking proactive steps to reduce flood risk is paramount in safeguarding your family and real estate investment assets from potential flooding. Here are several activities you can undertake to fortify your home against the impact of floods:
1. Integrate Hazard Mitigation into Local Planning: Work with local authorities and community planners to incorporate hazard mitigation strategies into your area's development plans. By considering flood risk factors during important step of the planning process, you can build more resilient communities.
2. Collaborate with Local Partners in Your Community: Engage with local partners, such as community organizations and disaster response teams, to foster a collaborative approach to flood risk reduction. Pooling resources and expertise among key stakeholders can lead to more effective flood preparedness and response measures.
3. Protect Your Home from Natural Disasters: Implement protective measures specifically tailored to your home's vulnerability. Examples of structural measures include installing flood barriers, elevating electrical systems, and securing important documents in water-resistant containers.
4. Explore Mitigation Activity Ideas: Seek inspiration and practical suggestions for mitigation activities that suit your property and budget. Online resources offer a wealth of ideas, ranging from simple improvements to more extensive renovations.
By actively engaging in these risk reduction initiatives, you can bolster your home's resilience and readiness to withstand potential flooding. Your proactive efforts will play a crucial role in minimizing the impact of floods and ensuring the safety and well-being of your family.
Make Informed Choices: Reducing Flood Risk by Considering Location and Precautions
One of the most effective ways to mitigate flood risk is to consider the location of your property. Opting to buy or build your residence outside of high-risk flood zones can significantly reduce your exposure to potential flooding incidents. Alternatively, if your property is situated within a flood-prone area, it's essential to take precautionary measures to protect your official residence from future floods.
Here are some steps to take to reduce your flood risk:
1. Be Prepared: Stay informed about flood risks in your area by monitoring weather forecasts and staying updated with local flood advisories. Have an emergency plan in place to ensure the safety of your family and belongings in case of flooding.
2. Buy Flood Insurance: Even if your property is not in a high-risk zone, considering flood insurance is a wise decision. It can offer financial protection and peace of mind in the event of unexpected floods.
3. Learn About Historical Risks: Research historical flood data for your region to understand the likelihood and severity of past flood events. This information can help you make informed decisions about flood risk reduction measures.
4. Consider Coastal Risks: If you live in a coastal area, be aware of the additional risks posed by storm surges and high tides. Implement coastal-specific mitigation strategies to protect your property from coastal flooding.
5. Contact Your Floodplain Administrator: Reach out to your local floodplain administrator or building department for guidance on flood risk assessments, building regulations, and recommended mitigation measures.
By considering these factors and employing proactive steps, you can dramatically reduce the impact of flooding on your property and create a safer living environment for you and your family in the Philippines. Remember that a combination of location awareness and precautionary measures is key to reducing flood risk effectively.
When it comes to making a wise investment in a house and lot Philippines, it's essential to prioritize both affordability and flood risk considerations. Lumina Homes, with its commitment to providing affordable house and lot options, presents an excellent opportunity for prospective homeowners to achieve their dreams of owning a safe and secure official residence. By choosing a location outside of high-risk flood zones and taking necessary precautions to protect against potential flooding, you can enjoy the benefits of a beautiful home without compromising on safety. With Lumina Homes, you not only gain access to affordable house and lot for sale options but also take a significant step towards ensuring a brighter, worry-free future for you and your loved ones.

Try our Home Loan Calculator
Loan Calculator
Try Lumina Homes' loan calculator and get an estimate computation for your preferred Lumina property and home model.