PAGASA's Naming System for Typhoons: List of Typhoon Names in the Philippines for 2022
3 August 2022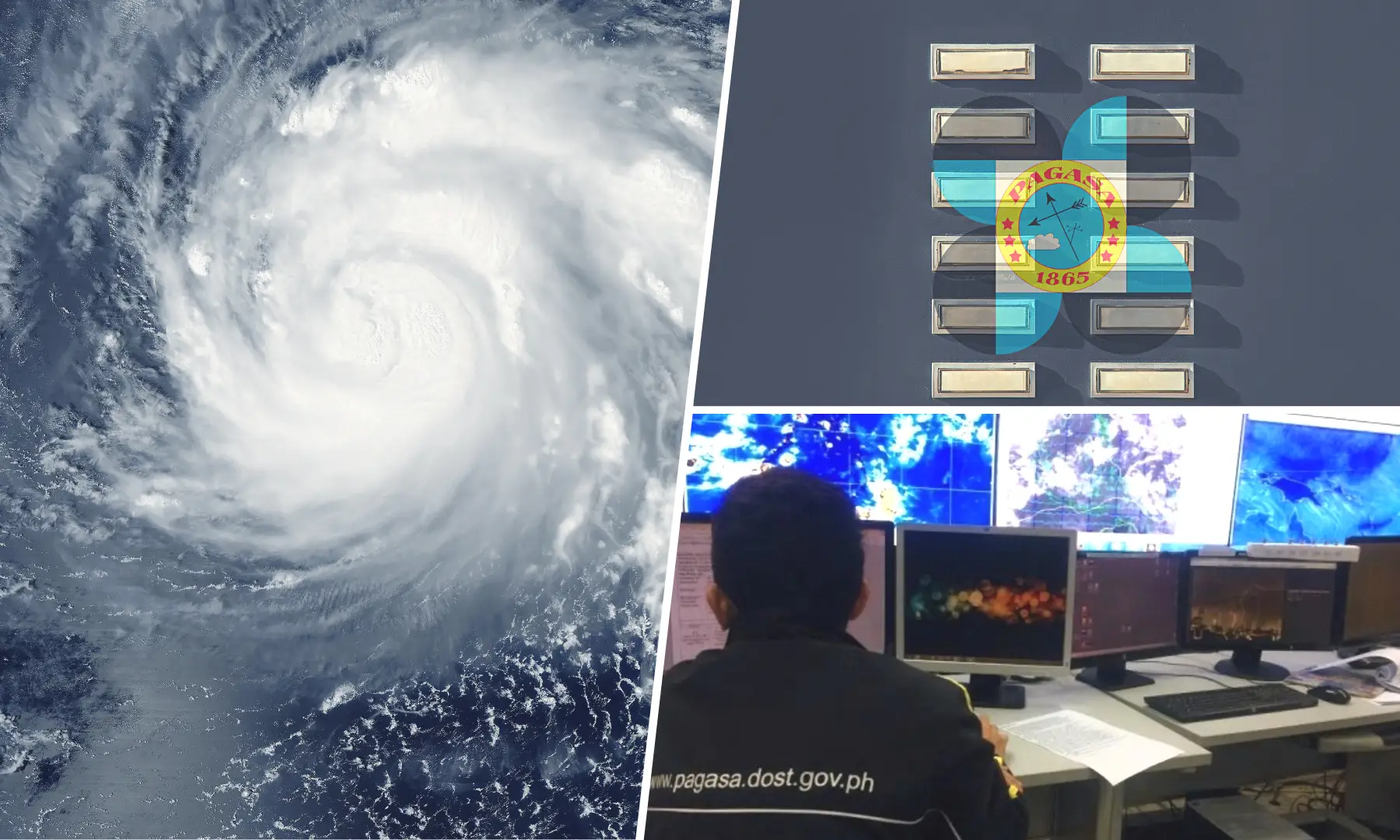 Typhoon season and severe tropical storm brings Filipinos to their television sets and social media feeds in search of information, mostly on suspension classes, but it's not just that. Whenever a storm hits the nation, you keep an eye on the news for weather and flooding updates in your region out of concern for your own safety.
There are an average of 20 tropical cyclones that potentially develop or enter the Philippine Area of Responsibility (PAR) per year. Due to this, PAGASA uses an alphabetical list of Philippine Tropical Cyclone Names to provide a local designation to tropical storms that form in the Western Pacific.
The RSMC or Regional Specialized Meteorological Center of Japan Meteorological Agency, on the other hand, is responsible for deciding on an international name for the tropical cyclone based on input from many nations, including the Philippines.
However, have you ever wondered how the Philippines' typhoons get their names?
Philippines' Typhoon Names 2022
PAGASA or the Philippine Atmospheric, Geophysical, and Astronomical Services Administration is responsible for coming up with typhoon names in the country.
This year, they decided to choose from a list of names that were last used in 2018 and will be used once more in the years 2026, 2030, and 2034. All the names of the typhoons will be the same in the said years except for Obet, Rosal, and Umberto which were replaced by Ompong, Rosita, and Usman since they are already considered "retired" typhoon names.
Here are the names for tropical cyclones in the Philippines for 2022:
- Agaton
- Basyang
- Caloy
- Domeng
- Ester
- Florita
- Gardo
- Henry
- Inday
- Josie
- Karding
- Luis
- Maymay
- Neneng
- Obet
- Paeng
- Queenie
- Rosal
- Samuel
- Tomas
- Umberto
- Venus
- Waldo
- Yayang
- Zeny
Currently, the last Typhoon Name that entered PAR is the tropical cyclone Ester which is now heading west of Okinawa Island in Japan. 'Agaton,' a tropical cyclone that evolved as a tropical storm and then a tropical depression on April 9 was the first tropical cyclone to hit the Philippines this year.
Auxiliary Typhon Names 2022
A "reserved" list of names for the Philippine zone will be used if the original list of names is exhausted or surpasses 25 in a year. The first 10 names are released each season. Below are the auxiliary names that PAGASA will use for 2022:
- Agila
- Bagwis
- Chito
- Diego
- Elena
- Felino
- Gunding
- Harriet
- Indang
- Jessa
The state weather bureau PAGASA predicts that there are 11 to 12 tropical cyclones (TCs) that will enter the Philippines in 2022. They estimate that the height of the country's typhoon season occurs between July and October when roughly 70% of all typhoons form.
PH Retired Typhoon Names
PAGASA removes typhoon names from its list of Philippine names if the storm has killed at least 300 people or caused at least Php 1 billion worth of damage to agriculture and public infrastructure. According to PAGASA, this technique assists survivors whose families and homes were destroyed by typhoons to overcome their trauma.
In the Philippines, the names of some of the most devastating and deadly typhoons have been considered as retired. Here are their names:
Super typhoon Yolanda in 2013
Pablo in 2012
Sendong in 2011
Tropical Cyclone Ondoy in 2009
Frank in 2008
Milenyo in 2006
Tropical Cyclone Reming in 2006
PAGASA confirmed the removal of four typhoon names from its official list in January 2021. Aghon, Querubin, Romina, and Upang have taken the place of Ambo, Quinta, Rolly, and Ulysses which are significant tropical cyclones that entered the PAR in 2020.
PH System of Naming Typhoons
PAGASA's list of tropical cyclone names now includes a few of the 140 chosen names from the original list. There were four separate lists of 25 typhoon names, each beginning with A to Z, and an extra ten auxiliary names that each start with A to J.
In addition to gender-neutral names such as Kabayan, Quinta, and Zigzag, PAGASA's list includes a wide range of male and female names. It is estimated that the Philippines experiences 20 typhoons every year on average. So a year's worth of typhoon names may be stored in one batch of 25 names.
Recycling of Typhoon Names
In a four-year cycle, PAGASA employs a new set of typhoon-related names. For example, the names for 2022 will also be used in 2026, 2030, and 2034.
Typhoon names in the Philippines are assigned alphabetically by the state meteorological agency in order to track the number of typhoons that reach PAR each year. In every given year, the first typhoon to arrive begins with A, the second typhoon begins with B, and so on. When PAGASA uses all 25 typhoon names in the year and another storm enters the nation, the auxiliary set of names will then be used.
Why PH Typhoons have local names
The World Meteorological Organization gives tropical cyclones an international name even before they enter the Philippine Area of Responsibility. So you might be wondering, why does PAGASA still have to give the cyclone a local name before entering the Philippines?
Typhoons are given recognizable and unique Filipino names in order to aid in public remember, particularly in the provinces, where many people live. To make them easier to recall for Filipinos, the typhoon committee of PAGASA recommends giving international storms local typhoon names in order to comply with international conventions.
The use of localized typhoon names also helps to clear up any ambiguity in the Philippine region. By giving a typhoon an easy-to-remember name, the general people is made more aware of the storm's destructive potential. As a result, it shows that a storm inside PAR poses threat to the country. As a result, knowing the names of the local typhoons aids in disaster risk awareness and typhoon preparation.
A home that gives security to your family this typhoon season
It's quite fascinating to know, especially to inquiring minds, how PAGASA came up with the typhoon names in the Philippines. It's true that giving both distinctive and characteristically Filipino names to typhoons makes them simpler to recall.
On the contrary, typhoon season also brings worries to most Filipinos as our roads and local streets are prone to flooding. That is why when investing for a brand new home for your family, it is essential to choose a community that is flood-free and can provide safety to the whole family-- whether it is typhoon season or not.
Achieving this kind of property investment is now easier to find since Lumina Homes communities all over the country are built in locations that are flood-free, apart from being near to essential facilities.
All of our home model units are designed in Cast-In-Place and via the Industrialized Building System or IBS, providing each of our residents and prospective buyers the assurance that their house and lot will endure the test of time and any natural calamity.
This typhoon season, give you and your family the gift of safety and worry-free living with Lumina Homes. Hurry and make your home reservations now!

Try our Home Loan Calculator
Loan Calculator
Try Lumina Homes' loan calculator and get an estimate computation for your preferred Lumina property and home model.