Real Estate Investment in Tagum City Guide: Here's What It's Like to be Living in a City in Perfect Harmony
15 September 2021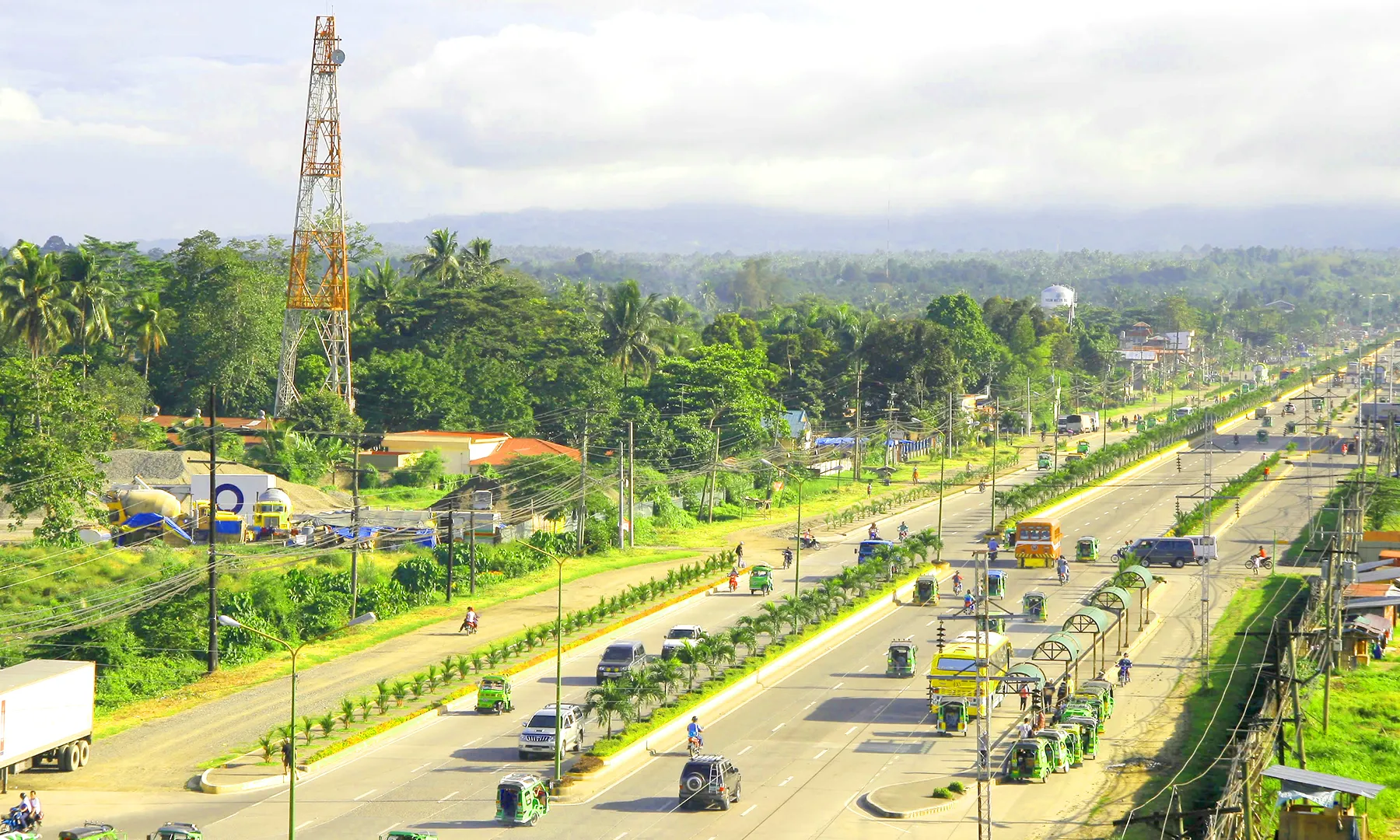 Tagum City is the capital of Davao Del Norte teeming with rich history and culture and boundless growth opportunities and other business needs making it the city of many names: Home of Festivals, Music Capital of the South, and the City in Perfect Harmony among others.
From its strategic location and appetizing cuisine to its 16 festivals, Tagum City makes an ideal place both for investments and residence as a home for starting families and a retirement abode. Read on to know what Tagum City has to offer and why you should consider it for your real estate investment and other business needs.
What You'll Love About Living in Tagum City
1. Beautiful attractions everywhere
Before it became the progressive city we know of today, Tagum City before its growth used to be a rustic quiet town. One of the things that made the city progressive is its tourism appeal to travelers. Invest smart! Tagum City is brimming with attractive tourist destinations for relaxation , commercial spaces, quality agricultural products, and adventure. Because of this, it has a noticeable growth and has been dubbed as the next tourist capital in the South.
Here are some of the most beautiful tourist spots in Tagum City you'd definitely enjoy when you reside and invest in Tagum City:
Banana Beach
If you feel like you need a rest, get your beach essentials and travel to Banana Beach for your much-needed getaway. Banana Beach is a mix of a 1,878-acre banana plantation and a 148-acre coconut plantation serving as a recreational center and one of the top resorts business in Tagum City.
Try the various water activities in Banana Beach such as the banana boat, jet ski, kayaking, skim boarding and paddle boarding. If you get tired from the fun water adventure, you can also go on any of their five tours: forest, river, twilight safari, orchard and plantation. And if you want to take a break from all the activities, take a beach mat and lounge at the shore while enjoying the sun, agricultural products, fresh air, and the amazing view of the sea.
San Agustin Botanical Park
Fancy walking around? Looking for a sign to do a soul searching? Then San Agustin Botanical Park may just be right for you. The park allows you to explore the area where you can see so many types of plants, flowers, and trees. Some of the plant species you will find there are from the different countries across the world like Australia, Thailand, Pakistan, India, South Africa, and the Philippines among others.
Alina & Okbot Cave
If you're someone who is always up for a challenge, this is the sign! Go spelunking at Alina and Okbot Cave and discover how beautiful this wonder of nature is. The journey going there is challenging but its beauty (and cool waters around) make the trip worthy. However, a trip to Alina and Okbot Cave is not attractive for the fainthearted and unhealthy as the journey involves a lot of intense walks and crawls that require physical strength.
Tagum City Night Market
This night market in Tagum City will have you shopping till you drop because of the amazing products that you can score for great deals and affordable cost! And if you're good at bargaining, this place is definitely your haven. Aside from shopping though, you can also enjoy a food trip especially agricultural products of the locals, and try delicious yet affordable food for quick bites.
Freedom Park
Unlike many parks, Freedom Park is not the quiet type you'd see but it's an attractive place to explore. It's up to you whether you want to go biking, walking, or just sitting and watch people come and go. In the morning, there's a group of people doing Zumba; in the afternoon, street food vendors come to the park to feed your cravings; and in the evening, it turns into a night market.
2. Rich History and Strong Culture
Tagum City is home to three major tribes: the Kagan, Mandaya and Mansaka. The rivers of Liboganon, Saug, Hijo and Tagum are considered by the three tribes as historical landmarks as these became part of the lives of their ancestors, their refuge in times of war and the place where they went to trade and find other means of living.
Tagum City may be catching up with modernity and technology but its people are not forgetting their roots. As a matter of fact, they ensure that their history is known by many and the future generation is well-educated about their culture so they can still be connected and carry it in the years to come.
3. The Home of Festivals
With almost 20 festivals, it's not surprising why Tagum City is called the Home of Festivals. As mentioned above, the locals respect beliefs and preserve culture and heritage. And to keep this going and stay connected, Tagum City holds various festivities throughout the year.
The reasons for having these attractive festivals are to showcase and develop the skills, talents and capabilities of all sectors. Here are the Tagum City Festivals you must experience:
Musikahan sa Tagum
Araw ng Tagum
Flores de Tagumeño Festival
Banana Festival
Durian Festival
Binuhat Festival
Ugmad Festival
Kaimonan Festival
Pakaradjan Festival
Indayog sa Tagum, Dance Congress Festival
Halal Food Festival
Tagumpay Festival
Love Festival
Handurawan Festival
Kaimunan Festival
Scouting Festival
Children's Festival
Pasalamat Festival
Tagumenyos Bisag Asa Festival
4. Vast business and career opportunities
While metro Davao is popularly known as one of the most progressive cities in the region, Tagum City is shaping up to be the busiest with the rise of real estate developments, commercial spaces, new attractions, and businesses.
Because in case you don't know yet, Tagum City is being eyed not only as the next tourism capital of the South but also as the next big center for the meetings, investments, conferences and events (MICE).
This only means that more and more jobs will be opened in various industries and in terms of business, countless prospective opportunities will also sprout in various industries like agricultural products, raw materials, IT and business process management, mining, and real estate, among others.
5. There is peace and order
Tagum City is generally peaceful. According to its local government unit's website, police officers are roving around the city every now and then. They were provided with new light vehicles to completely monitor the peace and order situation in the city to maintain everyone's safety.
There are also designated civil security guards in public places like parks, trade centers and night markets to ensure the safety of all. What's also great about Tagum is that they are implementing a "No Smoking Ordinance" in the city as smoking is prohibited inside public utility vehicles, government offices, hospitals, and churches. People can only smoke in the designated areas of hotels, bars and restaurants.
6. Affordable housing options
In the years to come, Tagum City might be one of the centers for trade, businesses and commerce so it's shaping up as an ideal location for real estate investments. Many real estate developers are building and offering affordable house and lot and townhouse for sale in Philippines and while you've got so many options, choosing the right one can be quite a challenge. But you know what stands out among the rest? Lumina Homes!
Find the best property investment in Tagum City through Lumina Homes
Thinking of having a transfer to Tagum City for good? Or just want to build a new house in your hometown? Lumina Homes is an ideal choice for choosing the best developer for affordable property investment for OFWs (Overseas Filipino Workers) and city dwellers.
Lumina Homes is the affordable housing arm of Vista Land, the Philippines' largest homebuilder known for housing brands including Camella, Lessandra, and Vista Residences among others.
Through its low cost housing, getting the dream house and lot is made achievable for every Juan as one of the missions of Lumina Homes is to provide low cost housing in the Philippines that will make the dream of owning a house and lot and investments more achievable.
What's great about the Lumina properties, aside from its affordability, is that all projects have great amenities and are strategically located near major establishments, schools, transportation hubs, commercial spaces and other business needs to maximize the way you live in Tagum City.
An Ideal Property Investment for OFWs & Starting Families
We at Lumina understand the struggle of OFWs dreaming of a better life for their families. Life abroad and away from your loved ones isn't easy. So to help you out plan a brighter future for your family, away from the chaos of the metro, Lumina Tagum will aid you to find a good home in a good location for a very good price.
Lumina Tagum is located in Purok Maharlika, Bgy. Cuambogan, Tagum City near the largest inland resort in Davao del Norte named "Six World Adventures". We also have All Home in our commercial area in the subdivision. Plus, the Planning Department in the City Government of Tagum has a plan in Brgy. Cuambogan to have a diversion road to make commuting easier. A flyover is also still under construction going to Asuncion Municipality and shortcut to Bukidnon, cutting travel time to about 2.5 hours only by private vehicles.
If you are looking for a budget-friendly townhouse for sale Philippines in a new, foreign place across the country, or an Overseas Filipino Worker who wants to invest in another property in Tagum City, you'll not regret choosing Lumina Homes.
Here are more attractive reasons to invest and be one of the homeowners in Lumina Tagum:
Amenities
Covered Basketball Court
Multi-purpose Hall
Playground
Guarded Entrance
Shuttle Service
Lumina Tagum is near daily essentials and other business needs:
Major Roads, Highways, & Expressways
Provincial Road of Tagum City
Daang Maharlika Highway
School, Colleges & Universities
La Filipina Elementary School
La Filipina National High School
St. Mary's College of Tagum City
Hospitals & Clinics
Aquino Medical Specialists Hospitals, Inc.
Tagum City Health
Churches
Parish of Christ the Eucharastic King
Iglesia Ni Cristo - Lokal ng Cuambogan
Church of God World Missions, Ph
Transport Terminals
Tagum Overland Transport Integrated Terminal
Pereyras Terminal
Local Government Offices
New City Hall of Tagum
DTI Davao del Norte Provincial Office
House and Lot in Tagum:
Anna Rowhouse: It is a 24 square meter house and lot for sale in Tagum on a regular 36 square meter lot. Its features include a living area, dining & kitchen, 1 bedroom provision, 1 toilet & bath, and service area.
Angeli Townhouse: It is a 42 square meter house and lot for sale in Tagum City on a regular 36 square meter lot. Its features include a living area, dining & kitchen, 3 bedroom provision, 1 toilet & bath, 1 carport provision, and service area.
Armina Single Firewall: It is a 42 square meter house and lot for sale in Tagum City on a regular 54 square meter lot. Similar to Angeli Single Firewall, it includes a living area, dining & kitchen, 3 bedrooms, 1 toilet & bath, 1 carport provision, and service area. However, it comes with additional features like a free ceiling and tiles on the ground floor.
Armina Duplex: It is a 42 square meter house and lot for sale in Tagum City on a regular 54 square meter lot. Similar to Angeli Duplex, it includes a living area, dining & kitchen, 3 bedrooms, 1 toilet & bath, 1 carport provision, and service area. However, it comes with additional features like a free ceiling and tiles on the ground floor.
Payment options with affordable rates: pag ibig housing loan, bank financing
PAG-IBIG HOUSING LOAN
Offers lowest possible interest rates
14 months of down payment term
Maximum of 30 years loan term
BANK FINANCING
Fast approval of home loan
16 months of down payment term
Maximum of 20 years loan term
For investors, payment may also be through:
DEFERRED
24 months of payment, 0% interest rates
Just standard requirements needed
SPOT CASH
The client may pay the full total contract price and will be eligible for discount:
10% discount if the payment was made 7 days within the reservation date
8% if made within the reservation month
6% if payment was made within 30 days from reservation fee
That being said, what property investment for OFWs is better and more affordable than Lumina Tagum?
HOW TO GET THERE
Via Commute
From the Public Terminal, take a jeep to New Corella since our Project Site is along provincial road.
Via Private Vehicle
From Downtown, travel time is just 15 minutes, depending on traffic.
Get your money's worth with Lumina Tagum. Start investing in a new property now where your family can live comfortably or make it a new source of income in the future. Contact us now and let Lumina Homes help you on your real estate investment journey to build your dream home.
Related articles:
Why homeowners choose Lumina Homes?
***
For more information about the affordable house and lot for sale of Lumina Homes, please contact (0917) 629 6523.

Try our Home Loan Calculator
Loan Calculator
Try Lumina Homes' loan calculator and get an estimate computation for your preferred Lumina property and home model.