Lumina Homes Strive for a Greener Community through 'Luntiang Lumina'
19 June 2022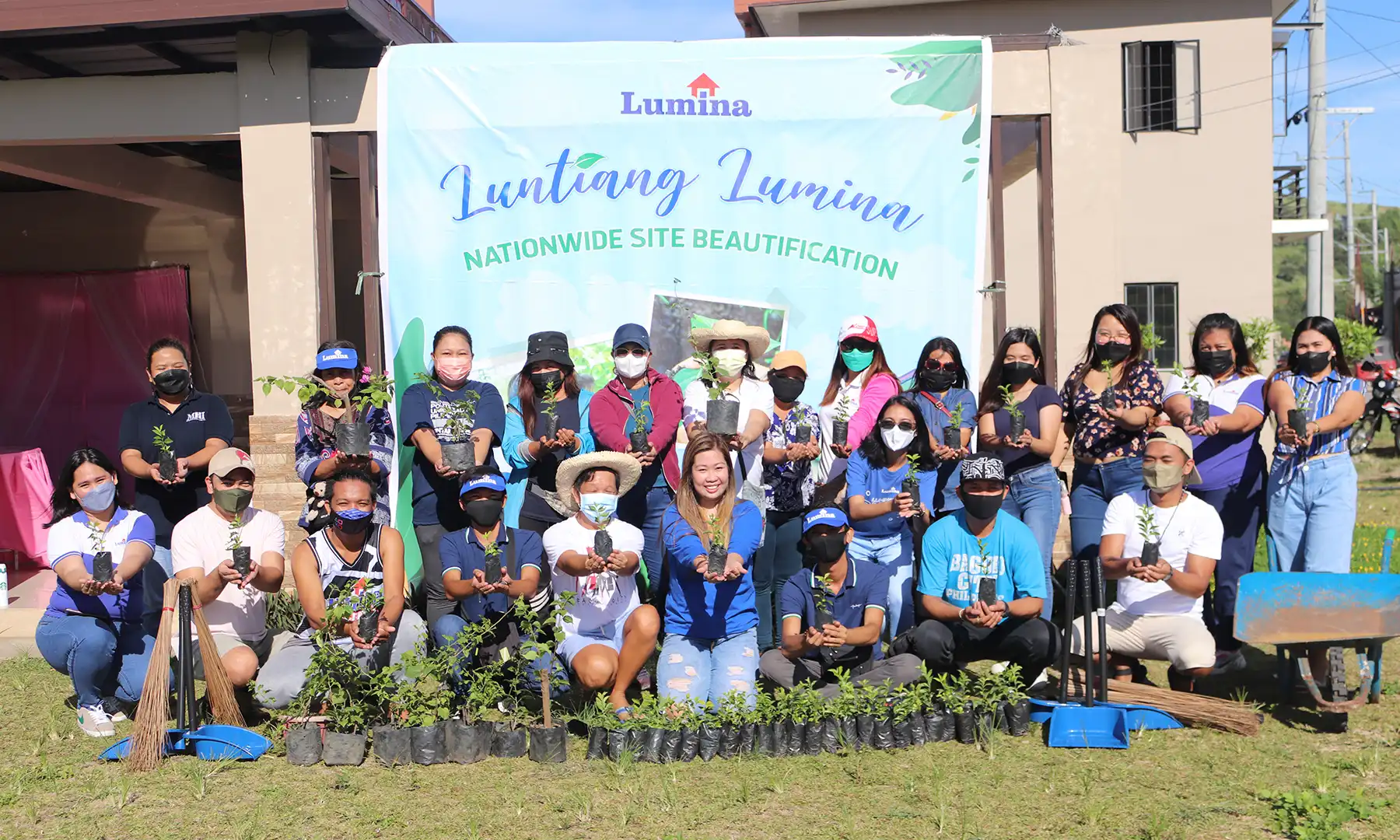 Lumina Homes held another "Luntiang Lumina, Nationwide Site Beautification" activity last June 18, 2022, in its eight (8) communities across the country. This cleanup and tree planting initiatives are part of our effort to make our Lumina neighborhoods greener and healthier, giving our residents and future homeowners a fresher haven to live with.
Its first run was participated by our communities nationwide, including our projects in:
Lumina Tuguegarao

located in

Brgy. Carig Norte, Tuguegarao City, Cagayan

Lumina Binangonan

located in

Brgy. Bilibiran, Binangonan, Rizal

Lumina Tanuan

located in

Brgy. Hidalgo, Tanauan City, Batangas

Lumina Bacolod

located in

Brgy. Vista Alegre, Bacolod City, Negros Occidental

Lumina Bacolod East

located in

Granada Alangilan Road, Bacolod, Negros Occidental

Lumina Tagum

located in

Brgy. Cuambogan, Tagum City, Davao del Norte

Lumina Butuan

located in

Brgy. Taguibo, Butuan City, Agusan del Norte

Lumina Ozamiz

located in

Brgy. Labo, Ozamiz City, Misamis Occidental
These nationwide site beautification activities were done simultaneously by these eight (8) communities and our volunteers, who aim to raise awareness about environmental protection, community cleanliness, and youth involvement.
Ms. Ubie Cristobal from Lumina Bulacan and our Rizal Cluster Head said during the Lumina Binangonan Nationwide Site Beautification event that "In addition to beautifying the site, Luntiang Lumina provides a platform for residents, businesses, and workers to come together and foster a sense of community cohesion,"
She also expressed her optimism about these initiatives and said that this is only the beginning as there will be many more environmental initiatives in the coming months.
Some of the projects also posted photos of their successful beautification event and their collaboration with the different groups of volunteers from their local area:
From Lumina Bacolod East
The team started their post with a motivational quote that says,
"He who plants a tree, plants a hope."
They also wanted to thank everyone for their help and the participants who joined them in this pro-environment activity.
"Thank you so much to all our dedicated sellers and employees who joined our Luntiang Lumina tree planting activity at Lumina Bacolod East Site. Our first step to our site beautification."
They also expressed their aspirations saying that they hoped that they could provide homes to the Filipino people as great as the number of trees that they planted on that day.
From Lumina Tuguegarao
Meanwhile, Lumina Tuguegarao cited an inspirational quote from Russel Page: "To plant trees is to give body and life to one's dream of a better world."
This is followed by a short description of the activity that they made:
"Luntiang Lumina Nationwide Site Beautification: Bringing Lumina Tuguegarao a cleaner, greener and healthier place for our future homeowners to live in."
They also thanked Team Lumina Tuguegarao and all the volunteers who joined these nationwide initiatives for their unending support.
Lumina Homes is an eco-friendly community that provides greener and healthier neighborhoods to its residents and future homeowners through its community gardens and more green spaces via eSpacio. With Lumina Homes, you can enjoy an active lifestyle while enjoying a breath of fresh air through its Jogging Path surrounded by trees.
On the other hand, its community garden offers organic and fresh fruits and vegetables grown inside the neighborhood, which also entails sustainability and practicability of the subdivision.
Achieve a greener and healthier home with Lumina Homes, and make your reservations now! Don't also forget to follow, subscribe, and like our social media pages to get updated about our latest Luntiang Lumina activities and join our growing community of environmental volunteers!

Try our Home Loan Calculator
Loan Calculator
Try Lumina Homes' loan calculator and get an estimate computation for your preferred Lumina property and home model.