Lumina Bacolod - Highly Commended in PropertyGuru Philippine Property Awards 2022
17 January 2023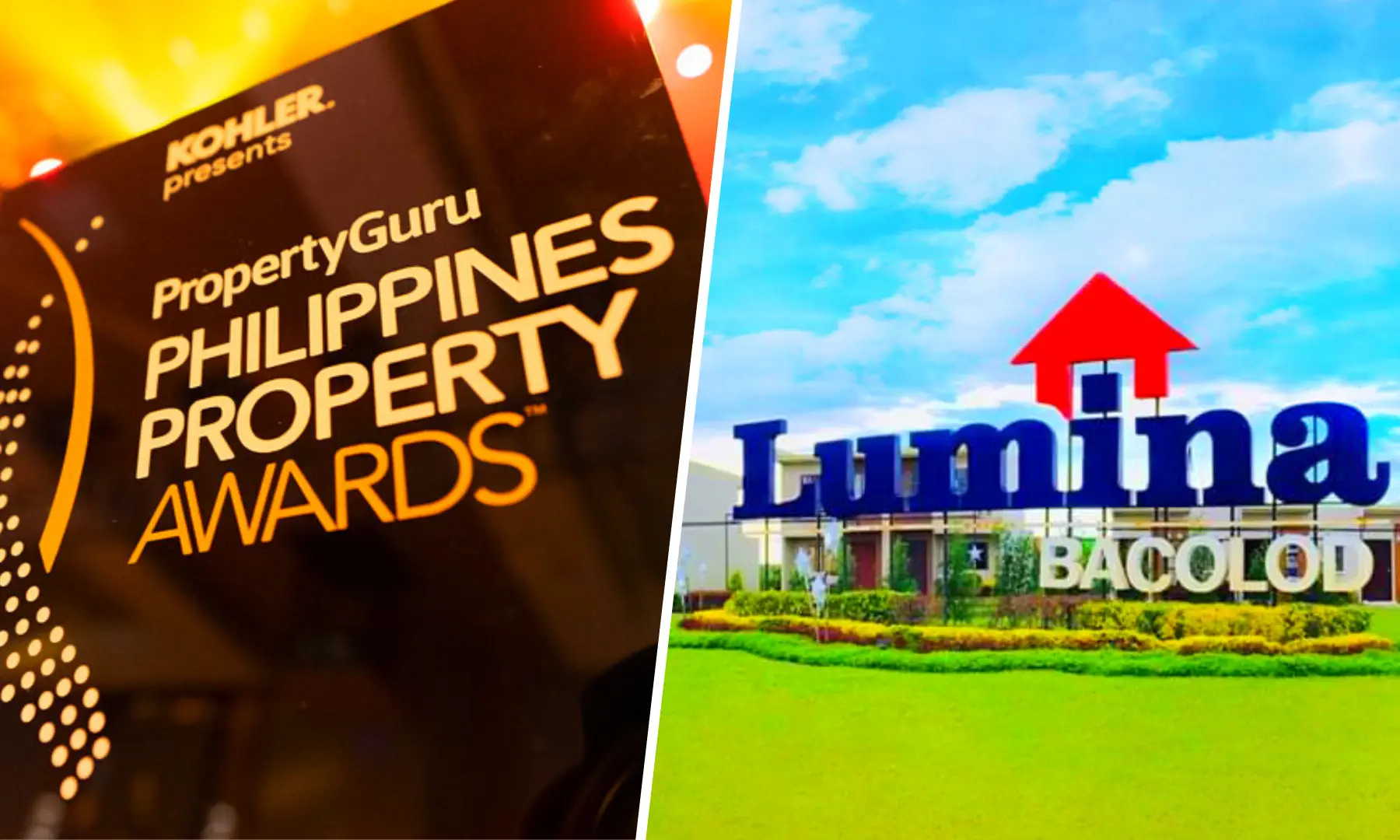 With the Highly Commended award from the PropertyGuru Philippine Property Awards 2022 in the Best Housing Development in Visayas category, Lumina Bacolod's 6th year in the housing sector will be remembered as one of the most successful and innovative in the Visayan region.
There were a total of 62 categories honored during the event, which was held at Fairmont Makati's main ballroom and was broadcast live online.
PropertyGuru, a Southeast Asian property technology business, recently honored the tenth anniversary of its PropertyGuru Philippines Property Awards, an event that recognizes and rewards excellence in Philippine real estate construction, design, and development.
After a four-year hiatus, the black-tie gala celebration of the 2022 PropertyGuru Philippines Property Awards returned to the country's financial capital, where it honored the country's most innovative real estate developers and projects. The awards were presented by Kohler and supported by Boysen Paints.
What is PropertyGuru Asia Property Awards?
The PropertyGuru Asia Property Awards series has been running for 16 years, during which time it has grown to become the largest real estate event program in the Asia Pacific region, providing an unparalleled stage upon which housing developers in the Philippines-- including a completed condo development such as high-rise condo development Metro Manila, best industrial developer, eco-friendly commercial development and residential developments-- can receive the acclaim for which they have worked so hard.
About the Best Housing Development Award
Homeseekers might wonder what it means to bag the Best Housing Development award from the PropertyGuru Asia Property Awards. This means that the site and the developer have one of the best design and amenities including functionality, innovation, and green amenities; it has the best location among the various developers in the area; homebuyers can get their value for money from their affordable house and lot for sale; it has the unique quality and features desired in the use of space, construction, and materials; the developer has unique selling points for their house and lot in the Philippines; a good state of completion; and great sales successes.
Why Lumina Bacolod Got a High Commendation as the Best Developer in the Visayan Region?
Getting a high commendation as a real estate developer is truly an award to brag about as it gives weight to the home seekers' decision on which property development to start their Bacolod home investment. Here are some of Lumina Bacolod's attributes that make it the best developer in Visayas.
One of the best branded residential development.
Lumina Bacolod is a part of the over 50 project sites of Lumina Homes all over the country. Lumina Homes is an economical housing segment from Vista Land, one of the best housing developers in the country, that offers quality, safe, and durable homes at an affordable price. Going over a decade in the Philippines' real estate market, Lumina Homes is already an established and trusted name for homebuyers and Filipino families.
With the opening of its first Negros project in Barangay Vista Alegre, Lumina Bacolod, a 35-hectare home and lot community with more than 4,000 residents, Lumina Homes was among the first to see the expanding potential of Bacolod City, often known as the City of Smiles.
An eco-friendly housing development with green amenities.
A lack of new residential communities in the central city is a direct result of rising urbanization and housing demand in the province.
In addition to being one of the sustainability factors for ensuring the continued health of residential communities, green spaces provide individuals with one of the most important venues for everyday social interaction.
That is why Lumina Homes established a greener community through its community garden. Through these green spaces, the community's quality of life and wellness development may be improved.
It has an operational office portfolio with its best office development creating unique selling points.
There are a number of factors, including location, that impact a home's worth. A few examples include the availability of good schools, reasonable travel times to and from work, and exciting extracurricular activities.
Lumina Bacolod is built in a strategic location in order to cater to all these residents' needs. Less than twenty minutes will take you to reach the heart of Bacolod from the Lumina Bacolod community. The New Government Center and New Silay-Bacolod International Airport are also only fifteen minutes away from the site which gives unique selling points and a great operational office portfolio for the site.
An operational hospitality portfolio that gives it great sales success.
Lumina Bacolod's marketing and sales admin team prove that Bacolod is indeed the City of Smiles by giving welcoming and friendly vibes to their Philippines real estate personality, which in return, aids them to achieve great sales success.
With this, about 98% of the homes in Lumina Bacolod have been purchased, making it the island's most popular choice for those looking for affordable house and lot packages. Lumina Silay is another one of Lumina's projects in Negros Island, and with the success of Lumina Bacolod, a new development in Bacolod City is in the works.
Safe, secure, and enjoyable amenities.
A secured entrance, CCTV, perimeter fence, and roving security guards are just some of the safety elements that can be found inside the Lumina Bacolod community.
In addition, the homeowners and their whole family also have a lifetime perk to enjoy their leisure time with amenities such as a covered basketball court, miniature gardens, and playground-- making Lumina Bacolod ready to join the next best lifestyle developer award.
A wide option of durable and disaster-ready home model units.
Cast-in-place or reinforced concrete construction is used for all of the residential options at Lumina Bacolod, making them very sturdy and safe in the event of a natural or manmade calamity.
Lumina Bacolod also provides a wide variety of home model unit options to its homebuyers such as the Aimee and Airene Rowhouse which are bungalow types home units perfect for independent living and on-the-go young professionals. They also have a range of townhouses like the Angeli and Angelique Townhouses.
For families or individuals who need extra space at home, Lumina Bacolod has Angeli Single Firewall units, perfect for those who want more privacy in their homes.
In spite of the global financial crisis, the Philippine real estate market has shown to be remarkably resilient during the last three years. Developers maintained working despite the pandemic, changing with the times to meet the wants and demands of consumers both locally and worldwide.
Lifestyle developments, branded houses, mixed-use complexes, coworking spaces, and even larger projects like townships and industrial developments are all part of the expanding and diversifying Philippine property industry.
And Lumina Homes square up with this challenge by outpacing itself through versatility and innovations throughout its years in the Philippine real estate market. Homebuying may be a huge investment, so you should make sure you're receiving your money's worth with Lumina Bacolod!

Try our Home Loan Calculator
Loan Calculator
Try Lumina Homes' loan calculator and get an estimate computation for your preferred Lumina property and home model.