Celebrate Pinoy Pride Nationwide and Support Local with Lumina Homes
10 June 2022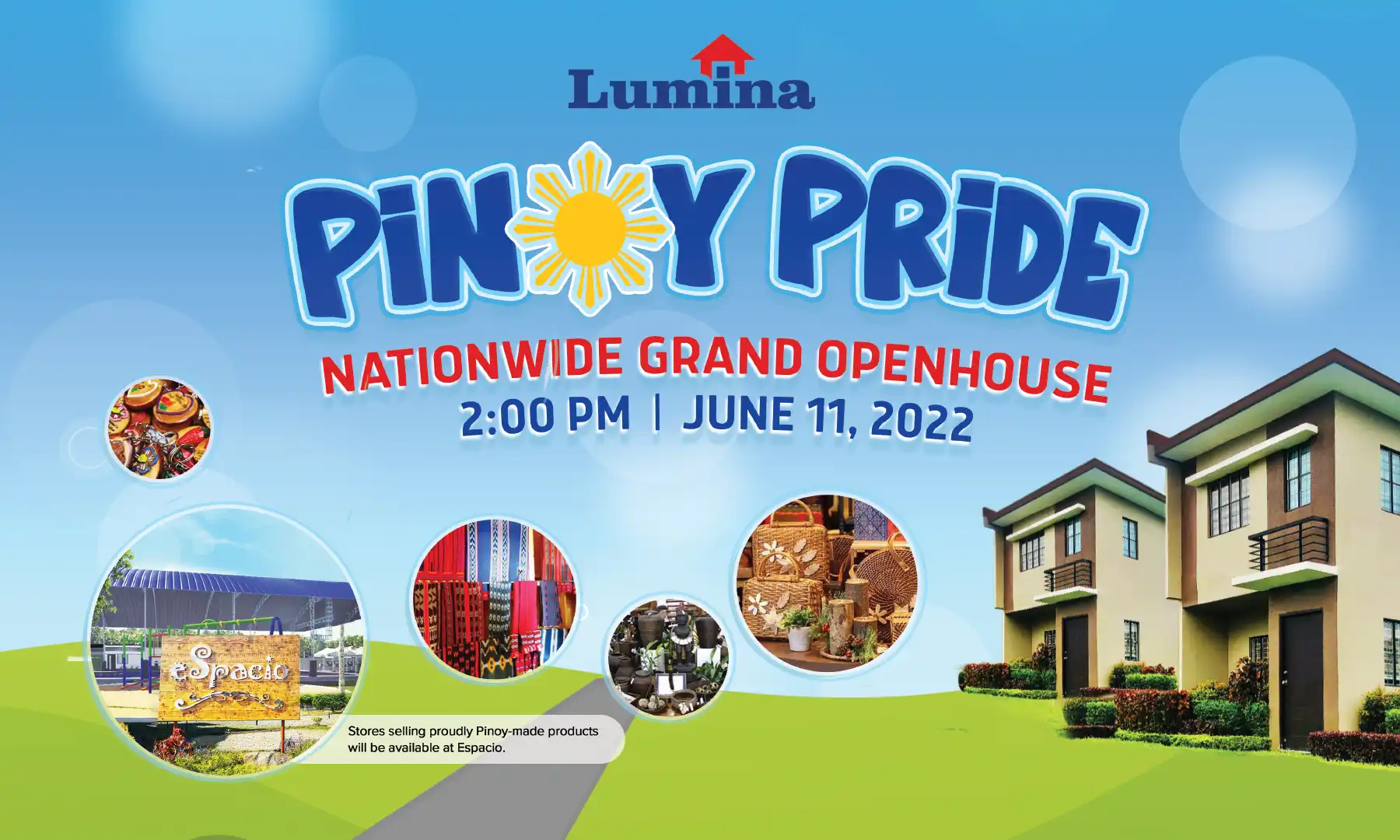 In celebration of this year's 124th Independence Day of the Philippines, Lumina Homes is honoring our country's liberation and sovereignty by promoting our Pinoy products and supporting our very own local businesses through our Pinoy Pride Nationwide Grand Openhouse.
As Filipinos, we consider our country's independence a formal proclamation as one of the most significant achievements in our long and colorful history. To gain our freedom, many of our heroes, soldiers, and ancestors volunteered their time and abilities, even at the cost of their own lives.
And as we deeply value the gift of sovereignty that we enjoy in this day and age, we should also highly appreciate the acts of bravery that our national heroes and soldiers offered to our country in the same way.
For this year's Independence Day, Lumina Homes will hold a grand open house event in our selected projects nationwide. During this event, various vendors and merchants selling local Pinoy products will participate and offer their goods to honor their skills and effort in boosting our local economy and fostering our local produce.
CALLING ALL VENDORS AND MERCHANTS WHO ARE SELLING LOCAL PINOY PRODUCTS
This is the time to promote your business and market your products! Lumina Homes is inviting you to join and participate in our Pinoy Pride Nationwide Grand Openhouse on June 11, 2022, to sell your local goods at Tambayan ni Juan during our fair.
If you're interested in applying for this event, you may visit our site on the addresses below or reach us at the following phone numbers:
Lumina Pandi

- Brgy. Pinagkuartelan, Pandi, Bulacan / (0917) 831 8339

Lumina Tarlac

- Brgy. Maliwalo, Tarlac, Tarlac City / (0929) 334 4679

Lumina Batangas

- Brgy. Santa Maria, Sto. Tomas, Batangas / (0920) 911 1470

Lumina Bacolod

- Brgy. Vista Alegre, Bacolod City, Negros Occidental / (0951) 062 4350

Lumina Butuan

- Brgy. Taguibo, Butuan City, Agusan del Norte / (0998) 960 7103 or (0917) 512 0512

Lumina Ozamiz

- Brgy. Labo, Ozamiz City, Misamis Occidental / (0999) 886 4338 or (09173) 165 284
And yes, we heard you! Since this will be a special day for us Filipinos, we will also be giving a special surprise to our lucky homebuyers.
Are you named after our known Filipino Hero? Then, it's time for you to get your home investment with Lumina Homes!
Lumina Homes will be giving away a special Independence Day discount for our homebuyers on June 11, 2022.
Be an early bird and visit our nationwide grand open house selected sites to be one of the first ten homebuyers with a first name similar to a known Filipino Hero. For example, Jose, Andres, Melchora, Gabriela, etc., per cluster can get an instant Php 612 discount on their reservation fee.
Yes! You must be a "katukayo" of our national heroes to get this special Independence Day discount!
See you there!

Try our Home Loan Calculator
Loan Calculator
Try Lumina Homes' loan calculator and get an estimate computation for your preferred Lumina property and home model.