Celebrate Pinoy Pride Nationwide and Support Local with Lumina Homes
10 June 2022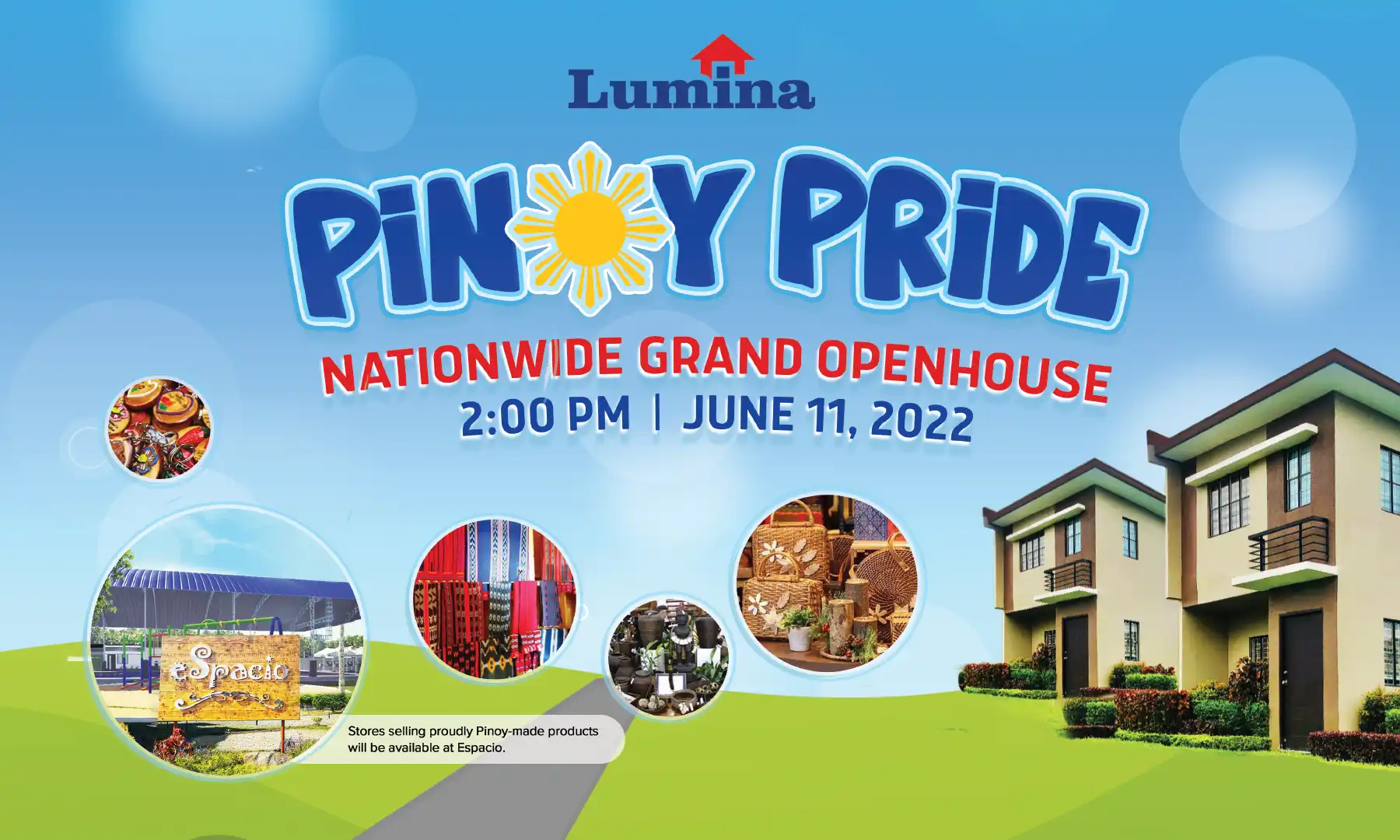 In celebration of this year's 124th Independence Day of the Philippines, Lumina Homes is honoring our country's liberation and sovereignty by promoting our Pinoy products and supporting our very own local businesses through our Pinoy Pride Nationwide Grand Openhouse.
As Filipinos, we consider our country's formal proclamation of independence as one of the most significant achievements in our long and colorful history. To gain our freedom, many of our heroes, soldiers, and ancestors volunteered their time and abilities, even at the cost of their own life.
And as we deeply value the gift of sovereignty that we enjoy in this day and age, we should also highly appreciate the acts of bravery that our national heroes and soldiers offered to our country in the same way.
For this year's Independence Day, Lumina Homes will hold a grand open house event in our selected projects nationwide. During this event, various vendors and merchants selling local Pinoy products will participate and offer their goods to honor their skills and effort in boosting our local economy and fostering our local produce.
But before we get to that, it's vital to also first discuss how we can best celebrate #PinoyPride in our own way.
How to Celebrate Pinoy Pride in the Philippines
Dedicate a day or two to celebrate the country's independence from the shackles of foreign intimidation, or by simply being proud of our nationality. You can show your #PinoyPride moments through the following:
1. Patronize local and original Filipino music more
Coined between the 70s and 80s, Original Pilipino Music (OPM) is just as alive and kicking today as it is decades ago. Despite the meteoric rise of K-Pop and other influential foreign music, our very own local composers and singers have produced, and continue to produce, excellent pieces of music that are being sung and patronized by many Filipino people. Show your version of Pinoy Pride by dedicating the entire month of June to listening to nothing but Filipino music.
2. Show support to kababayans competing internationally
Filipinos are known to the world to be multi-talented. Ours is a country of singers who competed, represented, and are simply famous internationally. This includes Lea Salonga, Jake Zyrus, Regine Velasquez, KZ Tandingan, Jed Madela, Arnel Pineda, and Sarah Geronimo, among others. Famous Filipino-American singers like Bruno Mars, Nicole Scherzinger, Olivia Rodrigo, and Jessica Sanchez are also proof that having Filipino blood entails being exceptionally talented, especially in music.
In addition, many of our fellow Filipinos also competed and represented the country in various talent shows such as Got Talent, The Voice, X-Factor, and World of Dance, as well as international pageants like Miss Universe and Miss Earth. To show support to our kababayans currently competing internationally, it could be as simple as following their social media accounts or simply rooting for their rightful international validation.
3. Visit historical sites with relevance to the country's independence
If you're thinking of traveling to celebrate Pinoy Pride, the best way would be to pay a visit to the country's top historical sites with monumental significance to the Philippine independence. Consider the following historical places near Lumina Homes communities:
Biak-na-Bato National Park. Located in San Miguel Bulacan near Lumina San Miguel, the Biak-na-Bato National Park used to be the headquarters of our Katipuneros during the Japanese occupation. It's also a popular tourist destination for spelunking adventure for its marvelous caverns, relaxing waterfalls, and picturesque mountaintops.
Barasoain Church. Since the actual Independence Day on June 12 falls on a Sunday, you can attend Mass in Barasoain Church in Malolos if you live in or near Bulacan. This architecturally intricate church was the site of the First Philippine Congress and the drafting of the Malolos Constitution.
Emilio Aguinaldo Shrine. Known as the Independence Balcony, the Emilio Aguinaldo Shrine was the ancestral home of the first Philippine President. It is located in Kawit in Cavite province. Lumina Homes, meanwhile, is situated in Tanza.
Mount Samat. Built in honor of the brave Filipino and American soldiers who fought the Japanese forces for the country's independence from the enemy's repression, Mount Samat is a must-visit historical site in the Philippines. It is located in Pilar, Bataan near Lumina Pilar.
4. Raise the Philippine flag
Visibly show your love for your country by raising the Philippine flag! Post it on social media for your friends and followers to comment and see how proud you are to be born on Philippine soil. Also, you can hang a Philippine flag on your gate to celebrate the occasion. Chances are, this will create a domino effect and your neighbors will emulate you by hanging a Philippine flag on their gates as well.
5. Support local vendors and local products
This is the time to promote your business and market your products! Lumina Homes is inviting you to join and participate in our Pinoy Pride Nationwide Grand Openhouse on June 11, 2022, to sell your local goods at Tambayan ni Juan during our fair.
If you're interested in applying for this event, you may visit our site at the addresses below or reach us at the following phone numbers:
Lumina Pandi - Brgy. Pinagkuartelan, Pandi, Bulacan / (0917) 831 8339

Lumina Tarlac - Brgy. Maliwalo, Tarlac, Tarlac City / (0929) 334 4679

Lumina Batangas - Brgy. Santa Maria, Sto. Tomas, Batangas / (0920) 911 1470

Lumina Bacolod - Brgy. Vista Alegre, Bacolod City, Negros Occidental / (0951) 062 4350

Lumina Butuan - Brgy. Taguibo, Butuan City, Agusan del Norte / (0998) 960 7103 or (0917) 512 0512

Lumina Ozamiz - Brgy. Labo, Ozamiz City, Misamis Occidental / (0999) 886 4338 or (09173) 165 284
And yes, we heard you! Since this will be a special day for us Filipinos, we will also be giving a special surprise to our lucky homebuyers.
Are you named after our known Filipino Hero? Then, it's time for you to get your home investment with Lumina Homes!
Lumina Homes will be giving away a special Independence Day discount for our homebuyers on June 11, 2022
Be an early bird and visit our nationwide grand open house selected sites to be one of the first ten homebuyers with a first name similar to a known Filipino Hero. For example, Jose, Andres, Melchora, Gabriela, etc., per cluster can get an instant Php 612 discount on their reservation fee.
Yes! You must be a "katukayo" of our national heroes to get this special Independence Day discount!
Lumina Homes, the affordable house and lot arm of Vista Land, was established in 2012 to respond to the affordable housing needs of Filipino families. We complement our affordable homes with quality perks and amenities. For your investment inquiries on our affordable house and lot for sale, contact us via this website or through our social media accounts.
We are excited to see you in our upcoming event! Get your own value-priced house and lot in the Philippines through Lumina Homes to achieve the comfort and convenience of homeownership!

Try our Home Loan Calculator
Loan Calculator
Try Lumina Homes' loan calculator and get an estimate computation for your preferred Lumina property and home model.