Lumina Homes Recommends: Best Doors for Small Spaces
18 September 2022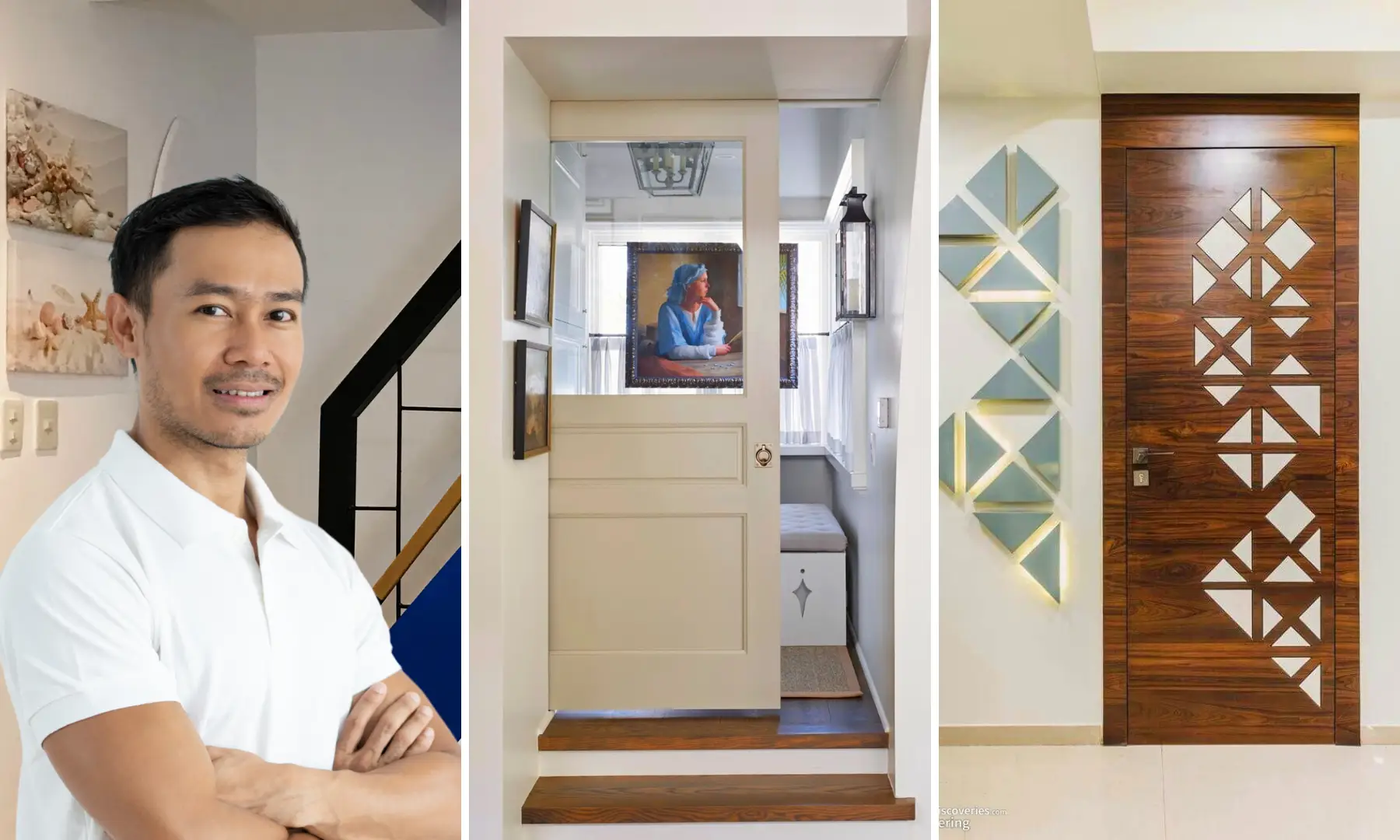 If you're a Game of Thrones fan, you might know the iconic story of Hodor, a well-loved character in the said TV show. Spoiler alert! Do you know the reason why he can only say the same word? It's because he's saying a shortened form of "Hold the Door".
With that, have you ever thought, why is a door an essential part of your dream home? Aside from safety and security reasons, a door also helps set the mood of your dream home. Hence today, let Lumina Homes recommend the best door type for small spaces.
A door is just a door until you realize that there are different types of doors, according to function, size, style, and even their placement in the house. Are you ready to decide which door best fits your vision for your home? Then let's open the door and start the journey knowing about doors.
Types of doors According to Unit
Single doors
Every dream house differs from one person to the other, and even in their choice of doors. One essential detail you need to consider is when to use a single door, which is the standard type.
This is what you will expect from most houses, as it only serves its purpose--to safekeep what's inside and to keep intruders out.
Double doors
Do you want to have that dramatic flair upon entering your home, or even just a room inside? Then if you can, choose double doors. With one, you can't help but feel extra, just like what you see in the movies, for it adds to the aesthetic of your property.
Types of Doors According to Location
We all know when we think of doors there are specific ones that can only for specific areas of the house. However, as more interior designers and homeowners become more creative, these doors do not only serve their function but can also become a focal point in any room. Some of them are as follows:
Garage Doors
Originally, garage doors are for the garage, where you store your cars. But when you want to make the most out of every square inch of your property, then transform your garage to an extra room for you and your family to enjoy. Choose a sturdy, garage door that can last for a long while, because you need to repeatedly roll it up and stay overhead as you're within the garage-slash room. What's great about it is it allows more natural light to come through the area; allowing both air and light to make your small space come alive.
Patio Doors
Not everyone has the luxury to have a patio or a small paved outdoor area in their homes. That's why, if you have one, ensure that you maximize making your patio door secure from outsiders, and safe from the elements. Some immediately assume that if it's for the patio, one must have sliding patio doors, but you can use other doors, as you see fit.
Bedroom Doors
Others may think, do you really have to have one in the bedroom? Well, we have one word for it--privacy. Your bedroom is your safe space, and where you can feel most relaxed, hence you must choose the best door to make this happen.
Pantry doors
Not every house has its own pantry, but if you want to have one, how do you imagine it? Would you consider a door swing, similar to saloons in the West, or would you like to have a standard door, complete with a lock and key, so your supplies are safe inside?
Interior doors
In the Philippines, there are times which you have two doors in a single opening, how did this happen? Simple. There is an interior door, sometimes in the form of an aluminum door as an interior door, and a heavy wooden door as the main door. We use the interior door as a way to ventilate the room, but at the same time, still, secure your belongings and home.
Exterior doors
On the other hand, there are also exterior doors. These are usually fortified, may it be with a double lock, padlocks, or even modern security lock machines, in order to safeguard your home.
Storage Doors
There are storage areas that need doors, not only to safely keep our belongings but also to hide things in plain sight. Think of attics, under the stairs, or even broom closets, they use doors so that certain areas in the home are not readily seen. Even Monica from FRIENDS needed them in her apartment, so you can consider having one, too!
Different Door Styles for Small Spaces
Now that you have an idea where doors can be used within and throughout your property, then you can check out the styles to make your door not only functional, but stylish, too!
1. Pocket Doors
Pocket doors are just like your pockets, you insert them into a tiny space, so you can forget about them until the time arrives when you need to use them again. While pocket doors are indeed a space-saver, it's not so common in the Philippines simply because it takes a professional to create the pocket where the door will be hidden, especially if the house is up for renovation. Of course, skilled carpenters may be able to do it, but the door opening is a crucial aspect of pocket doors that one should not miss because its unique feature will be useless.
2. Barn Doors
If you will look at most minimalist houses today, barn doors are becoming increasingly popular. This is because it's simple, it doesn't take up too much space, and it gives your home a rustic feel.
It's easy to install in your homes, as well. All you need is a classic wooden door, fit it onto a bar, install the bar above your doorway, and ensure that it slides from left to right easily. No need for complicated instructions or materials.
Using barn doors has no limit----from bedroom doors and wardrobes, pantry doors, even kitchen doors, and more.
3. Sliding doors
Another space-saving door you can consider for your home is sliding doors. These are a great alternative to standard interior doors especially if you want to maximize the space in a room. They don't need so much space, as they just rest in the wall adjacent to the door. A sliding door can be held by a frame attached to the door or by a bar up the door, similar to a barn door.
Sliding doors are commonly used in bedrooms, or in interior doors. However, they can also be considered as patio doors, or even as a divider between your kitchen and living room. A sliding doors can come in glazed glass, so natural light can still flow in between rooms, frosted glass for privacy, or solid sliding doors to add a level of privacy between rooms.
4. Dutch Doors
Want a two-in-one door? Try the Dutch Door. They are split into two horizontally, so you can let the top half open for light flow and ventilation, while keeping the bottom half secure, so small children, or pets, can have a form of safety barrier.
Because of this feature, Dutch doors are perfect for small playrooms, or even for those who have patios leading toward the mini-garden.
5. French Doors
What makes a door, a French door? According to the American Heritage Dictionary, it is so when it is usually a pair of lightly constructed doors with glass panes along its length.
French doors have the capability to bring natural light into your room seems larger. That's why you can consider them for almost all the doors in every room in your home, including your small master suite. Get that Instagram-ready door for your next OOTD! Consider having French closet doors to give your room a touch of luxury.
6. Folding Doors
What's the ultimate way to save space for small spaces? You fold 'em. Similar to the trending multi--functional tools such as beds, sofas, tables, and others, doors can be folded as well! Just imagine saving space without having to think about the door swing. With folding glass doors, not only can you save space within a room, but you can also connect two adjacent ones.
Hence, it's a good door to connect your living area to your dining area, or even towards your patio. You can easily join in on conversations during parties, as you prepare and cook food for your guests.
7. Shoji Doors
Want to try the minimalist Muji style in your homes? Consider using Traditional Japanese doors called Shoji doors. Similar to sliding glass doors, Shoji is an aesthetic space-saving feature that provides privacy, natural light, and room division in just a single aspect of your room, since it's made of washi paper. Imagine having a sliding wall in your own home, because traditional versions of this door connect and divide the wall space of the small room and can become pocket rooms, or just a large living space as needed.
8. Bifold Doors
Because two folds are better than one. A Bifold door, as per its name, it folds two times, competing for its spot as one of the best space-saving doors in town. It consists of two panels, or leaves, of the doors which slide and fold up on top of the other fold, similar to the way you fold your handheld fan way back in high school. Because of this mechanism, it just needs half of the opening space compared to a normal-sized door.
Remember your storage doors and bathrooms? Here's the perfect door for them. Because they are smaller than usual areas in the house, a bifold door is an ideal door so even irregular-sized spaces can still have their own set of doors.
9. Concertina doors
Sister to the bi-fold doors, a Concertina has several panels, raging from 6 or 8. Similar to an accordion, each Concertina door panel folds back on itself. With thinner panels than the bifold, you can access rooms or a section of a room just by moving one or two of its leaves. A good use of Concertina doors is to divide a wide room into two, often used in living areas.
10. Mirrored Doors
As mentioned in its name, mirrored doors are doors with mirrors. Its primary option is not only for reflection purposes, but it created the illusion that a room is larger and more spacious than usual.
Door Swing: Doors According to Mobility
The dreaded door swing is a curse for compact spaces, not just in houses but in properties in general. Hence before you design your dream home, then consider how you are going to open your doors.
Pivot Doors and Pivot French Doors

People may think that pivot doors are reserved for areas with large spaces only. On the contrary, it is a door for tight quarters because it instantly gives both entrance and exit in a single door.

Folding Doors and French Accordion Doors

Along with a bi fold door, they have mastered the art of being small, and they have minimal door swings.

Sliding Doors and French Sliding Barn Doors

They slide side to side. If you're looking for a minimal door swing, this should be your pick, because it doesn't swing, it glides.
What Kind of Materials to Use?
The first piece of advice we often get is to have a traditional wooden door. May it be external, interior, and sometimes even in the restroom, we install doors made of wood. However, there are other materials you can now choose from, and they are glass, steel, and even PVC which is plastic.
Lumina Homes Recommends: Get Your Affordable House and Lot on Us!
With all the details you've learned about doors, you now have the basic understanding of choosing your doors. If you're still unsure, don't worry, you can count on us. If you want an affordable house and lot in the Philippines that you can customize upon move-in, then choose Lumina Homes. Not only are we a community of people helping other people, but we are also committed to giving every client the dream house they can call their lifetime investment. Contact us today!

Try our Home Loan Calculator
Loan Calculator
Try Lumina Homes' loan calculator and get an estimate computation for your preferred Lumina property and home model.